The year 2021 is expected to throw up some unprecedented challenges at jobseekers in India. These problems wouldn't be limited to fresher candidates only. In fact, highly qualified, skilled and experienced persons could also come across these challenges as India continues to grapple with the aftermath of the 2020 Covid-19 pandemic.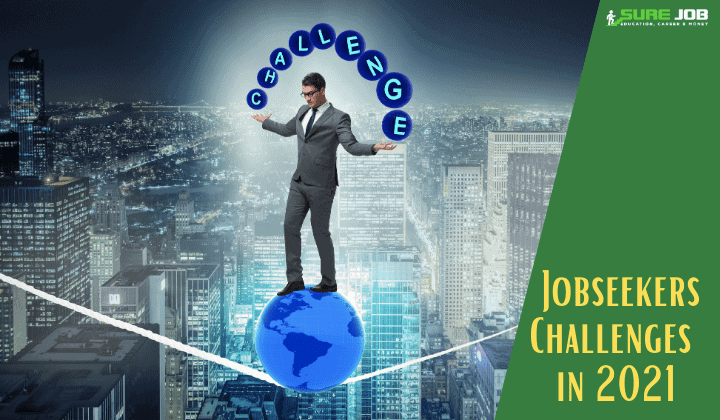 Therefore, if you're a jobseeker, here're some figures you should know about. They'll help you better understand why the year 2023 won't be very easy for fresher or veteran candidates.
Facts & Figures
Over 6.6 million white-collar professionals lost their jobs in India in 2022. The figure could be much higher or even double if we consider self-employed persons across the country.
While the Indian economy took a heavy beating in 2022, it's expected to make a slow recovery during the financial year 2023-2024. However, that doesn't necessarily mean there would be more employment opportunities.
According to various sources, the demand for some skills might soar while it could drop heavily for some professions.
In view of these facts, here're some challenges that jobseekers can encounter in 2023.
Problems Jobseekers Can Face
Before proceeding to understand these challenges and problems, here's something we need to comprehend. The Covid-19 pandemic has yet to ebb or come under control.
At the time of writing this article, several vaccines against the dreaded viral disease are in testing phase or being used hastily with few clinical trials.
Therefore, some of the challenges of 2023 will remain while newer ones will emerge in 2024.
Lower Wages
The 6.6 million professionals that lost jobs include engineers, physicians and dentists, teachers and professors, as well as accountants, among others. This means these professionals are already in the job market looking for fresh opportunities to restart their careers interrupted by the pandemic.
This translates as fierce competition for almost all vacancies. A lot of professionals would be looking for jobs that allows them to earn at least some income instead of idling away time without work. Therefore, you will be pitted against a lot of competitors, with more qualifications, skills and experience, if you're looking for a job in 2021.
Lack of Online Skills
Everyone knows that 2023 ushered in an era of Work-From-Home (WFH) in India, unprecedented in this country's history.
In fact, only those professionals that could work from home could somewhat retain their jobs during the pandemic and escaped unemployment. Lockdowns and social distancing made WHF mandatory for almost everyone.
Unless you've superb online skills and can work effectively from home, it's quite likely you could remain unemployed in 2023.
It's no secret that most of the Indians that lost jobs in 2023 were blue collar workers whose work doesn't depend on the Internet and instead involves physical work at brick-and-mortar locations.  And WFH requires rather advanced computer and Internet skills, which you will definitely need just to enter the job market in 2024.
Lack of Nearby Job Opportunities
Majority of jobseekers might not be able to find suitable vacancies in their hometown or its vicinity. While this wasn't a problem before 2023, since white collar professionals could easily relocate for work, in 2021, this might be impossible for a variety of reasons. 
Lack of Affordable Accommodation
The work from home or WFH practice has spelt the doom of affordable accommodation in pricey megacities of India. For example, countless professionals would live as paying guests or share accommodations in cities while their families lived in their hometowns.
However, as WFH gained momentum, countless companies allowed their employees to relocate to their hometowns.
As a result, the real estate sector, particularly rental and Paying Guest or PG suffered a severe setback. And it's unlikely that economical or affordable accommodations in large metros would be available anytime soon.
The reason: housing societies are unwilling to let people from various parts of India come and reside in such buildings. And the need for social distancing almost wipes out the possibilities of sharing accommodations.
Higher Prices of Laptops
Economically priced laptops and other hardware have disappeared from the Indian market, both at online and offline stores. Nowadays, anyone buying a laptop online or offline will find that prices have risen exponentially.
That's because lower and middle range laptops are no longer available. Instead, you'll find only expensive ones, which few can really afford.
There're two reasons: one is the greater demand for affordable laptops driven by WFH which has led to their scarcity in the market. The other is India-China trade wars which has caused a severe drop in supplies from that country. And then there's an overall reluctance among Indians to buy Chinese products.
Higher Demand for Freelancers
Indian businesses affected by the economic impact of Covid-19 are increasingly turning to freelancers to perform various online tasks. There're several reasons for this phenomenon.
The main reason being, employers can trim their payroll and instead hire freelancers for short projects only. There's no need to hire fulltime employees for online processes and pay monthly salaries.
Secondly, India has the second highest number of freelancers in the world, after the US. This country is home to an estimated 20 million white-collar freelancers.
This allows employers to scan the market for best talent and hire only those with proven track record in performing certain tasks. It's also possible for employers to specify how much money they're willing to pay a freelancer, which allows them to get work done at lower prices, sometimes.
Social Distancing Rules at Offices
Though several rules for social distancing that were enforced by the Central government as well as state governments and Union Territory administrations now stand relaxed.
However, offices can have a maximum employee strength that allows proper social distancing. This means, employers have to work with only 35 percent to 50 percent of their regular staff at offices.
At the same time, employees are also hesitant to use public transport to commute to offices due to fears of contracting the Covid-19 virus.
Millions of people continue to flout regulations such as wearing face masks at public places, use of hand sanitizers and social distancing. As a result, responsible citizens and those who care about personal health shun traveling to offices on public transport.
Returnees from Foreign Countries
Another unexpected challenge that jobseekers in India face comes from returnees from foreign countries. A lot of Non Resident Indians returned from various countries around the world, especially Far East and the Middle East.
Quite a lot of these NRI returnees are highly qualified and skilled persons who've enough experience in using the latest technologies abroad.
A majority of flights from India to foreign destinations remain suspended, these NRI returnees are also in the local job market.
With their higher level of skills, they will pose a serious competition for the limited vacancies that we'll witness during 2021. Companies that hire will definitely prefer those with exposure to latest technologies that're in use abroad.
In Conclusion
Before concluding, I'll add that jobseekers in India might not face all these challenges at one time. However, a lot of these might crop up during the year as the world continues to grapple for a cure for Covid-19 even as serious doubts continue to linger over the efficacy of vaccines that can immunize human to this dreaded virus.
In view of these, I would recommend every jobseeker to get ready to meet these challenges, according to their qualifications, skills and experience.