A new day brings a new set of tasks. Getting and staying organised is a difficult challenge for many of us; I still scribble a hurried reminder on the back of my hand from time to time.
The optimum way of organisation will be different for each person: Some people prefer the tried-and-true paper planner, while others choose to go digital.
It all began with notepads and has progressed to complicated to-do list apps.
You are entirely correct. We're discussing the process of making and maintaining to-do lists. Something as basic as picking up a notebook and making a list used to be as straightforward as finding the best task management software from hundreds of options available.
According to statistics, over 17 million software apps are available to assist you in building and organising to-do lists. The most important question is if they are all beneficial.
Here is a list of the 10 best To-Do list apps to help you get organised at work and in life for better task management to help you find the best ten to-do list apps for your needs. 
Also Read: 10 Best Pomodoro Timer Apps to Increase Productivity
Top 10 Best To-Do List Apps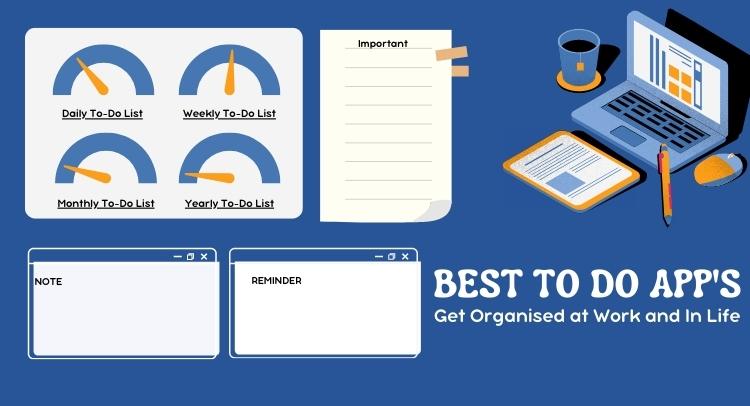 1. Google Keep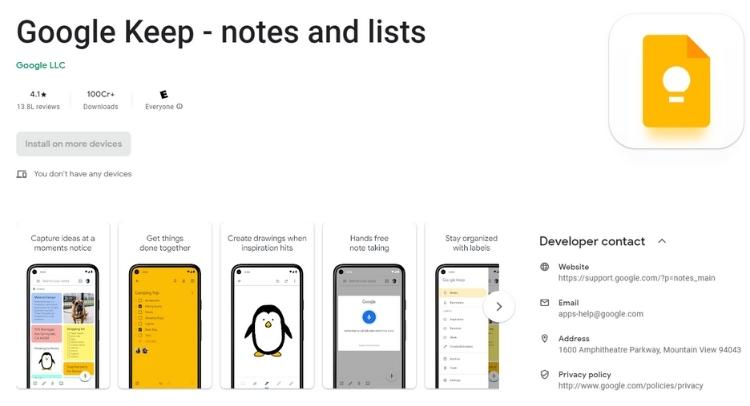 It is one of the best apps for keeping lists and notes. Color-code notes and pins introductory notes for quick access with this app.
Open the app and tap the tiny box with a checkmark at the bottom of your screen if you want a more structured checklist arrangement. It will start a note in the standard to-do list format. When you accomplish a task, tap the box next to it, and it will appear in a list of completed jobs that you can collapse.
You can set particular alarms by tapping the reminder bell in the top right corner of the screen. And if you need to select the notice to remind you to check your to-do list and launch the app. These notifications can be received on your phone, computer, or both.
Google will sync your notes across platforms if you have a Gmail account so that you can add and modify them from anywhere. There are additional possibilities to collaborate and share notes.
| | |
| --- | --- |
| Google Rating | 4.1 |
| Downloads | 100cr+ |
2. Microsoft To-Do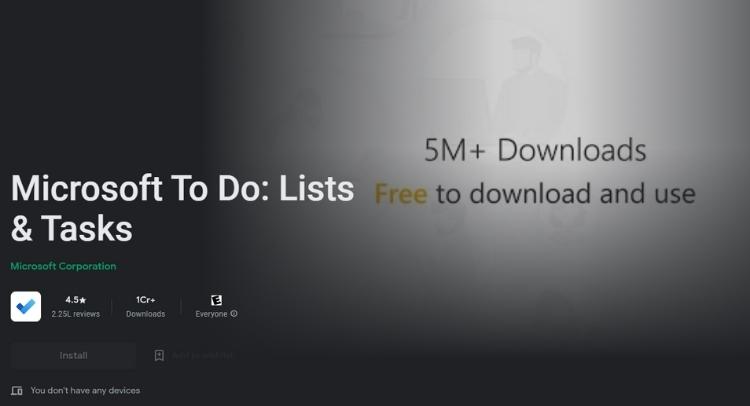 Microsoft To-Do is yet another excellent to-do list application. Microsoft To-Do, created by the same team as Wunderlist, is cloud-based and fully integrated with Office 365. It allows you to create tasks from scratch and import tasks from other applications such as Wunderlist and Outlook.
This is particularly beneficial if you need to continue working on outstanding chores without rewriting your entire to-do list. To keep track of your work, you may modify task list presentations with themes and colours, categorise and prioritise tasks, make comments, and create reminders.
| | |
| --- | --- |
| Google Rating | 4.5 |
| Downloads | 1cr+ |
3. Google Tasks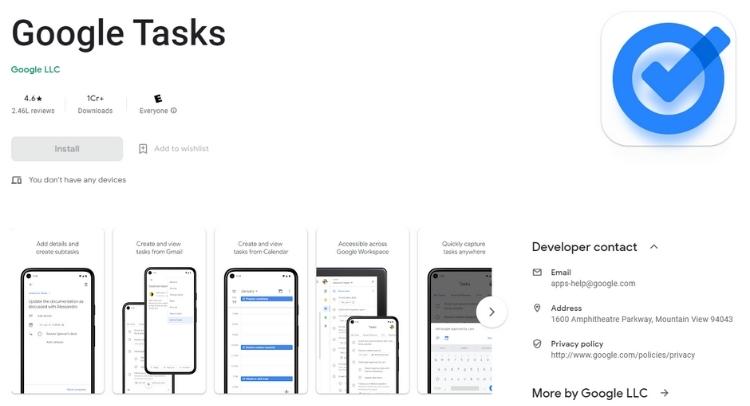 Google Tasks is a simple to-do list software with a minimalist design. You may use it directly through Gmail, download the mobile app, or add a Chrome browser extension. Google Tasks is simply a click away in my Gmail when working.
You can add items to the main My Tasks lists and build other lists and subtasks for the more specific organisation. It's a neat, simple approach for me to monitor and execute my daily plans.
The mobile app is easier for routine duties like chores and appointments. The programme retains all lists on one page rather than opening a drop-down menu to switch between them.
Your entries sync across your devices using your Gmail account. You may add dates and times to your tasks, and Google will add them to your calendar.
| | |
| --- | --- |
| Google Rating | 4.5 |
| Downloads | 1cr+ |
4. Any. do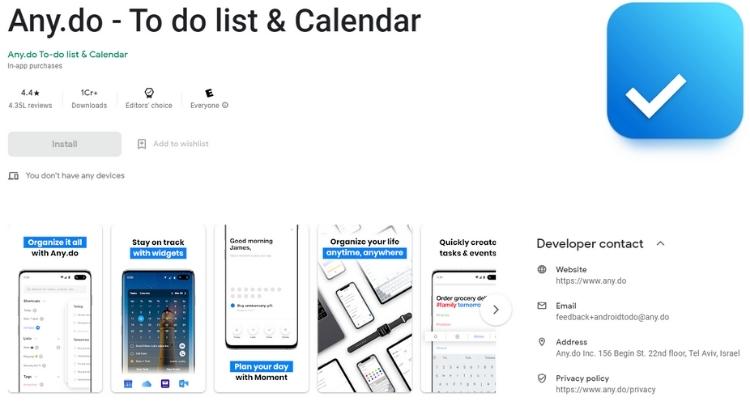 Any.do is one of the most user-friendly tools for creating and managing to-do lists. It's made up of essential task and subtask folders that make it easy to create and mark off tasks when completed. For files, the application includes a simple drag-and-drop option.
The application's voice-entry capability is particularly intriguing. If you dislike typing large to-do lists, this software is for you and prefers to talk instead. Any.do is a virtual personal assistant that allows you to construct a to-do list of chores simply by speaking into your smartphone. It then produces your tasks for you.
The application's minimal UI/UX design makes it simple to understand and supports the user in immediately grasping the capabilities.
| | |
| --- | --- |
| Google Rating | 4.4 |
| Downloads | 1cr+ |
5. Todoist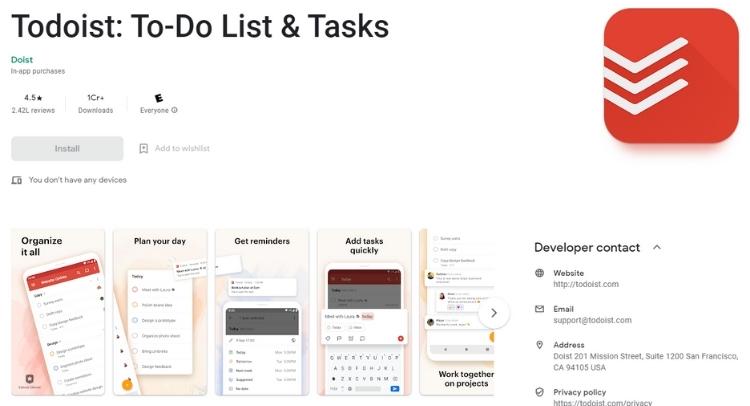 The app has been available for a long time. Its features, on the other hand, aren't in any way out of date. It offers several features that can help you organise your chores or mark them with colour-coded labels.
The app is also visually appealing. You can make sub-tasks, projects, sub-projects, and dependencies using it. You can also assign deadlines to specific projects and colour-code your to-do lists. If you're on a goal-setting mission, it'll help you stay on target.
Todoist also includes interfaces with Sunrise Calendar, IFTTT, and Google Drive, among others.
| | |
| --- | --- |
| Google Rating | 4.5 |
| Downloads | 1cr+ |
6. Habitica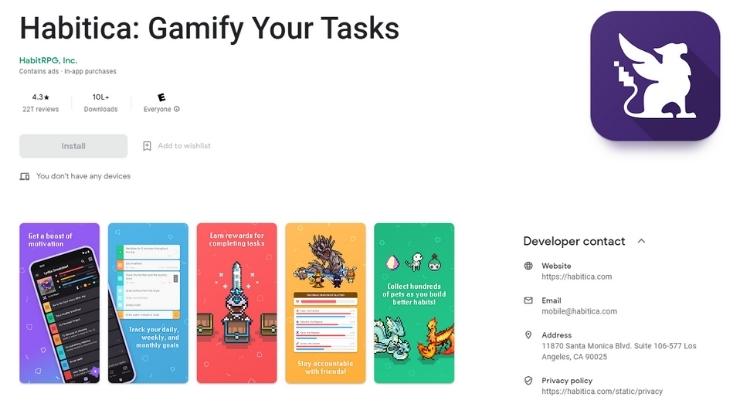 It is a habit-forming programme that can be downloaded on powerful platforms such as Android and iOS. It turns tasks and to-do lists into a role-playing game, making your life more enjoyable.
You can upgrade your weaponry and level up by completing activities on your to-do list. If you ignore chores or fail to accomplish them within the specified deadline, your character's powers and health will be reduced.
That's not all, though. The programme has a function that allows you to share your work with your friends, which adds a competitive element to the task completion process.
| | |
| --- | --- |
| Google Rating | 4.3 |
| Downloads | 10L+ |
7. TickTick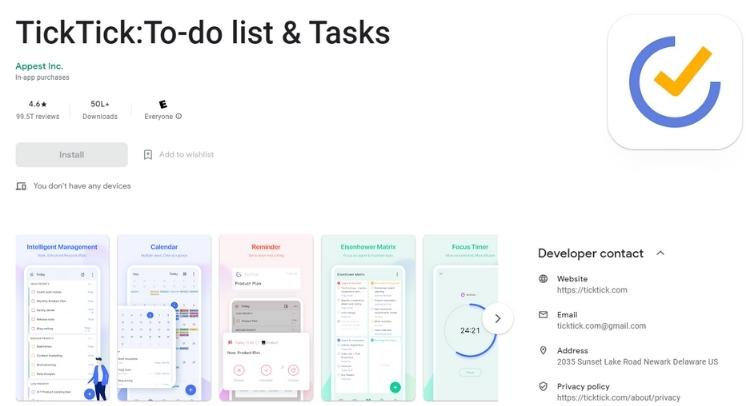 In general, TickTick provides more or less the same fundamental functionality that other rivals in the industry offer. The application supports multiple parameters, including lists, tasks and subtasks, priority levels, and tags.
The platform has a straightforward design that makes task management easy and organised. You may create tasks, and subtasks, set deadlines and reminders, and share them with others, just like any other application. You can also add recurring charges and customise the repeat rate according to your needs.
The tool sends smart reminders for your tasks based on their due dates and times. If you have a history of sleeping through your to-do list, you can use unpleasant alerts to create numerous reminders with a single job.
TickTick also has several tasks sorting filters and tags to help you better organise your tasks and prioritise them. Furthermore, the Pomodoro timer assists you in staying focused and accomplishing more significant results while working.
| | |
| --- | --- |
| Google Rating | 4.6 |
| Downloads | 50L+ |
8. Evernote
Evernote is a comprehensive online notebook tool with task management capabilities, making it simple for users to organise personal and professional obligations.
Aside from that, Evernote users can utilise the web clipping tool to save any webpage or online content they choose, which is then automatically added to their Evernote account.
Evernote also has shared workspaces and connectors with third-party apps like Slack that allow teams to collaborate on projects and coordinate meetings.
| | |
| --- | --- |
| Google Rating | 4 |
| Downloads | 10cr+ |
9. Things 3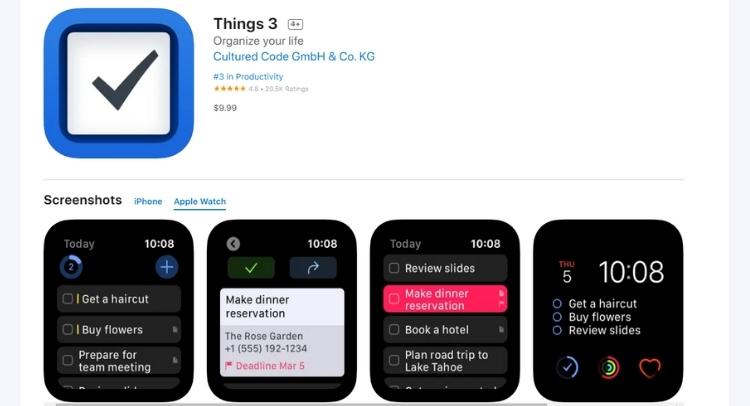 Things might be the best solution for you if you're not searching for a complicated, feature-rich to-do list app. This application allows you to organise and execute all of your to-dos, simple yet effective, based on task management capabilities.
Things have attempted to integrate a new set of changes into its design, functionality, and general aesthetic with a new and updated edition.
Using the tool's simple drag-and-drop interface, you may rapidly rearrange your to-dos according to your priorities. Use the headers feature to organise your tasks into categories and provide more structure to what you need to do next.
To avoid missing a deadline, use the click, type, or speak functions to add time-based reminders to your tasks.
| | |
| --- | --- |
| Google Rating | 4.8 |
| Downloads | 10L+ |
10. Memorigi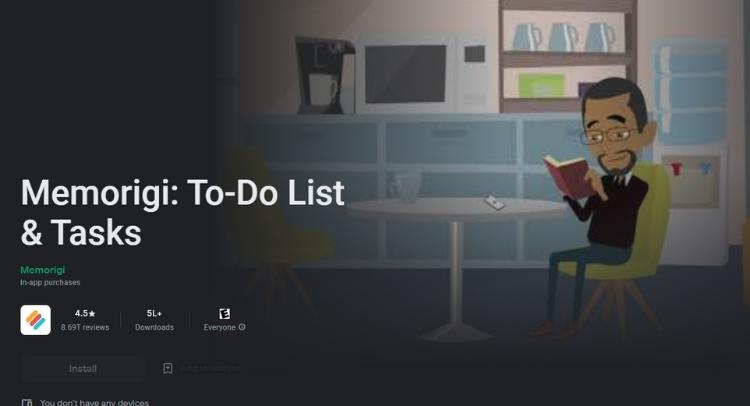 It is a brand new to-do list app; it not only has a lovely and straightforward material design UI, but it also has a lot of features. It also has several convenient features, such as cloud sync, reminders, and weather integration, which give you real-time weather data.
Although it may take some time to adjust to the app's unusual horizontal organisation, it is well worth the effort. The floating chat heads for each to-do list, similar to those seen in Facebook Messenger, boost the flexibility of adding activities.
The free edition of Memorigi should be enough for most users, as it includes nearly all of the capabilities required for basic task scheduling. You can, however, upgrade to the premium plan, which starts at $1.99 per month.
| | |
| --- | --- |
| Google Rating | 4.5 |
| Downloads | 5L+ |
Wrap Up
The applications featured above are some of the top organisation apps for helping you get organised in your personal life and at work.
Consider options with the most relevant features to you and your daily schedule when deciding which app to use. It should become a part of your everyday routine and assist you in better planning your day.