If you have any plan to travel to US for pursuing a career oriented course, higher studies or any profession, one of the most important document that you need is VISA.
United States visa can be sub-categorized into 2 groups- non-immigrant & immigrant visa. A non-immigrant visa is a short-term visa for a temporary stay, but an immigrant visa will help you to stay in the US permanently.
However, a visa is not a certificate of sure entry to the U.S rather it is the characteristic representation of that the U.S. consular officer has reviewed your application, and that the officer has judged him eligible for the post.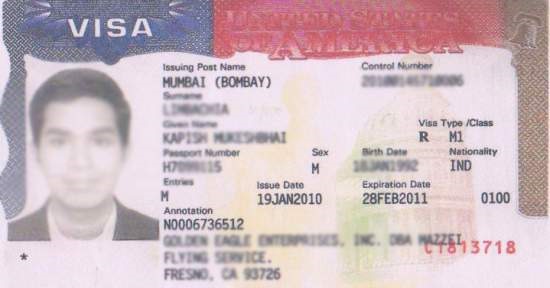 Process of the Application of US VISA
The process of filling up the application of VISA is not a very simple part, and hence it required much preparation from the very beginning. In this process, first of all, you have to determine the type of your visa- if it is immigrant or non-immigrant visa. T
The below given points are the procedures of getting a registered VISA. Any mistake in following these steps can bring hazards to your safe journey to the United States.
Visit http://www.ustraveldocs.com/in/, select your option & start with uploading photo. Now access the form DS-160 from the website. Answer questions as thoroughly as possible before submitting; remember incomplete forms may not be accepted.
Now get the DS-160 barcode confirmation sheet printed on a laser printer. You must have a soft copy of the page to yourself as a backup copy.
Pay the visa application fee at an approved HDFC bank.
Remember, you have to make the appointments using your barcode number and fee receipt. After that, download and print your VFS appointment letter.
In many cases, you just need to drop off your required documents within three working days, before applying for the appointment at a VFS center in various places.
In case you are a H (H-1B, H-3, and H-4) and L (L-1, L-2) visa applicant, you must submit documents only within four working days before the visa appointment date. Sometimes the VISA authorities may ask you to submit documents earlier; however, it is not more than five working days in advance of the visa appointment date.
For interview in the US VISA center in your city, you have to report to the U.S. Embassy or Consulate within fifteen minutes before your appointment. Do not forget to carry appropriate documents and follow security regulations. Check, out the details given by the VISA center of your city to get a practical knowledge of the documents, you need to carry on your interview.
After, you qualify the interview session and submitted all necessary documents that are a valid proof of your reason that why you want to go to the United States, you will be selected to have the registered Visa.
Approved visas are returned by courier.
So, wait no more! Visit the United States VISA center at your city today to get your VISA for that state registered.