Blockchain technology is still pretty new, but it gets increasingly popular every year. It started as a financial ledger for currencies like Bitcoin, but it has become much more now than a financial ledger.
Businesses and ideas can use the technology as a decentralized system. Blockchain-based applications exist in the supply chain, utilities, healthcare, government, and business.
There are many chances for people who want to learn about blockchain technology. There are several blockchain courses, which is good news.
Here, we talk about the most popular and best techniques and guides on the blockchain. It doesn't matter if you have never programmed before in Blockchain.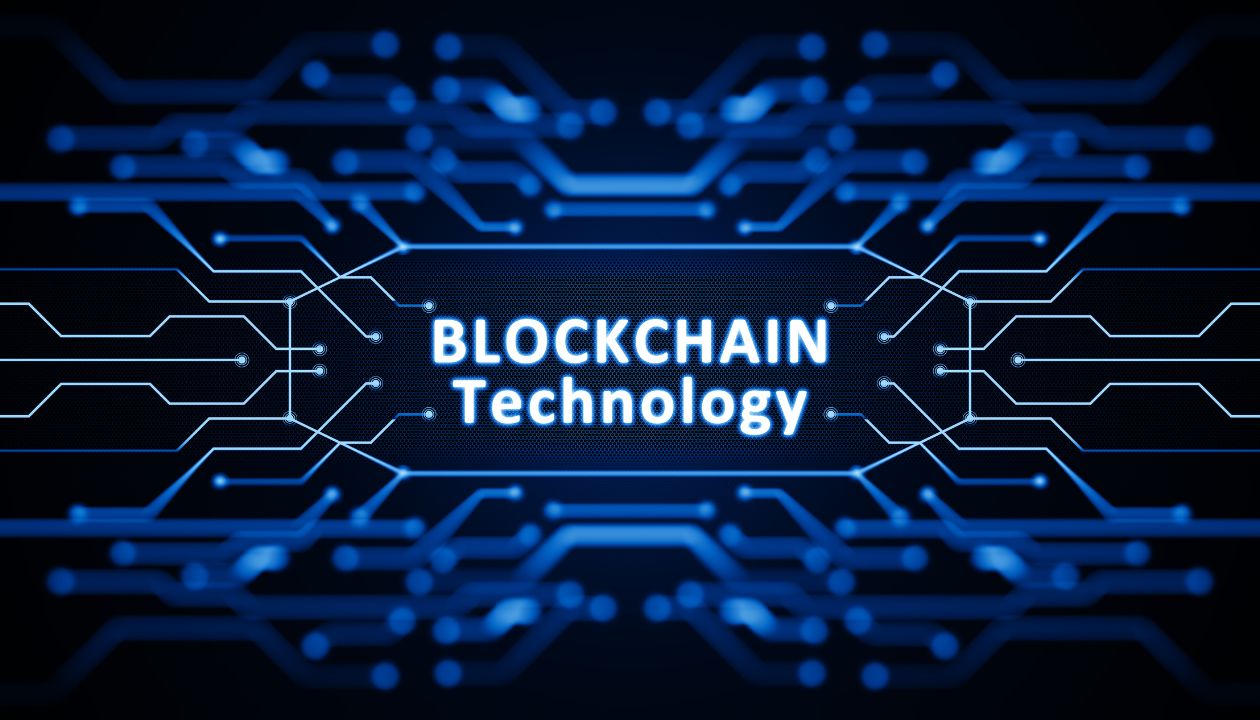 Is a Blockchain Course helping in skills development in 2023?
This course can help you get ready for a job in one of the most popular tech fields. It will show you how to start a blockchain and create smart contracts.
Learning might be a good idea, especially since there are so many job opportunities. By 2029, the global blockchain market is expected to be worth $163.83 billion, up from $7.18 billion in 2022.
A course on Blockchain will help you take advantage of the opportunities in the Web3 job market, which is increasing day by day.
Certification of blockchains
As businesses learn more about how Blockchain can be used for business, a new job market for blockchain architecture, development, project management, and sales is emerging. Many people see greener pastures in Blockchain, which, if acted quickly, can lead to lucrative and highly sought-after careers.
Still, many people who want to work in Blockchain have little or no experience in the field and don't know where to start. Because of this, blockchain certifications are becoming more and more common. Certifications have been a part of business for a long time, and they are trendy in fields like IT, project management, financial services, and sales.
So, it makes sense for people who want to make a career out of Blockchain to take courses in the field and get a certificate of completion that shows they have learned specific skills.
These certifications can help people who want to work in Blockchain stand out from the crowd and are a great way to get a new job in a field with a lot of room to grow.
What Kind of Blockchain Certification Courses are there?
There are many different kinds of jobs in the blockchain field, but almost all of them require at least a basic understanding of blockchain technologies and how they can help private and public organizations.
Since Blockchain is still a reasonably new idea, almost all blockchain courses and certifications start with an introduction to Blockchain and the terms and concepts that go with it.
Some blockchain certification courses only cover the basics, while others go into more depth about designing, programming, and securing the different parts of a blockchain system. Most of the time, these certifications are for developers and architects who need to know more about technical details.
A few blockchain courses also focus on a particular part, like a programming language or a developer specialization.
Top 10 Best Blockchain Courses and Certifications in India
These courses are best for people who already know a lot about Blockchain and want to learn more about a specific type of developer work or architecture.
1. Blockchain: Foundations and Use Cases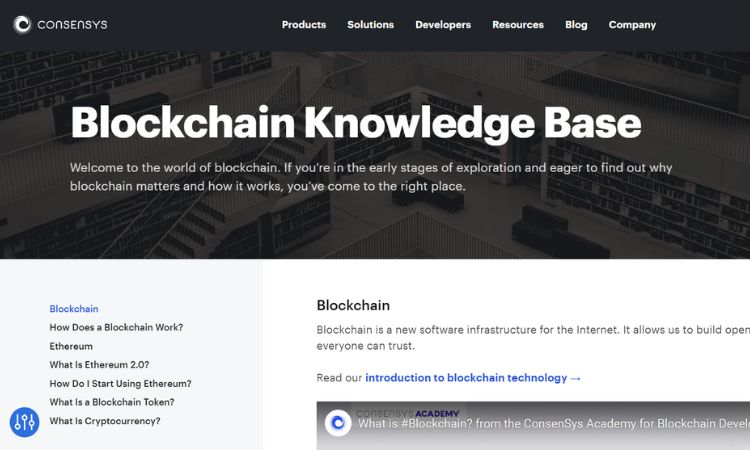 This is one of the best blockchain courses for learners and people who aren't developers but want to learn more about blockchain technology.
ConsenSys, a well-known company in the blockchain industry, is in charge of the course. It will also discuss the philosophical ideas behind decentralization and their importance when making apps.
The initial lessons of this program cover blockchain fundamentals and its technology. Later, it details Ethereum and Bitcoin and shows students how important the next generation of blockchains will be.
The best part is that real-life examples are used to explain the ideas. This means you'll learn much about how real businesses deal with problems. It has no Prerequisites.
The course syllabus includes Functions and Crypto, Blockchain, Public Key and Crypto, Chain and Network, Consensus and Trust work, Crypto, Contract, Asset finding, and Supply.
2. Blockchain Specialization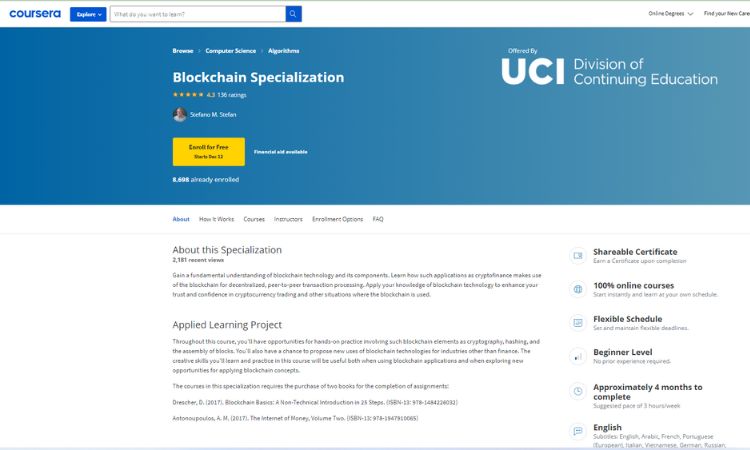 This blockchain technology course mainly works on the most important ideas about Blockchain, which will get you a start in the field. Students who want to learn how to design, deploy, code, and run smart contracts will find this course very useful.
The program also gives an in-depth look at the blockchain ecosystem, including its challenges and platforms. You'll also learn much about the Hash graph and IPFS, two other decentralization models.
There will be much practical work and homework for you to do to test your skills. It Prerequisites include knowledge of one programming language and a basic understanding of object decoration, java-script, and web apps.
The course syllabus includes Basics, contract, Solidity, Crypto, Bitcoin, IDE, Meta-Mask work, and Decentralized Apps.
3. Python Technology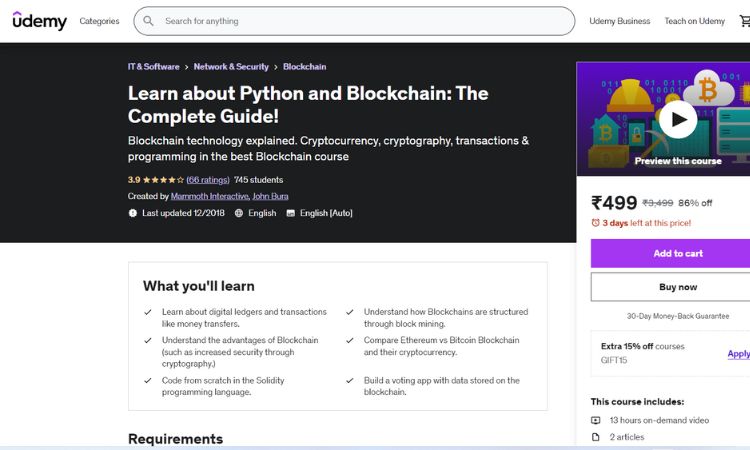 This is one of the best blockchain courses which will teach you about both Python and blockchain technology. It will also show you how to build a cryptocurrency and a blockchain with Python.
You'll also work on an assignment from the real world to add to your portfolio. This program is suitable for people who want to learn how to code for the first time.
It also tells you how to set up and do configurations. It has no Prerequisites. The course syllabus includes an introduction, Data Types, Variables and Strings, Loops, Complex Data, OOPs, Handling Errors and HTTP requests.
4. Fundamentals Professional Certificate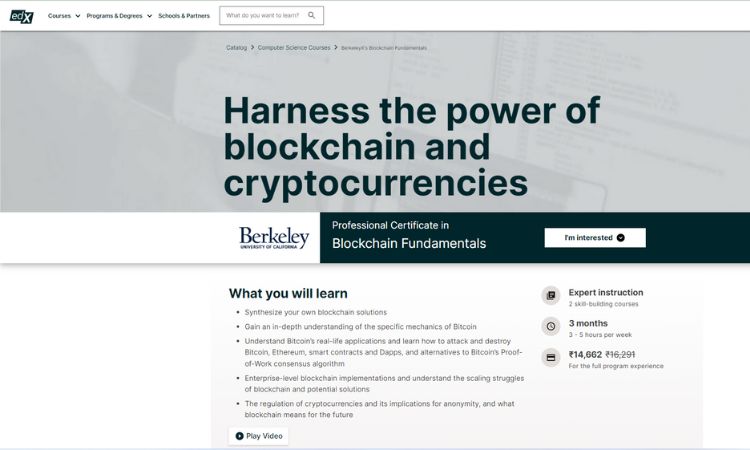 This teaches you technical and non-technical things about the topic, like how to explore ecosystems and the main ideas and technologies behind blockchains.
It also explains how blockchain technology works, which will help you come up with different theories and models that are more accurate. The course also covers how cryptocurrency is regulated, how it will change in the future, and how it will affect more people.
This course also has exercises you can do to test your knowledge and skills. It has no Prerequisites. The course syllabus includes Bitcoin, Crypto, Technology, Architecture, and Decentralized Apps.
5. Teaches How To Make Your First Blockchain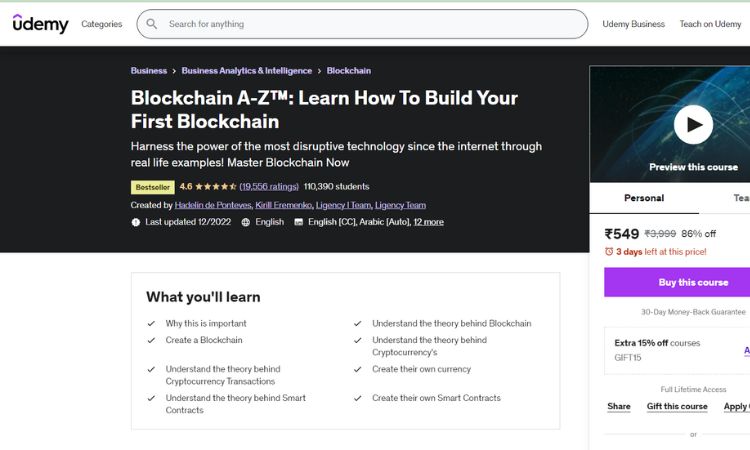 This is the best certificate course that will help you learn how to build your first Blockchain. You'll be taught how to use the technology to make advanced applications.
This is the best way to learn how to speed up things using blockchain technology. If getting hands-on experience is your primary goal, this Udemy learning program is one of the best ways to do that. It also talks about smart contracts, a big part of the business world.
It Prerequisites require the Basic idea of Python and mathematics Course syllabus includes Reaction, Crypto Transactions, and Contracts Creation.
6. The Complete Developer's Guide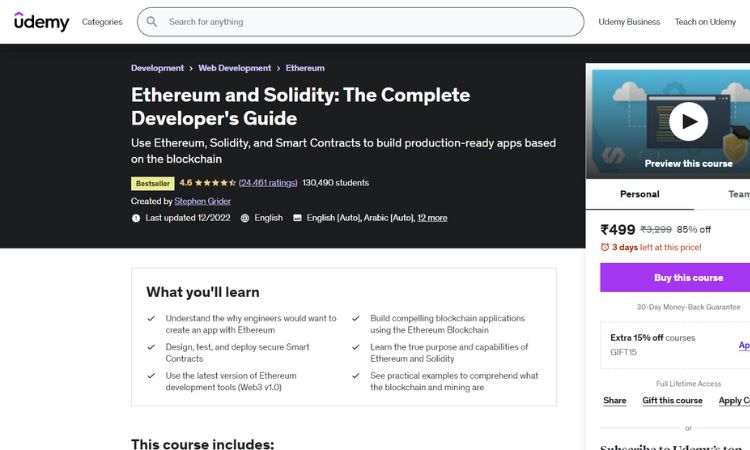 In this course on Ethereum and Solidity, students will learn about programming and smart contracts. You will learn about Meta-mask, Semantic UI, and React in the first lessons.
You will also learn about Ethereum, one of the most popular blockchains, and the best ways to build professional apps. It also talks about different problems in business. This course is one of the most popular on Udemy for a reason.
But you should keep a look to see if there have been any changes to Ethereum since the course was made since some of it was made a long time ago.
It Prerequisites require the basics of NPM. The Java-script Course syllabus includes Ethereum, Solidity, Block Time, Arrays, Mappings, and Structs, App Architecture, Campaign Design, Project Infrastructure, and Advanced Multi-page.
7. Blockchain & Bitcoin Fundamentals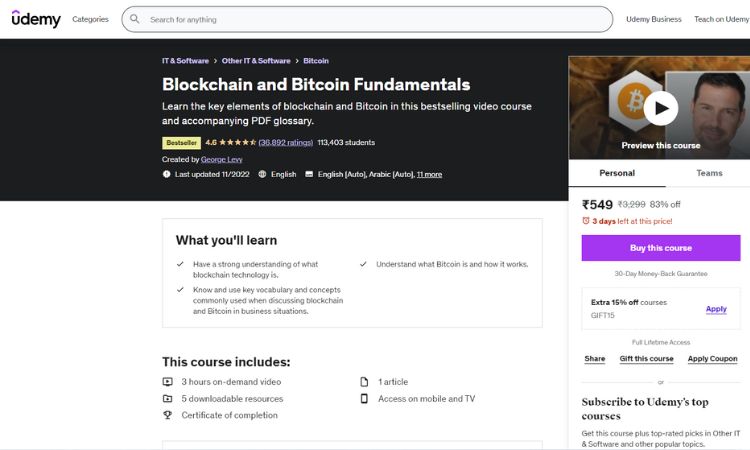 George Levy, who has won awards as a teacher, teaches the Blockchain and Bitcoin Fundamentals course on Udemy, which is also a best-seller. Students can learn about the basics of bitcoin in this class.
The class talks about digital tokens, the basics of bitcoin, crypto, and networks. You'll also be taught about mining bitcoin and the myths about coins and chains.
It has no Prerequisites. The course syllabus includes Fundamentals, Crypto, Tokens, relation, and Future.
8. Blockchain Developer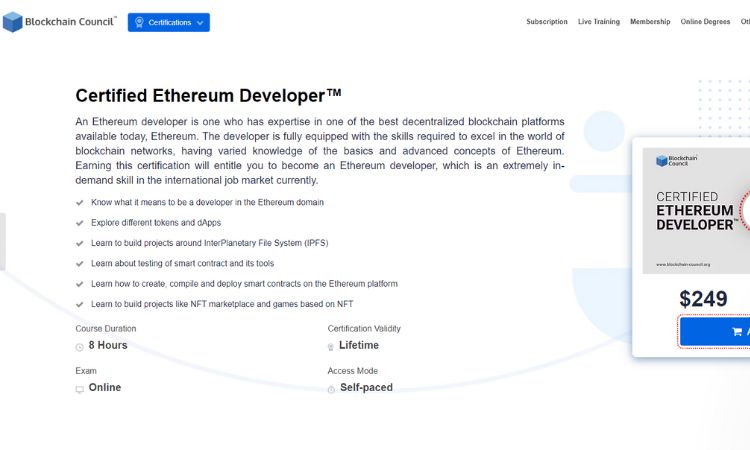 This blockchain course will teach you how to use Ethereum and Solidity to make smart contracts. The course material is thorough and well-organized, which helps build strong roots in the chain and related knowledge.
You'll also learn how to build decentralized apps and set up different types of Ethereum, such as the main net. Its prerequisites include Basic ideas and work experience in software development.
The course syllabus includes an Overview, Implementations, The 3-layer Model, Asymmetric, environment setup, contract deployment, and decentralized apps.
Being a blockchain developer is one of the most exciting careers.
9. Basics of Blockchain: Ethereum, Bitcoin, & More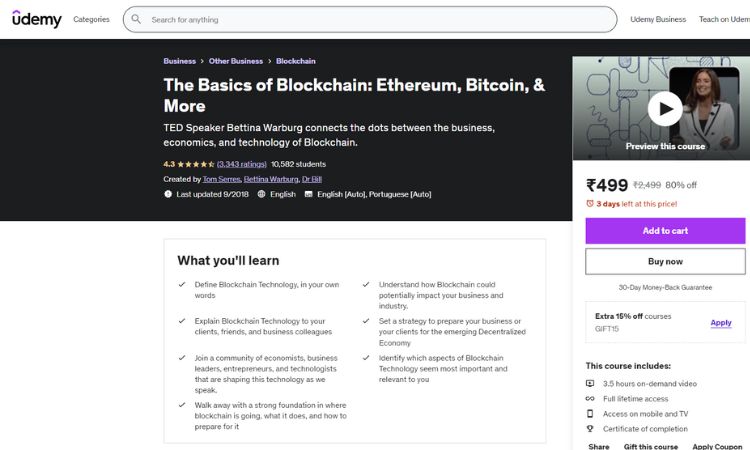 Basics of Blockchain is the name of the course. It is a popular thing to learn how chain technology and businesses are all linked.
The system also looks at how blockchain technology could change different companies and industries. Examples from the business world are used to explain the ideas.
It Prerequisites include the Basics Idea of the internet. This blockchain certification syllabus includes Blockchain, Traits of Blockchain, Contract, Ethereum's Difference from bitcoin, and Blockchain Principles Relevant.
Read also: Best Free Online Courses with certification.
10. Blockchain Fundamentals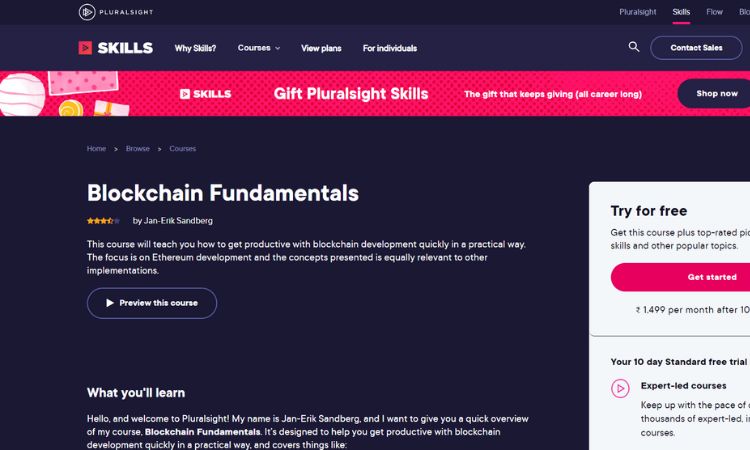 This blockchain training course, which you can find on Pluralsight, goes deep into the knowledge and idea of Blockchain.
In this, you will learn how blockchain and bitcoin work together. Students also learn how to set up a chain network. This training course is set up so that students can learn how blockchain technology can be used from start to finish.
It also teaches how to make smart contracts. It is difficult for beginners. It Prerequisites include Basic Knowledge of computer science. The course syllabus included Fundamentals, Introduction of DAPPS, Installation, Configuration, and Contract development.
Conclusion
The top blockchain certifications on this page are designed to teach students how to use the parts of chain technologies. You'll learn enough to be able to talk to business executives and give them solutions that work for their needs.
Also, these programs will provide everyone with the skills everyone needs to become an expert in Blockchain.