Credit cards deserve a place in your wallet. They can be your biggest saviors when you're in need of emergency funds, for shopping, or sometimes an international transaction.
If you can't relate to any of these then think about the times when you wanted to buy something really great but, it was the month-end. Oh, so dearly we wish to have some extra money.
There are various benefits of having credit today like reward points, lounge access, insurance, and improving credit score. But the most important that I like about a credit card is cashback.
So, a cashback credit card returns you a certain percentage of the money you spend. Though it's a rather small percentage it can sum up to a considerable amount. You either get reward points or direct credit to your account.
Choosing the right cashback credit card is a crucial decision. You need to analyze your lifestyle and look out for what benefits you need. In this article, I've made your search a little easier.
You'll find the list of the 10 Best cashback credit cards (also known as moneyback credit cards). I've sorted the key features and the fees you'll have to pay every year.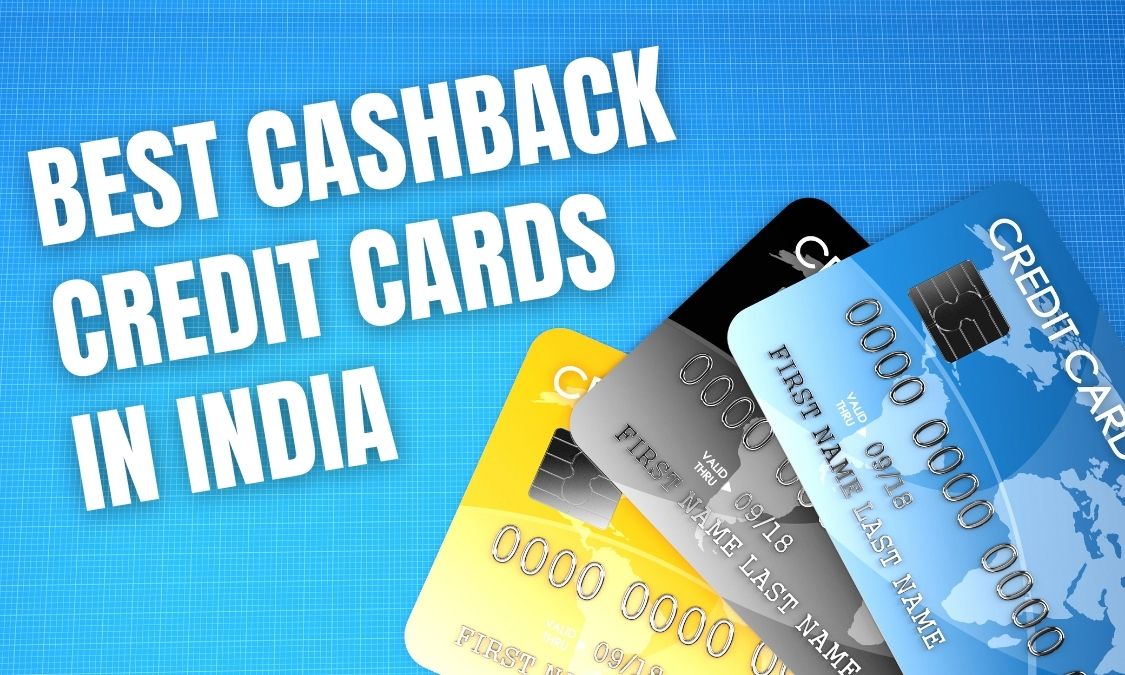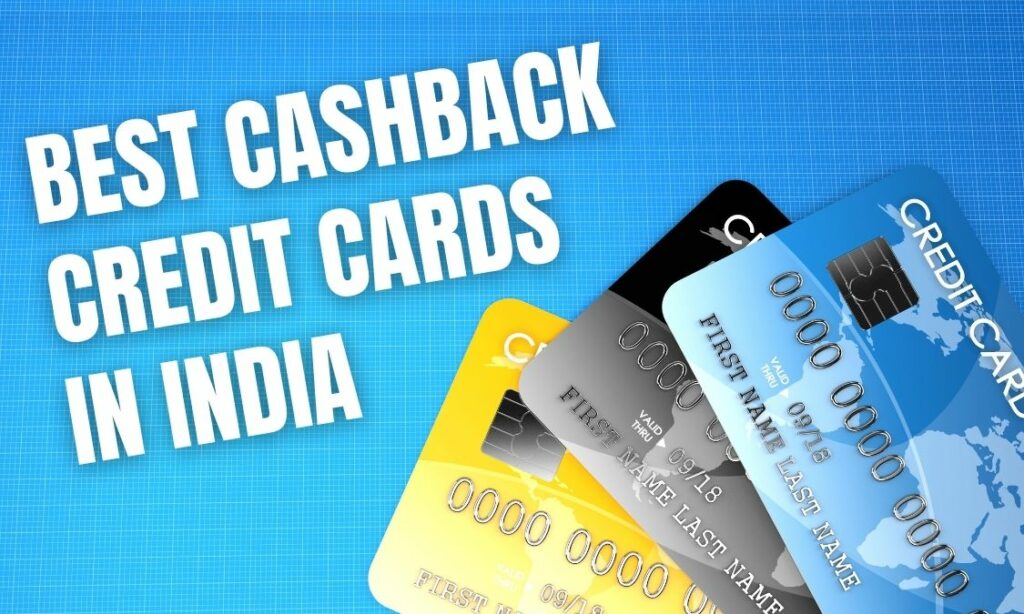 10 Best Cashback Credit Cards in India
Most of the companies also offer you exceptional deals and discounts as a welcome bonus.
All of the 10 cashback cards have served different benefits on the platter. It's up to you to decide which one of these is the right fit for you.
1. HDFC Moneyback Credit Card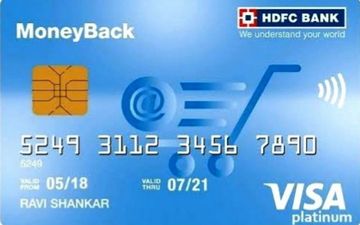 If you're thinking of your first credit card, the HDFC moneyback credit card can be a perfect choice. This moneyback credit card is an entry-level card. It is one of the most popular cards in India as it offers a cashback on every credit card payment you make. 
Features:
2X reward points on online shopping
2 reward points on every retail spend.
Upto 50 days of the interest-free credit period
Welcome the benefit of 500 cashpoints
Avails contactless payments
Earn a gift voucher worth Rs. 500 every quarter on the spending of 50,000. This means you get to earn gift vouchers upto INR 2000 every year.
Zero lost card liability. Under this, you need to report to HDFC 24-hour call center immediately after losing your card. If you do this you won't be liable for any fraudulent transaction on your card.
Fees:
The joining fee is 500.
The renewal fee is 500.
The Minimum Income Requirement – at least Rs. 25,000 p.m. or must have filed an ITR> Rs. 6 lakh p.a.
2. Citibank Cashback
It is the best credit card for cash back. If you are not looking for an entry-level credit card then, Citi Cash Back Credit Card might be for you. It is a credit card that offers exclusive cashback on movie ticket bookings, utility bill payments, and various other expenses.
Also, you get a cashback that is directly credited to your statement and never expires if unredeemed.
Features:
best Suited For Everyday Expenditure
Minimum Income requirement – Rs. 3,00,000 p.a.
The best feature of this card is that you get a flat 5% cashback on utility, telephone bill payments, and movie ticket purchases. Also, get 0.5 percent cashback on all other spending.
You get a dining discount of up to 20% across participating restaurants.
Get benefits worth INR 3,300+ in the first year
Get your cashback automatically credited to the statement in multiples of Rs. 500
Contactless payments
Fees:
Joining/ annual fees is communicated at the time of sourcing
3. SBI Prime Card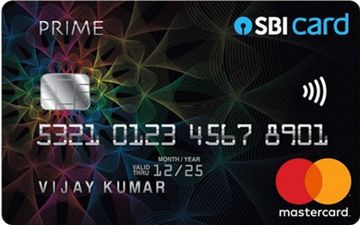 Your premium lifestyle deserves a premium card. SBI prime cashback credit card has loaded itself with attractive offers. Though its renewal fee is slightly higher than the rest it's certainly worth it.
If you love traveling and discounts this card will perfectly suit your needs. You get benefits in your travel, fuel, and lifestyle purchases.
Features:
Get a welcome e-gift voucher worth INR 3,000.
Earn 10 reward points for every Rs.100 spent on groceries, dining, and departmental stores.
Complimentary club Vistara silver membership and 1 upgrade voucher.
Access to 4 international lounge visits per year (outside India)
Enjoy 8 domestic lounge visits in India per year.
Air accident liability cover 50 lakhs and credit card fraud liability covers 1 lakh.
Earn a pizza-hut voucher worth Rs.1000 after spending Rs.50,000 in a calendar quarter.
Enjoy 20 reward points on every Rs.100 spent on your birthday
Fees:
Annual fees – Rs. 2,999 + taxes
Renewal fees – Rs. 2,999 + taxes
Minimum income required – INR 32,000 per month
4. HDFC Bharat Credit Card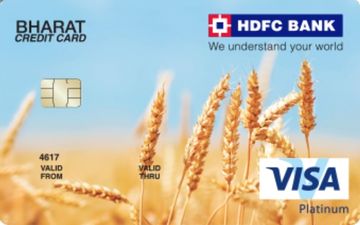 A card that gives cashbacks on your everyday expenses. Yes, you read it right. HDFC Bharat credit card saves 5 percent of your money. This is one of the best ways to save money every transaction on fuel, groceries, and bill payments. Not just this, it comes with a lot of other perks as well.
Features:
Save five percent on booking tickets with IRCTC.
Get 5 percent of monthly cashback on your fuel expenses. Also, you can save upto Rs. 250 in every billing cycle with a one percent surcharge waiver.
5 percent cashback on grocery spending, as well as bill payments and mobile recharge.
50 days of the interest-free credit period
Save upto INR 3,600 in a year
You will receive your cashback as reward points, where 1 reward point equals 1 rupee.
If you make minimum transactions of Rs.100 every month you get the insurance cover. Up to 50 lakhs of accidental death insurance and Up to 2 lakhs of purchase protection against burglary or fire.
Zero lost card liability after reporting immediately.
Fees:
Annual fees – 500+ taxes
Renewal fees – 500+ taxes
Income – For Salaried individual: Gross monthly income>12000
For Self-employed: ITR>2 lakhs per annum.
5. Axis Flipkart – Best for Co-branded Benefits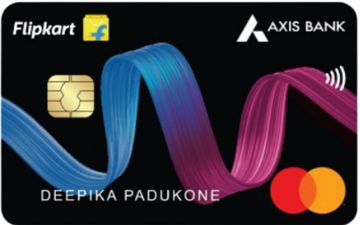 Shopping is an amazing experience in itself. But, it can be way better with this axis Flipkart credit card. This is a perfect choice for shopaholics and travel lovers. One of the greatest benefits that you get is that there's no upper cap for the number of cashbacks you receive.
Features:
Welcome Benefits – Rs. 1,600 worth of joining and activation benefits from Flipkart, Swiggy, Myntra, Uber, Cleartrip, etc. This includes Rs. 500 worth welcome voucher on making your first transaction within 30 days.
Enjoy 5 percent cashback for spending on different shopping platforms.
Earn 4 percent cashback for spending on preferred merchants (Uber, Swiggy, PVR, Curefit, Tata Sky, Cleartrip, Tata 1MG)
Gain 1.5 percent cash back for spending on all other merchants
4 complimentary domestic lounge access visits (one per calendar quarter)
1 percent Fuel surcharge waiver up to Rs. 500 per month.
Enjoy upto 20 percent off at partner restaurants in India.
Fees:
Joining fees – INR 500
Renewal fees – INR 500
6. HSBC Cashback Credit Card – Best for Online Spending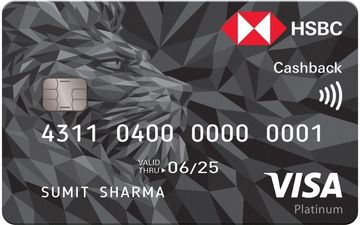 If your world revolves around online stores, let me introduce you to the HSBC cashback credit card. It gives you a grand entry with all the vouchers and welcome offers it has to offer. Apart from that, you get 1.5 percent cashback on all your online spending.
It is a card for people residing in the cities of Bangalore, Chennai, Gurgaon, Hyderabad, Mumbai, New Delhi, Noida, or Pune.
Features:
1.5 percent cashback on all online spending (excluding transfers to online wallets)
1 percent on all other spends
No maximum cap on cashback
Welcome Benefits – Amazon vouchers (worth Rs. 1,000)
Big Basket voucher (worth Rs. 250)
Myntra vouchers Rs.300 x 5 (worth Rs.1,500)
Ajio vouchers Rs.600 x 5 (worth Rs.3,000)
3 complimentary airport lounge access at domestic & international lounges or 3 meal-vouchers
50 percent discount (up to INR100) on the first transaction on Google Play.
5 percent amazon discount on spending INR 1000 or above ( maximum Rs.250 per month).
Up to 15 percent off at over 1000 restaurants around major cities.
Contactless payments
Fees:
Joining fees – 750
Renewal fees – NIL
Income requirement – Annual income of INR 4,00,000 or above
7. HDFC Millennia – Best Across Various Categories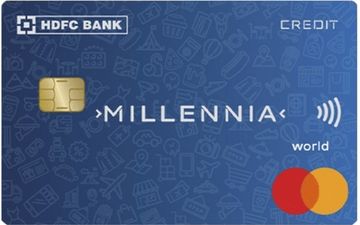 HDFC millennia is another superb card. It gives you one of the highest cashbacks. Be it shopping, ordering food, or watching shows, you can get cashbacks for almost everything you do online.
Its welcome benefits are great as well as cashback offers. Unlike most of the other cards, you can avail of good deals across various categories with your millennia card.
Features:
Welcome Benefits – 1,000 reward points on the payment of the membership fee.
Gift vouchers worth Rs. 1,000 on spending Rs. 1 lakh in each calendar quarter
You can get up to 5 percent cashback on your online transactions.
5 percent cashback for shopping with Amazon, BookMyShow, Cult.fit, Flipkart, Myntra, Sony LIV, Swiggy, Tata CLiQ, Uber, and Zomato.
1 percent cashback on all other spending (except fuel)
Max cashback is capped at Rs. 1,000 per month.
You get 8 domestic lounge visits in a year. That means 2 visits every 3 months.
Zero lost card liability.
50 days of interest-free credit period
Fees:
Joining fees – Rs.1000
Renewal fees – Rs.1000
Income requirement – INR 35,000 or more for salaried individuals
– ITR>6 lakhs per annum for self-employed
8. Kotak Delight Platinum Card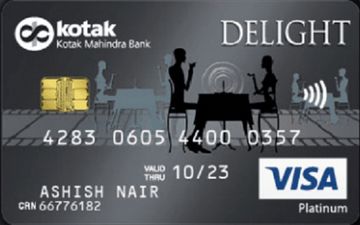 As the name suggests, it's a premium card. Suited for foodies and movie buffs. Kotak delight card offers you upto 10 percent of cashback.
You also get insurance cover in case of theft and fraudulent transactions. Check these features and know if this is just the right card for you.
Features:
You can get 10 percent cashback on dining and movies if you spend over Rs. 10,000 on categories other than dining and entertainment every month.
Fuel surcharge waiver up to Rs. 4500 in a year. The offer is applicable where the amount spent is between Rs. 400 and Rs. 4000
On spending Rs. 1.25 lakh every 6-month users get 4 free PVR tickets or Rs. 750 cashback
Users get a railway surcharge waiver Upto Rs. 500 annually
Insurance cover of 1,25,000 rupees in case of fraudulent usage.
Fees:
Joining fees – INR 1,999
Annual – INR 299
Add-on card fees – INR 299
9. SBI Signature Contactless Credit Card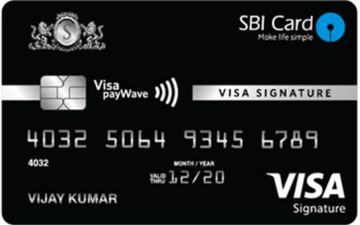 SBI signature is a premium lifestyle card. It covers everything from shopping, movies, food, fuel, groceries, etc. Though its yearly charges are comparatively higher the benefits align perfectly with the same.
The annual fee for the card is Rs.4999 which is equal to the worth of the welcome voucher you receive.
Features:
Get a welcome e-gift voucher worth Rs.5,000 from various brands such as Hush Puppies, Westside, Shoppers Stop, Marks & Spencer, etc.
Enjoy a discount of Rs.500 on movie ticket purchases from BookMyShow once a month.
5 reward points for every INR100 you spend on dining, departmental store, grocery, and international purchases. Earn 2 reward points for every Rs.100 spent on other categories.
Gain a bonus of up to 10,000 reward points if you spend Rs.3 lakh and Rs.4 lakh in a year.
Be a part of the Signature Book of Rewards program to get endless rewards from top lifestyle brands.
Every fuel, transaction gets a fuel surcharge waiver of 2.5%, provided the transaction amount falls between 500 and 4,000.
Complimentary Fraud Liability Cover for up to 1 lakh.
Enjoy complimentary Elite Priority Pass program membership and Visa Airport Lounge Access.
Fees:
Annual fees – INR 4,999
Renewal fees – INR 4,999
Income requirement – INR 60,000 per month
10. American Express Pay Back Credit Card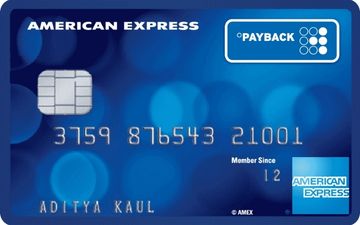 American Express is a card customized for those who seek big rewards. The card is co-branded by American express with payback. The company is known to give its customers amazing loyalty programs.
This will be a smart choice if you wish to earn reward points from both American express and Payback.
Features:
Earn 2 payback points on spending Rs. 100 except on insurance, cash transactions, utilities, and fuel.
Earn more points from over 50 payback partners.
Receive welcome vouchers of Rs.750 after completing 3 transactions within 60 days.
Earn Flipkart vouchers worth INR 7000 after spending 2.5 from the card in a year.
Get discounts up to 20 percent off across various restaurants.
Zero lost card liability.
Fees:
First-year application fees – Rs.750
Second-year onwards – Rs.1500
Conclusion:
These are the 10 best cashback credit cards in India right now. These moneyback credit cards help you save money as well as enjoy some exclusive privileges. Just take a look at their terms and conditions carefully before you decide on a card.
This might help you compare interest rates, cashback limits, and additional fees that you might have to pay.