We need water throughout the day. Over 55 percent of female and 60 percent of male body consists of water. This indicates the significance of water in our lives.
We require water for drinking, personal hygiene, domestic cleaning, cooking and sometimes, gardening.
Average Water Consumption in India
On average, persons in rural India use between 100 and 150 liters of water per day. In urban areas, the average ranges between 120 and 200 liters per day per person.
Data compiled by Ministry of Water Resources, River Development & Ganga Rejuvenation indicates, an average Indian requires water in following quantities daily.
Drinking Water: Five to six liters/ day
Cooking: Five: to six liters/day
Washing utensils & clothes: 20 to 30 liters/ day
Domestic cleaning: 10 to 15 liters/ day
Flushing toilets: 30 to 40 liters/ day
Bathing: 30 to 100 liters/ day depending upon methods such as shower, bucket and bathtub.
Considering this such heavy consumption, it is imperative the authority that supplies water to your home or office would charge for the utility. These figures also indicate the importance of water and also why we should focus on saving water in our daily lives.
Hence, it is imperative to pay water bills on time and avoid disconnection of this vital resource.
Here are different ways and means for how to pay water bill online and offline in India.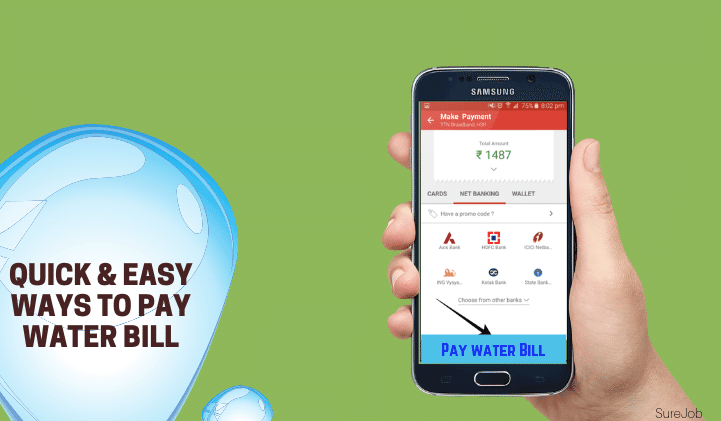 1. Cooperative Housing Society
A large number of cooperative housing societies in cities across India receive a collective water bill from the municipality or other utilities providers. They split the bill equally among every household.
In such cases, you would pay water bill as part of the monthly maintenance charge. The cooperative housing society in turn will pay water bill to the utilities provider.
This system saves you the hassles of water bill payment separately and face disconnection for any reasons.
2. Water Resources Department
If you reside in semi-urban or rural parts of the country and have a water connection, a monthly or bimonthly bill will be mailed by Water Resources Department of the state.
In such cases, you can make water bill payment directly at offices of the Water Resources Department. While Water Resources Departments of some states do accept water bill payment online, a majority are yet to offer this facility.
Hence, you will have to pay water bill directly at their offices. Paying at offices also has a distinct advantage: should you have any disputes, they can be resolved during the visit.
3. Village Panchayat
In rural India, a common practice is to pay water bill at the Village Panchayat office or the 'Sarpanch' or a designated 'Panch.'
The Indian government encourages village administrations to play a major role in providing facilities to residents of rural India. The system of water bill payment at Village Panchayat offices is helping millions of Indians that cannot travel to a city or town merely for this purpose.
Further, the village panchayat ensures that nobody in the area faces water outage because of their delays: they need votes from villagers to remain in power.
4. Online Payments
Larger utilities providers accept water bill online payments. Hence, you can simply login to your net banking and pay the utilities provider.
To use this facility, you will require specific details such as bank account number and Indian Financial System Code (IFSC code). This is the fastest way of water bill payment. It can be done using a computer or from a net banking app provided by your bank.
The greatest advantage of water bill payment online is that you can make water bill payment anytime and from any location.
It is also very secure since banks will send a One Time Password to your registered mobile number. Without the OTP, nobody can complete a transaction. Further, acknowledgement of the debit from your account is instant.
5. Standing Instructions
This is another facility provided by certain utilities providers for water bill payment. You can issue standing instructions in two distinct ways.
By submitting a direct debit instruction form to your bank. You have to provide details such as your consumer number to the bank. The bank, in turn, will contact your utilities provider and activate the direct debit facility.
Every time you receive the utilities bill, the bank will send an SMS alert informing the amount and due date. You can opt to pay it or delay, depending upon circumstances.
For example, if you have a dispute over the billed amount, request the bank to defer payment. The alert also provides an opportunity to deposit sufficient funds to your account, should there be insufficient funds.
Adding as Biller: Net banking facilities allow you to add a Biller to the account. Select the 'Add Biller' option on the net banking page once you login to the bank account. Choose Electricity/ Water option.
The menu may vary according to your bank. Key in the consumer number that appears on the water bill. The bank will send an OTP to confirm the Biller.
Once this is done, you will receive SMS alerts on amount payable every time the utilities provider sends a bill.
You have the option to stop payment in case of disputes or top up the amount, in case of insufficient balance in the account.
Standing instructions help you overcome the hassle of remembering to pay water bill before the due date.
6. Mobile Wallets
Paytm, MobiKwik, SBI Buddy, ICICI Pockets and other mobile wallets come with a feature that enables you to make water bill payment.
This system is also very simple. Since you will make the payment through a smartphone, it is possible to make water bill payment from any location, round the clock. Simply login to your mobile wallet and choose the Pay Bill option.
Here, you will receive multiple options. Choose Electricity/ Water. Again, on some apps, the Water option will be shown separately. Upon choosing the right one, key in your consumer number and select the utilities provider.
Fill in the amount you wish to pay and press 'Submit'. Some mobile wallets send an OTP to confirm the payments.
Others ask for a Mobile Personal Identification Number (MPIN) or a password. Mobile wallets also offer instant payment of water bills.
Often, mobile wallets come up with cashback and other attractive offers that help you save money when you pay water bill using these.
7. BHIM
Bharat Interface for Money (BHIM) is not a mobile wallet.
It is an online payments app launched by the Indian government in collaboration with National Payments Corporation of India (NCPI), Reserve Bank of India and Indian Banks Association. You need to link a bank account with BHIM.
Login at BHIM and select the Bill Pay option. Select the Electricity/ Water option. Choose your utilities provider and key in the consumer number.
Fill in the bill amount and press 'Submit'. The BHIM app will ask for your Unified Payment Interface (UPI) PIN provided at the time of registration. Upon submitting the UPI PIN, the amount will be debited from your bank account.
You can use the BHIM app provided by NCPI or UPI/BHIM apps of your bank to pay water bill. Both are equally efficient and fast.
The advantage BHIM offers is you can switch between various bank accounts and make water bill payment from one you prefer.
Several attractive offers such as cash incentives ranging from Rs.25 to Rs.500 are offered occasionally by the Indian government as part of its endeavor to popularize BHIM.
Hence, when you pay water bill using BHIM, there is an opportunity to win these incentives.
8. BBPS
Bharat Bill Payment System (BBPS) is a unified payments portal launched by NCPI, RBI and IBA. There are two ways to pay water bill using BBPS.
Online: Visit the Bharat Bill Pay website and choose Bill Pay feature that appears on top of the webpage. Select you bank. The website will display a list of billers. Choose your utilities provider. Key in consumer number and other details and press Submit. The website will take you to the online bill-desk of the utilities provider. Key in you net banking username, password and amount to be paid. Upon submitting an OTP or net banking password of both, the amount will be debited from your bank account and immediately credited to the utilities bill provider. You get an instant confirmation from BBPS.
Offline: Since BBPS cannot be accessed by people with no Internet connectivity, the Indian government provides a facility to pay water bill offline too. Simply look for any store or outlet that displays the BBPS logo or signboard. You can remit cash at these outlets. You can also handover a cheque drawn in favor of the utilities provider with your consumer number mentioned on the reverse side.
9. UMANG
Unified Mobile Application for New Age Governance (UMANG) brings on board several utilities providers. With this app, you can pay water bill directly to your utility provider.
Currently, the facility of paying through UMANG app is limited to a few states in India. However, the Indian government is bringing more utilities providers on board to use UMANG, since it forms part of the new age governance being implemented across the country.
UMANG is an app provided by Ministry of Electronics and Information Technology (MeitY) and National E-Governance Division of the Indian government.
Hence, it is perfectly safe to use. Being a mobile-based app, you can pay water bill from any location, round the clock. You get instant alerts for paying with UMANG.
10. India Post
Post offices in various parts of India are authorized to collect payments for your water bill. The facility is available at more than 25,000 India Post branches, primarily located in villages.
As per Indian government rules, utilities providers have to empower India Post branches to collect utilities bill where a service provider cannot open office or there are no banks and other facilities where consumers can pay water bills.
Additionally, India Post also as e- payment service for utilities providers.
This enables utility companies, municipalities and Water Resources Departments of various states to opt for the facility to receive cash payment for water bills anywhere in India.
Post offices collect the money and remit it on specific dates to the utilities provider.
11. Mail & Courier
You can make water bill payment by writing a cheque favoring the utilities provider and mail it to their offices. The name and address of the nearest office will appear on the back of your water bill.
Remember to attach the lower half of the water bill along with the cheque and mention your consumer number on its reverse.
This will prevent the money from being credited to the account of any other consumer.
It is not necessary to send the cheque by registered post or courier. The ordinary post will serve the purpose.
However, if your utilities provider's offices are located afar, you can use any reliable courier company that charges reasonable rates.
12. Pay at Authorized Banks
Banks across India are authorized to collect utilities bills. However, this facility is extended only by banks that have an agreement with your utilities provider.
Simply check reverse of the bill to find which banks and their designated branches are authorized to collect water bill payments.
At banks, it is possible to pay water bill by cash, cheque and in some instances, using BHIM app and mobile wallets. They display a sticker with a QR code that you need to scan, provide consumer number and other details and pay the amount.
Once the amount is paid, the bank clerk will endorse your receipt portion of the bill with a stamp and signature.
13. Payments Banks
Following an Indian government directive, Reserve Bank of India has allowed six Payments Banks to operate in this country.
You can make water bill payment online through the mobile app provided by these Payment Banks.
Alternatively, it is possible to visit Banking Points of these Payment Banks and pay cash. Banking or Retail Points prominently display their services.
Hence, you can easily locate the nearest one. Payments Banks offer a distinct advantage: you can make water bill payment online anytime, anywhere using their app or during work hours of a Banking Point.
14. Drop Boxes
Utilities providers in various cities provide drop boxes for cheques at various crowded locations, including railway and metro stations, bus terminus and malls, popular stores and supermarkets, among others.
Write a cheque favoring the utilities provider and affix lower (receipt) portion of the bill.  Drop them at the box to pay water bill.
The facility is provided to enable residents of cities to pay bills easily while avoiding large crowds at offices of utilities providers.
15. Cooperative Credit Societies
And finally, cooperative credit societies in various villages, towns and cities are authorized by utilities providers to accept water bill payments.
Similar to banks, you can make water bill payment by cash, cheque or sometimes, BHIM and mobile wallets or even Payments Banks.
Details of cooperative credit societies where you can pay water bill will be available from the utilities provider or will be printed on reverse of the bill.
In some instances, a cooperative credit society may charge nominal fee ranging between Rs.2 and Rs.5 for accepting payment of your water bill.
This fee is levied to offset their operating expenses. Cooperative credit societies also get a small commission from utilities provider when you make water bill payment through their outlets.
Final Thoughts
As we can see, there are 15 different ways to pay water bill in India. All these modes of payment are safe and reliable. However, it is vital to pay water bill on time since utilities providers charge a stiff penalty for late payment.
This is due to the stipulation that water is a basic human need and hence, no company has the right to deny its supply to anyone.
While your water supply will not be interrupted, the utilities provider can charge as high as Rs.25 to Rs.50 for payments made within a week after the bill due date and sometimes, Rs.100 for delays exceeding seven days.
Delayed payments also mean, you will have to visit the utilities company's offices as banks and post offices will not accept it after the due date.
Utilize the above ways to pay water bill and avoid late payment penalties.
As I mention, some ways like using BHIM, mobile wallets and Payments Banks can actually help you save money through incentive and cashback schemes they frequently offer.