Like it or not, the ubiquitous mobile phone today has become an indispensable part of our daily life.
From connecting us to people we need to talk to instantly, to entertaining us with songs and videos, paying our utility bills online and keeping us updated on the latest news, stock market prices, lifestyle destinations and festive offers – via the internet – there is little that you can't do using your handheld device.
And all that you need to do in return is ensure that you pay your mobile bills on time if it's a post-paid connection or have a sufficient balance in your account (if it's a prepaid connection) to continue enjoying all these benefits without a hitch.
If you happen to be a prepaid user you must be aware of the several new applications available in the market today for doing a mobile recharge, online bill payments and getting cashbacks on your online shopping.
But did you know there are several simple ways you can get your mobile phone recharged – without having to pay a single rupee?
Yes, it absolutely true.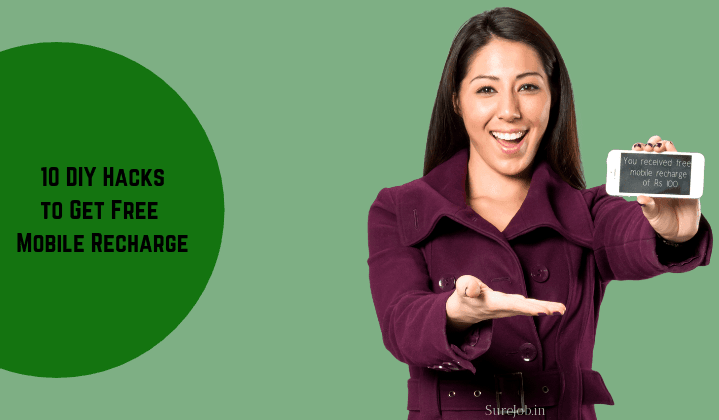 10 Ways to Get a Free Mobile Recharge
In this article we will list some of the most popular ways you can get a free mobile recharge for your phone by using simple apps or completing simple tasks.
So let's gets started…
1. Phone Pe App – Cashback Offer
You have probably heard about this one-stop, UPI-powered app which can help you make all your payments online instantly and in a secure way.
Now here's how you can avail of a free mobile recharge using this app.
Now we all shop online and I'm sure you do to. The next time you do so, make sure you use the Phone Pe app to pay for shopping online at Flipkart, Myntra, Jabong or any of their other merchant partners.
Once you do, you will get some amazing cashback to your Phone Pe wallet.
You can then use this cash to pay for your mobile recharge using the app again – which in effect makes the recharge effectively free for you.
LINK: Phone Pe app
2. Google Pay App – Earn INR 51 per referral.
With Google Pay, Google's digital payments app you can now instantly transfer money to friends, pay your bills and shop online, recharge your phone, or simply pay at the nearby café.
The app works with your existing bank account, which means your money is safe with your bank. Hence there is no need to fret over reloading wallets and you don't need to do additional KYC either.
And here's how you can earn a free mobile recharge using this payments app.
All you need to do is download the app from the Playstore and use it to make your first transaction – which could be sending INR 1 – to anyone.
You will be instantly rewarded with a credit of INR 51 in your e-wallet – which you can use to pay for your next mobile recharge.
Now there are a few terms and conditions to this offer. It is applicable on your FIRST TRANSACTION only.
You must successfully send a minimum of INR 1 (or more) to another Google Pay user to the INR 51 cashback, after signing up via the referral code (s34xJ).
Any payments made to a non-Google Pay UPI ID will not qualify for this offer.
LINK: Google Pay app
3. Paytm – Get INR 50 Cashback on your first mobile recharge.
With over 200 million users in India, this e-wallet doesn't really need a formal introduction.
It's arguably India's most widely used online payments app for things like paying your mobile prepaid /postpaid/ recharge bill, electricity bill payment, train/ bus/ hotel/ cinema bookings, LIC premium payments, DTH recharge, money transfer, bank-to-bank transfers, metro recharge and lots more.
As part of a special promotional offer, Paytm is now offering new users the chance to get an INR 50 cashback on their first mobile recharge.
So if you haven't downloaded the Paytm app yet now is the time to do and pay for your first mobile recharge using the PROMO code – FIRST – from your registered mobile number.
You will immediately receive an instant credit of INR 50 – once you have completed a successful transaction.
LINK: Paytm app
4. Red Bus – Use the website/app & Get upto INR 75 cashback on FreeCharge.
Now this is another cool way to make some extra cash and then use it to get a free mobile recharge.
With Red Bus you are not only saved the usual hassle of booking your bus tickets you can also take advantage of several attractive offers to save cash on you bus/hotel bookings.
And here's how you can avail of a free mobile recharge by using the RedBus app or website.
One of its many offers includes a 10% (upto INR 75) cashback on FreeCharge – the popular online platform/app to do online recharge for your prepaid/postpaid mobile, data card and DTH.
Need I say more? The details of the offer are as under.
You will get a 10% cashback on the transaction value (in the form of FreeCharge gift instrument) within 72 hours from the date of your transaction.
This can then be redeemed on the FreeCharge website/app or any other merchant website which accepts FreeCharge balance is acceptable, within 1095 days from the date of the credit.
LINK: Redbus.in/Offer
5. FreeCharge – Attractive cashback offers for mobile recharges
Now since we are already on the topic, FreeCharge itself has several exciting cashback offers on a whole lot of things including mobile recharges.
But since the topic of this article is how to get a free mobile recharge, I think I should reveal the details about this particular offer only.
So here it is.
As part of its special promotional drive, this online site is currently offering users the chance to get upto INR 30 cashback on his/her mobile bills & recharges. So you get to enjoy a 10% cashback (upto INR 10 per transaction).
This offer is valid for upto three times per user – using the PROMO code GET30.
LINK: FreeCharge.in/offer
6. EarnTalktime App – easiest way to earn free talktime.
And no I am not kidding here.
Using the ETT App you can earn talktime, get recharges, vouchers & lots more and its compatible on all devices too.
So how does it work?
Well you download the app and use it to complete simple tasks like – reviewing apps, completing simple online surveys and inviting friends – you get the picture.
In return your ETT account is credited with cash points for every completed task and you also get to earn money for every friend you get to download the ETT app. And you also get to earn a juicy bonus every time your friends earn on ETT.
You can then simply redeem your ETT balance for;
Prepaid Mobile Recharges.
DTH Top-up.
Postpaid mobile bill payments.
Shopping Vouchers.
LINK: EarnTalktime app
7. Taskbucks App – Do fun tasks, earn bucks, redeem for a mobile recharge.
Ok, now this app is quite similar to the earlier one.
You can use TaskBucks for a variety of purposes which include, mobile/data recharges, Paytm cash, making postpaid mobile bill payments and earning Mobikwik money.
So how does one go about getting a free mobile recharge using this app?
Well, the process again is fairly simple. All you need to do is first download the app, complete simple tasks, invite friends and participate in daily contests – to win free mobile recharges.
You also get to redeem your Taskbucks earnings for a mobile recharge if you please or you could opt to simply transfer your earnings to your Paytm or Mobikwik wallet.
LINK: Taskbucks app
8. mCent Browser App – Earn INR 199 in free talk time & data
Do you want to spend less money on mobile talktime and data charges?
Then this app browser is for you.
With it you stand a chance to earn a cool INR 199 in free talk time & data. Or you could use your earnings to pay for your postpaid plan – every month – just by browsing the internet.
To earn your rewards, all you need to do is register – to create your account. Next start visiting all your favourite sites online. This could be for reading the latest news or simply to search for something using the search bar.
That's it. Every time you do so, you can simply sit back and watch your points grow.
Once you have the cash in your account you can use it to either recharge your prepaid mobile plans or pay for your monthly postpaid bill.
LINK: mCent Browser app
9. GoPaisa – Earn Free Cashback & Mobile Recharge for shopping online.
Shopping at Amazon, Flipkart, Snapdeal Amazon, eBay and Paytm, are just some of the way you can earn free Cashback & Mobile Recharge using this Cashback & Coupons App.
Ditto for when you recharge your phone, order food from branded outlets like Domino's, FoodPanda, order everyday groceries for your home or simply confirm a cab booking.
With GoPaisa you will have the opportunity to earn cashback on top of all coupon discounts, offers, deals in addition to a host of attractive wallet cashback discounts and coupons.
It will also find you the best buy-one-get-one free offers and the best recharge deals with cashbacks too.
Last but not the least, you can choose to withdraw the cash in your account via a free Paytm wallet, direct bank transfer or redeem it for free mobile recharges – whichever way you please.
LINK: GoPaisa app
10. Pocket Money App – Free Mobile Recharge & Wallet Cash
By downloading this free mobile recharge app from the Google Playstore, you stand a chance to earn free Mobile Recharge & Wallet Cash worth INR 7,000 pm by completing easy tasks – using just your smartphone.
Now there are several ways you can earn this INR 7,000 worth of mobile recharges and Wallet Cash every month. Some of them are listed below.
Earn a daily bonus on your 1st app register.
Get cashback & discounts by availing offers.
Earn INR 160 daily by inviting friends.
Participate in their weekly contests to earn more and win cool prizes.
Fill in surveys or do fun tasks to earn more rewards
This app offers users the chance to avail a free mobile recharge from a host of major mobile service providers which include Airtel, Aircel, Vodafone, Idea, BSNL and MTNL.
LINK: Pocketmoney app
In Conclusion
By using one or more of the above-mentioned ways to get a free mobile recharge, you can easily save a lot of money on your mobile recharge expenses.
It's not only a great way to save your hard-earned money but you can also use it to pay for your other necessities like travel expenses, grocery bill, tuition fees extra.
So go ahead and give it a tryout right away. And do let us know which of the ways worked the best for you and how much cash did you manage to save.