Do you have the Amazon India app on your smartphone? If yes, Amazon India is now offering cash transfers across India through banks and Unified Payments Interface (UPI), through its own smartphone app.
You needn't buy anything from Amazon India to use their money transfer and referral awards. All you need is the Amazon India app on your smartphone and one or more bank accounts in your name.
Here's how it works.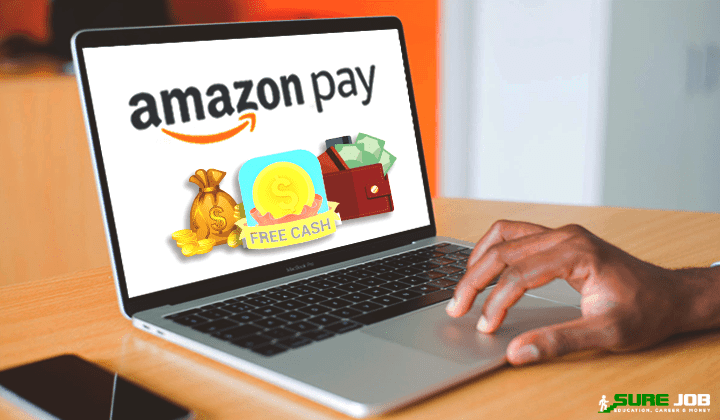 How to Use Amazon Pay
Earlier Amazon Pay would serve only as a prepaid wallet where you could deposit cash up to Rs.100,000. The money could be used to buy stuff from Amazon or other participating online stores or pay bills.
Now, Amazon India has upgraded its app to offer cash transfers directly from your bank account to that of a relative or friend.
To use the service, login to your Amazon app. If you don't have an Amazon account, it's very easy to create one by registering on their website with a valid email ID or mobile number and creating a password.
Later, download the Amazon app on your smartphone and login.
Upon logging-in, go to the Amazon Pay link on the app.
Here you'll find the main menu.
Click on the 'Send Money' link.
Now you'll get two options. The first option is to add money in amazon pay using the UPI address of your relative or friend. The other is to send it to their bank account using their account number, Indian Financial System Code (IFSC) and bank and branch details.
Sending Money on Amazon BHIM
Sending money on Amazon BHIM is free. But first, you'll have to create a BHIM user ID and password. BHIM– or Bharat Interface for Money- is an instant cash remittance system from the Indian government's Unified Payments Interface (UPI).
The next step is to connect your bank account with BHIM.
This is very easy. You have to key in the last six digits of your debit card issued by your bank.
You'll get a One Time Password to confirm that you are linking your bank account on BHIM
Upon successfully entering the OTP, you can select a four or six-digit secret number as your passcode for BHIM transactions.
Amazon Pay will automatically generate a UPI address for you. It will usually consist of your 10-digit mobile number followed by @apl
So the Amazon Pay UPI address will look like 0000000000@apl for example
If you don't like this UPI address, it's possible to generate one of your choices on Amazon Pay. However, it will end with @apl
Amazon India is partnering with Axis Bank to offer this service.
You are now ready to send money using Amazon BHIM facility.
Simply key in the UPI address of your relative or friend.
It will ask you to verify the UPI address. When you press 'Verify', Amazon BHIM will display the name of your relative or friend to whom you are sending cash.
Mention the amount of money you wish to send.
Click 'Send'.
The Amazon Pay BHIM will ask you for the four-digit or six-digit passcode.
Key in this four-digit or six-digit passcode.
Amazon BHIM sends the money within seconds. You'll get an SMS confirmation of the transaction.
If you have SMS alerts from your bank, you'll also get a message from your bank saying how much money was debited and the transaction number.
There are no charges to send money on Amazon BHIM.
Bank-to-Bank Transfers on Amazon Pay
It is also possible to send money in the traditional way, as bank-to-bank transfer using Amazon Pay app.
Enter the name of the person to whom you're sending money.
Key in the Indian Financial System Code (IFSC code) of the bank and branch where your relative or friend holds an account.
The app also has a facility to check and verify IFSC codes of all banks in India, just in case you are unsure.
Now mention your beneficiary's bank account number.
Confirm your beneficiary's bank account number.
Mention the amount of money you wish to send.
Press 'Send'. The money goes to your friend within a few seconds.
You'll get SMS confirmation of your transaction from Amazon Pay as well as the bank.
You don't have to pay any fees to use this bank-to-bank instant transfer service too.
Earning Cashback from Referrals
To popularize this new service, Amazon India was offering Rs.31 as referral rewards. Recently Amazon has discontinued this refer and earn program. If you are looking for some cash, then you can use these 40 ways to make money fast.
Requesting Money
You can also request relatives and friends to send you money if you have their mobile number or UPI address. This system is very useful in emergencies if you suddenly need cash for any reason or wish to collect dues from someone.
Alternatively, your contacts too can request you for cash. This service is useful if you wish to pay for shopping on Amazon India using UPI.
You can use the Amazon India UPI address to pay for several services and products. Here, the seller or organization will send you a payment request. Click 'Pay' and the money will be debited from your bank account. Again, you'll get two confirmations of the debit- from Amazon-BHIM and your bank.
Paying with QR Code
Amazon Pay app now also features a QR code and scanning facility. This means, you can simply scan the QR code of your beneficiary's UPI account and send cash instantly. Or, they can scan your QR code and pay on the spot.
Amazon Gift Vouchers
Confused about what gift to send your loved ones? You can send an instant Amazon Gift Card through the Amazon Pay app. Additionally, Amazon Pay app also features brand vouchers from companies such as Uber cabs that you can send.
Additional Services
Amazon Pay now gives you the facility to pay for flight tickets, recharge your mobile, pay telephone and other bills through its app.
Additionally, the app features countless special offers from Amazon as well as other online retailers.
Some of the partners of Amazon Pay include:
You can check the special offers and discount coupons available on any particular day or period on the Amazon app.
Wrap Up
Before I conclude, here's something you can't do on Amazon Pay app.
You can't send money from your Amazon Pay balance to your relatives or friends using BHIM or bank transfers. That's because Amazon India often deposits cashback from various offers on purchases you make.
Overall, I would rate Amazon Pay's new service among the best in India. It compares much better than several other online wallets and online payments banks.
Paytm Payments Bank charges a stiff fee for transferring money from your account to another. Amazon doesn't have such extra charges.
To make the best out of Amazon Pay services, I recommend you opt for the full Know Your Customer (KYC).
The process is very simple: login to Amazon Pay, upload pictures of your Permanent Account Number (PAN) card and an address proof such as valid passport, driving license or Voter ID card.
Schedule an appointment and an Amazon representative will visit your premises for verification of these documents. The service is given free by Amazon India.