Do you know it's possible to book flights and buy air tickets for travel within India on Amazon? Yes, that's right.
From May 17, 2019. Amazon India is also selling air tickets. India's favourite online store offers domestic flight tickets in collaboration with major travel firm, Cleartrip.com
What's more? The popular online store is offering amazing discounts on all domestic flights.
India is the first country where Amazon will sell flight tickets. It doesn't have a similar service on its home turf- the USA.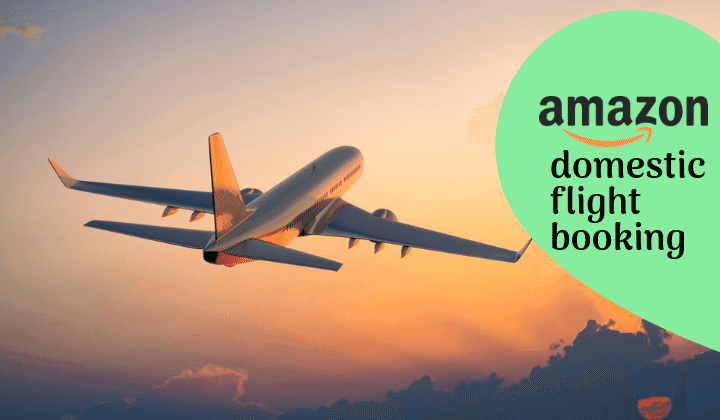 Why Book Flights on Amazon?
So should you dump your travel agent in favour of Amazon?
That's your decision, but here are some advantages you can enjoy by booking domestic flight tickets with Amazon, up to May 31, 2019.
There could be some changes in their policies from June 1, 2019. But you needn't worry: we'll keep you updated on any changes on this website. So don't fail to check our website regularly.
Benefits that Amazon India is offering right now for booking domestic flights are far superior in comparison with any travel agency.
Furthermore, Amazon is offering air tickets on every domestic airline of India. This means you get the lowest fare on any particular date of travel. This eliminates the need to fly to and from your place on a single airline to save money.
Benefits of Booking Flights on Amazon
Amazon is offering several benefits to mark the launch of its domestic flight booking service in India. These offers are valid up to May 31, 2019
Cashback up to Rs.2,000 is the first major benefit you can enjoy by booking a domestic flight with Amazon India.
Here is a list of benefits of booking domestic flight tickets on Amazon India.
Amazon is offering amazing cashback offers for its Prime service subscribers.
Non-Prime buyers also get excellent discounts on every purchase.
To avail these cashbacks, you have to key in the following coupon codes while booking flight tickets from Amazon.
Remember, these cashbacks are available per booking, regardless of whether you buy one air ticket or several.
To avail the cashback, apply the special coupon codes while booking air tickets from Amazon, as follows:

You will get the cashback in your Amazon Pay account. This means you can use the money to buy anything from Amazon in future, including air tickets.
Other Offers on Amazon
While the above offers are valid for domestic flight bookings till May 31, 2019, Amazon India is also offering several other benefits.
Transparent Pricing: This means, Amazon India will charge only the air fares it displays when you book a ticket. There are no hidden charges that will pop up when you proceed to pay and confirm your air ticket.
Lowest Cancellation Fee: Amazon is promising it will charge a very low cancellation fee if you cannot take the flight for any reason. In some cases, you would not have to pay cancellation charges at all.
Seamless Rewards: Means, you don't have to claim your cashback separately. When you book a flight ticket on Amazon, your cashback will automatically reflect in Amazon Pay Balance within three working days.
Businessmen can claim the return of Goods & Services Tax (GST) that is applicable to airlines. To avail refunds, you have to key in your GST registration number.
Flipsides of Air Tickets on Amazon
However, there are a couple of flipsides of booking flights with Amazon.
Though you may have opted for cheapest flights, Amazon 'checks' with the airline whether the airfare shown is valid. This occurs when you are proceeding to pay.
There's some ambiguity over cancellation policies of Amazon. What Amazon means by 'lowest cancellation fee' remains unclear. Usually, cancellation fees are charged uniformly by airlines. Whether Amazon has a different rate for cancellation fees is not clear at the moment.
Amazon India also charges a 'convenience fee' when you book an air ticket. Generally, airlines and some large online travel companies don't charge this fee. The 'convenience fee' usually wipes out whatever discount you are getting by booking flight tickets with Amazon. Means, you might not get any cashbacks.
Amazon doesn't have a facility to rebook flights. You can only confirm or cancel a particular flight. Rescheduling of travel has to be done by the passenger or their authorized signatory.
Final Thoughts
At this moment, we can only say that Amazon's offers for booking domestic flight tickets are reasonably good. These offers are valid only up to May 31, 2019.
It remains to be seen what steps Amazon will take to compete with local travel agents that also offer very personalized services for loyal and corporate customers.
Furthermore, airlines launch special offers on their airfares very frequently. In such cases, these airlines offer very cheap air tickets for bookings directly through their own websites.
These discounts are not available from travel agents. At this juncture, it is not known how Amazon will compete with these airlines and their fairly frequent special offers.