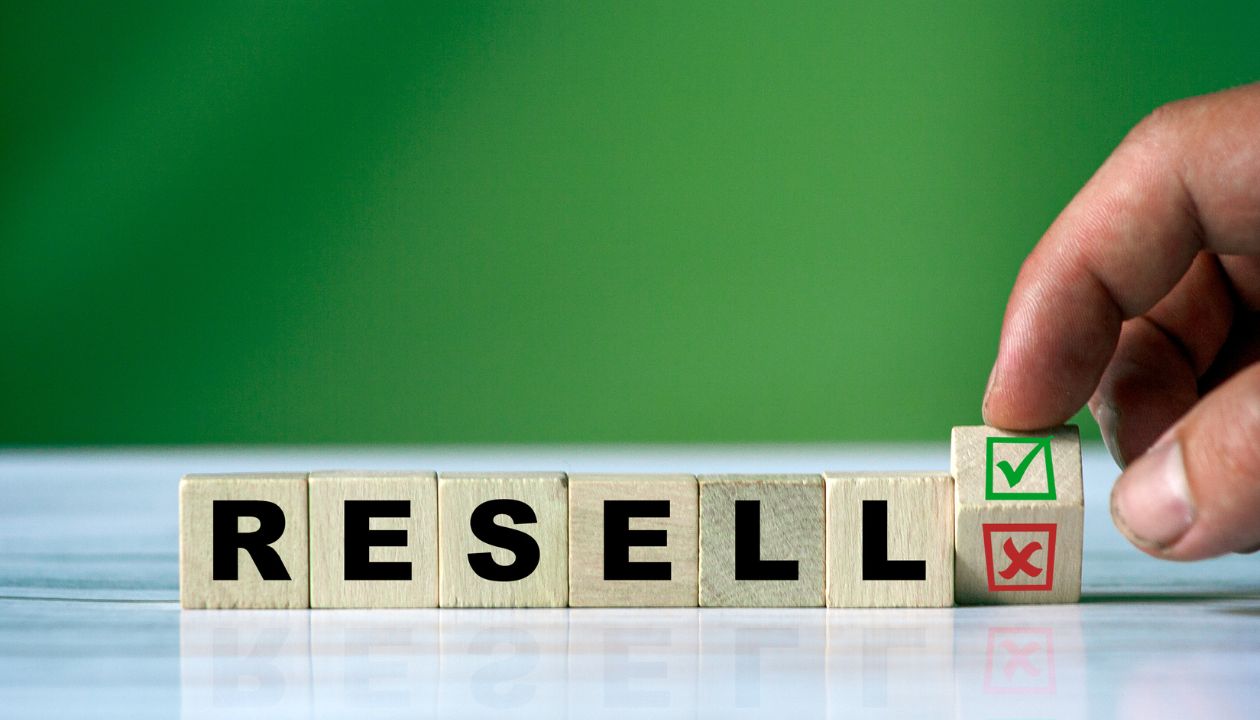 These reseller apps were not very productive back when individuals didn't have as much access to the internet. People were unaware of these programs, and nothing was accomplished with them.
On the other hand, reseller applications have come a long way with the advent of social media and the internet. Reseller applications are far too prevalent and thriving in today's world.
Since the last decade, reseller apps have become prominent in the online marketplace. They've proven highly successful, which is why this trend doesn't appear to be going away anytime soon.
People are making full use of the many free resale applications that are rising these days because they are advantageous not just to sellers but also to purchasers.
Sometimes you notice unneeded items piling up in your home, making it appear cluttered. The pile could consist of old clothes, shoes, or even equipment such as a cycle, treadmill, or dumbbell that you no longer use and are unsure what to do with.
Do not be concerned; reseller applications are the answer. It not only frees up some space in your home by getting rid of useless items, but it also helps you generate money by selling them.
There are also a number of apps that pay you a commission if you refer your friends to them. These apps are simple to use, and you may sell your product in a matter of seconds.
Reselling has evolved into a profitable strategy of selling outdated household items you no longer need. The fantastic part is that you need not find a marketplace to sell them; you have to upload a photo of the item, and the buyer will contact you directly.
20 Best Reselling Apps in India in 2023
People can use these top reseller apps in India to buy and sell things without additional fees. The amazing part about these reselling apps is that you don't have to look for a suitable marketplace to buy or sell your stuff.
As a result, this tendency is thriving. However, selecting a beneficial one is critical, depending on how many reseller apps are available on the market. So, here's a rundown of India's most excellent resale apps:
1. Meesho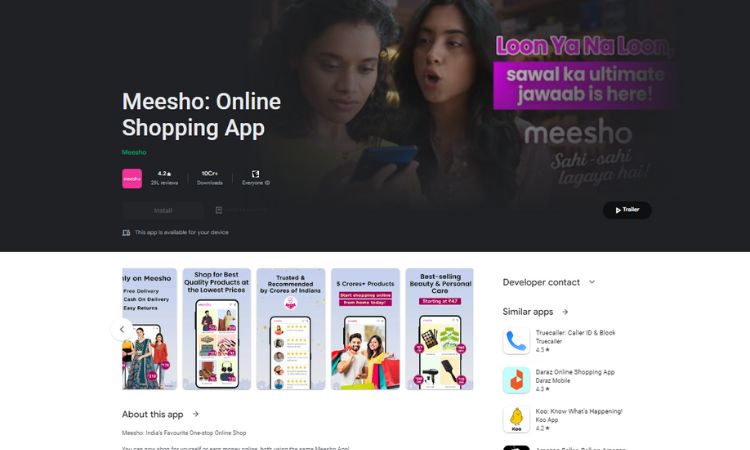 Meesho was founded by two IIT Delhi grads in 2015 and is considered one of India's top reselling applications. Vidit Aatrey and Sanjeev Barnwal founded Meesho. As a Reseller, you'd have to look through their product catalog and share what you found with your friends.
You will receive a commission if your friends like and purchase the product. Not only that, but this software offers various ways to earn money.
Meesho is a social media program that enables small businesses and individuals to start their own online storefronts. It offers a high additional price and extra off on every product you sell, and if you meet the set sales target, you will receive a weekly cash bonus.
To begin the business with Meesho, simple procedures are required. Products at cheap pricing with a simple return policy must be chosen. There is a cash-on-delivery option available. You can choose a product from the collection and recommend it to your friends, and if they like it and buy it, they will receive a commission.
Also Read: 60 Best Money Earning Apps in India in 2023
2. Glow-Road App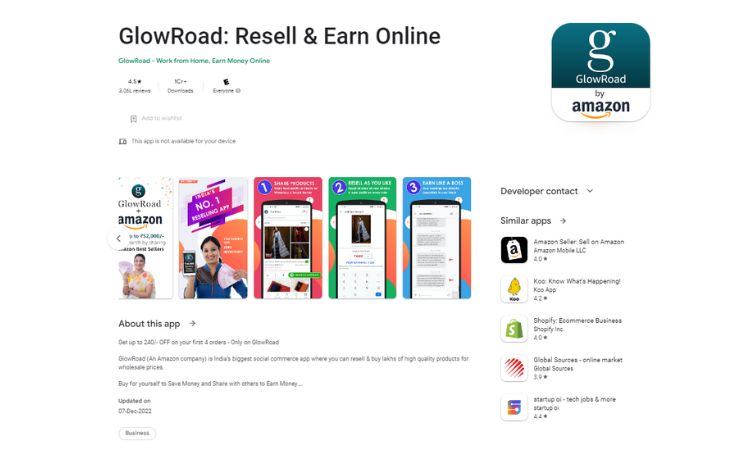 Glow-Road, similar to Meesho, is a free online resale software in India with around one lakh+ high-quality, fashionable products and over 100 categories for the wholesale market. It includes merchants such as boutique owners, college students, and beauticians, among others.
Housewives, shop owners, beauticians, college students, and others are among those who profit from this software. They are well-known for delivering stuff on time, and there have only been a few instances where they have failed to deliver products on time.
Their product categories will astound you, as they feature everything from clothing to beauty to home decor, cutlery, furniture, and much more. Overall, it offers all of the necessary components for a great reselling app.
This app has everything from home decor to beauty products to cutlery and furniture, among other things. You can select the product from the catalogue and resell it on any social media.
3. App Shop 101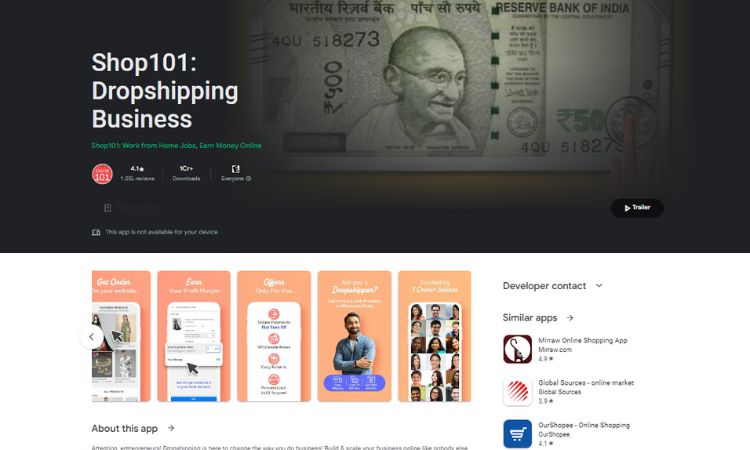 India's first original reselling application is Shop 101. They also provide home-based services, all of which had been purchased in minutes.
The app's distinctive feature is that it provides multi-lingual options. You can select the products according to your choice, which can be shared with the groups made, friends, or even relatives with the addition of your commission. You can also enjoy cashback and another offer.
Almost any goods, such as clothing, electronics, and personal care, can be found here. One tip is you can select the latest trend following product which can increase your sale.
4. eBay App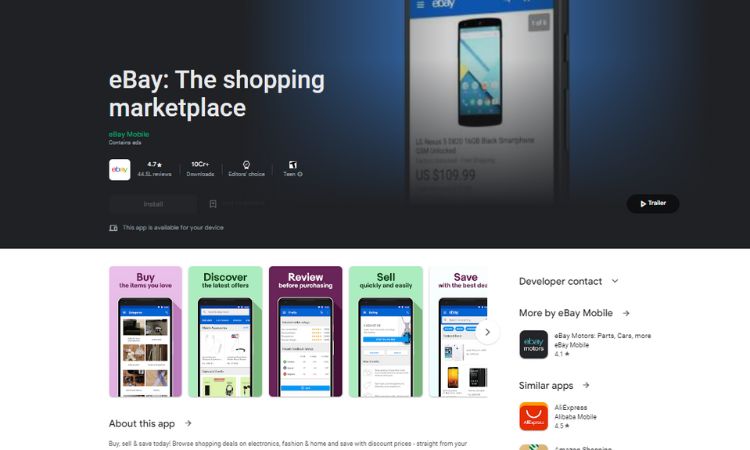 eBay is a multinational corporation established in 1995. Pierre Omidyar started the company. On September 3, 1995, he founded the corporation. San Jones is where eBay's headquarters is located. This application is well-known for being a marketplace for selling shipping items.
The best part about eBay is that you can use it from anywhere on the planet. This is one of India's oldest reselling websites; you can sell and buy electronics, garments, vehicles, cameras, cosmetics, and other items on this site. They've received over 100,000 downloads and have a 4.6 rating.
eBay permits local listings for products that are large and bulky. It can be picked up via "Local Pickup Only" if you don't want to pay for shipping. Various local businesses promote themselves on eBay to increase sales and, in certain circumstances, offer free delivery.
It is one of the world's oldest reselling websites. You can buy and sell electronics, clothing, vehicles, and other items on this site.
5. Tun Tun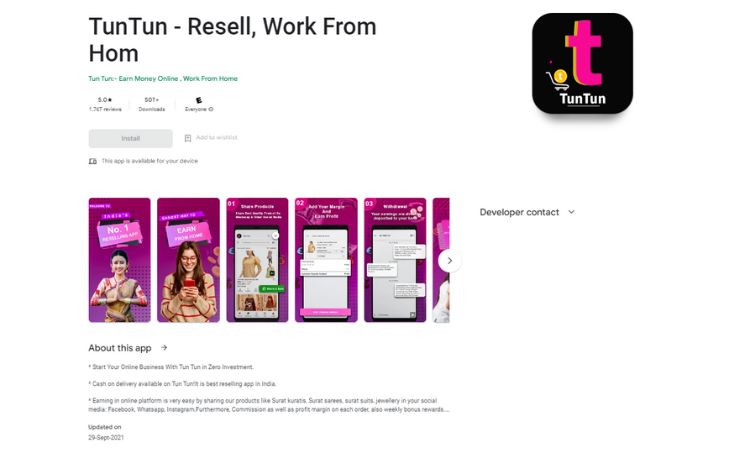 Wondering about starting a business from home? Here is the solution to this question TunTun app is the best reselling app to work for your business. You can select the items and can sell the products easily from the comfort of your home.
You will enjoy high-quality products at very low prices. The products will have a modern design through which you can attract your customers. The app also provides your facility of easy return within seven days, and you can also enjoy cash on delivery service.
Even you can even share any of the updates regarding price or product with your customer through SMS or application notification.
6. RateS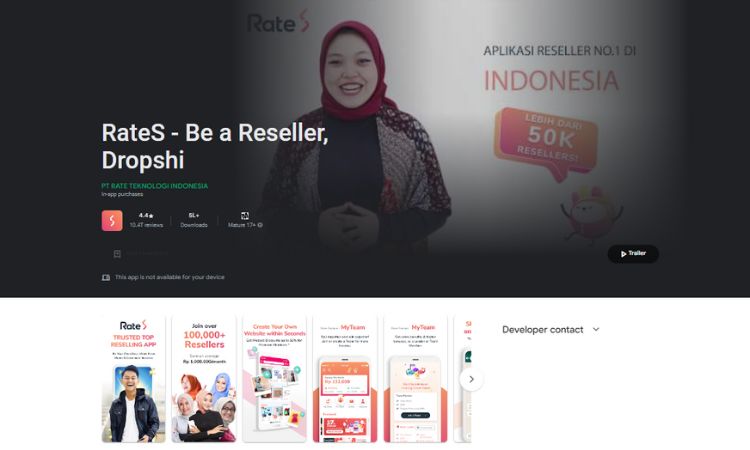 Once the RateS app is installed on your phone, it will notify you of any critical or new collections. This app is well-known for reselling the latest trends from many companies. You can become a reseller with this application.
They also give you the opportunity of starting your own online business without having to invest any money. In fact, you may sell your stuff on social media sites like Instagram and Facebook.
Their return policy is hassle-free, and their products are of the highest quality. They also offer 24-hour customer service and expedited shipping in a few days. RateS features include the ability to sell things via Instagram, Facebook, and other social media platforms.
You can also enjoy a team bonus. The rapid delivery option allows you to receive your items in as little as two days. The personal collection can easily be shared with relatives and friends.
7. ZyMi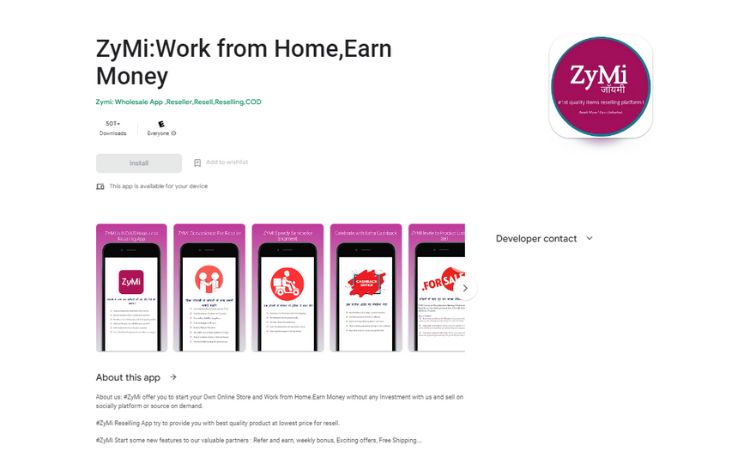 ZyMi is one of the most popular online resale apps. It is similar to Meesho in that it allows you to create your own online store. It's genuine and easy to use. It is once again regarded as one of the finest free reseller applications in India because of its authenticity and ease of use.
You may also establish your own online store for free right here. The amazing thing about this website is that you can set up a store on their app in just minutes and can start selling their products.
You will be paid a commission if someone purchases the product. You may sell thousands of great branded clothes on their website. They have a fantastic selection, and you can add all of the most recent issues to your collection by visiting their website. Zymi App features include searching through thousands of fantastic outfits and quickly selling them.
8. Yaari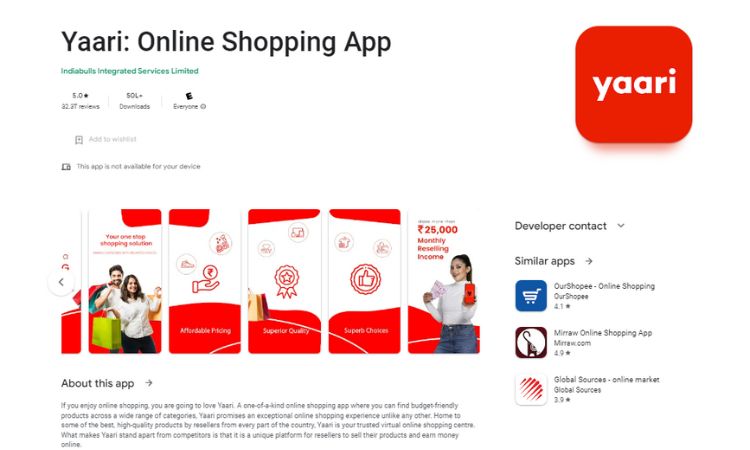 Yaari app is a beautiful app for the one who loves to shop online. It is a social commerce app through which you can be an entrepreneur with zero investments. There is a variety of options to choose from footwear, accessories, home decor, clothes, and many more.
Customers are offered resale services, and sellers that consistently provide a positive consumer experience are rewarded. They allow their buyers and sellers to provide feedback on the transactions they have completed.
You can also link your account with Facebook if you want to increase the security of your true identity. You can create a wish list of all your favourites that are filtered.
9. Mine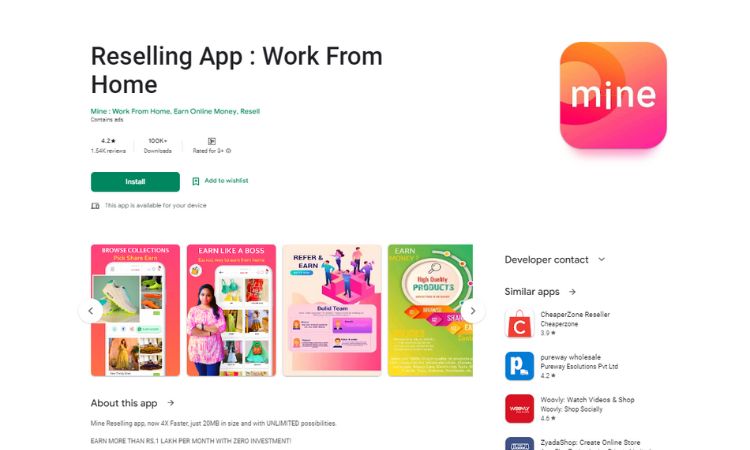 Mine is the most loved app among users as it provides you with 100+ categories through which you can choose your products and start your reselling business. You can easily share the items on any social media and can link your Facebook account to the app.
It totally depends upon your reselling and how much you earn. You can also earn by referring to the app with your friends or entrepreneurs. It is the easiest to use the app as by adding your margin and sharing the product with your loved ones, and you can earn revenue.
You can also enjoy the facilities such as cash on delivery and easy to return within seven days you received the product and get a 100% refund over the return facility. Customer help is available to everyone at any time through the Mine App.
10. Women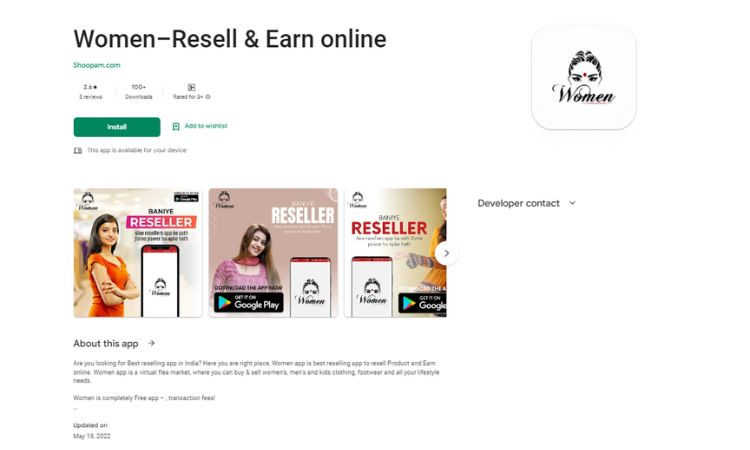 Women reselling app was made with the convenient to use the app and start your business from home. It is the best app for all those who want to be a seller at zero investment.
You need just to follow some simple steps to earn money from this app; sharing the product on any of the social media accounts, even Instagram and telegram, is also allowed.
By getting any order from your client, you can place the order, and the product will be delivered to the given address, and you will get your margin easily. It offers factory-direct prices as well as free shipping on products according to location.
With this application, you may sell popular items at factory prices and of excellent quality while being at home and with zero investment. They genuinely care about their customers, and in order to make them happy, they offer free shipping and a COD option. It sells stuff quickly and easily and only requires scanning and listing.
11. Shop-Matic App
The Shop-Matic reseller software allows users to construct a user-friendly eCommerce website in a matter of minutes and at no cost. You can also gain 3% of the exchange value after completing a year in this program. Shop-Matic App features include the ability to create an eCommerce site.
The products are more inexpensive and come with better customer service. You can also enjoy the website, which will also give you an app-like experience. The application offers you four different ways to enjoy the experience of entrepreneurship, along with web stores, chat, and marketplaces.
12. Cartlay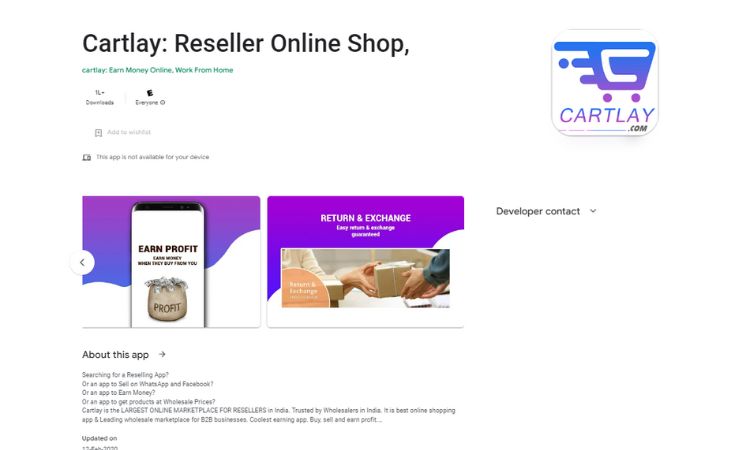 Cart-lay App is the sixth app in the Cart-lay series. Cart-lay App was launched on April 14, 2014, quickly becoming a huge hit. Once this app is installed on your phone, it will notify you of any critical or new collections. This app is well-known for reselling the latest trends from many companies.
They also give you the opportunity of starting your own online business without having to invest any money. In fact, you may sell your stuff on social media sites like Instagram and Facebook.
They have over 50,000 downloads and a 4.4-star rating. After you download the app and register, you will be notified when a new collection is available over the application, which you can share with your friends or family and earn a commission on.
Their return policy is hassle-free, and their products are of the highest quality. They also offer 24-hour customer service and expedited shipping in a few days. Cart-lay App features include the ability to sell things via Instagram, Facebook, and other social media platforms.
The rapid delivery option allows you to receive your items in as little as two days. The personal collection can easily be shared with relatives and friends.
13. Resell Me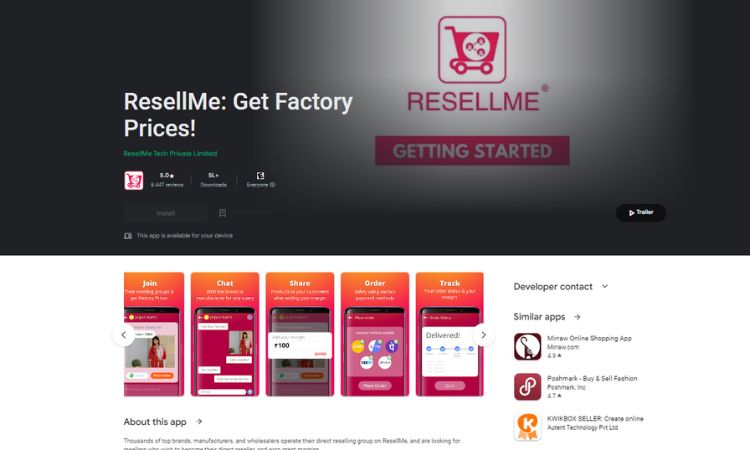 Resell-Me is a mobile app that allows you to resell your used products. Resell-Me is one of the top clothing reselling apps, with over 100 registered brands. It offers high-quality items and excellent customer service. Because it has more than 100 brands registered, this app is considered one of the best reseller apps in India.
On this app, getting top-quality material for garments and other branded products is simple. The excellent thing about this software is that it assists resellers in whatever manner they can if they run into problems.
If you are new to reselling things, this app may be a good fit because it includes a video explaining all you need to know about establishing a reselling business with this app. Resell-Me App's Features include that this application's interface is user-friendly and accessible. This app's login procedure is simple.
14. OLX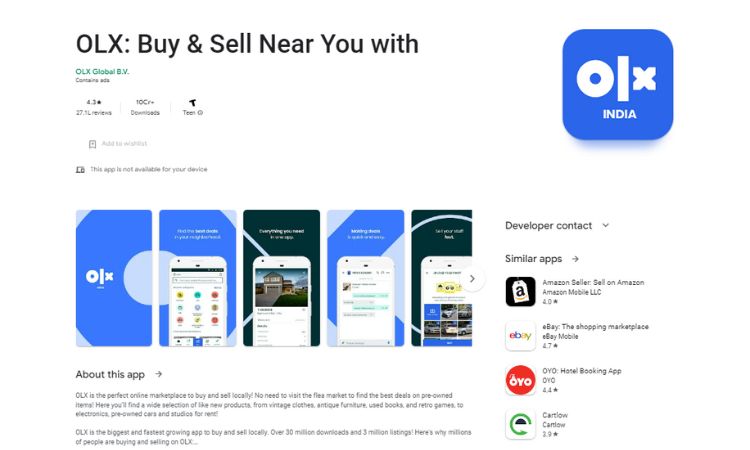 OLX was established in 2006. The Netherlands is where the company's headquarters are located. It is one of the most excellent reseller apps in the world. Over the years, OLX has grown in popularity. OLX App Features include that the app has an in-app chat option, which is uncommon.
The application is available throughout India. You can resell your used products such as clothes, accessories, books, shoes, electronic devices(laptops, tablets, tv, mobile phones), refrigerators, washing machines, vehicles(bikes, scooters, cars), and many more with your listed price.
The amazing thing is if you like any of the products, you can also bargain for the price with the seller on OLX chat and fix the price for your product.
It is the most loved application as it has given a satisfying user experience. You can meet the person by setting a place and time to chat and make a perfect deal with your product.
15. Quikr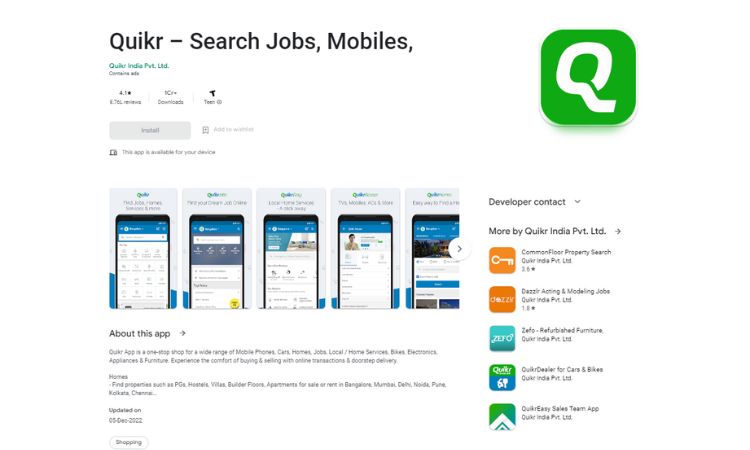 Quikr was launched in 2008 and has been a huge success ever since. The company's headquarters are in Bangalore and are in more than 1000 locations. You can experience comfortable and easy buying and selling services through Quikr.
With this application, your privacy will be taken care of, and your privacy will not be shared with anyone else. The application will help you get the best price for the product, and you can sell the product easily. The product pickup on getting a perfect buyer will be from your home only, which means you need not go anywhere to courier the product.
Quikr's features include discovering part-time or full-time jobs in addition to buying and selling. Second-hand items can be purchased at a low price.
16. Amazon Seller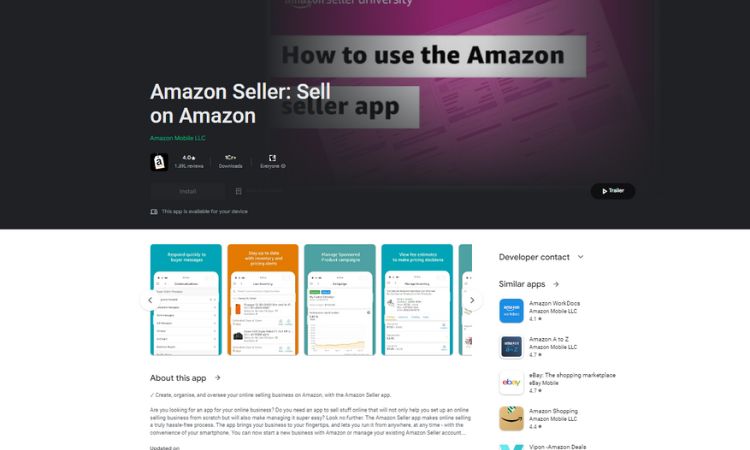 The Amazon marketplace, founded by Jeff Bezos, is one of India's most popular reselling websites. It provides excellent customer service all over the world.
You can become a part of Amazon and can sell products on amazon easily. Each and every process will be easy to proceed with, and you can do your selling hassle-free. You can get your buyers globally, due to which your buyer's community will be enlarged.
Amazon's marketplace has the following features: Free shipping is provided on certain products. Anything can be purchased from anywhere, and cash on delivery is also an option.
17. Carousell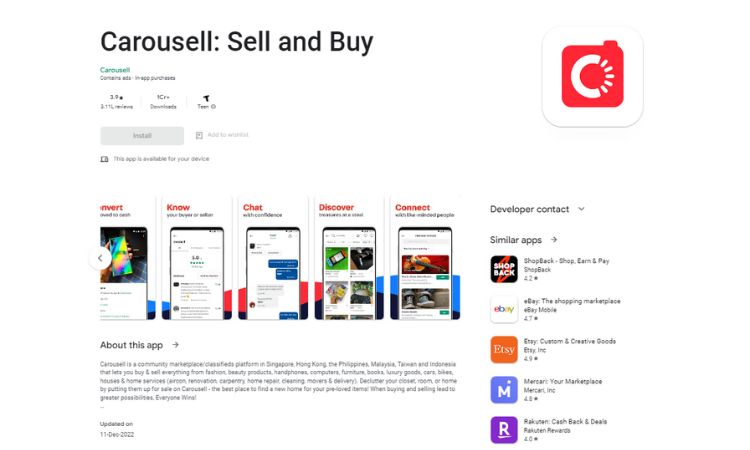 Carousell App and carousell website has a global presence and allows users to purchase and sell anything. Carousell App features include building a profile using one's social media account. You can easily share products on social media accounts and make your community of clients large.
You can free some space from the wardrobe covered by unusual products. You can start your online reselling business with carousell easily and can sell from wide categories of products. Customer service is excellent and always available whenever you have trouble.
18. Poshmark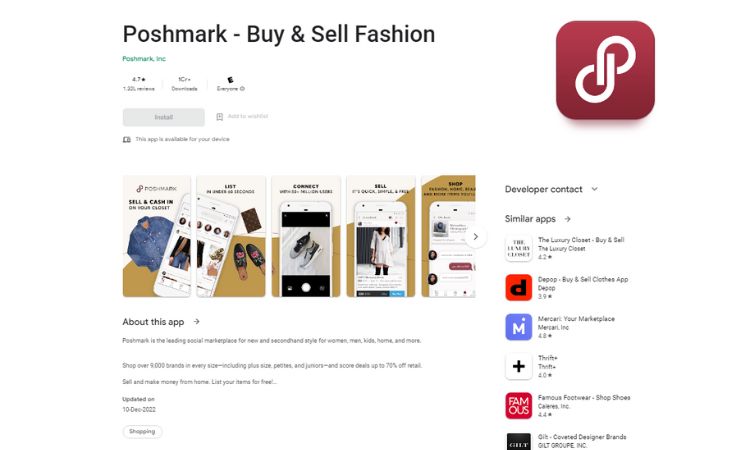 Poshmark is a mobile app that will enable you to shop for clothes, footwear, and other applications. Poshmark is a reselling software that is primarily used to sell clothing. Once the sale is successfully completed, you will get a free pre-paid shipping label.
You can also sell your photos by uploading them. Poshmark App Features include that You can get speedy delivery. It has almost 5000 different brands in various sizes. The application uses artificial intelligence, which makes the app easier to use and saves significant time and effort.
19. Cashify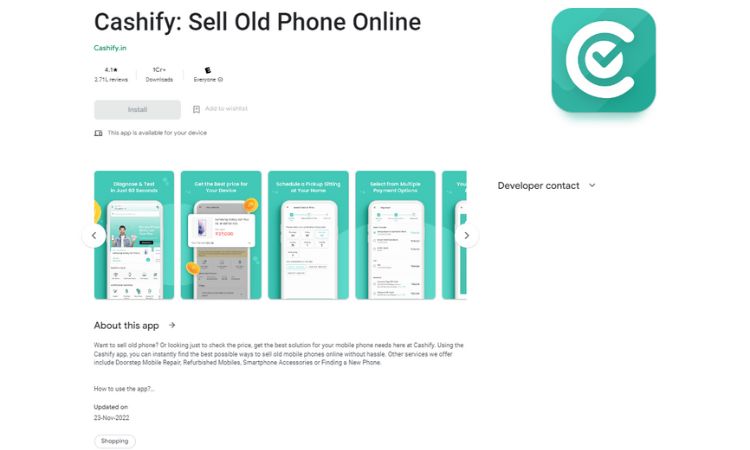 Cashify app is meant to sell your old or used electronic products easily. You can easily get your buyer for the used products at the best price.
Any accessory such as mobile phones, smartphones, laptops, tv, tablets, earbuds, smart watch, smart speakers, gaming consoles, DSLR cameras, and many more that can be sold, and even you can buy from this application.
The application also provides you services such as comparing the phones regarding description and price; the application also recycles phones. You can also buy refurbished phones, get your phone repaired, and many more facilities to enjoy.
20. Sonavi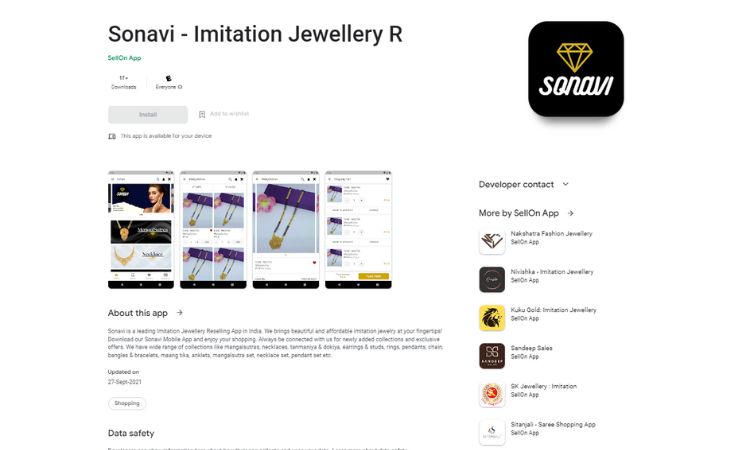 Sonavi is one of the top reseller apps in India, allowing users to sell jewelry quickly. This program has been praised for being extremely user-friendly, allowing users to buy and sell commodities with just a few clicks effortlessly. It has a large number of product listings.
You can buy any jewelry from this application at a very less price. The collection provided by the application is trendy and beautiful. The application is used to add the collection repeatedly to make the collection always in tune with trends. It is the most loved app among the audience.
Conclusion
It is a list of India's best online resale apps. One may quickly look at the apps and gain a thorough understanding of them before deciding where to use them. All of these apps are highly beneficial to folks who are planning to establish a small business.
Even the average person can use these resale apps. On these platforms, anyone can establish an internet business. People should encourage the development of such apps, and more should be done to promote them.