Do you know that data entry jobs are not as simple as you may think? It is not just about typing a few forms as some of these websites propagate on the Internet.
It would help if you had an accurate idea of what data entry jobs are before you plunge into this line. Usually, companies will give you image files that are nothing but photographs of documents in data entry jobs.
You have to see them word by word and write them into an MS Word document. One image file can be a paragraph containing 100 to 150 words or a whole page with 700 to 800 words.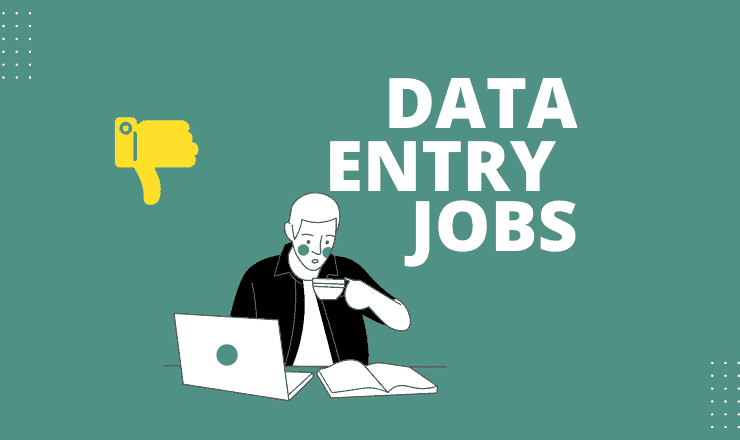 You get paid for every single image file (paragraph or a page) you write down to a Word document.
Online data entry jobs can make some money if you are in a college looking for extra income, a housewife, or even a retiree.
However, it is my responsibility to tell you the disadvantages of online data entry jobs not living in a make-believe world.
Disadvantages of Online Data Entry Jobs
After talking to people who have experience in data entry jobs and doing some research on the internet, I am listing down five disadvantages of online data entry jobs.
1. Finding A Genuine Company
We all know the Internet is like an ocean, and there is always a chance that you may lose in it. You will have a significant problem while searching for a genuine data entry company online.
Many companies claim to give you a job as a data entry operator; however, many of them are just fraud. So you will have hard time looking for one honest company
Even if you find one, I suggest you not pay any registration fees unless you inquire about everything about the company. A genuine company will always give you a phone number to clarify your doubts.
So this would be your first challenge.
Read: 6 Best Ways to Find Genuine Data Entry Jobs
2. Achieving Accuracy
The next thing would be achieving accuracy. Every data entry company will demand you an accuracy of 99%, which would mean only one or two mistakes.
If you cannot achieve the desired accuracy, that particular file will get rejected. Remember, the image files I discussed before are mainly medical transcripts.
The words are tough to spell, and you cannot find them in a standard English dictionary. Sometimes these image files are blurred, so it becomes difficult to understand a few words in them.
Very Tiresome
Typing word documents by seeing image files that are not clear is cumbersome. If you are a beginner, your eyes may even get hurt because you are not used to paying such attention.
You have to concentrate hard pressurizing your brain and eyes. Moreover, to make substantial money, you will have to type at least 40 to 50 image files daily within a timeline.
This will take a toll on your eyes. So consider this point.
Payments
What's more, is a payment issue. At times, after hard work, you might not receive payments at the right time. Companies will give you because they have rejected your work because of lack of accuracy.
They might even threaten to suspend your membership. You are left helpless as you can not complain anywhere because everything is online. This might even shatter your dreams.
Read: 25 Best Online Data Entry Jobs
Lack of Support
As if this was not enough, lack of customer support is like rubbing salts on your wounds. If you want to get some guidance from the company about the work you are going to do or regarding payments, then there is a lack of support.
You would not reply to why they rejected your work even if you met the accuracy. However, it depends upon company to company.
Conclusion
Lastly, I would suggest you think twice or thrice if you plan to start online data entry jobs. Firstly think about the genuine company, secondly about achieving accuracy and how it is time-consuming, thirdly about payments on right time and last but not the least is the customer support to answer your queries.
You can also think of starting other online jobs mentioned here. There is some good potential of earning money from this online work. Some of these online jobs can even make your total time income.