Did you know that it's possible to earn money from the comfort of your home, during lunch breaks at work and during those long, boring commutes on public transport in India? This might sound like a dream come true.
Yes. It's possible. As a matter of fact, there are some best money earning apps available in India where you can make some real money during your spare time using your mobile.
I am going to show you some of the top money earning apps in India. Not only India, but most of these apps are also available in other countries like the USA, UK, Canada, Bangladesh, Philippines, and many others.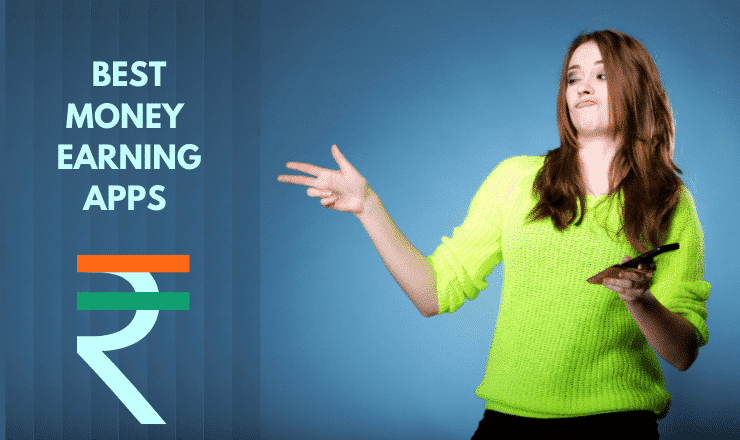 Top 60 Money Earning Apps in India
These earning apps are available for both Android smartphones and iPhones. I have given the download links for the Google Play store. Some of the apps are very old and legit and some are new earning apps but very popular.
You can download these apps in your smartphone for free & start earning from day one.
Also read: 18 best ways to earn money online
1. Google Opinion Rewards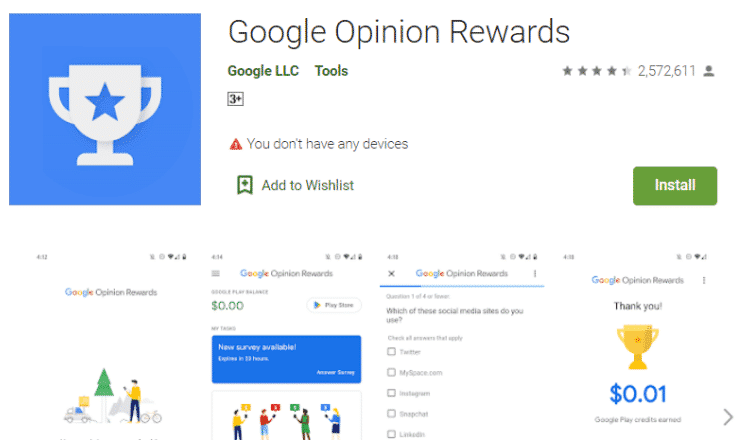 As we all know Google has created its unique place in the digital world. You can earn Google Play credit quickly and safely by doing simple surveys through the Google Opinion Rewards app.
In Google Opinion Rewards, Google will ask you some questions about yourself, and you have to answer them. Further, Google will send you a few surveys in a month. The surveys Google presents here are usually random, based on search popularity and public interest. Sometimes it will be more or less frequent.
You will get a notification on your mobile when a relevant survey can be conducted online. You can receive up to $ 1.00 in Play credit after completing the survey successfully.
It's entry-level money earning app and created by the Google Surveys team. Any Android user can download it.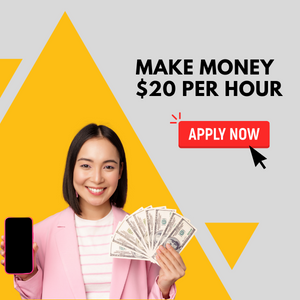 Also read: 7 ways to earn money from Google
2. CashBuddy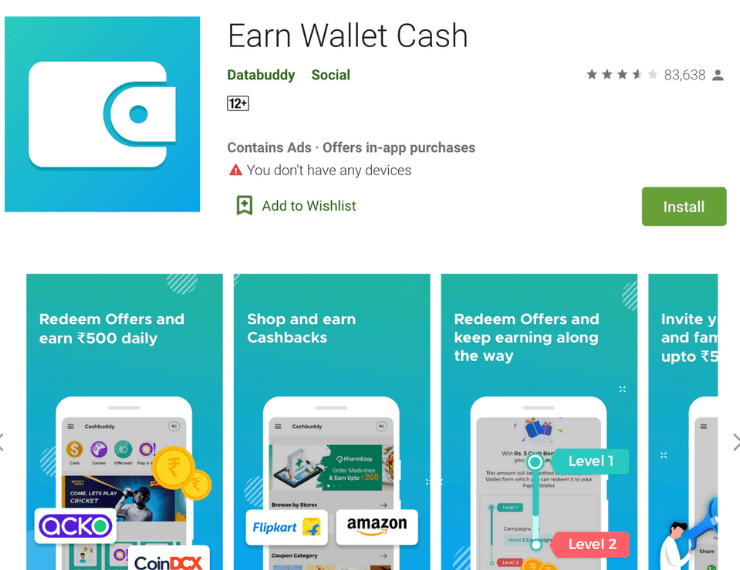 CashBuddy is one of the best money earning app. It's a social platform, and you can earn cashback by sharing and shopping.
On CashBuddy, to earn cashback, you have to do simple tasks such as sharing Pics and GIFs installing and registering on the android Apps, Games, and Websites.
Moreover, you can get cash back by shopping on Amazon, Flipkart, Jabong, Myntra, and over 1000+ top sites using Cashbuddy App deals and coupons.
Most of the time, you can get a reward in the range of Rs. 50 in your Paytm Wallet. You can redeem cash backs later on. To ensure guaranteed rewards, it has a user referral scheme.
Main Features:
You can discover the highest cashback offers
Shop and earn cashback in wallet on successful purchase
Get and extra discounts
3. Roz Dhan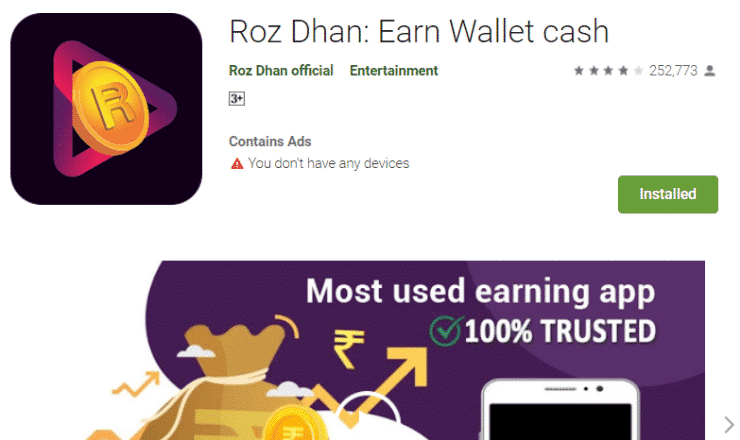 Another best app to earn money using your Android smartphone. On RozDhan, earn Rs.50 by signing up. Additionally, RozDhan allows you to withdraw your money to your Paytm account after the first 2 days on the app, when you complete "given Instant Cash Tasks' ' and after reaching Rs.300 in your RozDhan wallet.
Besides, you can earn real money, i.e., earn hundreds of Rupees in Wallet Cash each day by doing simple tasks.
You have to perform tasks such as checking daily horoscopes, completing puzzle tasks, doing surveys, visiting popular sites, reading news, etc. Here you can convert your walking steps into earning money.
RozDhan provides free games means you can earn money by playing games for free. You can earn rewards by spending 10 minutes per day on the Roz Dhan app.
You can download Roz Dhan from the android play store. It has been used by more than 25 million users to date.
4. Meesho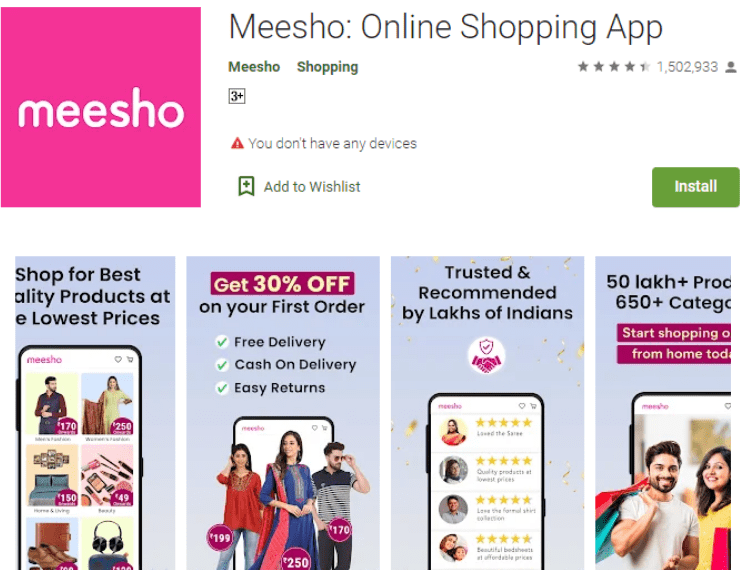 Are you thinking of starting your online business with zero investment today? So here Meesho app is the perfect platform for you to start your business hassle-free.
You can resell on the Meesho app and earn money in 3 easy steps.
Step 1: Browse
First, you can download the app, sign up and browse through a variety of high-quality products at wholesale prices.
Step 2: Share
Once you have found a product you would like to sell, you can share it with your friends and family members via Whatsapp, Facebook, and Instagram and get new orders.
Step 3: Earn
Once you get orders, add profit to the wholesale price of the products, collect the payment, and place orders on their behalf. In the case of COD, profit will be transferred to your bank account.
That's how you make money with Meesho.
5. Task Bucks
To make money with the Task Bucks app, you have to earn coins and later convert coins into cash.
You have to play quizzes and games to earn coins.
Complete simple tasks on the phone.
Participate in daily contests and win Free mobile charges
Earn through referrals.
You can transfer TaskBucks coins to your wallet or get free talk time and data recharge. So you make money through data recharge.
6. AppTrailers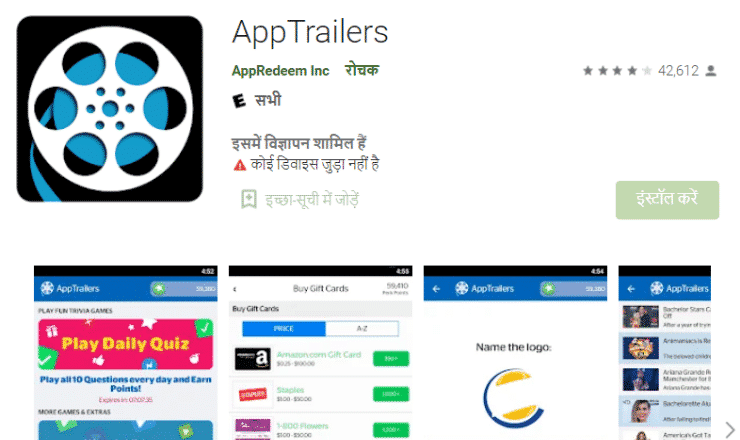 With AppTrailers, you can preview videos, celebrity gossip, DIY videos and get points redeemed with PayPal, Amazon gift codes, etc.
To earn bonus points, you can play trivia to answer simple questions.
Apart from Gift cards, you can also convert points into cash with the Perk Plastik pre-paid debit card.
AppTrailers is entirely free to use.
7. Swagbucks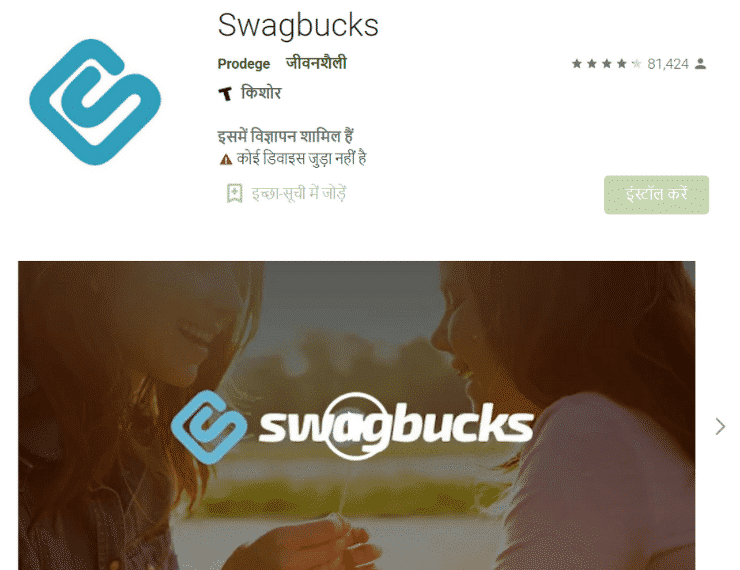 Swagbucks is one of the most popular money making apps in the world. You can either make cash or get free gift cards.
There are over 10,000 gift cards redeemed by members every day. You earn free gift cards by taking surveys, earning cash for grocery receipts, cashback shopping at your favorite store, and discovering new products and content.
You can join today and get a $10 welcome bonus.
Also read: Get paid to take online surveys
8. Cointiply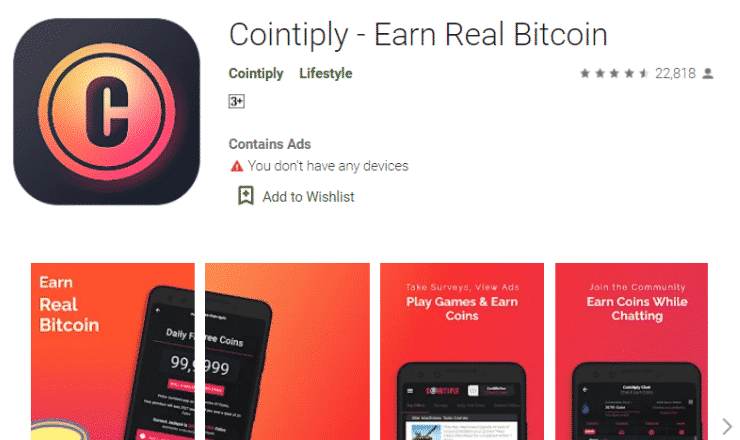 Cointiply gives you an opportunity to earn real bitcoin. There are 20 ways to earn real bitcoin and other cryptocurrencies. Some of them are
Collecting daily coins
Complete daily surveys
Play Fun games
Watch videos
PTC ads
Later, you can withdraw your coins to any Bitcoin, Doge, LTC, or dash wallet. They already have 2.7 million members, and you too can join.
9. Honeygain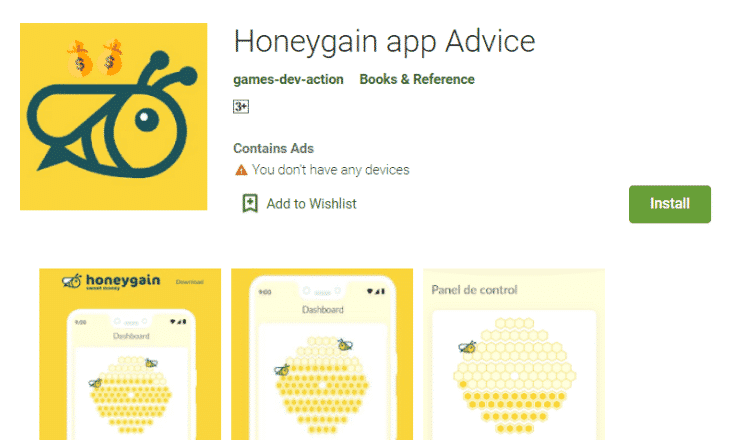 Honeygain is the first-ever app that allows users to make money online by sharing their internet connection. You get paid in USD or BTC.
Honeygain builds the residential proxy network.
The average size of a single payout by Honeygain is around $26.58.
10. Earn Karo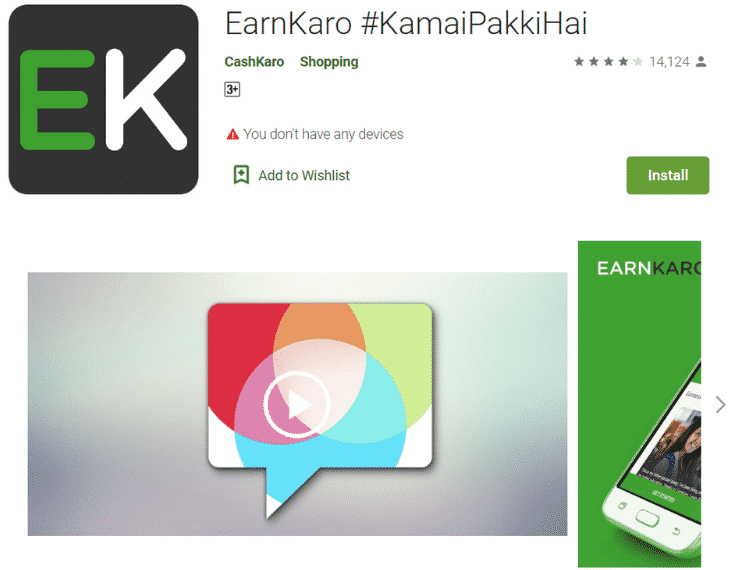 First, you build your network on social media platforms like Whatsapp, YouTube, Facebook, etc, and then share your EarnKaro profit links. Whenever someone shops via your link, you get a commission.
Profit rates will depend upon your partner and get tracked and added to your EarnKaro account within 72 hours. You can transfer profits to your bank account.
They have 2 million members, and you could be one of them.
11. Current Rewards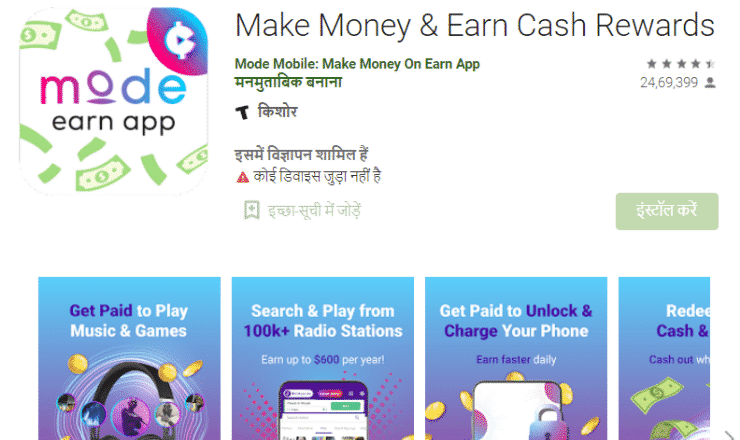 This money-earning app is really great for young people who want to make money playing music and games.
You make money through:
Listening to free music
Giving your opinions through surveys
Try free games, apps, and watching short videos
Earn from referrals.
Get paid for shopping and saving money
According to Current Rewards, you can earn more than $600 a year in just rewards.
12. Premise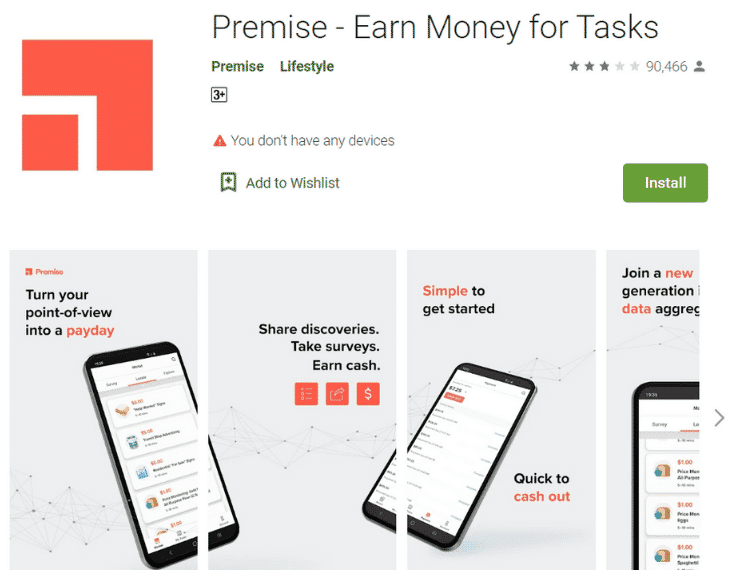 The Premise app allows you to make money doing simple tasks like completing surveys, sharing information like grocery prices, people in your neighborhood, and information related to your city.
Earn money by mapping your community, taking photos and sharing your opinions.
Generally, with Premise, you make money by taking surveys and sharing local information.
13. Spin and Win Cash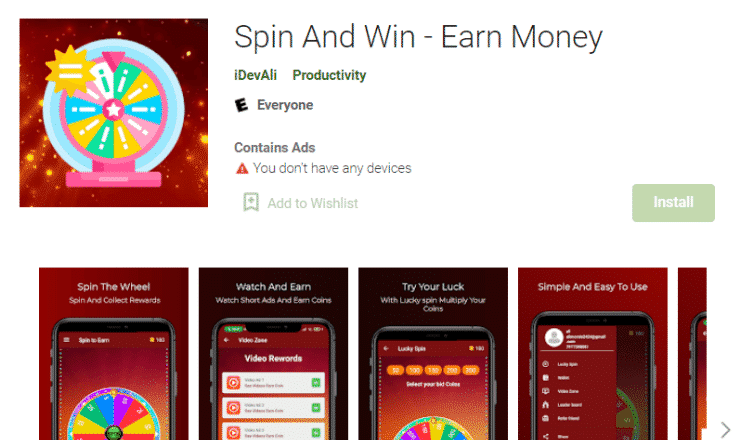 Make unlimited money by playing spin and scratch games. You play different games of your choice and get cash rewards.
Some of the popular games you can play are
Spin the wheel and collect coins
Scratch the coupon
Use the daily reward option
You play games to earn points and later, you can redeem points to real free pocket cash.
The app is free to join.
14. Pocket Money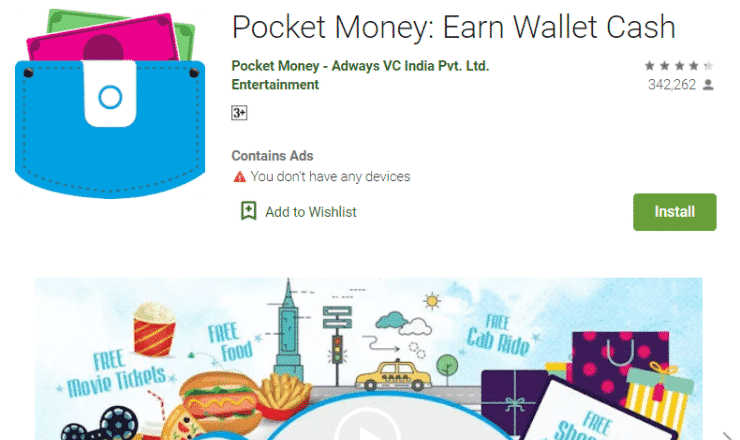 You can earn unlimited Free mobile recharge and wallet cash with Pocket Money by completing simple tasks.
Earn through your smartphone and pay your bills, movie tickets, cab rides, etc.
According to Pocket Money, you can earn up to Rs 7000 daily by doing
Find popular and high earning offers
Complete specific tasks on a day like consuming data
Watch Pocket videos
Play Tambola
Refer and Earn
They have over 6 million members who have availed of free mobile recharge worth millions. You can join them too.
15. mGamer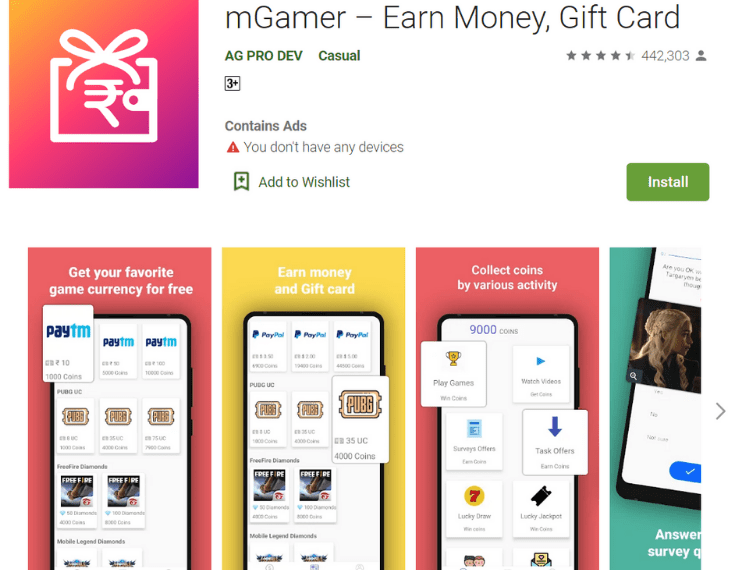 Win rewards and redeem money by doing simple tasks like watching videos, ads, filling online surveys, etc.
The two most popular games you can play are die-hard action games player and rough-n-tough shooting games.
Each task offers a large amount of Paytm cash reward.
You can also take surveys and get free Google play credits. Later you can redeem credits by purchasing any game currency.
16. GlowRoad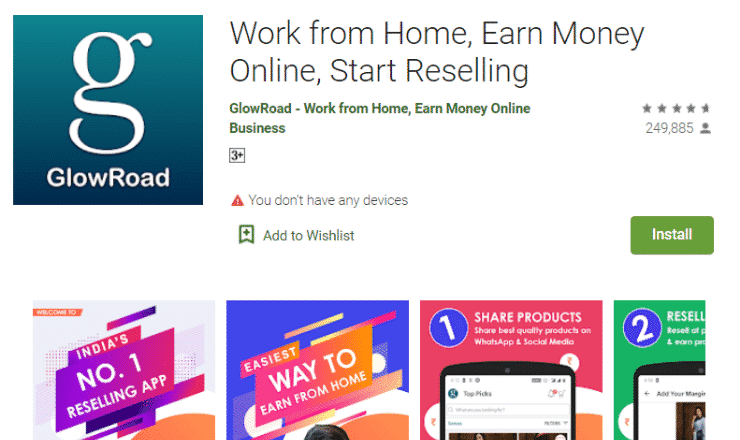 GlowRoad is India's biggest social commerce app to buy 1000s of high-quality products for wholesale prices.
So how do you make money from this app?
Well! You first buy yourself to save money and share with others to make money.
First, search through their high-quality products. Once you have identified the right product you think your customer will buy, click on the "Share to Earn" button. Share the product on social media platforms like Whatsapp, Facebook, Instagram, etc.
If someone buys the product, collect the payment and place the order with GlowRoad. Profits will add to your bank account.
17. Big Time Cash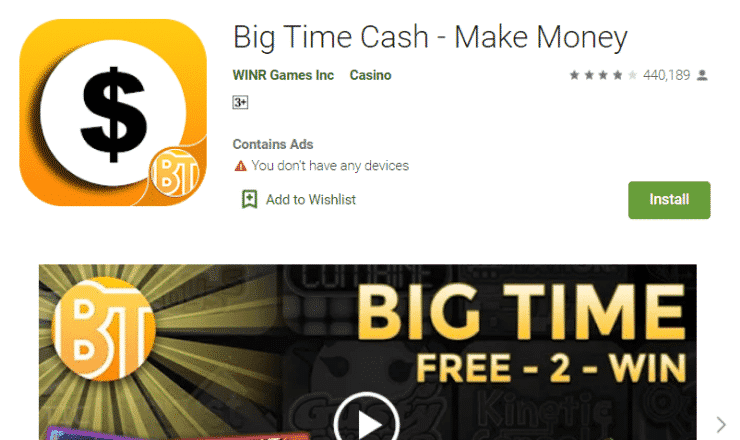 Big Time cash pays you to play video games. They have paid thousands of dollars to their members.
They share back a portion of their advertising revenue with one lucky winner through a draw. Their free-2-win model allows users to earn money without paying anything.
You just have to join the app and unlock the games to get greater cash rewards.
18. Shop 101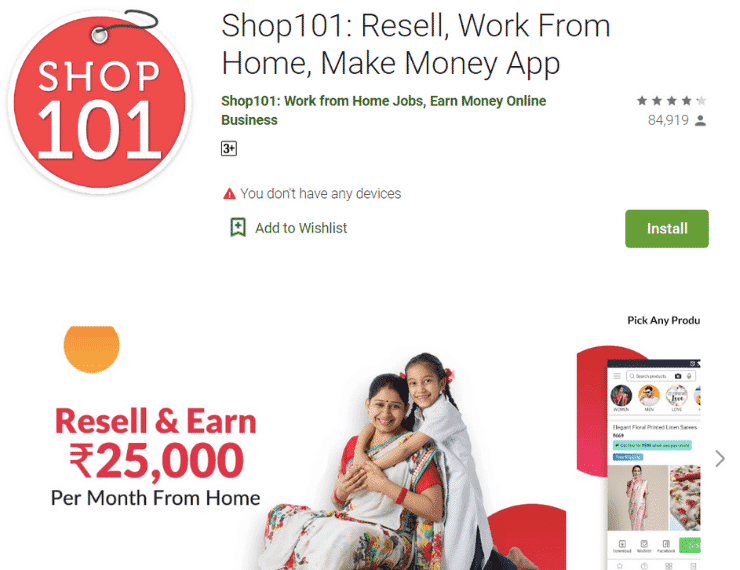 With the Shop 101 app, you can Resell and make money from the comfort of your home.
According to Shop 101, you can resell and earn up to Rs 25,000 per month. You just place orders on behalf of your customers and earn money on each sale.
Your profit margin is credited directly into your bank account.
You can also refer and earn money from Shop 101.
19. GetToCash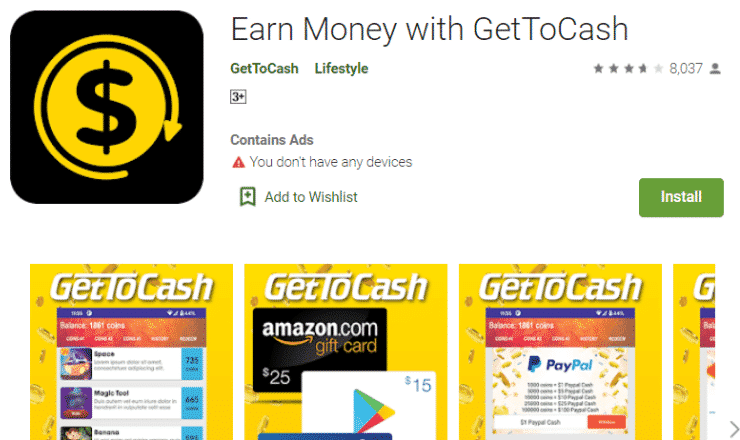 GetToCash pays you for playing games. You play games and get rewarded. The more you play, the more you make.
This app lets you earn gift cards while playing games. To earn an extra bonus, you can also invite your friends to GetToCash.
They don't pay you cash!
20. Toloka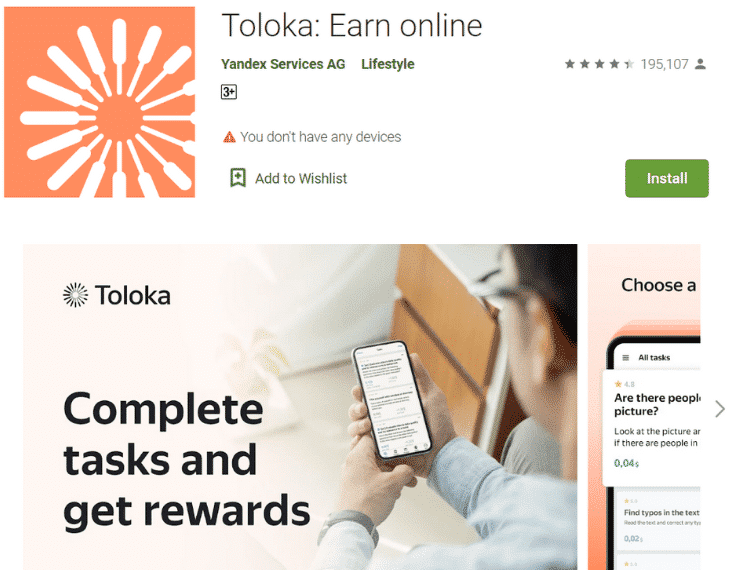 Toloka pays you to complete specific tasks. So what are these tasks?
These are field tasks like finding an organization and adding information about it, like photos, buildings' entrances, business hours,, etc.
You can make money by also doing tasks like watching videos, evaluating a search engine like Yandex and checking a website.
Earnings will calculated in dollars and you can withdraw funds in local currency using PayPal or Payoneer.
21. Real Cash Rewards
Real cash Rewards is one of the high paying rewards apps. They give you hundreds of thousands of credits compared to other apps, which give just one thousand.
You earn credits by trying free apps, testing services, completing surveys and giving your opinion. They offer high paying offers and high paying surveys.
You also make money with their referral program.
Later you can redeem your credits with cash through PayPal.
22. Real Cash App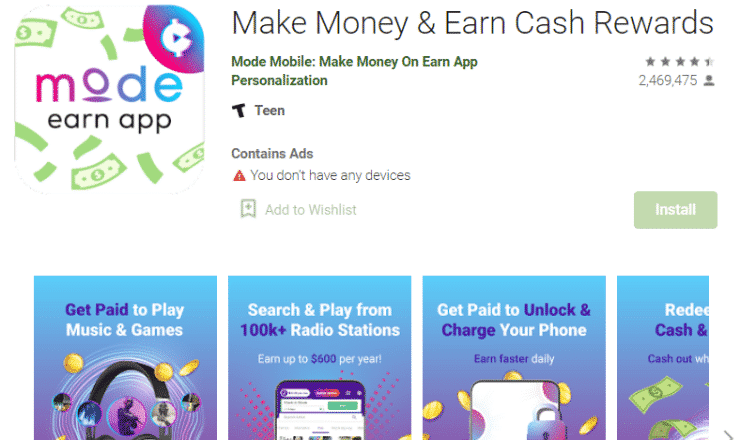 Some of the ways to make money with the Real cash app are:
With playing games. The more you play, the more you make.
Complete paid surveys
Earn with your smartphone by selecting and downloading the highest paying apps and testing them.
After completing all the tasks, you can check your balance on the Make Money app. You can receive the money by requesting PayPal.
23. Frizza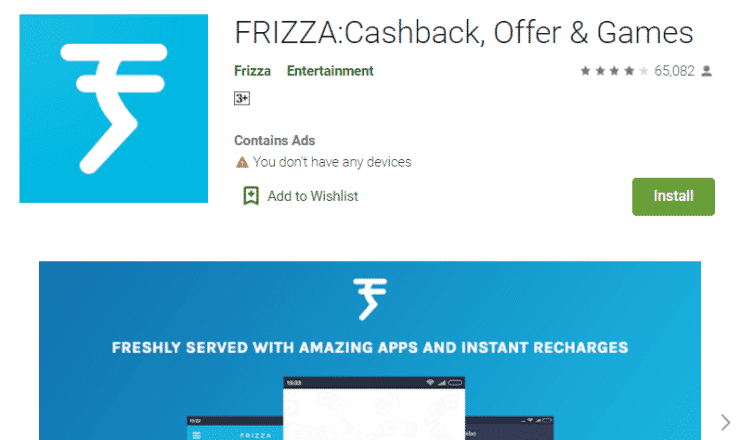 Frizza allows you to earn cash and Paytm wallet money. With this reward app, you can get instant cash by playing games, watching exciting videos, installing apps, etc.
You can refer this reward app to your friends and earn Rs 500 per referral. Later you can transfer your money to your Paytm wallet using the money-making app.
You can also earn Paytm cash for free recharge and bill payments.
24. MoneyTime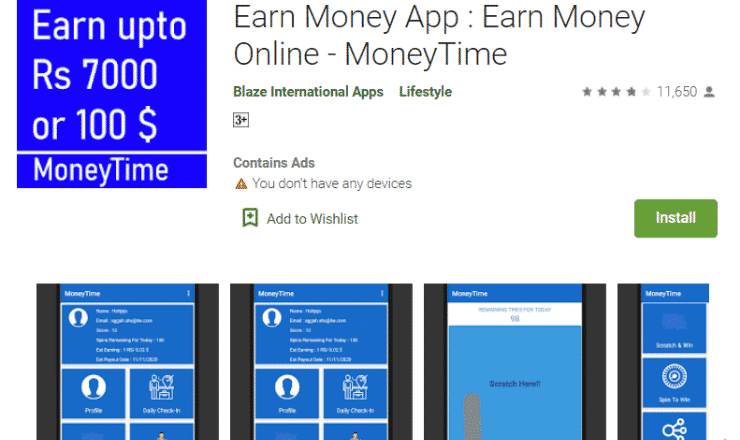 MoneyTime is the Best App to earn money online in India. you can earn money using MoneyTime app in the following ways
Fill surveys and earn cash
Spin the wheel or just rotate the wheel is a gaming app to earn PayPal cash.
Scratch to earn money
Walk to earn money
Share the money games app with your friends and earn through referrals.
The app is very legit and you can make money from your home.
25. TaskBud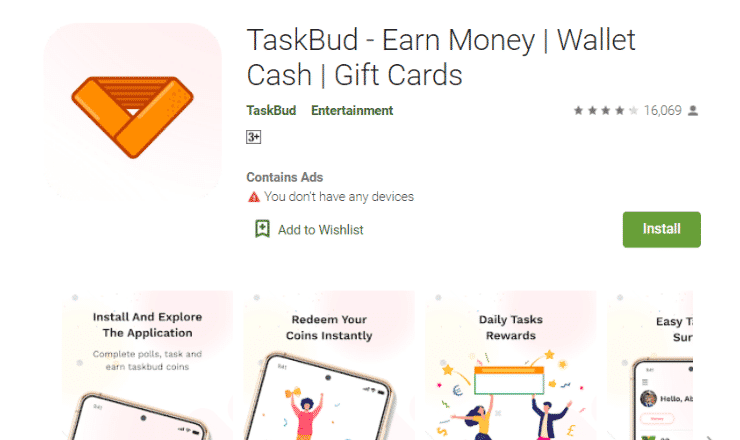 With the TaskBud app, you can perform certain tasks and earn free wallet cash and gift cards.
You make money through playing games, installing an app, completing surveys, referring the app to your friends and doing other simple tasks daily.
Later you can redeem your TaskBud points in INR and withdraw your money into your Paytm wallet account.
26. MoneyTree Rewards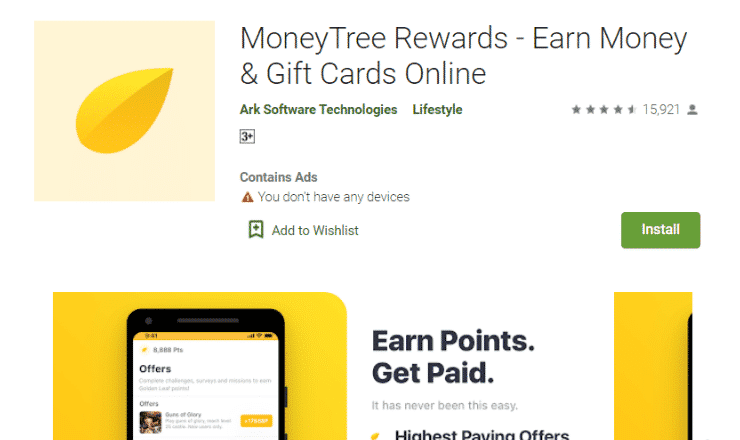 MoneyTree Rewards app lets you earn money, gift cards and vouchers online.
You can earn points by trying out new apps, answering surveys and even watching TV. Some other ways to earn money are playing games, watching videos, answering surveys and their referral program.
Later you can exchange your points for various rewards like money, gift cards and vouchers.
MoneyTree Rewards offers some of the highest paying offers.
27. SquadRun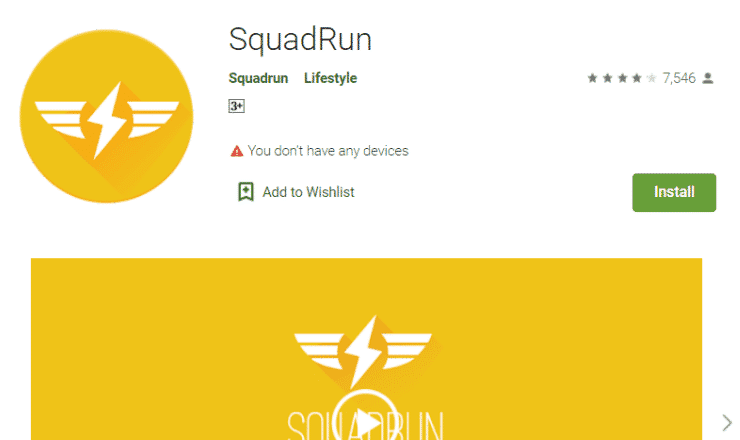 SquadRun reward app allows you to perform certain tasks arranged in the form of small "missions" that SquadRun trains you to perform.
However, to get missions you have to qualify for the first. If you don't qualify, then you don't get missions to complete.
The more successful missions you can complete, the more money you get to earn.
Once you have earned Rs 60, you can redeem the cash into Paytm or UPI account.
To know more about missions, download the app.
28. Dosh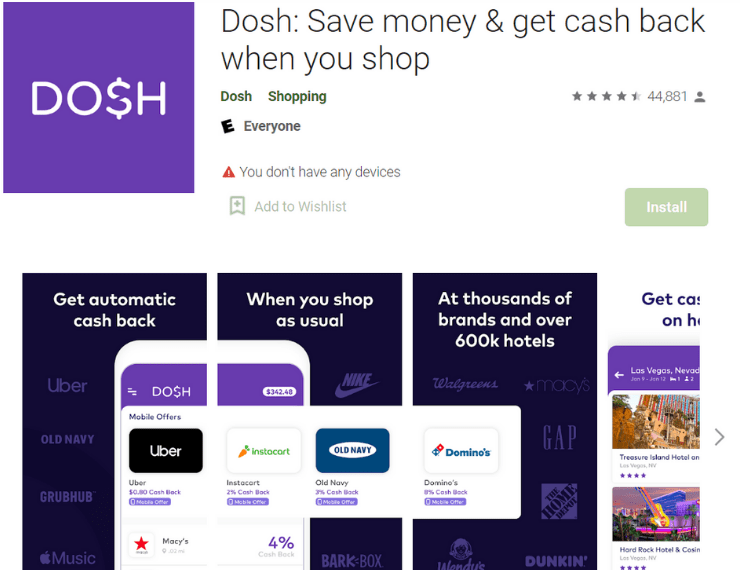 You shop with the Dosh app and get cashback for shopping on items you already buy. You can shop and dine at the places you visit every day like Wendy's, Papa John's, Domino's, Gap, Grubhub, etc. You get real cashback.
You just have to download the Dosh app, securely connect with your credit and debit cards. Every time you use your cards, Dosh searches for offers, automatically redeems the offer, and converts it into cash and deposits directly into your Dosh Wallet.
You can also refer the app to family and friends.
29. Poll Pay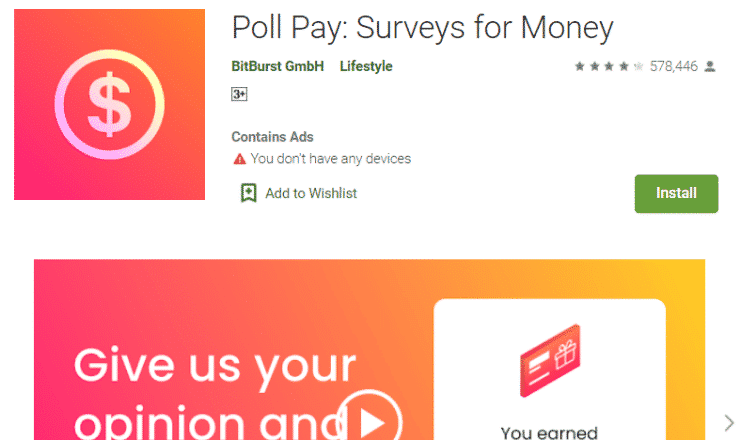 As the name suggests, Poll Pay is a reward app that pays you for completing surveys.
You just have to register with the Poll pay first, participate in surveys to increase your balance and later exchange the balance for PayPal credits, Amazon vouchers and many other gift cards.
You can also invite your friends to Poll Pay and earn extra cash. It is one of the highest paying reward apps.
30. PrizeRebel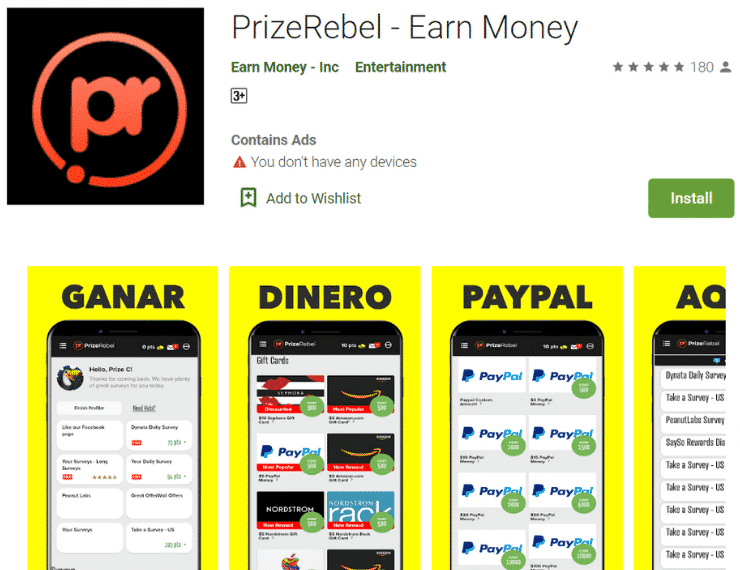 PrizeRebel app offers you cash payment for completing certain tasks like
Surveys
Watching Videos
Certain Offers
Playing favorite games
Participation in raffles
Performing Multiple tasks
Contest – 2 times a month
Referral Program
You earn coins and later redeem it for hard cash. 100 coins = $1 USD.
PrizeRebel pays up to $10 for completing just one survey. The threshold payment amount for PayPal is $5.
31. Daily Status Earn Money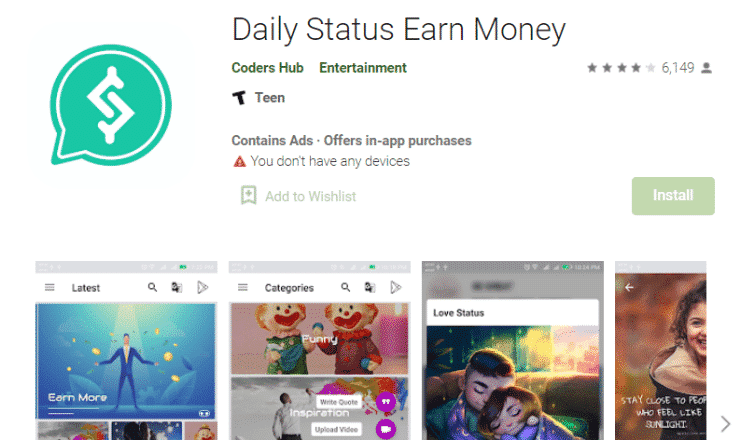 The daily Status app rewards you for watching or sharing content online. You will make money doing the following things
You watch videos, see images and GIFs and read quotes
You share content with your friends
You upload content
You make money by sharing your referral code.
You can easily earn a few hundred dollars by spending some time online.
32. Bubble Burst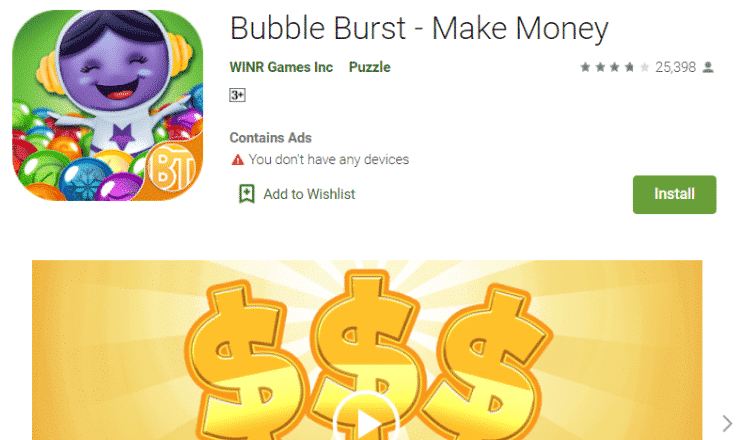 With Bubble Burst, you can make real money by playing video games.
You just have to unblock the awesome games and get rewards. Play games at home, bus station, metro, or subway and make money.
You make money by winning money cashout with PayPal, collecting prize tickets, earning rewards and competing with your friends.
33. KingEarn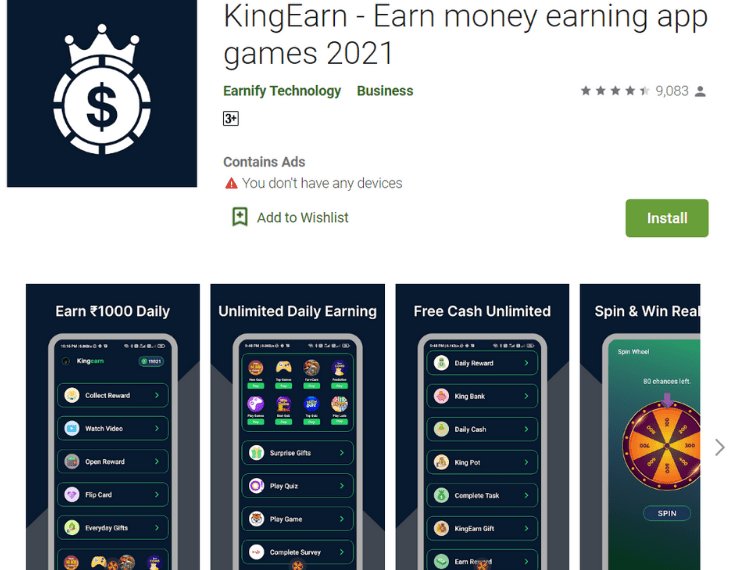 KingEarn is claimed to be the best money earning app game in India.
With this app, you get instant cash in your Paytm wallet rewards while playing games, completing easy tasks like surveys, quizzes & offers, installing apps, referring to your friends, etc.
You can earn up to Rs 1000 per day. KingEarn pays Rs 500 for free to first time users after they sign up.
34. Cash App Money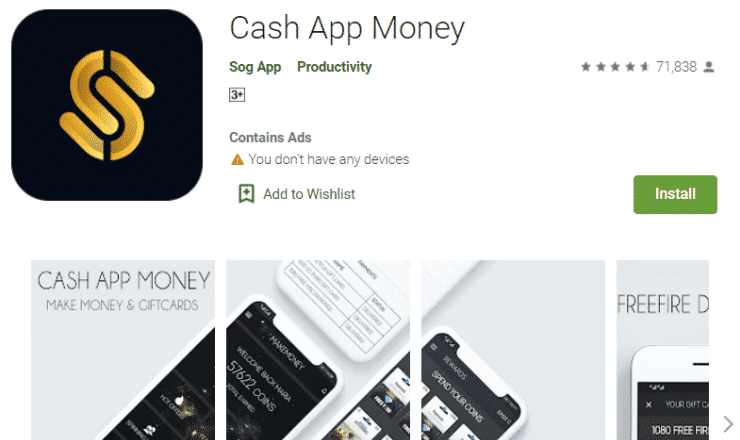 How do you make with Cash App Money?
Invite people with your promote code and make money
Complete an available offer app
Write reviews and praise
You can easily earn up to $100 per week.
Earn cash back money rewards and gift cards!
35. Play and Earn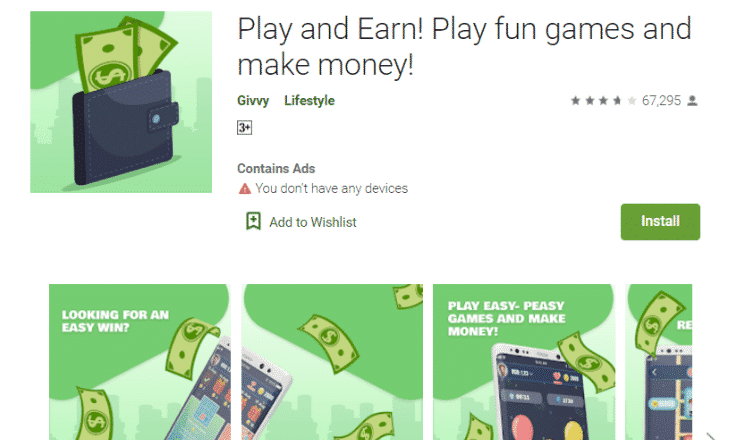 As usual Play and Earn reward app allows you to make money by playing video and puzzle games, referrals, taking surveys, participating in contest etc.
You earn coins by doing these tasks and later convert them into real money.
You cash out amounts to your PayPal account and receive within 7 days.
However, on the flip side, users of this app are not happy with certain games because they won't work correctly.
36. Money Bricks Ball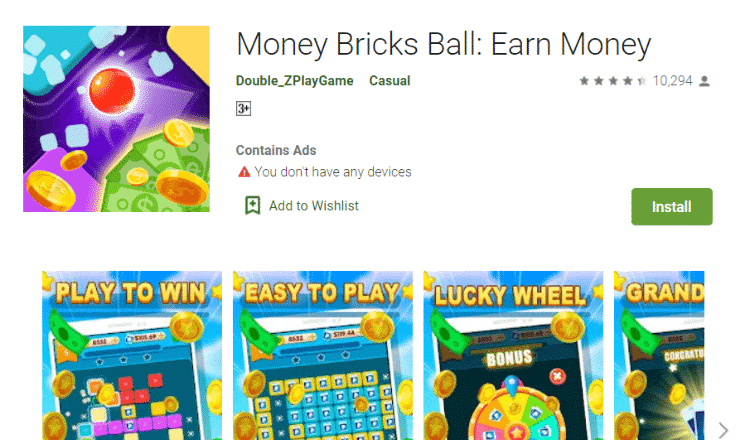 This app offers cash payouts for playing games. You can cash out amounts to your PayPal account.
Though games are straightforward to play but members have payment issues with this app. Even after playing and winning games, their deserved money is not credited to their account.
37. Reward Fox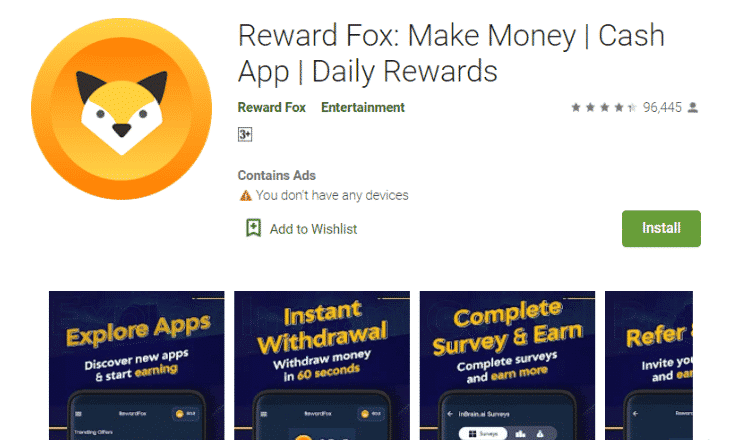 On completing "Instant Cash Tasks," members can earn hundreds of rupees daily in wallet cash through RewardFox.
Some of the tasks are completing surveys, installing apps, playing games, daily rewards, and referrals. For each person, you refer, they pay you Rs 10.
They offer instant cash withdrawal to your Paytm wallet, and you can use it to recharge your mobile.
38. CashApp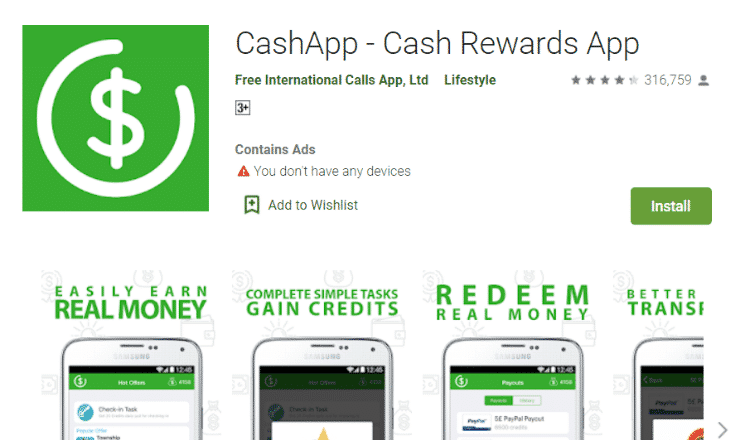 CashApp claims to be an easy task make-cash app. You earn real cash by completing simple tasks like surveys, watching videos, giving opinions, trying different services, free trials, etc.
The best thing about CashApp is no gift cards or discounts; you are paid cash in your PayPal account.
There are no complicated missions, and very easy to make money.
39. Brain Battle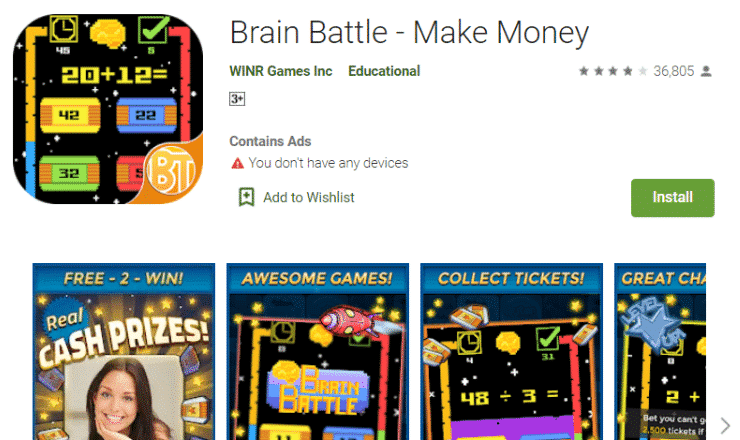 Brain Battle is an app where you can make real money playing video games. They have already paid tens of thousands of dollars to their players.
You have to play any of their games and collect at least one ticket to enter into frequent cash prize draws.
The more you collect the tickets, the higher your chance of winning a cash prize.
You don't need to buy the app or pay anything to win.
40. ClixSense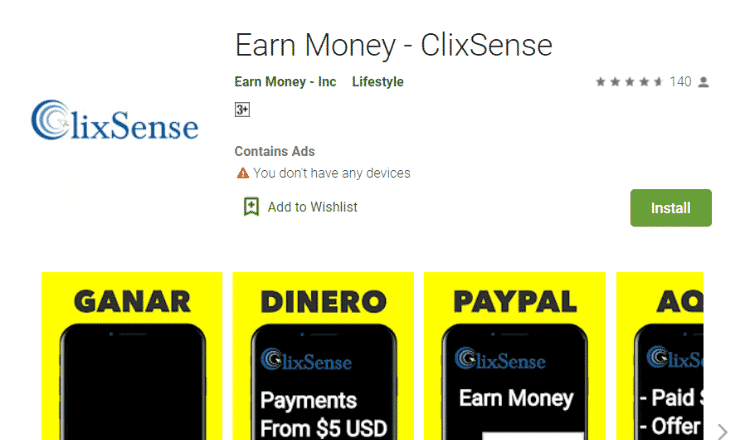 ClixSense is one of the most popular cash reward apps. They pay you for completing tasks like surveys, watching videos, offers, playing games, bid wall, multitasking, polls, offers, contests, and their referral program.
They offer surveys that can pay you up to $10. They pay you via PayPal, Amazon gift cards, Payoneer, etc.
100 coins make $1. Their threshold payment amount is $5 via PayPal.
With ClixSense, you can make some serious money.
41. Math Cash
Do you want to improve your math skills and also want to make money doing so?
If your answer is yes, then this is the app for you. You can solve different arithmetic expressions, addition, subtraction, multiplication, division, and make money.
The app is 100% free to play. You earn points and later redeem them into PayPal cash. The threshold payment amount is $10.
However, if you use any VPN proxies or bots, then your account may get suspended. So be careful!
42. Make Money 2021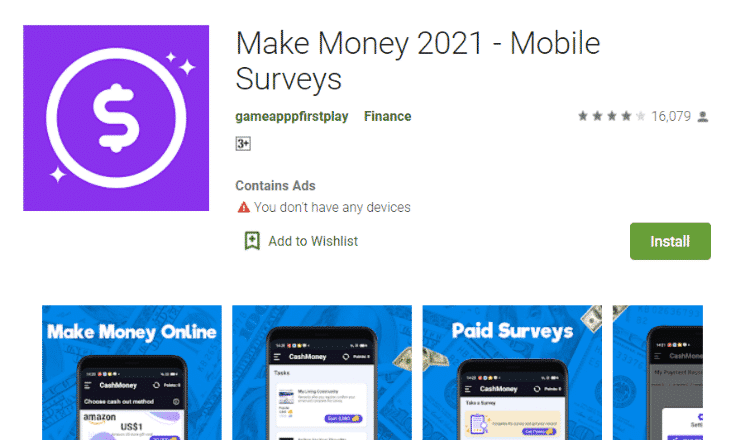 You can download this app and get paid for answering occasional surveys. Make Money 2021 will update high-quality surveys and polls, and other tasks daily that let you earn easy and fast cash rewards with your phone.
Download the app first, scroll the offer list, choose new surveys with high rewards, and complete the surveys to get PayPal credit or Amazon gift rewards.
This app offers surveys that are of high quality and pays relatively more than other apps.
43. Gemiplay
Gemiplay is a site where you can earn by completing offers such as playing games, downloading apps, watching videos, completing surveys, opinions, etc. They are promising to offer a referral program very soon.
Gemiplay offers you free 100 points ($.01) daily.
The site offers payment via PayPal, Coinbase, Amazon, Payoneer, etc. Their minimum payout is $1.
However, from my experience, I don't think the site is genuine, and you can totally skip it.
44. Cash'em All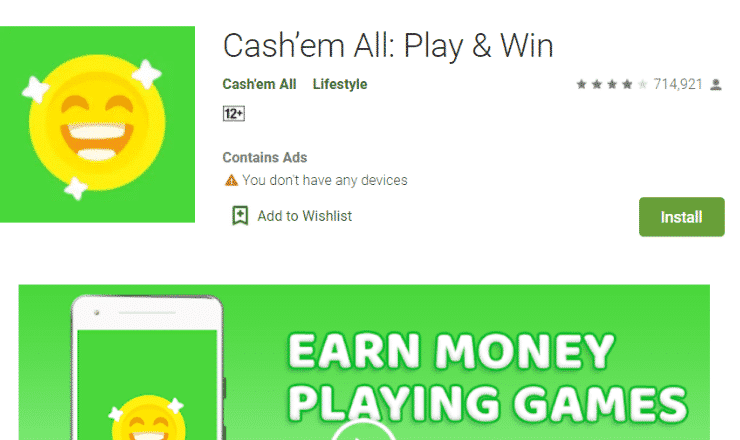 Earn free gift cards and money by playing free games with Cash'em All app.
You can choose and play your favorite game from their list and get rewards for every minute you spend playing free games.
Play games, collect coins, and later exchange them and win cash prizes such as Amazon gift cards, Google Play Voucher, Psn cards, etc.
You can transfer money directly to your PayPal account.
45. Solitaire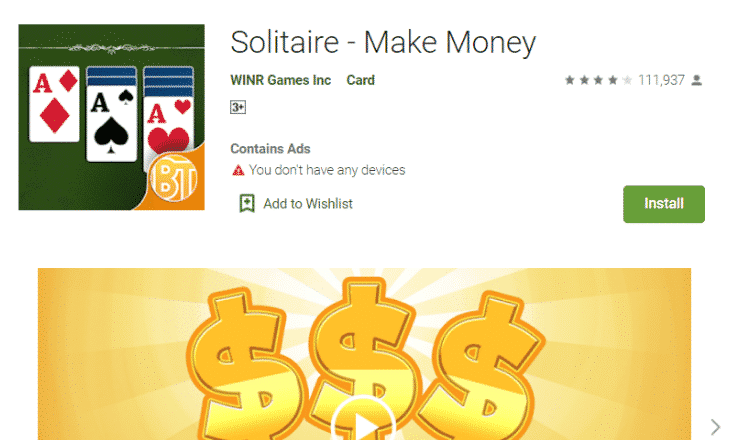 You may all know about Solitaire; it is basically a card game app where you can make real money playing free video games.
They have already paid tens of thousands of dollars to lucky players of this app.
You just have to play, draw cards, get tickets and enter the lottery. To unlock more games and get more excellent cash and money rewards.
46. Stato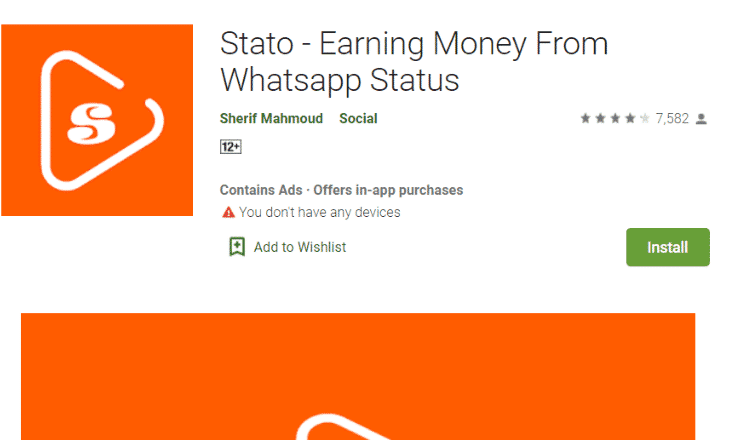 Stato is quite a unique app. It lets you to make money from Whatsapp Status.
You can create your original content, upload it and make money from views. Upload creative content and get a lot of followers. To get followers, you can share your content on social media platforms like Facebook, Snapchat, Twitter etc.
Stato allows you to earn a lot of money from your activity in Stato.
47. Coffey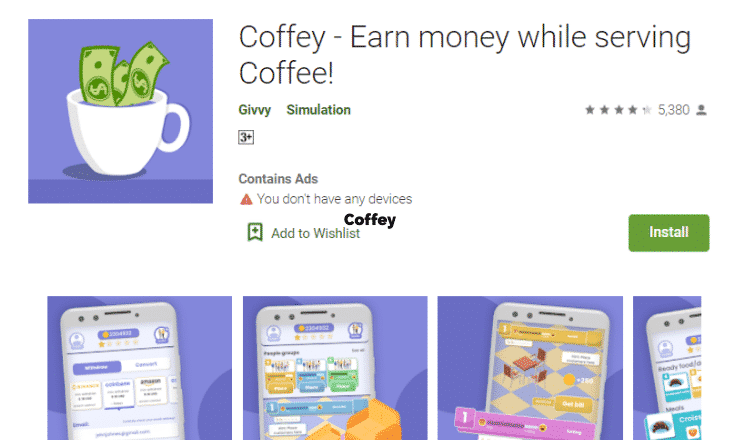 Coffey pays you for serving coffee, unlike all other apps on the list!
Coffey is a revolutionary paying money system that allows you to earn coins and convert them to real rewards.
You receive visitors, serve them coffee or cake and make money in Coffey mobile app. You can have the highest rating restaurant and make as much money as possible.
Set Cook on the app! Make money by having happy customers. Earn points and convert to real money and withdraw via different methods.
48. Gamee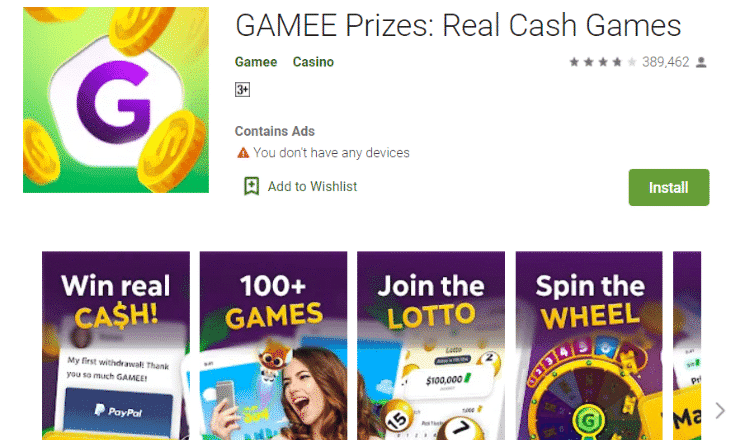 You can play 70+ different video games in one app with Gamee and earn instantly. You can play games like spin the wheel of FORTUNE, compete in the daily ticket leaderboard or take part in the lucky Games to win $100 every 4 hours.
Collect free tickets, and you will automatically participate in the giveaways of $5 given every month.
You can also invite friends to get lots of tickets and free dollars.
49. Happy Coins Earn Money CashApp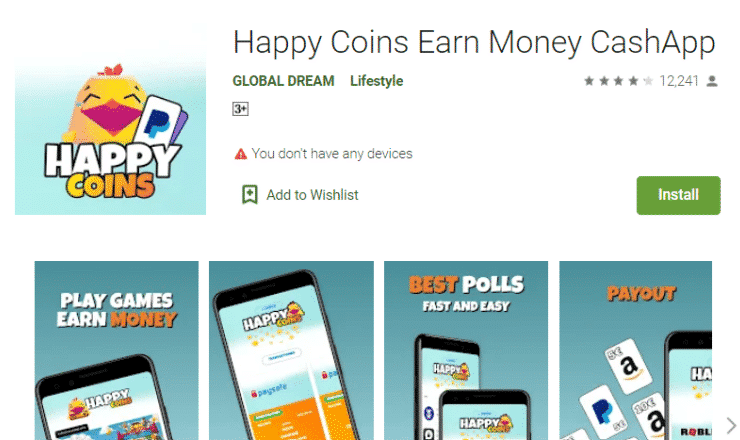 Play games, get coins, and exchange them for real money. You can choose between many different games. With these Playstore games, you earn coins. Later you can payout directly to your PayPal account or in the form of a voucher from your favorite brand.
To put it simply, open happy coins, play a game and choose a payment option. You will receive your credit in less than 48 hours.
50. Cashyy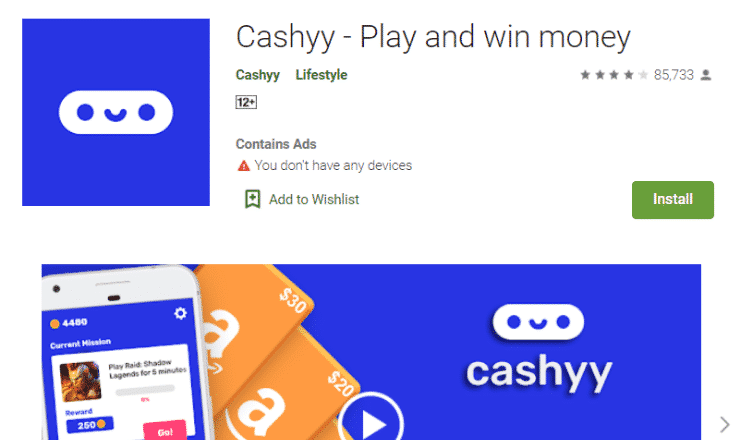 According to Cashyy, "Discover free games accomplish missions and win coins to exchange with gift cards."
You just have to play, complete missions, and receive free money. The more you play, the more you earn.
Coins that you have earned can be exchanged for gift cards such as Amazon gift cards, Google Play Coupons, PlayStation cards. You can also get cash directly transferred to your PayPal account.
51. Earn Money: Real Cash Games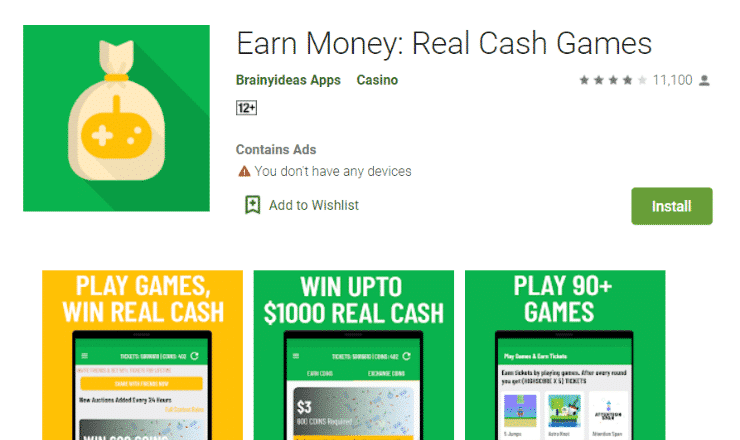 CashGamer is a 100% free app that allows you to make money or gift cards to play free games, take surveys, participate in daily or weekly auctions, and invite your friends.
Once you have accumulated 600 coins, you can exchange them for real PayPal cash or Amazon gift cards.
To participate in a weekly contest you have to earn tickets by playing 90+ games or inviting friends.
52. Rewardy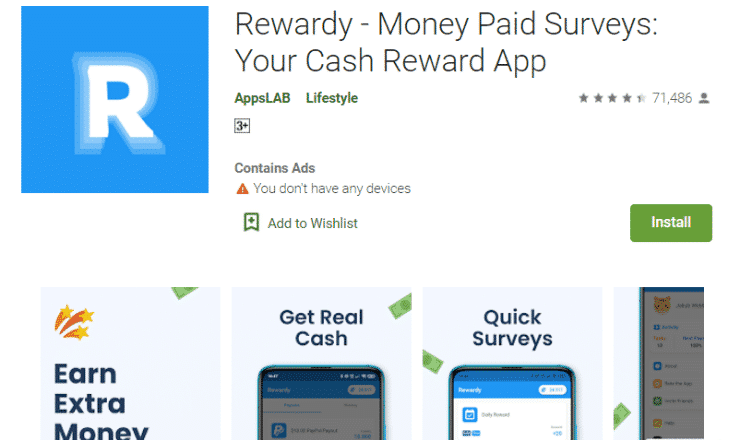 Rewardy app allows you to make money by completing surveys, playing free video games, downloading apps, and inviting your friends.
Download the app, scroll through the offer list on the app, pick your favorite offer, complete it and make money.
The cash reward is credited to your PayPal account. Grab your free cash rewards and PayPal credit.
53. Match to Win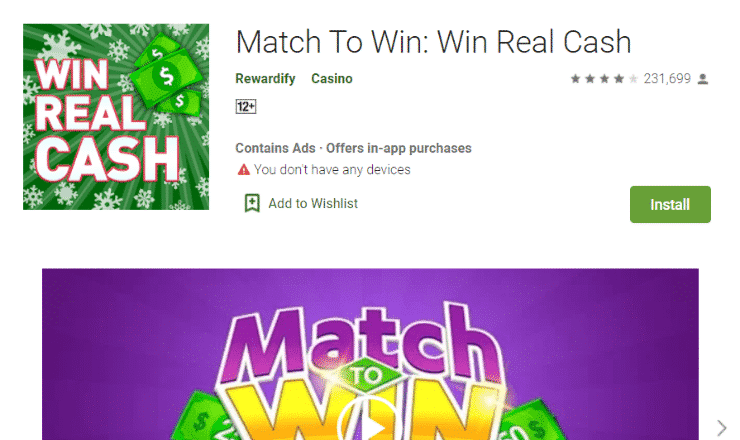 Match To Win is a free Sweepstakes App! You have to earn tokens that can be entered into sweepstakes for cash prizes. You earn real cash by scratching off games, weekly prizes, playing games, and puzzles.
You earn daily gifts and special offers by playing games and solving puzzles. You can also win money from free cash giveaways. Cash Dash allows you to win instant real cash every day.
Later you can cash out via PayPal.
54. Earn Tap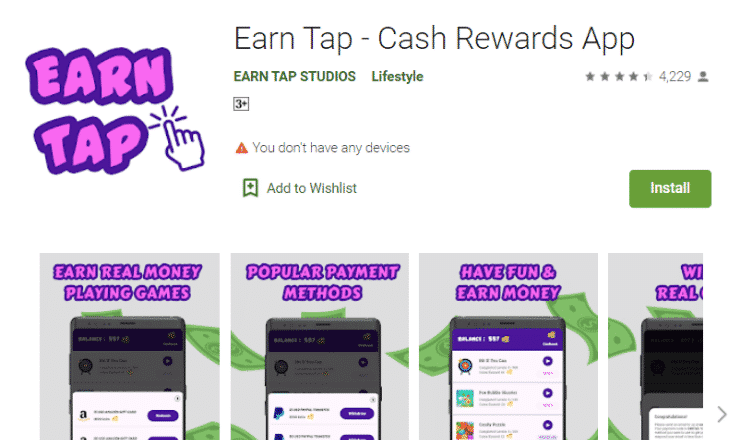 With Earn Tap, you can make money playing games. You can discover some of the best mobile games on Earn Tap and earn cash.
You get either Amazon gift cards or Steam Gift cards or pay directly using PayPal.
The app is really great, and members are very happy with it. You can start playing and earn money.
55. CashWall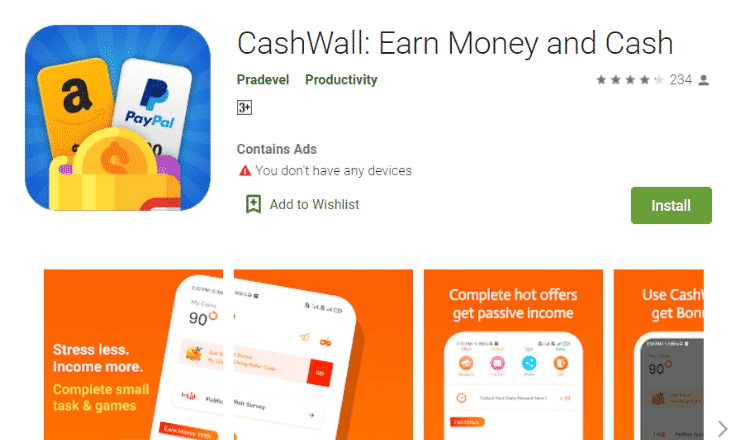 With CashWall, complete the offer wall, refer to friends, spin the wheel, play games and earn money which will be transferred to your bank account within 7 working days.
There are ways to make extra cash like cashbacks and discounts by availing offers, participating in weekly contests, and filling out surveys forms.
Share the app via Facebook, Whatsapp, text message and earn free Paytm money.
56. Earn Money Games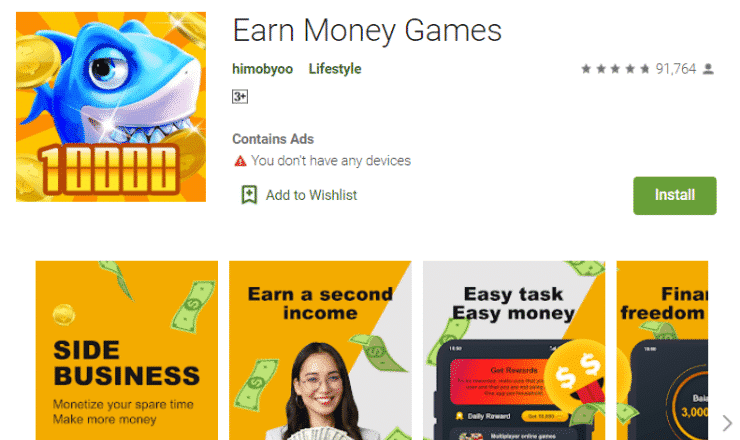 Earn Money Games is a cash rewards app that pays you to watch short videos, try free apps, and play games, give your opinions through surveys, share your daily steps report, charges your phone, and invite your friends.
After completing tasks, you get a lot of gold coins. Later you can cash your gold coins through PayPal.
57. PocketCharge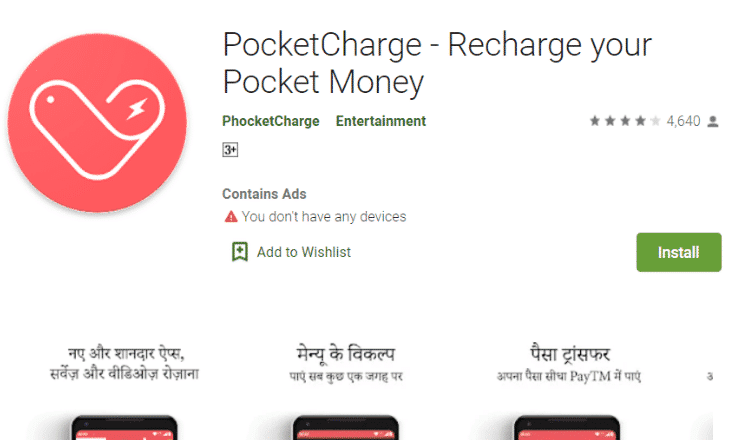 PocketCharge is a small-sized app that helps you win Paytm money by doing specific daily tasks, watching videos, playing games and quizzes, and inviting friends to play with the app.
You can withdraw the rewards from your PocketCharge Wallet and transfer the amount to your Paytm wallet with a simple click.
Win exciting prizes and turn into Paytm money.
58. Cash Up Rewards
You play games to earn gift cards and redeem them for real rewards such as Gift Cards like Google Play or PayPal cash.
Some of the ways you can make money are by playing scratch card games, resolving quiz games, spinning the fortune wheel, and referrals.
59. Reward Supreme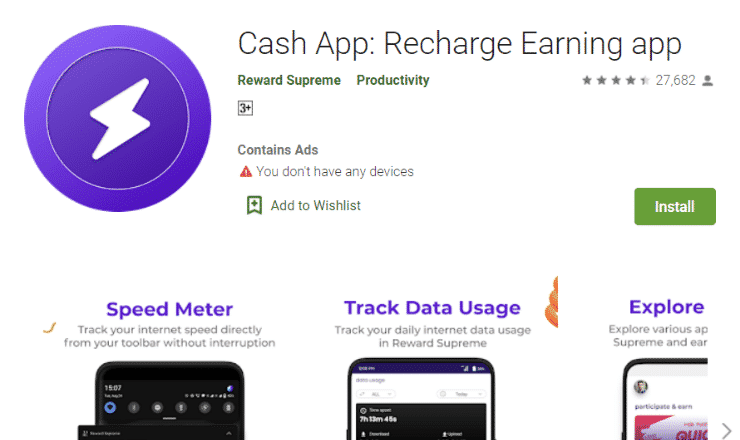 Reward Supreme pays you reward for completing simple tasks like surveys, giving opinions, trying services, free trials, etc.
You can get free internet data to redeem to your Paytm wallet.
They pay you to cash in your Paytm account. No gift cards or discounts!
60. Money Ball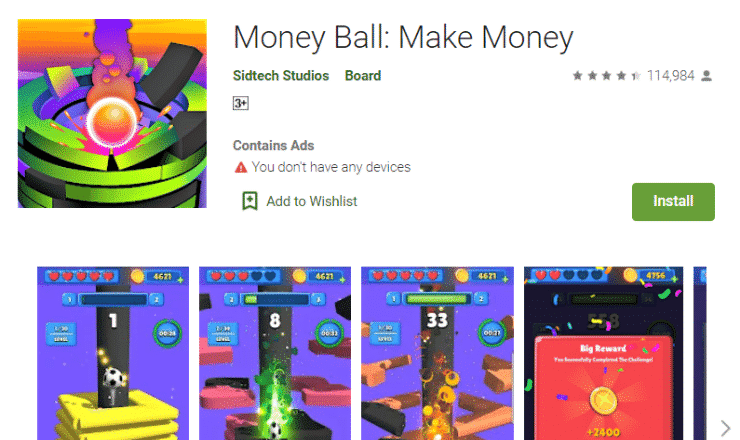 Play money ball and collect coins to redeem into PayPal or Paytm cash credit. The cash will be paid through an online money transfer into your bank account.

You can earn cash playing games, completing the Playtime offer wall, or filling out paid surveys. Further tasks can be found for money rewards.
Make Money, the cash app is free and pays better than other apps out there.
Conclusion
These are the best earning apps because I have checked reviews and ratings before adding them to this list. You can make real money working on these apps in your free time.