Just like banks keep your money safe, demat accounts look after your stock market investments, but they do it all electronically. To buy stocks, you need a demat account; you can't do it without one.
In India, there are only two places where you can get a demat account: Central Depository Services Limited (CDSL) and National Securities Depository Limited (NSDL). It doesn't matter where you get your demat account; CDSL or NSDL will always hold it. These two are the only choices in the whole country.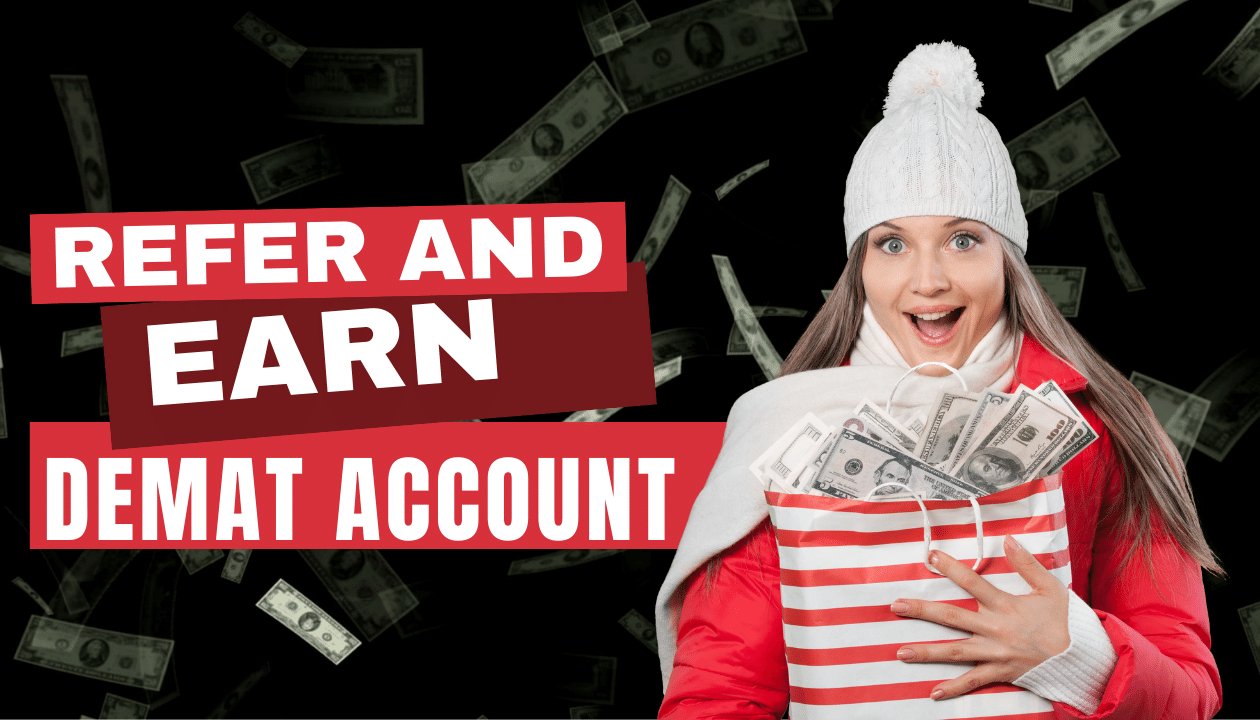 Required Documents to Open a Demat Account
These are the primary documents needed to open a Demat account with any stock broker; you cannot easily open a Demat account through online mode without these required documents.
PAN card
Mobile number connected to Aadhar card (Must for Online Account Opening)
A bank statement or the front page of a bank passbook
The white paper signature or electronic signature
A passport-size photo or, in some situations, a live photo
Also Read: Benefits of Investing At A Young Age
Top 10 Best Refer and Earn Demat Account
Here is the list of India's top 10 Demat account providers running refer and earn features. You can sign up for their demat account, apply this feature from their dashboard and promote their demat accounts to make some extra money.
1. Paytm Money Demat Account
An Indian payment system called Paytm that has received RBI approval is the parent company of Paytm Money. Users can invest in Paytm Money Stocks, Mutual Funds, IPOs, NPS, F&O, and other choices.
It is an investment advisor and stockbroker that is registered with SEBI. Additionally, they collaborate with CDSL, NSE, and BSE. Many intriguing features are available with Paytm Money, including free equities delivery, minimal AMC fees, free Demat account opening, and a free mutual funds option. With a large user base all over India, Paytm Money is a reliable and secure investment choice that offers inexpensive investing.
It includes the official website and mobile app. Investors can open a Demat account on its website or mobile app and begin investing online. The IPO, stocks, mutual funds, F&O, and NPS options were later added to the original direct mutual fund option.
Features of Paytm Money
Option for direct mutual funds with no commission.
Numerous investing alternatives exist, including NPS, IPOs, F&O, stocks, mutual funds, etc.
Free account opening.
₹300 AMC (annual maintenance fee).
Distribution of equity without brokerage.
The website and mobile app are accessible.
It supports a fully digital KYC process and 100% paperless account opening.
KYC is finished in 24 hours.
To keep track of changes in the price of up to 50 stocks in real time, you can set price alerts and make different watchlists.
Promote and receive Paytm Cash
Paytm Money doesn't offer a direct referral program. Though they are making progress, you can eventually refer a friend within the Paytm Money app and receive great gift vouchers, free Paytm cash, or actual money in a bank account as payment.
You may currently use the OneCode app to make money by referring friends. For each new referral, they are providing a 300 prize. Seven days following their successful account opening, you will receive your money. Through the OneCode App, you can effortlessly withdraw your earnings into your Paytm or any other bank account.
2. Upstox Demat and Trading Account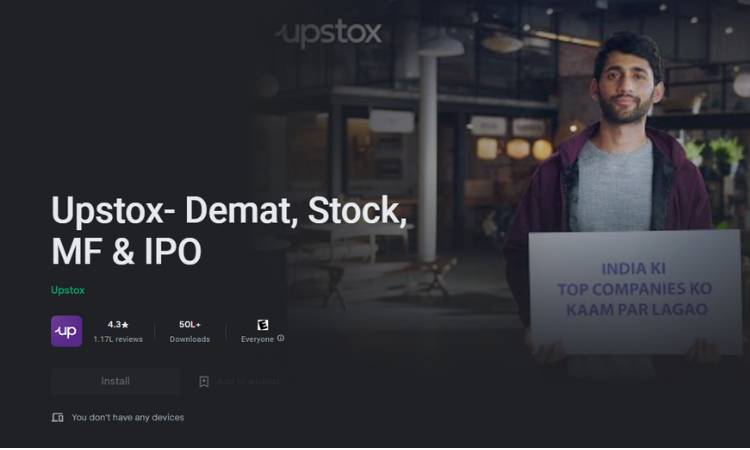 One of the best investment apps I've ever used is, by far, Upstox. Its processing system and user interface appeal to me. Upstox, in my opinion, will be your best option if you're new and wish to register a Demat account. This is undoubtedly the top Demat account in India for 2024.
Mumbai-based Upstox is a stock brokerage firm that offers low-investment choices and various innovative new services. Three investing alternatives are available: equities, mutual funds, and digital gold. However, they suddenly took the gold option out of the app.
On mutual funds and IPOs, Upstox charges no cost, but for intraday trading, you must pay a flat rate of $20 or 0.05 per cent (whichever is lower). It is a quick, dependable, simple trading platform with a paperless account opening.
Upstox's Core Features
There is a free Demat account option included.
Flat intraday fees of $20 per trade or 0.05 per cent.
On the same day, only 80% of the selling amount of Demat holdings will be available for trading. At the same time, the remaining 20% will be up for trading the following day.
Upstox offers $400 in referral bonuses.
Refer and Earn Upstox
Upstox offers 600 referral bonuses. You will receive 300 in your wallet if you refer a friend and they register a Demat account using your Upstox referral code. You will receive an additional 300 in your wallet after your initial investment. This supports the notion that Upstox is India's greatest refer-and-earn Demat account.
Start by launching the Upstox app.
On three lines, tap.
Then select "Refer and Earn" from the menu.
Share your referral link by SMS or WhatsApp.
You can view your referrals on the 'Your Earnings and Referrals' tab.
3. Groww Demat Account
It's one of the earliest investment apps I've ever seen, if not the oldest. I believe Groww is the best Demat account in India regarding user interface and simplicity of understanding. Groww is simple for any typical user with a basic understanding from day one.
On the Groww app, we can invest our money in stocks and mutual funds. Explore and Dashboard are the two tabs. In the explore tab, we can view the top winners and losers. Additionally, we can search equities based on our preferences. On the other side, we can view our holdings and accessible stocks from the dashboard tab.
The Groww app also has a referral bonus. From user to user, it differs. You will receive between ₹100 and ₹300 cash back into your Groww wallet if you refer a friend. Only users who have invested money in the Groww app are eligible for this offer.
Your bank account will receive your referral bonus and stock sale proceeds. It'll require some time. They demand 20 cents, or 0.05 per cent, for each performed charge.
Features of Groww App
Option for mutual funds with no brokerage.
Opening a Demat account online without paper.
The fee for intraday and delivery of shares is 20 or 0.05 per cent.
There are no account opening fees or demat AMC costs.
Promote and Earn Growing
Start by downloading the Groww app.
Create an account by signing up.
Stocks test (ex- ₹100).
Click the profile icon now.
On the "Share and Earn Rewards" tab, click.
You will receive 100 once they open their Demat account.
4. IIFL Securities Demat Account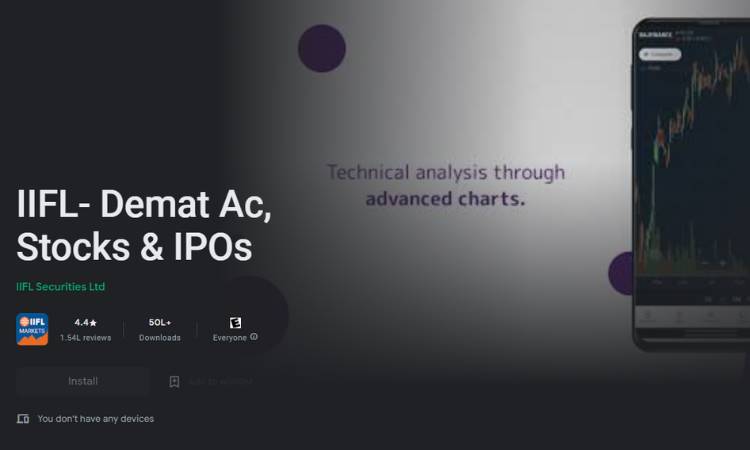 One of India's biggest full-service stock dealers is IIFL. Its app provides alternatives for investing in stocks and mutual funds. One of IIFL's financial service offerings is IIFL Securities. They provide a brokerage plan with a set rate. Per the completed order, a fixed fee of ₹20 is charged.
While there is no account opening fee with IIFL Securities, there is a ₹250 yearly maintenance fee. They also have a fantastic referral program.
Essential Elements of IIFL Securities
Opening a Demat account online is free.
Demat account maintenance fees are 250.
Twenty dollars for each executed order or intraday and F&O.
Distribution of equity without brokerage.
Also available is NRI Trading.
IIFL Securities Earn by Referral
IIFL Securities offers an intriguing referral program. You can receive a gift certificate worth $500 for referring a friend. However, the referral must successfully open their Demat account in India using the IIFL app and complete their KYC for this to happen. You can then use your 500 Amazon gift cards.
5. Zerodha Demat Account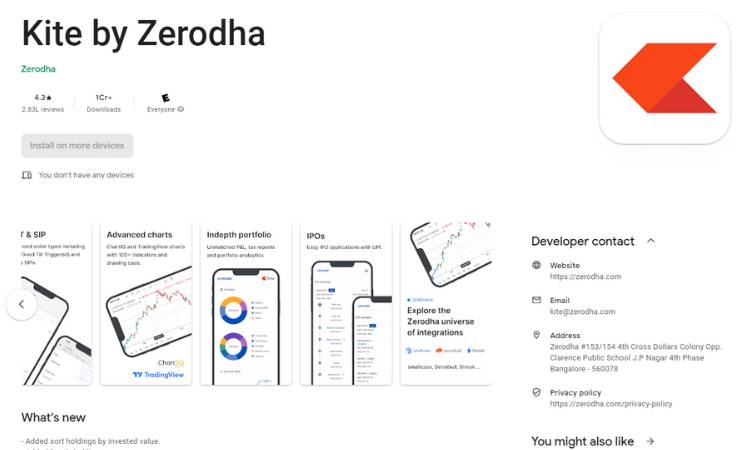 Using the Zerodha app, you can also invest money in the Kite. Per order, there is a flat fee of Rs 20 or 0.03 per cent (whichever is less). In my opinion, it is one of India's most excellent Demat accounts for novices after Upstox.
They provide three separate smartphone applications: Zerodha Varsity, Zerodha Kite, and Zerodha Coin. In that order, these three apps teach users about trading, mutual funds, and the stock market. In India, it is a low-cost investment choice.
They have more than 120 branches in more than 70 Indian cities. More than 22 lakh users currently use the Zerodha App. Zerodha is a participant in the CDSL, NSE, and BSE.
Kye Zerodha Features
The distribution of equity without brokerage.
Flat fees for intraday and F&O of 20 or 0.03 per cent.
₹200 (the opening charge for an offline account is ₹400).
₹300 yearly maintenance charge.
The sell-side equity sell fee is 0.0025 per cent.
Zerodha referral and profit
You have a fantastic opportunity to make money if you have some close friends serious about investing their money in mutual funds and equities. By recommending friends, you can get 300 reward points and a lifetime 10% brokerage fee. This 10% brokerage charge is simple to transfer to your bank account. 
6. Angel One Demat Account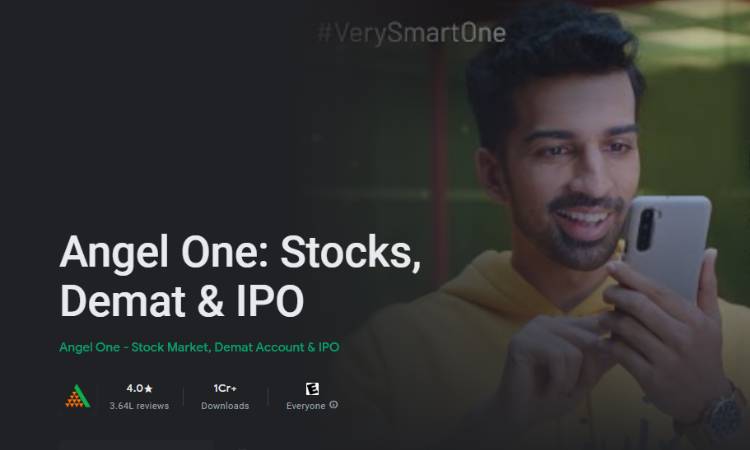 Angel One is one of India's most well-liked and excellent Demat accounts. It is India's third-largest stockbroker. They come with a lot of intriguing features and a sizable customer base. Angel Broking has a dedicated website and mobile app. They recently released their mobile app, which was a smart move.
Although this is my perspective, I believe Angel One is the greatest Demat account for intraday trading. Full-service broker Angel One offers investing alternatives in equity, F&O, commodities, currencies, stocks, and mutual funds. Angel One is a depository partner of CDSL.
Characteristics of Angel One
Opening a Demat account is free.
Account maintenance fees are worth 240.
Call and trade charge of ₹20.
0.25% equity, F&O trading, and commodity brokerage.
Low brokerage costs are offered together with full-service brokerage services.
It provides customers with free investment advice and research tools.
Angel One Refer and Make Money
By recommending friends, you can receive a gift voucher of ₹500. You will receive a ₹500 coupon if your buddy uses your link to sign up, activates their Demat account, and trades on Angel One within 30 days.
Your gift cards can be used on Amazon, Flipkart, Myntra, or Big Bazaar. You will earn more gift certificates for the more people you refer.
7. ICICI Direct Demat Account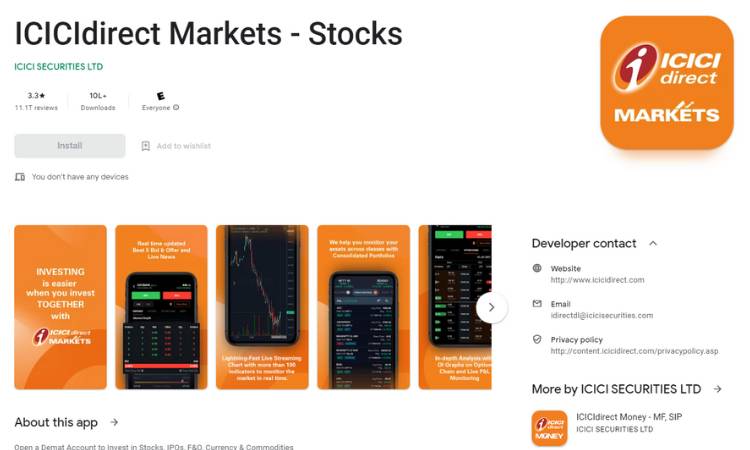 If you have an ICICI Bank account, you can quickly and conveniently open a Demat account on ICICI Direct. One of the major brokerage firms in India and one of the best Demat accounts in ICICI Direct. Additionally, it has a sizable consumer base across India.
Loans against stocks are available to users. The ICICI Direct Demat account's best feature is this. Other Demat account providers do not offer these features. For intraday and F&O trading, there is a flat fee of 20 pounds. You must pay a ₹300 annual maintenance cost from the second year.
Refer and Earn with ICICI Direct
You will receive 600 for each successful referral if you refer a friend. Usually, you will receive a bonus of 250 when your buddy establishes an ICICI Direct Demat account and 350 when they make their first transaction.
You may simultaneously sign up for the ICICI Direct affiliate program to earn a lifetime revenue sharing of 35%. You must complete a simple form to receive 35% of the money. They will then contact you to ask for more details after that.
8. 5Paisa Demat Account
This stock brokerage is not as well-known as Upstox, Groww, Zerodha, or any other top supplier in India. However, it also offers several useful functions. On 5Paisa, you may start a Demat account for nothing. It features a dedicated mobile app. They bill ₹20 for each order that is completed. The annual maintenance fee for 5Paisa is 540.
Refer and Earn with 5Paisa Demat Account
This company offers some of the top refer and earn offers in India. 5Paisa has a gorgeous referral program. You can receive up to 750 and a 40% income share for each referral.
Your referral will also receive a free Demat account and bonuses totalling 2100 rupees.
9. Bajaj Finserv Securities Demat Account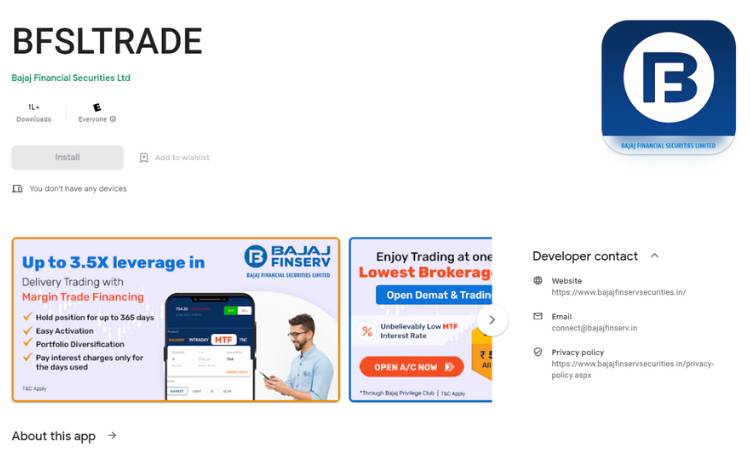 One of Bajaj Finserv's subsidiaries is BFS (Bajaj Financial Securities). Additionally, it ranks among India's most significant retail assets. On Bajaj Finserv Securities, you may open a free Demat account and access it from anywhere. I appreciate Bajaj Finserv's speedy account opening procedure.
BFS is also bringing a referral incentive. The Bajaj Finserv currently does not offer a direct refer and earn option. But you can use OneCode to refer pals. You will receive 450 in your OneCode wallet if your friend signs up and trades during the first 15 days.
10. Motilal Oswal Demat Account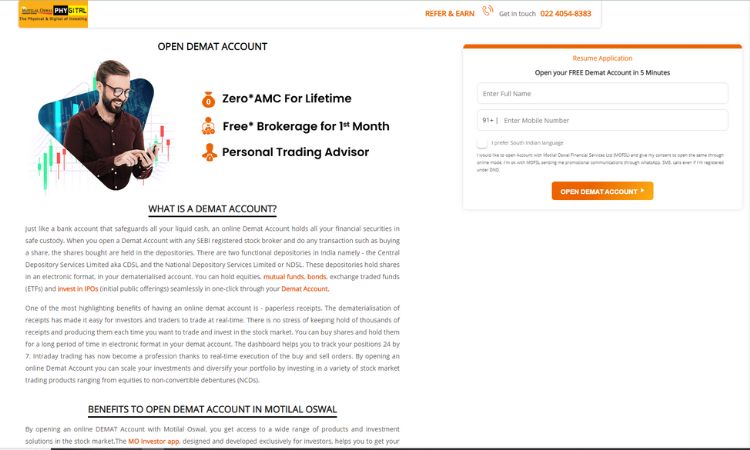 Motilal Oswal is another well-known Demat account in India besides Upstox, Groww, or Zerodha. In 1987, Motilal Oswal was established. It offers various financial services in India and has over 10 lakh subscribers.
At Motilal Oswal, you can open a free Demat account. It charges a brokerage fee of 0.05 per cent for intraday trading and 0.5 per cent for delivery. Motilal Oswal would impose an annual maintenance fee of Rs 899.
You will gain the following advantages when you install the Motilal Oswal app:
At registering, cashback is up to Rs. 1000.
An Rs. 1000 brokerage rebate will be given to the user for opening a Demat and trading account.
If a friend creates an account using their referral code, the referrer will receive Rs 1000 in digital gold.
An Rs. 1000 Amazon gift card for each referral.
Free AMC fees.
And more advantages.
Conclusion
The best approach to make money online is by encouraging someone to register a demat account. In this case, simply introducing your friends and family to these programs will allow you to make unlimited money.
Every app provides referral money in a unique format. Some provide straight cash, while others provide scratch-off or gift cards to well-known websites.