Everybody knows about Paytm – the popular online payment app that allows you to store your cash and pay for your online and offline transactions at the click of a button.
It's also a preferred payment option among a majority of e-commerce majors and retail chains in India, since it's hassle-free and facilitates instant payments at the click of a button.
But how many of you know that there are many simple ways you can earn FREE Paytm cash to pay for all your future transactions.
After all this virtual money is as good as hard currency and can be used to pay for almost anything, right?
So if this bit of information has really peaked your interest – read on to find out how you can get your hands on loads of FREE Paytm cash – using just your internet enabled device and investing a little of your time.
10 Easy Ways to Earn Free Paytm Cash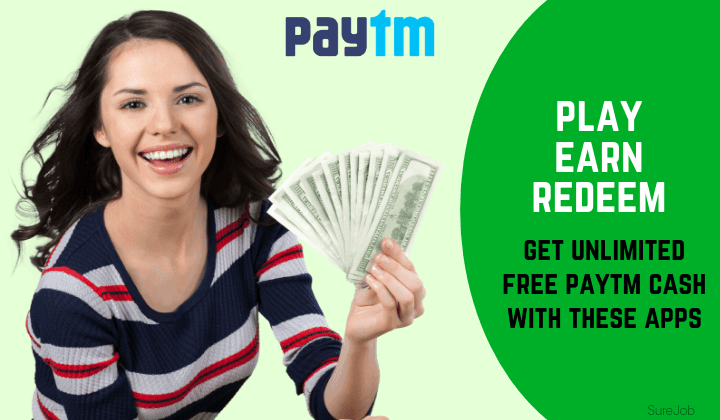 1. Databuddy
This cool Android app offers more than one way to earn free Paytm (and PayPal) cash. All you have to do is complete simple tasks – downloading trending apps, playing games online etc – and get paid in your Paytm wallet.
You can also earn money by inviting your friends and family to try the app, by sharing a link via Facebook, Twitter, Gmail and WhatsApp.
2. The Panel Station
Do you want to get paid with Free Paytm cash – just for answering easy questions and completing simple surveys? Then you need to download this app (via Facebook, Google+, or just your email id), verify the mail you get in your inbox and start participating.
In addition to earning Paytm cash you also stand to win Online Coupons, Vouchers and Sweepstakes, just for sharing your opinion on the products and services you use.
3. Taskbucks
Here you get to win free mobile recharges for all service providers and earn – taskbucks – by participating in daily contests and inviting friends to use the app.
You can then use the accumulated taskbucks to buy a mobile recharge or simply transfer your earnings in rupees to your Paytm wallet.
4. 4Fun App
This app hosts a free short video community where you get to create and enjoy thousands of desi videos.
You also stand to get free Paytm cash for every short video clip that you share with your friends and family. As an added bonus, you also get an instant INR 30 in your Paytm wallet – just for signing up.
5. Qureka
If you pride yourself for your general knowledge then you can earn free Paytm cash by downloading this app. Qureka is a live trivia quiz game show which tests your general knowledge and rewards you for giving the right answers.
You get to play about 6-7 games every day to win free Paytm cash. You can also earn more cash simply by referring your friends and family to download and join you in this game show that puts your IQ to the test.
6. Kapow App
Available on the Google Playstore. This free app will gift you free Paytm cash just for playing a host of exciting, ad-free games which includes puzzles, sports, arcade and zombie games.
You can also compete against players from across the world for real cash rewards. And just in case you get lonely you can invite your friends to play and earn an extra INR 10 for every valid referral.
7. Injoy
This free app prides itself as India's funniest app for videos and memes. It also offers many ways to earn FREE Paytm cash everyday – by sharing posts, inviting friends to join and simply checking in.
You also get to post funny posts anonymously and earn more cash by joining interesting rewards events, play daily missions, even for browsing read posts.
8. Pocket Money
In keeping with its name this app gives you the chance to earn INR 7,000 worth of mobile recharges and Wallet Cash every month. You also get to pay all your bills, avail cab rides, book movie tickets and shop for FREE.
All you need to do is visit the app daily to scout for exciting new offers, get a cashback and other discounts by availing of special offers and earn INR 160 for referring your friends.
You can also earn a daily cash bonus on your 1st app register and participate in weekly contests to earn more money.
9. Genie Rewards
This rewards app awards you with points every time you download and explore specific apps. These points can then be redeemed for free Paytm to make online payments or to recharge your mobile & DTH connection.
Some of the other ways of earning rewards include watching specific videos, participating in campaigns or contests, clicking sponsored links and taking surveys.
You can also win reward points for referring your friends and family and get cashbacks for shopping at your favourite stores.
10. CashBoss
This free cash app claims to have paid over ₹17, 75, 00, 000 (17 crore & 75 lakhs) to about 2mn users since their launch.
You will also be paid INR 15 for every friend you bring onboard and stand to win bonus amounts for participating in their online contests.
11. Slide
Want to earn free money on the go. Then this app is just right for you. You just need to download the app and slide on the content pieces you will see inside.
If you're a writer, you can also share your content and if it gets many reads or likes – you will get paid. You also stand to make INR 5 for signing up and INR 15 for every valid referral.
12. News Dog
This news and entertainment app features latest news and videos across a host of genres like politics, cricket, tech and business in multiple Indian languages.
It has even recently updated its UI design to offer a better user experience. You can earn cash rewards by browsing the content, inviting your friends to join and sharing apps among others.
13. InstaCash
This online mobile selling platform promises to sell your old mobile phone within a flat 60 seconds at the best resale price possible.
You also get to earn Paytm cash for viewing ads using this app – without having to download any more apps. If you want more cash in your Paytm wallet – refer your friends – and earn even more when they bring in their own friends.
14. Shoppingpost
This app provides users with an online platform to share their online shopping and post opinions and feedback of the products which are delivered to them.
You also get the opportunity to use your experience to help others make intelligent choices.
In return you are eligible for exciting rewards which include a host of cashbacks, discount vouchers, coupons and more.
15. CouponDunia
With this free coupons app you get a one-click access to a plethora of listed offers, coupon codes, deals and promo codes from more than 2000 leading online retail brands and websites.
You can also win cashback on your mobile recharges, free first rides on Ola & Uber, INR 500 off on flight bookings and 50% cashback coupons from Paytm. You also get paid for referring your friends to use this app.
16. Dream 11
With 4-crore plus users playing fantasy cricket, kabaddi, football and NBA every day, Dream 11 is already a popular choice among gaming enthusiasts.
And if you decide to join in, you get a cash bonus of INR 250 – on registration and sharing a few personal details like your PAN number, email id and phone number.
You also get an additional INR 50 for every valid referral and stand to earn more for every cricket and/or football game that you play and win.
17. Bulb Smash
Touted to be one of the most addictive games of 2017. It involves shooting at light bulbs using a slingshot to win a Paytm payout of up to INR 1,000 cash.
Completely free to play, Bulb Smash also enables users to earn Paytm and PayPal cash for referring their friends to use the app.
18. Frizza
This one-of-a-kind app is a great place to earn the best payouts in terms of free recharges, cashbacks and more.
The app has three distinct ways for users to make money, namely by installing the trending apps, signing-up, completing surveys and for referring friends to use the app.
You can also transfer your Frizza cash in your Paytm wallet and use it as you please.
19. Zulka
Now you can stay in touch with your near and dear ones and also make some money from it – by downloading this messaging app. You also get rewarded for sending messages and playing games using it.
You can use various social media platforms through this app to chat with your close ones and earn rewards. Plus you also get a chance to earn more cash by taking part in weekly and monthly lucky draw competitions.
20. Pay-box (.in)
Touted to be one of India's largest innovative & exclusive gratification online platform with close to 1 million registered users, PayBox helps users earn free recharge by playing games, participating in paid polls, 5KaDum, Login Challenge, Refer & Earning free Paytm cash, free recharge offers and much more.
Plus, if you also get INR 100 free PayTM cash as a joining bonus.
Once the sign-up process is complete, the amount is instantly added to your PayBox wallet.
In Conclusion
The digital boom has opened several lucrative online avenues for people looking to make some side income. The 20 ways listed above to earn free Paytm cash are just one of the many ways anyone can make some extra cash anywhere, anytime.
You can easily transfer your Paytm cash to your bank account.
And the best part is that there is no limit to the number of such easy cash apps that you can download. This makes it a rewarding money-making opportunity for people who spend a large part of their day online.
Do share your comments about this article and let us know how the information provided helped you earn some handy extra cash.