The International Migration Report released by the Department of Economic and Social Affairs reveals some alarming statistics.
"In 2015, India had the largest "diaspora" in the world at 16 million people, followed by Mexico (12 million). Other countries with large diasporas included the Russian Federation (11 million), China (10 million), Bangladesh (7 million), and Pakistan and Ukraine (6 million, each)," it states.
Another report released by the US-based National Science Foundation states: "Indian-origin scientists and engineers in the U.S. grew 85percent between 2003 and 2013, says a report by the National Science Foundation, a key funder of research in the United States as well as a monitor of demographic change among scientists and technologists."
Nearly a million scientists and engineers of Indian origin reside in the US alone, it adds.
These figures are clear indicators that India is facing a massive brain drain.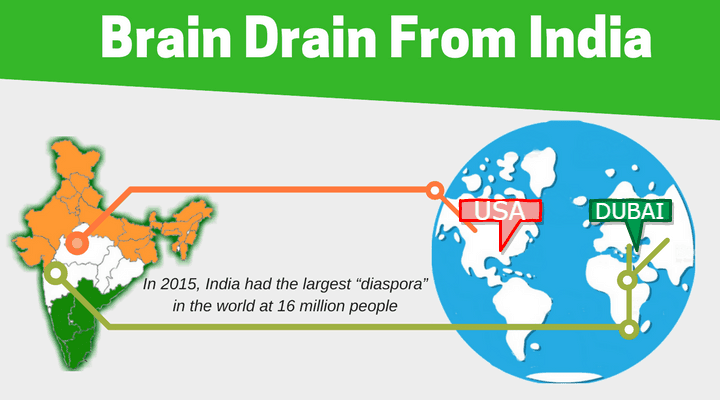 What is brain drain?
The Oxford Advanced Learner's dictionary defines Brain Drain as: "Movement of highly skilled and qualified people to a country where they can work in better conditions and earn more money".
Similarly, Cambridge Online Dictionary states: "Large numbers of educated and very skilled people leave their own country to live and work in another one where pay and conditions are better"
Additionally, brain drain has also been defined as the loss of human capital, since it involves people with myriad specialized skills leaving their home country.
Undisputedly, brain drain has financial repercussions on a country.
Causes of brain drain from India
The phenomenon of brain drain from India is nothing new. It can be traced to the British colonial era.
Erstwhile British rulers of the Indian sub-continent took by persuasion or force, indigo and sugarcane planters to lands as distant as Guyana in South America to Fiji in Pacific, Mauritius and elsewhere.
Indian craftsmen were relocated in England and other British colonies where their skills could be used in various industries.
In recent times, brain drain from India has several factors:
Very high salaries paid in foreign countries.
Lack of adequate employment opportunities in India.
Non availability of avenues to utilize education and skills.
Hope of a better and comfortable lifestyle abroad.
Prestige involved in working in foreign countries.
To acquire financial well-being and capability to buy assets in India.
Belief that working abroad improves marriage prospects in India.
Prospects of continually learning newer technologies and upgrading skills.
The Goa example
The tiny Indian state, Goa, with an estimated population of 1.5 million, accounts for some of the highest brain drain from India.
In 2016, an average of 11 residents of Goa per day, gave up their Indian nationality to become citizens of Portugal. Residents of Daman and Diu also traded their Indian citizenship in favor of Portugal.
Goa, Daman and Diu were colonies of Portugal till December 19, 1961, till they were overrun by the Indian Armed Forces. These territories became part of the Indian republic.
However, the Portuguese government, as a special gesture, allows residents of these former colonies to acquire nationality of Portugal, provided they meet certain criterion.
Highly skilled people from Goa opt for citizenship of Portugal since the country is a member stat of the European Union. A Portuguese passport allows them visa free entry into the UK and other EU countries.
Though the UK formally exited from EU, the demand for Portuguese passports by eligible residents of Goa remains high.
Brain drain destinations
Some of the topmost destinations where Indian brains migrate are
USA
Saudi Arabia
United Arab Emirates
European Union
Canada
Australia
New Zealand
Kuwait
South Africa
Qatar
Thailand
Singapore
Malaysia
Israel
Oman
Brain drain patterns from India
USA
As can be seen, the US remains topmost destination for Indians. Thousands of Indian citizens travel to the US for higher studies. However, upon completion, they prefer to stay and work in the US.
Engineers and experts in all fields work in the US. However, in recent years, Information Technology and software experts from India form bulk of migrants to the US.
Arabian Gulf
India's brain drain to member states of the Gulf Cooperation Council (GCC) is usually in the form of highly qualified engineers in petroleum, petrochemical and natural gas sectors.
Other sectors include telecom and banking.
Skilled nurses and physicians from India are also in great demand in the six GCC states that include the Kingdom of Bahrain, State of Kuwait, Sultanate of Oman, Kingdom of Saudi Arabia, State of Qatar and United Arab Emirates.
Generally, highly qualified professionals from India working in GCC states apply for immigrant visas to Canada, Australia and New Zealand, after gaining experience in their chosen fields.
Technologies used in these oil rich countries are comparable with those in the US and Europe. Hence, thousands of Indian migrants utilize their stay in Arabian Gulf states to acquire skills required for migrating.
Australia and New Zealand
Over the last decade, Australia and New Zealand have become one of the favorite destinations for Indians to pursue higher studies. Furthermore, Australia and New Zealand also have fairly liberal immigration policies.
Consequently, thousands of Indian students settle and work in Australia after completing their studies. Additionally, Australia as well as New Zealand welcomes skilled migrants from various parts of the world.
Therefore, hundreds of Indians migrate to Australia and New Zealand annually and acquire citizenship of these countries.
Canada
Canada is yet another country favored by Indian immigrants. The country also welcomes highly skilled Indian citizens.
With fairly liberal immigration policies, Canada attracts thousands of Indian migrants, adding to India's brain drain.
European Union
Europe is currently facing population imbalance. Meaning, most citizens of various European Union states are above the age of 35 years. These countries have a large population of people aged above 50 years.
There is a shortage of younger people required for specific jobs. Consequently, Indian nurses, physicians, care givers as well as IT and software experts are welcomed by various EU member states.
However visa policies of various European states continue to remain stringent. Therefore, Indian brain drain to EU is somewhat limited.
The bright sides
Brain drain from India however has a few bright sides too.
According to a recent report released by the World Bank, India is expected to receive whopping US$65 billion in remittances from the Indian diaspora abroad by December 2017.
This makes India the largest receiver for foreign remittances and adds to the country's foreign exchange reserves.
Secondly, several Indians living abroad are opening businesses here in India.
The Indian government is offering incentives for Non Resident Indians and Overseas Citizens of India to open businesses in various sectors in the country.
The government promises easier and faster licensing to such entrepreneurs.
The current scenario
USA
If you are planning to study in the US or migrate there for work, here is a word of caution. Following his victory, President Donald Trump of the US is moving towards tightening the H1B visa for all nationalities.
Indians are the largest beneficiaries of the H1B visa, which allows working in the US and eventual naturalization as an American citizen.
Stringent rules proposed by President Trump means, fewer Indians will be able to migrate to the US.
Arabian Gulf
All six GCC states are now empowering their citizens for higher studies in the US and UK. Consequently, all top and mid-level positions in the government and private sectors of these countries are by law reserved for highly qualified citizens of these countries.
GCC states are also imposing curbs on import of manpower- skilled, semi-skilled and unskilled- from India.
Australia and New Zealand
In recent years, Australia and New Zealand have raised the bar for skilled Indian migrants. Meaning, unless you hold exceptional skills and qualifications, you will not be issued a migrant visa.
European Union
As explained earlier, work visa and residence rules for member states of the European Union continue to remain strict. Some countries issue work visa for limited, one or two year duration only.
They also adopt very strict procedures for granting migrant status or citizenship.
Does India benefit?
Admittedly, brain drain from India cannot be curbed fully. However, with modern technologies arriving in India, incentives offered to start own enterprises and start-up companies, highly skilled Indian professionals may find it lucrative to work here rather than migrate.
Here are some indicators that brain drain from India may ebb over the coming years:
Indian companies now pay salaries comparable with their foreign counterparts.
Stricter visa regulations by the US, EU and other countries means, skilled Indians will find it difficult to migrate.
The Make In India initiative has seen scores of foreign companies open business in India. Their pay scales meet international standards. Hence, Indian brains can find well paid jobs without leaving the country.
Investor friendly policies adopted by the government will most likely see skilled Indians launching their own start-up ventures that can compete with their foreign rivals.
Policies of America First adopted by President Donald Trump of the US is likely to cause thousands of highly qualified and skilled Indians to return home and launch their own ventures.