Why mining sector in India is about to grow?
This year India crossed 300,000 MW in power generation. However still this is not enough. China generates 5 times more electricity than we do.
Most of the electricity in India comes from thermal power. Hence thermal plant needs more and more coal. So there is a huge demand of coal by thermal power station across the country.
For constant supply of coal to these power stations, coal providers depends upon coal mines.
In order to run coal mines they need mining engineers. As demand of coal increases the demand of mining engineers also goes up.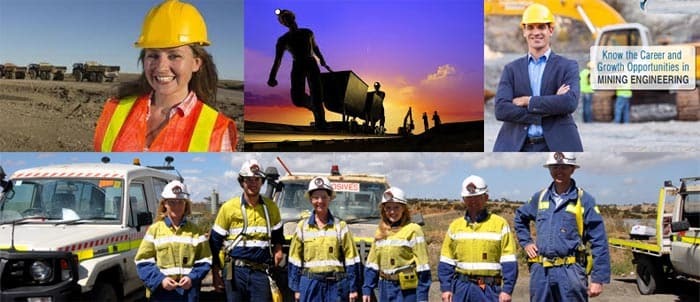 Eligibility for Mining Courses and Recruiters
In order to get admission for a B.Tech (Mining Engineering) course you have to complete 10+2 from a recognized board with Physics, Chemistry and Mathematics as main subjects.
The duration of the course will be 4 years.
Here are some of the best recruiters for mining engineers.
Hindalco
Vedanta
Cairn Energy
NALCO
Hindustan Copper Limited
Coal India Limited
Bharat Forge
Adani Mining Pvt. Ltd
So these were few companies in both private as well as public sectors that require mining engineers.
Various Mining Courses and Specialization
Here is the list of various mining courses that you can go for.
Diploma in Mining Engineering for 3 years
Bachelor of Engineering in Mining Engineering for 4 years
Bachelor of Technology in Mining Engineering for 4 years
Master of Engineering in Mining Engineering
Master of Technology in Mining Engineering
These 5 are main courses in Mining. However some of the specialized fields are
Drilling and Blasting
Mineral Processing
Mine Health and Safety
Ventilation
Industrial Management
Mine planning etc.
Although there are many other but these are the most important specializations.
Future Job Prospects and Job Profile
As I said earlier in the beginning of the article that the job prospect for a mining engineer is really great because there is a huge demand of coal and iron ore in the market.
You can easily find jobs in private as well as public sector. However most of the big mining companies in India are stated owned.
Therefore you can easily get a government job here.
Let us see what all types of jobs that you can find after you get your B.E. degree in mining.
Junior and Senior Mining Engineer
Mining Safety Engineers
Coal Preparation plant Manager
Extraction Maintenance Superintendent
Lecturer
You will investigate mineral deposits and extract mineral without harming the surroundings.
Salary
Now you might be interested to know how much money you can make from a mining job.
Well it depends upon how good of a mining engineer you are.
For starting a candidate can make Rs 20,000 to Rs 30,000 a month.
However with 3 to 4 years of experience you can easily make up to Rs 50,000 to Rs 75,000 per month.
Your income would depend upon the company you work with, your qualification, skills and work experience.
However if you are a good engineer then you can get a job in a public sector company with a salary of Rs 100,000 to Rs 150,000 a month.
Top Colleges for Mining
Finally I tell you some of the colleges that you can apply once you complete 10+2. In order to get admission to one of these colleges you have to appear for an entrance exam and rank high in the merit list.
Engineering seats will be awarded to candidates based on ranking in the merit list.
Here are some colleges for mining in India
IIT Kharagpur, IIT BHU
ISM Dhanbad
NIT Raipur
NIT Rourkela
NIT Surathkal
Acharya Institute of Technology
These were few best colleges for mining in the country. However there are many other colleges.