Distance education or distance learning is the medium of gaining an education without having to attend regular classroom lectures.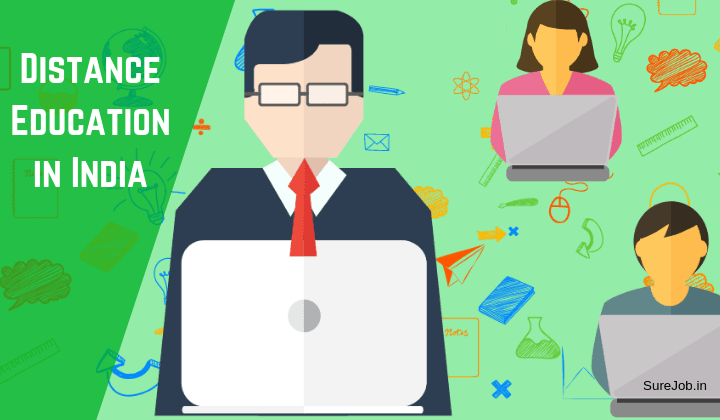 In existence globally since the mid-1800s, when students submitted tests and assignments via the postal service, distance learning courses have only grown in their popularity and reach since then.
All existing distance learning courses in India are regulated by the University Grants Commission (UGC) since December 2012.
Designed to cater to the academic needs of working professionals, they are equally sought after by students living in remote and far-flung areas who lack access to quality higher education facilities.
Today's distance learning courses are vast and readily available over the internet – through online lectures, chat rooms and virtual classrooms.
Making them a flexible and a convenient option for people who want to learn, regardless of where they live, as long as they have access to the internet.
Global Trends in Distance Education:
As per a 2011 Hanover Research report, detailing the potential and upcoming trends in the field of global distance e-learning, there are seven key players in the global market for higher education distance learning programs.
A list which includes the names of some of the most reputed and revered distance education Universities of the world like;
As per the report, each of the above-mentioned distance learning Universities could be considered a veritable – mega-university – courtesy their mammoth student enrolments which range from approx. 100,000 to 500,000-plus students annually.
The report added that while in terms of specific degrees the choices varied from university to university depending on the country and market realities, programs related to business and technology – with other professional domains – were a common feature among all the seven institutions.
Some of the other critical finds of the report included:
Africa and India are among the fastest growing markets for distance learning programs globally due to the high demand for higher education which the existing infrastructure is unable to meet.
India has one of the fastest growing demands for quality distance learning options, with more than 25% of its total student population enrolled for distance education programs with various central, state and open universities.
Distance Education in India: An overview
According to the 2016-17 All India Survey for Higher Education, distance education courses in India have now become increasingly popular with people looking to further their education.
Consequently, they are also being embraced by several leading open universities who have launched several distance education courses to cater to the rapidly growing demand.
As per the survey, there is one central Open University in India (Indira Gandhi National Open University – IGNOU, New Delhi), 13 state-level Open Universities and one state private Open University which offer distance learning courses to students in the country.
For example, In Maharashtra, it's the Nasik-based Yashwantrao Chavan Maharashtra Open University (YCMOU), which has been attracting a slew of students to its distance learning courses since 1989.
Interestingly enough, except for certificate courses, the number of male students applying for distance learning programs in India is considerably higher than that of female aspirants.
According to the state-wise distribution of student enrollment for distance education, six states namely – Maharashtra (17.1), Delhi (15.4), Tamil Nadu (12.2), Andhra Pradesh (7.5), Kerala (5.7) and West Bengal (4.7) – offer the lion's share of distance education in India to an estimated 63 percent of students enrolling for distance learning programs.
Why Distance Education?
There are several reasons why quality distance learning courses in India and elsewhere make a lot of sense in today's context and are the need of the hour to safeguard the future of several deserving students and working professionals.
Here's a closer look at some of the future scopes of distance education in India.
Need for Flexibility: The existing formal education framework is exceptionally rigid, making it virtually impossible to incorporate new changes in terms of emerging technology and careers.
Growing Population: The massive population growth has put tremendous pressure on the existing educational infrastructure, which is finding it increasingly difficult to cope with the demand.
Demographic Limitations: Many students living in remote and inaccessible areas across the country lack the required facilities to pursue a formal education, making distance education in India the only viable option.
No Age Bar: Anybody meeting the minimum eligibility criteria set for different courses can enrol for a distance education program/course, regardless of their age and location.
Financial Reasons: Distance education in India is a lot cheaper. For example, the fees for a distance MBA course may vary from INR 50,000 to 1.5 lakhs, as compared to anywhere between INR 5-15 lakhs course fee for a regular MBA degree.
Flexibility Factor: With the onset of e-learning and virtual classrooms, distance learning students can now attend lectures from the comfort of their own home, at a time of their choosing.
To Enhance Qualifications: It provides working professionals with the chance to improve their existing qualifications, without compromising on their career.
For Self-Development: It trains students in self-learning mechanisms and boosts their self-confidence while enhancing their thinking and intellectual abilities.
Earn & Learn: The opportunity to learn while you continue to earn is one of the most significant attributes of distance education.
Faster Promotions: Acquiring an additional degree, diploma or certification can enhance your career prospects significantly and open the doors to a promotion.
Also Read: Advantages and Disadvantages of Distance Education
Distance Learning Courses in India
Driven by the growing demand, many reputed Indian academic institutions and universities are offering students distance education in India from certificate-level to post-graduate degree courses in a plethora of disciplines from business management to technology.
Choosing the right course and institution to enrol for distance learning course makes a huge difference in terms of your career prospects an future potential so exercise caution and choose a recognised institution.
Here's a look at some of the popular Distance Learning course options on offer;
Distance Undergraduate Courses
Bachelor of Arts (B.A)
Bachelor of Commerce (B.Com)
Bachelor of Science (B.Sc)
Bachelor of Business Administration (BBA)
Bachelor of Computer Application (BCA)
Sc. Information Technology (B.Sc IT)
Distance Postgraduate Courses
Master of Commerce (M.Com)
Master of Arts (M.A.)
Master of Science (M.Sc)
Bachelor of Education (B.Ed)
Master in Interior Design
Master in Fashion Management & Design (MFM)
Master of Journalism and Mass Communication (MJMC)
Master of Business Administration (MBA)
Master of Computer Application (MCA)
Master of Science in Information Technology (M.Sc IT)
Dual Degree Courses
Executive Diploma in International Business Management + MBA
Extended Diploma in Strategic Management & Leadership + MBA
Postgraduate Diploma Courses
PG Diploma in Information Technology
PG Diploma in Journalism and Mass Communication
PG Diploma in Business Administration
Post Graduate Diploma in Computer Application (PGDCA)
Top 10 Distance Education Universities in India
The world-renowned Indira Gandhi National Open University at New Delhi is by far India's best known and biggest centre for distance learning programs.
IGNOU was founded in 1985 by the central government, with a mandate to serve the country's people with distance and open education programs.
With total active enrolments in excess of 4 million students, it is also reportedly the largest university of its kind in the world.
Some of the other more reputable and recognised distance education colleges and universities to pursue a distance learning course in India include;
Eligibility & Admissions
While there is no upper age limit when it comes to enrolling for a distance learning course in India, the minimum age required to apply for any of the courses is 18.
The admission procedures for such courses tend to vary depending on which institution you choose to apply. Some may ask you to appear for an entrance test while with others you can get direct admission.
However, all candidates are expected to fill and submit the relevant admission form (with the supporting documents) by all academic institutions in India. Application forms are available online with most major universities, and interested aspirants can view the entire admission procedure on the official website of the selected institution.
Pro Tip: Before confirming your admission for a distance learning course with any institution/university, please make sure that it is recognised by the New Delhi-based Distance Education Bureau (DEB).
In Conclusion
It is a common misconception among many students opting for distance learning courses to have doubts about the viability of their degree in a highly competitive job market.
However, as per existing regulations, all universities in India need to be accredited. This means that, regardless of which university you attend for your distance learning course, your Bachelor's or Master's degree will be valid at other universities and recognized by major companies in and out of India for employment purposes.
All that you need to worry about is making the most of the opportunity and studying hard. In the end, it's not just your degree but your skills, knowledge and hard work which will help you find your dream job.