Would you like to learn English from the comfort of your couch or simply when you're bored? If yes, continue reading. I have listed down some really amazing English learning apps that will help you to improve your English and speak confidently.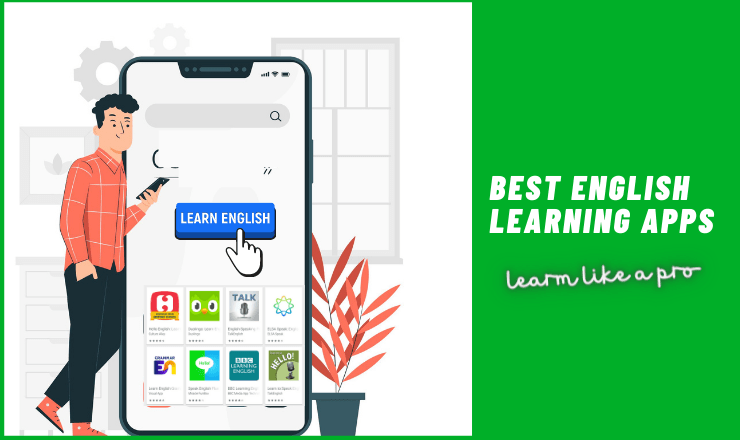 Why is it important to learn English?
With developments and advancements in technology, the world has now become a global village. Having a good command of English can help you grow better, both abroad and in India.
India is the world's second-largest English-speaking country, with more than 12 percent of the population using the language. Several Indians use it as a first language, whereas many Indians use it as a second language.
It unites India, where language is the barrier, and helps us find common ground to understand each other. There is no better language than English to exchange ideas and communicate across countries.
English is the world's fourth most spoken language, as per 2021 statistics. It is the primary language of 19 countries, and their citizens are considered as native-English speakers.
It is a language of trade, education, law, and library. You can widen your career prospects and educational capabilities by simply learning it.
Top 15 English Learning Apps
Here I have listed down 15 Top English speaking apps you can choose from or pair with and get going! I have given download links for Android, but you can also download most of these apps on your iPhone. Most of these apps mentioned here are free.
1. Duolingo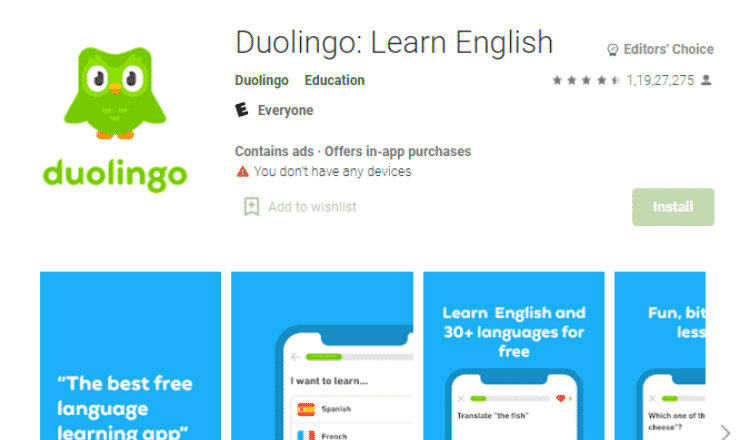 Duolingo is the best English learning app. All you need is 5-10 minutes of practice. Duolingo is getting very popular, with over 100 million downloads to date.
It's easy, fun, and enjoyable. Whether you are a beginner or already know a bit of English, Duolingo is there to help you get better.
The official website of Duolingo claims that If you spend 34 hours on Duolingo, you have completed a semester of university-level education.
There are flashcards, listening exercises, and multiple-choice questions to help you learn and remember new words, phrases, and sentences. The best part is choosing from 21 languages, including Hindi, to learn English.
Another reason Duolingo is gaining popularity is because of their paid and certified "Duolingo English tests," which are accepted in thousands of universities and secondary schools worldwide.
Also Check: How to Learn Spanish in 30 Days
2. ELSA: speak English
ELSA is designed to help you master your speaking skills. It listens to your pronunciation of words and sentences and immediately gives you feedback.
You speak in short, fun dialogues and get your mistakes pointed out. It is geared for non-native speakers and has features such as a dictionary and a word bank.
You can choose to set the instructions in 30 different languages. There are 6000+ engaging exercises to practice from and are based across 40+ exciting topics.
There is a free app as well as a paid version available.
3. BBC Learning English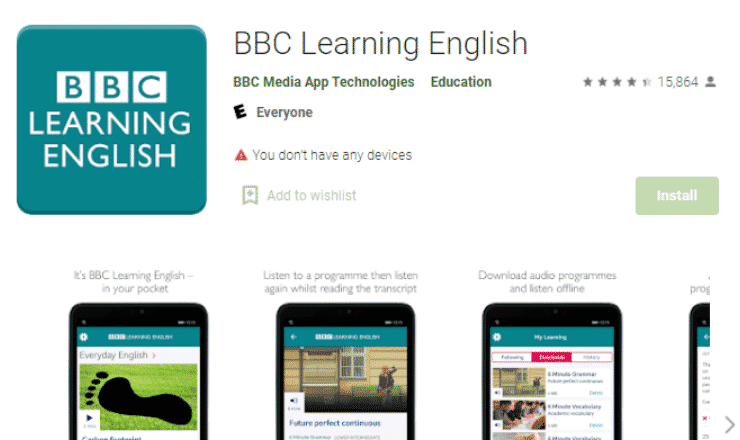 The renowned BBC media publish the app. As a part of the BBC world service, it has taught English to audiences since 1943.
BBC Learning English offers free audio, video, and text materials in over 100 countries. It brings all of your favorite lessons and presenters into one bundle.
You can listen to their audio programs online or download them. Built-in transcripts and subtitles assist you as you watch or listen to their lessons.
Audios are primarily available in the British accent. New lessons are added daily. After completing the lessons, you can test your comprehension with the help of quizzes and save your scores till you reach the desired outcome.
4. Hello English
Hello English offers 100 percent free English courses to its learners. With this app, you can work on all four skills: listening, speaking, reading, and writing. All the lessons are fun, engaging, and gamified.
Hello English holds features such as word games, a dictionary, practice using news, conversational English, and an offline mode. It tries to give everyone an experience of learning from a live tutor. Also, there are expert-curated live and personalized courses for kids.
You can choose to learn English from 23 different languages, including Hindi, Assamese, Bangladeshi, Gujarati, Kannada, Malayalam, Marathi, Nepali, Telugu, Tamil, Punjabi, Urdu, Arabic, etc.
More than 5 crore people are already a part of the Hello English community.
5. Cake: lesson updates everyday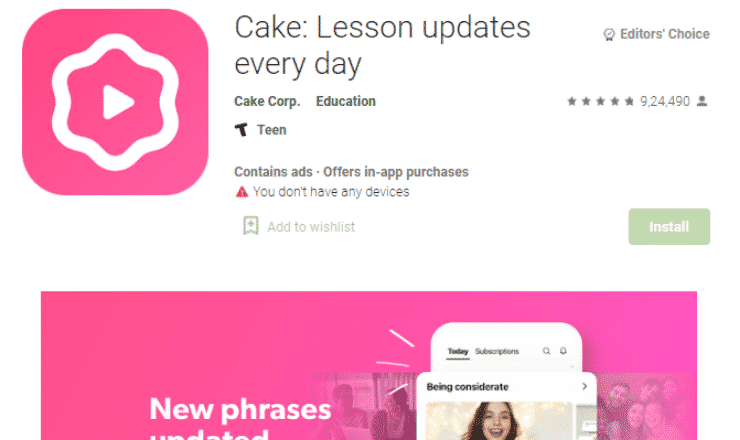 Lessons with "Cake" will excite you. You get to learn English with your favourite celebrity, artist, and vlogger videos. They teach using short clips to make learning simple.
You can memorize with quizzes, engage in diverse audio content, Watch original online lessons created by Cake and soon start sounding like a native speaker.
The cake will help you improve your speaking skills. It is already used by 90 million people worldwide. With just 10 minutes a day, you can learn everyday real English expressions and also practice listening and speaking a new conversation.
Download the app for free or pay a nominal amount to access their "Cake Plus" version.
6. British Council English apps
The British Council is a public corporation with HM Queen Elizabeth Ⅱ as their patron. It offers a variety of apps for a variety of needs.
There are games, podcasts, videos and quizzes for you to learn English in a fun and exciting way. Here is the list of 6 apps by the British Council:
1. Johnny Grammar's word challenge is an app where you take quizzes to test your common vocabulary, spelling, and grammar used in everyday English.
2. LearningEnglish grammar (UK Edition) – Practice your grammar skills at beginner, elementary and advanced levels with over 1000 practice questions based across 10 activity topics.
3. LearnEnglish kids: playtime – Designed for kids to boost their confidence. There are over 100 quality animated songs and stories which are grouped into various themes like fairy tales, classic children's songs, etc.
4. LearnEnglish Podcasts – You can improve your general and business English understanding by listening to the most popular podcasts. You can listen online or download it for offline use.
5. LearnEnglish Sounds Right – Pronunciation chart for learners with pure vowels, monophthongs, diphthongs, and consonants. It helps you improve your sounds and pronunciation.
6. LearnEnglish Videos – Watch a wide range of English language videos to improve your listening and speaking skills. Later, enjoy simple exercises for every episode, with a progress screen to track your progress.
You can choose the apps according to your need and start improving your language skills for free.
Also check: Benefits of Leaning French and How to Learn it
7. Babbel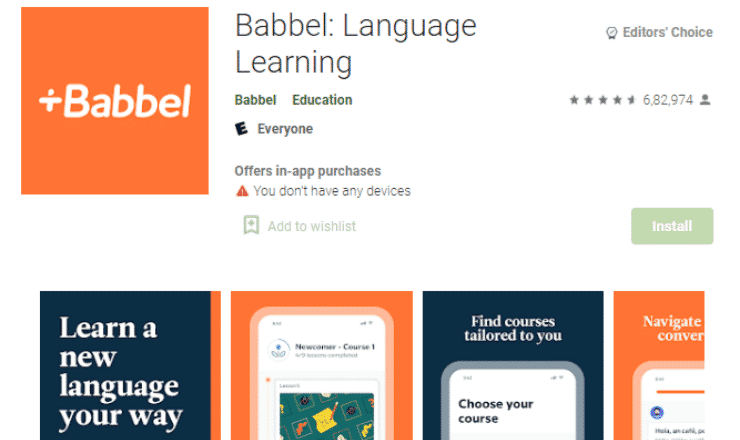 It is a great app to improve your vocabulary and speaking skills. The app claims that Its language learning experts can have you speaking in as little as three weeks. You have quick lessons, live classes, podcasts, and more.
Teaching voices of Babbel are native speakers and not machine learning robots. It utilizes techniques that move new vocabulary through your brain's six learning stages.
73 percent of users indicated that they could have a short, simple conversation within 5 hours of using Babbel.
Lessons are divided based on their difficulty level. You have the easier tasks at the beginning and difficult ones later on. Though the app is not free, 10 million people have purchased the subscription.
8. Hello Talk
If you wish to make some international friends as you do your language learning, "HelloTalk " is the right app. It's a free app with over 30 million users from more than 150 countries.
Hello talk pairs you with a native speaker whose needs match yours. You learn the native language of your partner while teaching him yours.
You can ask questions, post audios, and get feedback. You can talk to your language partner with text, audio, voice messages, or even audio and video calls.
The app's artificial intelligence automatically corrects any potential grammatical error before you send a message. You can also join group chats for a collaborative learning experience.
9. Cambly English Teacher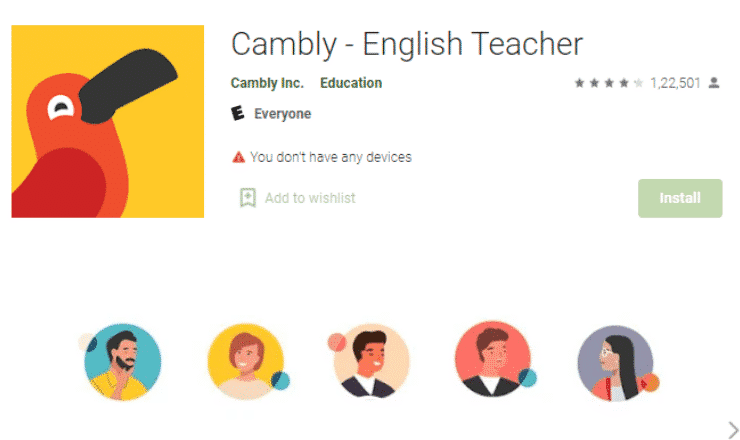 Cambly gives you a choice to choose your tutor. You can learn from the same tutor every week or meet someone new for every lesson. You practice your English over video chat with a native speaker.
You schedule the lessons according to your routine, specialize in the curriculum catering to your needs, and get lesson reviews.
Friendly tutors from the US, UK, and Australia give you one-on-one lessons tailored to your goals. Its courses are available for organizational needs, kids, exams, travel, professional development, public speaking, presentation skills, etc. You have to pay for its monthly plans, but its users say it is worth it.
10. IELTS Prep App
The British Council launched the IELTS prep app for students preparing for the IELTS exams. It gives you access to free grammar tips, practice tests, exercises, quizzes, and more. There are sample questions to practice listening, speaking, reading, and writing.
You can listen to the videos of IELTS speaking interviews, solve vocabulary exercises, read blog posts and get the IELTS preparation checklist.
11. Memrise easy language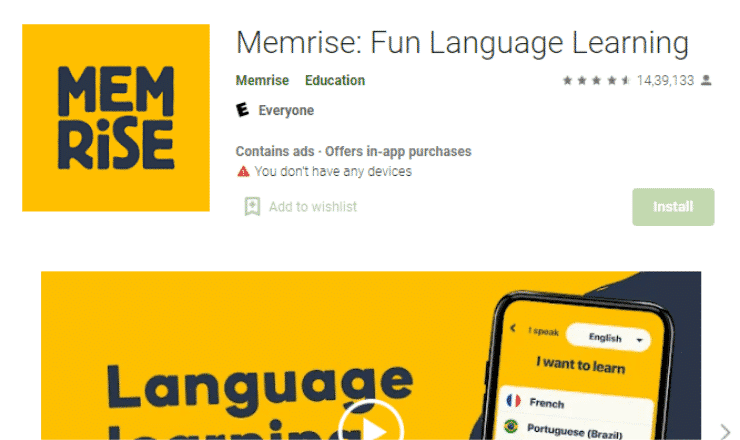 Memrise teaches you important phrases for everyday use and is very easy. They provide you with video examples of language you use in daily life and thousands of practical phrases designed by native speakers.
Memrise uses a "talk-first" approach where you don't have to worry about sounding like a textbook. There are 3000 real-life phrases and over 10000 video and audio clips in every lesson. It is available in Hindi and other Indian languages. There is a free version and a paid version available.
12. ABA English
The teaching pattern is based upon the common European framework of six levels, namely, A1, A2, B1, B2, C1, and C2. Where A1 is the most basic level of language proficiency and C2 is the highest.
You will have live online classes with a teacher to help and guide you. The entire course is video-based, and you can have access to unlimited conversation classes. As are certified for each level you complete. 30 million students have already signed up.
You have free trial lessons, and if you like them, there are paid courses available.
13. Rosetta stone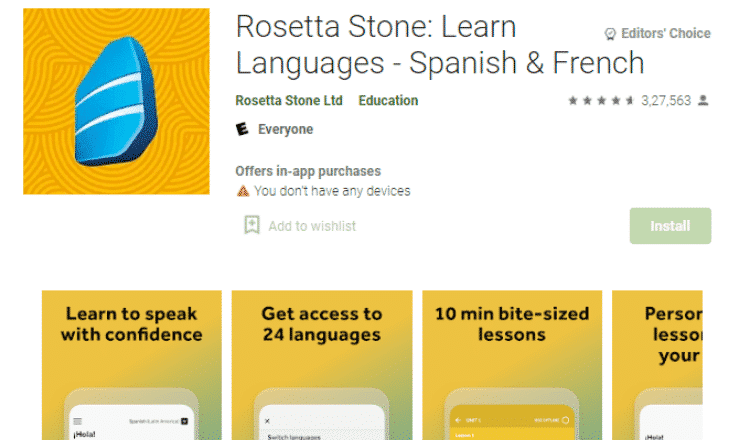 Rosetta Stone has been around for the past 30 years. You learn with the help of real-world scenarios, interactive activities, and audio from native speakers. The best part is you don't have to translate your sentences. Instead, you speak confidently in the target language.
Rosetta stone has a speech-recognition engine to find genuine accents and gives you immediate feedback upon your pronunciation. They provide you with live coaching with native speakers, so you don't have to listen to computer voices while learning.
You can choose from 25 languages. Though you have to purchase a monthly or yearly subscription, you can try it for free.
14. EWA
EWA is a fun way to learn a language. They give you a complete speaking course with your favourite T.V characters. Flashcards are used to learn new words. You can have your language tutor anywhere and everywhere, right in your pocket.
More than 1000 audiobooks are provided. You can learn as you watch your favourite movie scenes and T.V characters. There are easy-to-learn brain games that are mental stimulators.
So, no more cramping, stress, and angry teachers. Download the app for free, and you can start learning.
15. Busuu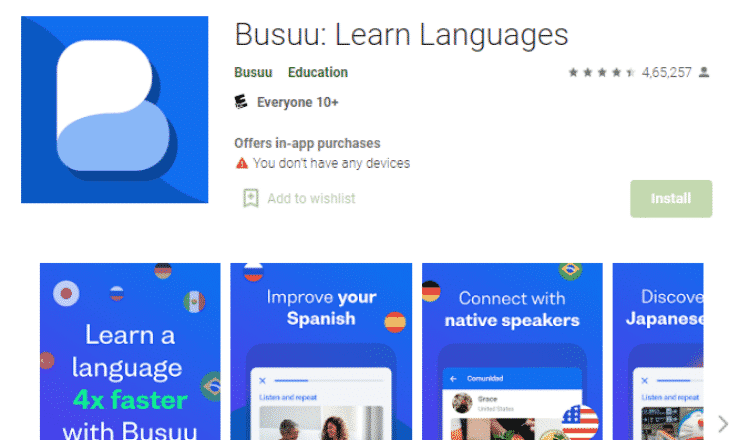 You can study at your own speed with Busuu. One of the most respected education companies, McGraw Hill officially certifies you here. There is an offline mode, vocabulary trainer, and writing exercises to boost your learning.
Busuu adopts a common European framework of six language levels. You have a dictionary, flashcards, timer, and calendar in the app. Choose from 13 languages and attend live classes from expert tutors. A lot of features are free, but you need a subscription to access them all.
Conclusion

These top 15 English learning apps make it easy and enjoyable to improve your language skills. You can use them at home and learn at your own pace. They offer different features and resources to help you become more confident in English.
Take advantage of these apps to grow personally and professionally. Start using them today and experience the amazing benefits of learning English.