Kids are always a source of great joy to each one of us.
But as parents, it's also our responsibility to prepare them for life's challenges by pushing the boundaries of their knowledge and awareness of the world we live in.
A great way of doing that is by engaging children in a variety of activities, specially designed to put their brain to the test – in a fun and entertaining way.
With a majority of kids today showing a growing fondness for gadgets and gaming, online educational games today have become a preferred choice for parents looking to enhance the all-round development of their children.
Many scientific studies have also proved that children respond better to and learn more with the help of game-based learning.
So if you're a parent on the lookout for quality children educational games online that can assist in your child's academic development and improve his general knowledge, here are a few options that you can consider.
List of Best Online Educational Games for kids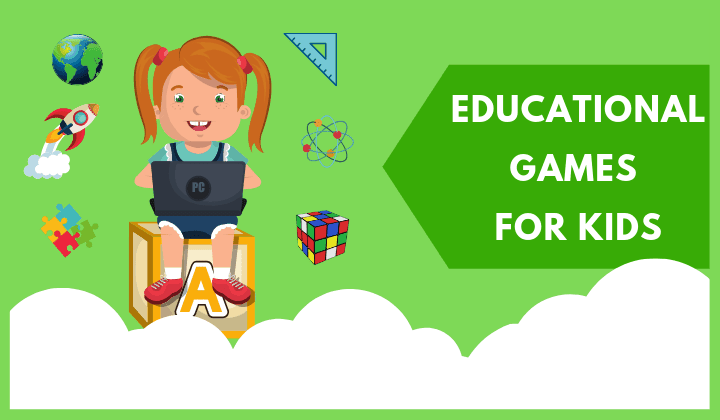 Is your kid interested in space, hooked to sci-fi movies like Star Wars and walks around your home wearing a bike helmet pretending to be an astronaut?
Then he will love this educational game site, where kids get to play fun games with different skill levels (for children to Grade 4. All the games for kids here have been designed in keeping with the latest standards in STEM — science, technology, engineering and mathematics.
As a special bonus, your child will also get to learn about NASA, its space missions and the international space station.
Get your kids to join in on the fun as Ms Frizzle, the science teacher and her band of intrepid explorers embark on new adventures in their upgraded Magic School Bus.
Based on the much-loved, best-selling book of the same name, the Magic School Bus takes kids on a magical, virtual ride exploring new invasive species, satellites, glaciers, nervous system and the deep seas along the way.
Is your child terrified of math? Well, most children are. After all understanding numbers can be a lot more difficult than it looks.
But you can help him/her by introducing this popular kids learning games website. Not only will they get to play a host of simple math games, brain teasers, general knowledge quiz and solve educational puzzle games – they will also get a chance to explore the basic fundamentals of math at their own pace.
Created for kids from kindergarten through Grade 8, FunBrain is a virtual treasure trove of videos, free interactive games and comics designed to help kids facing problems with math and reading by improving their problem-solving skills.
This educational game website for kids prides itself on providing a fun and safe environment for kids — both at home and at school.
First launched in 2000, StoryPlace can be described as a vast virtual library just for kids. Filled to the brim with legendary stories, exciting adventures and tales of courage and valour that are sure to inspire the children of today.
In keeping with changing times, the site has also been re-designed to showcase famous stories and fun activities for children in a digital format compatible with all kinds of mobile devices.
For the benefit of parents and caregivers, the site now also includes early literacy information.
Get your child to exploit his critical thinking potential by exploring this magical world filled with 700 monsters and magical powers that can help him/her defeat them.
See him transform into a Ninja, Sorcerer, Knight, Mage and Dragonslayer right before your very eyes, as he embarks on a mission to save the world from certain doom.
This is one of the best learning websites to bring out the young explorer in your kid – through award-winning magazines, books, videos, events, toys, apps and games.
Backed by a world-renowned organisation dedicated to scientific exploration, this educational site is famous for teaching kids about the world & how it works. Thus empowering them to succeed and to make it a better place.
Based on the iconic, Emmy-award winning TV show with the same name, Sesame Street is a free educational game site where kids get to play games and watch videos.
It features some of the most-loved Muppet characters from their favourite Sesame Street serial, including the playful Elmo, Oscar, Grover and Abby as well.
The site also offers personalised curriculum recommendations just for your child.
This one already has a huge fan following with kids since 1999. The reasons are quite simple. It contains extracurricular activities for all age-groups and over 300 games – with zero text.
Children tend to find their way here just as soon as they are old enough to hold a mouse.
Once inside it's difficult to get them to exit this fascinating world filled with animations, games and fun-filled activities that encourage them to be proactive while making decisions.
In keeping with their tagline – play with a purpose – this educational game website is your child's very own online playful learning centre designed to inculcate in them a lifelong love for learning.
The site features a set of engaging games – developed by a team of educational experts – to introduce kids to fundamental life skills introduced in playschool.
Available for download from both Google Play and the App Store, you also get a free trial for a week when you sign up.
It claims to be one of the world's first-ever game-based learning sites for children, where students get to understand Maths.
Founded by a team of mathematicians and game experts, the site uses carefully handpicked casual school games to bring some fun into learning Maths.
Each game is designed to cover key topics of learning and has inbuilt levels of difficulty to adapt to the skills of the student, which allows it to be stray relevant to their level of understanding.
This educational site is currently offering a free 30-day trial period for new users.
Also Read: Importance Of Co-curricular Activities at School with 25 Examples
Powered by Manga High, this kids website is all about making it fun to understand another tough subject – Physics – that students tend to run away from.
Some of the children educational games included by this learning site are construction, demolition, action, projectile and stacking games – all centred around the laws of Physics.
It's a novel attempt to explain a somewhat complicated subject using customised games – definitely recommended for students facing a problem grasping Physics.
A Disney-owned website, Club Penguin, is an online educational game platform where kids can explore, chase adventure and hang out with their pals.
It also teaches them how to resolve problems, work as a team and socialise in a fun way. So whether it's about solving puzzles or organising parties – kids are sure to have loads of fun here and learn some valuable lessons too.
The site also uses filters to block inappropriate chats –besides tons of emoji's to allow kids to express themselves.
In Conclusion
Playing is an essential part of a child's overall development, and online educational games can be just as useful in building the skills that kids need to succeed in school.
As many experts have said before – the best way to get your child to embrace learning, is to make it a fun activity for him/her – sane advice that we would do well to remember.