Did you know that Google, the world's most famous search engine and key digital marketing resource offers free courses?
There're as many as 125 free online Google digital marketing courses with certificates for beginners and mid-level digital marketers.
If this sounds interesting, read further.
Google, as the world leader in search engine and owner of YouTube, help people acquire and fine-tune different digital marketing skills.
Hence, it provides free courses made by its own experts or faculty of respected colleges and universities in America.
10 Free Google Digital Marketing Courses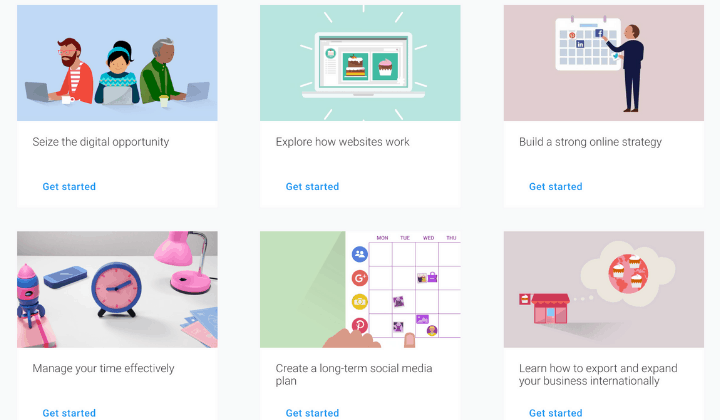 You can try any of these top 10 free online digital marketing courses with certificates by Google. You can learn all these courses from Google Digital Unlocked.
1. Fundamentals of Digital Marketing
This is one of the top Google digital marketing course. With 26 modules spanning for 40 hours, Fundamentals of Digital Marketing is the first course any aspiring digital marketer or fresher should undergo.
It is accredited by The Open University and Interactive Advertising Bureau Europe. The course is created by Google Trainers.
Some of the top digital marketing skills you'll learn from this course include Analytics & Data Insights, Business Strategy, and Content Marketing, Display Advertising, eCommerce, email marketing, mobile marketing, and Search Engine Marketing among others.
It also includes modules on Search Engine Optimization and other digital marketing resources. This certificate course is a must for every digital marketer.
Read: How to Choose a Digital Marketing Course
2. Promote a Business with Content
Content is the king of any website or blog and plays a key role in promoting a business. Learn how to tap the power of content to reach customers.
This course teaches effective use of content marketing on video, text, and social media to grow businesses.
Consisting of four modules over three hours, the course modules include 'Get Noticed with Social Media', 'Deep Dive into Social Media', 'Make the Most of Video,' and 'Get Started with Content Marketing.'
This is a beginner course for digital marketers struggling with content for blogs, websites, videos, and social media posts.
3. Promote a Business with Online Advertising
With five modules spanning over three hours, you'll learn how to create a successful advertising and marketing strategy for your own website, blog or an employer.
The course helps understand how email marketing, video, and display ads are essential to grow your business and their effective use.
Key skills you'll learn from these modules include local marketing, business strategy, eCommerce, email marketing, social media, video, display advertising, Search Engine Marketing and Search Engine Optimization, among others.
This course is ideal for fresher or mid-level digital marketers looking at developing better skills.
4. Search Engine Optimization Fundamentals
This course is created by University of California and promoted by Coursera. The 13-hour course consists of basic SEO technologies. The course helps you understand search engine algorithms, their effects on organic searches and results.
This course also provides skills to develop SEO strategy, keyword selection, consumer psychology, and search patterns and behavior.
This course has four modules, each made by Google trainers at the University of California. SEO is one of the intricate parts of digital marketing and plays a pivotal role in the success of any digital marketing campaign.
This is also a superb course for beginners that wish to specialize in SEO or fine-tune their SEO skills.
5. Send Professional Emails
Email marketing is an integral part of digital marketing, regardless of whether you're operating your own blog or business website. Most people regard email marketing as a defunct and now redundant part of digital marketing.
This is far from the truth. In fact, people are willing to part with their email IDs and get frequent updates from your organization, provided there's something interesting.
The course consists of a single module- a video tutorial- spanning one hour. Despite its short length, you'll learn fantastic skills such as various parts of the email and how to write appealing ones.
It also teaches how to create automatic responses, email engagement and email templates, and much more.
6. Plan Effective Meetings
Plan effective meetings teach one of the most vital skills of digital marketing. And that's webinar marketing.
This is a simple, one hour course where you'll acquire skills on how to plan effective sales and marketing meetings, online training and conduct live presentations and promotions using video conferencing platforms.
This one-hour course consists of a single video. However, don't underestimate the power of this course. In the post Covid-19 world, the focus is now increasingly shifting to online meetings and webinars.
Therefore, this course is essential for any digital marketer that wishes to make a mark after the lockdowns that brought the world to a standstill. It helps maintain social distancing and boosts work from home capabilities.
7. Understand Customer Needs & Online Behaviors
As the title suggests, this digital marketing course by google is all about tracking your customers and their habits. In that sense, it's a basic course on data analysis.
The course consists of three modules over one hour with easy video tutorials. End of course assessments and easy to use tips are also included in this beginner course.
The modules are getting started with analytics, the successful use of analytics, and how to convert data to analytics.
For every digital marketer, data analysis helps understand the success or failure of their online campaigns and presence and well as online advertising. The course helps you learn the effective use of data analytics that can grow businesses.
8. Connect with Customers over Mobile
This free online digital marketing courses with certificates by google consists of two modules with a study time of total one hour only.
Despite its shorter duration, this course teaches skills such as advertising on mobile, search campaigns for mobile, display campaign for a mobile, social media campaign, and video for mobiles.
It also covers the evolution of mobile devices, understanding mobile web, and mobile apps.
With easy to understand video tutorials, implementation tips and end of topic assessments, the course is vital for every digital marketer that wishes to learn how businesses can grow their online presence, generate leads and convert potential customers using simplest mobile processes.
Google doesn't provide certification for this course.
9. How to Enhance & Protect Your Online Campaign
Offering 12 modules spread over a period of seven hours, this course helps you learn the management of an online campaign while keeping its information safe. The course teaches the use of various tools and resources you'll require for the purpose.
In these videos, we explore how to use online platforms to reach and connect with your audience and how to measure and maintain a successful and safe campaign online.
This is a superb course since it contains a bit of everything from social media and email campaigns to leveraging the power of mobile marketing, various online marketing techniques, data protection, data analysis, and optimizing lead generation, among others.
For beginners of mid-level digital marketers, this will prove very useful.
10. Marketing in a Digital World
Created by the University of Illinois Gies Business and promoted by Coursera, Marketing in a Digital World is a comprehensive, 30-hour course that consists of four modules.
You'll acquire skills on using digital tools such as computers and smartphones for marketing business alongside the use of three-dimensional (3D) printing and other techniques that really matter nowadays.
This course is actually part of the iMBA online course available from the University of Illinois. Therefore, this digital marketing course by google not only teaches some essential elements of digital marketing, but it's certificate also helps boost your career prospects.
It is available on an 'audit' basis from Google meaning it comes with certain limitations as compared to the ones for university students.
In Conclusion
These top 10 free online digital marketing courses with certificates by google are useful for lots of things. You can upload the certificate on your LinkedIn profile while looking for jobs or to impress others.
At the same time, they provide opportunities to learn directly from Google's own experts. Try any of these fantastic courses to create a superb digital marketing career.