A common question among business owners is, why do you need ISO 9001 certification? Do we really need to spend money on getting ISO certification and is it worth the expense and effort?
In my humble, honest opinion, every business should opt for ISO 9001 certification if they are serious about flourishing in a highly competitive market.
Most small businesses miss out on bidding for large contracts despite possessing the necessary expertise and experience. And competitors that are gaining an. Your business might be experiencing similar situations.
Should this be the case, your business definitely needs an ISO 9001 certification.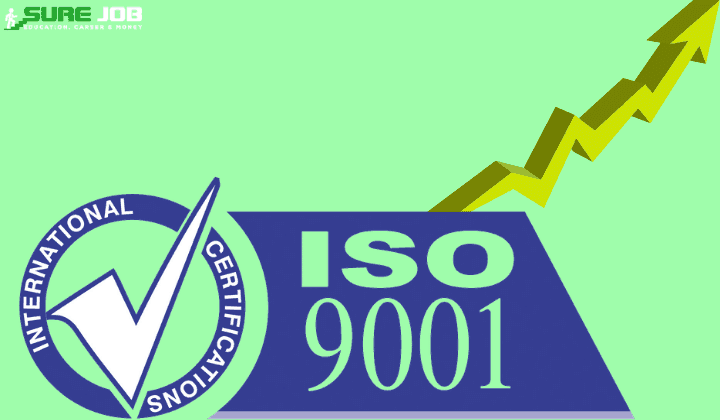 Why You Need ISO Certification?
The main reason you need an ISO 9001 certification is to stay in business and flourish. An ISO certification opens a gateway for expansion of your business.
And there are 10 other reasons why your business needs an ISO 9001 certification.
1. ISO Means International Quality Recognition
Regardless of the size of your business, an ISO 9001 certification implies that your organization's management, internal and external processes, service and product delivery conform to international standards. That's the greatest advantage of having an ISO certification.
ISO is an abbreviation of International Standards Organization that operates from Geneva, Switzerland.
The organization develops standards for all types of business operations that are acceptable worldwide, albeit with minor alterations to meet local conditions in a country.
Hence, an ISO 9001 certification means your company meets the highest standards in all areas of operations that are acceptable worldwide.
2. ISO 9001 Can Increase Your Business
You would have definitely come across several cases where a potential customer specifies they'll deal only with companies that complies with latest ISO standards. The current standard is ISO 9001.
Your business may have excellent management and superior standards. Yet, these would not be sufficient to bag a contract from clients that require only ISO 9001 compliant suppliers or partners.
This might sound unreasonable, but let's face the facts. An ISO 9001 compliant customer would definitely want to deal with an organization that meets or exceeds the same standards.
Having an ISO 9001 certification serves as a sort of guarantee that your organization would meet their expectations. That your processes would be compatible to what an ISO 9001 compliant client needs.
Such ISO 9001 compliant customers are therefore reluctant to deal with non-certified companies. In some cases, doing business with another ISO 9001 certified organization could be mandatory under law or terms of a contract.
Hence, these clients will enter into business with your organization. These facts help your organization to get more business.
3. ISO 9001 Means Consistency
Thousands of organizations follow excellent internal and external standards of operations. However, these can flounder in some areas since there's no standardization and applied randomly. There are countless situations why your company's high standards can go spiraling downwards.
However, an ISO 9001 certification ensures this doesn't happen. An ISO 9001 certification is valid for three years only. Renewal of an ISO 9001 certification requires your business to meet or exceed all standards during the mandatory audit that's done at the end of three years.
Therefore, every member of your organization- from business owner and top management to core staff and lower echelon workers have to maintain consistent quality and operational standards after initial ISO 9001 certification.
Without such consistency, renewing an ISO 9001 certification is impossible. And losing an ISO 9001 certification can tarnish an otherwise excellent reputation of your business.
4. Superb Customer Satisfaction
Any organization whose internal and external processes meet globally accepted international standards would definitely offer superior quality products and services.
Since ISO 9001 covers the entire spectrum of operations, the final quality of a product or service would definitely be far superior to those from non-ISO compliant companies.
Furthermore, ISO 9001 compliance also covers after sales service and customer care. Adhering to international standards automatically translates as superb customer satisfaction. In all probabilities, you wouldn't have any disgruntled customers.
Superb customer satisfaction has a very positive cascade effect. It develops loyalty for your organization and offerings. And word of mouth publicity by clients with a positive experience with your organization helps bag newer business without much advertising.
5. Helps Develop Excellent Corporate Culture
An ISO 9001 certification gives management and staff work for a common goal that aims at maintaining and developing better operational standards. Which in turn helps develop a responsible and proactive corporate culture that percolates down the echelons.
Broadly, corporate culture means values, beliefs, and practices that are unique to an organization and the driving force behind how it operates internally and with external entities.
An ISO 9001 certification doesn't imply that an excellent corporate culture would automatically or spontaneously develop. However, it does facilitate or lays down a framework for the development of an excellent corporate culture.
It is a well-known fact that companies with excellent corporate culture also excel in business. When all stakeholders- from employees to suppliers, customers to lenders feel comfortable dealing with an organization, it is but natural that it would flourish.
6. Enforces Standard Operating Procedures
Having a set of excellent standard operating procedures is prerequisite for getting ISO 9001 certifications. And it doesn't end there. Standard operating procedures need to evolve continually since technology undergoes rapid change and upgrades.
Hence, a standard operating procedure which got the initial ISO 9001 certification would prove inadequate to meet future needs, as your organization grows.
Once standard operating procedures are enforced to get ISO 9001, every employee knows what they have to do and how to reach the desired objective.
This promotes seamless functioning between various departments of an organization. And over a period of time, these procedures undergo upgrades, improving the overall functioning of the company.
7. ISO 9001 Can Lower Attrition
Yes, an ISO 9001 certification can help lower attrition that afflicts millions of organizations worldwide. Employee attrition occurs due to several reasons. Among main culprits is lack of job satisfaction, inability to get along with coworkers and lack of appreciation.
Seamless operations due to standard operating procedures lowers chances of friction among colleagues on work related issues.
Job satisfaction levels are much higher since the ISO 9001 compliant organization follows international standards. And there's appreciation from clients, suppliers, owners and stakeholders too.
Hence, an ISO 9001 certification can directly or indirectly benefit your organization by significantly lowering staff attrition. This means the organization spends lesser on recruitment and training while retaining existing talent pool.
8. Continuum of Skills Upgrade
It's a foregone conclusion that every ISO 9001 compliant organization needs to maintain the highest standards of operations in every sphere.
This makes it imperative to keep upgrade skills of staff and equip them to meet the challenges of the future. Staff training also plays a pivotal role in ensuring adherence to standard operating practices and seamless operations.
Consequently, an ISO 9001 compliant organization develops an excellent talent pool over a period of time. This vast talent is vital when it comes to launching of new products and services, venturing into newer markets and above all, developing future leaders for the organization.
Skills upgrade also prevents staff redundancy. Hence, an organization's payroll is well justified since each staff member would be more or less equally productive in their own sphere.
Any business owner and the top executive would definitely know the importance of skills upgrade for any organization.
 9. Quality Management & Cost Reduction
ISO 9001 also deals with quality management. Therefore, it prods your organization to strive for perfection. Understandably, no human force can achieve 100 percent perfection.
Yet, organizations can strive to get near perfect in various spheres of operations.
Striving for quality often helps save a lot of money that would otherwise go waste on futile aspects of any operation.
With the expenditure of an organization under quality management systems of ISO 9001, chances of reckless or unwarranted expenses are highly reduced. Hence, the ratio of overhead expenses per employee drops fairly significantly.
Additionally, ISO 9001 quality management systems also help lower waste in all spheres of operations.
An organization is expected to follow these quality management systems to retain its ISO 9001 certification. Hence, the chances of wasting resources reduce vastly.
10. ISO 9001 Helps Recruitment Processes
Discerning jobseekers prefer working for an ISO 9001 compliant organization rather than just any employer.
That's because they're aware that an ISO 9001 compliant employer would have standard processes, employee retention programs and superior working conditions.
Consequently, an ISO 9001 compliant employer attracts better candidates whenever a vacancy arises.
Recruiters are also well aware of the needs of an ISO 9001 compliant employer. Therefore, they take extra efforts to screen jobseekers and shortlist the best talent for a vacant position.
Attracting top talent is getting harder by the day as professionals in any field with strong qualifications and matching experience look at working as freelancers, consultants and launch own startup ventures.
At such a time, an ISO 9001 certification definitely helps find the best available talent for your organization.
Wrap Up
Displaying an ISO 9001 logo on letterhead and stationery of a company, website and publicity material definitely has its own benefits.
It is a clear indicator that an organization takes its business rather seriously, provides consistent, high-quality products and services while exerting extra efforts for customer satisfaction.
ISO 9001 also enables organizations to register as suppliers with government and other agencies that give lucrative contracts. For some contracts from large corporations, an ISO 9001 certification is prerequisite even to qualify as a bidder.
Getting licenses and permits as well as expansion into foreign markets becomes a lot easier for ISO 9001 compliant organizations.
Given these facts, it would be fairly clear why you need an ISO 9001 certification for your business. It is definitely worth the time, effort and money.