Whether you like it or not, these days social media plays a major role in the recruiting process. Job seekers post their qualifications and experience in their profile and hiring managers assess candidates' relevant interests, skills, and credentials.
Most companies make their assessments through social media channels such as Facebook, Google Plus, Twitter, and LinkedIn.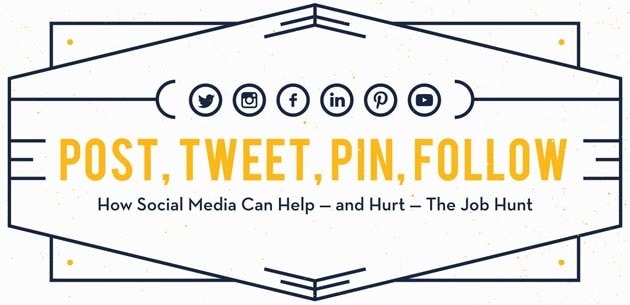 As a job seeker, you can take advantage of this development in the hiring process by establishing an online profile which highlights your unique set of abilities and personality traits.
It is essential to stay active with social media in order to stay on top of the game.
Maintain a Good Online Reputation
Employers use social media to check you out and see what others think and say about you, so it is important that you maintain a reputable online presence.
Remember that when you join any platform, such as forums, blogs, and other group discussions, your posts should always be insightful and interesting.
If you offend someone, your reputation can be damaged as a result. Even if the prospective employer reads hundreds of positive comments about you, a single negative comment can ruin your chances of getting hired.
Your online profiles reveal a lot about your personality and career goals. As hiring managers tend to surf through your social profiles, you definitely don't want to make the wrong impression.
Regularly check your likes and posts on Facebook, followings on Twitter, posts on Google Plus, and information on LinkedIn.
Any irrelevant, unethical, or harmful content on your social profiles can derail your career ambitions. Make sure you have a clean and respectable profile on each social platform you use.
Credentials Evaluation and Verification
Employers use social networking profiles not only to check the online reputation of their candidates but to verify if the information provided to them is correct.
Make sure that all the details posted on your social accounts are accurate. It is very easy for employers to investigate prospective employees these days—a simple search on Google and all available information about you will be revealed.
In addition, hiring managers can use social accounts to evaluate whether you have the emotional maturity required for carrying out the responsibilities associated with the position.
You do not want to convey a negative image by posting inappropriate photos and making off-colored remarks.
Serves as a Networking Tool
With the help of social networking sites like Facebook, Twitter and LinkedIn, companies are able to post job vacancies and contact candidates who possess the skills needed in their organizations.
Jobs seekers can obtain information about open positions and update their profiles to reflect their suitability for the job.
It is an undeniable fact that companies are hiring within the social media sphere, so it is essential that you keep your online profiles updated and credible.
Learn More
Because more and more companies are transitioning from traditional recruiting methods to social media, it is critical to learn how to maintain an excellent reputation on all social platforms.