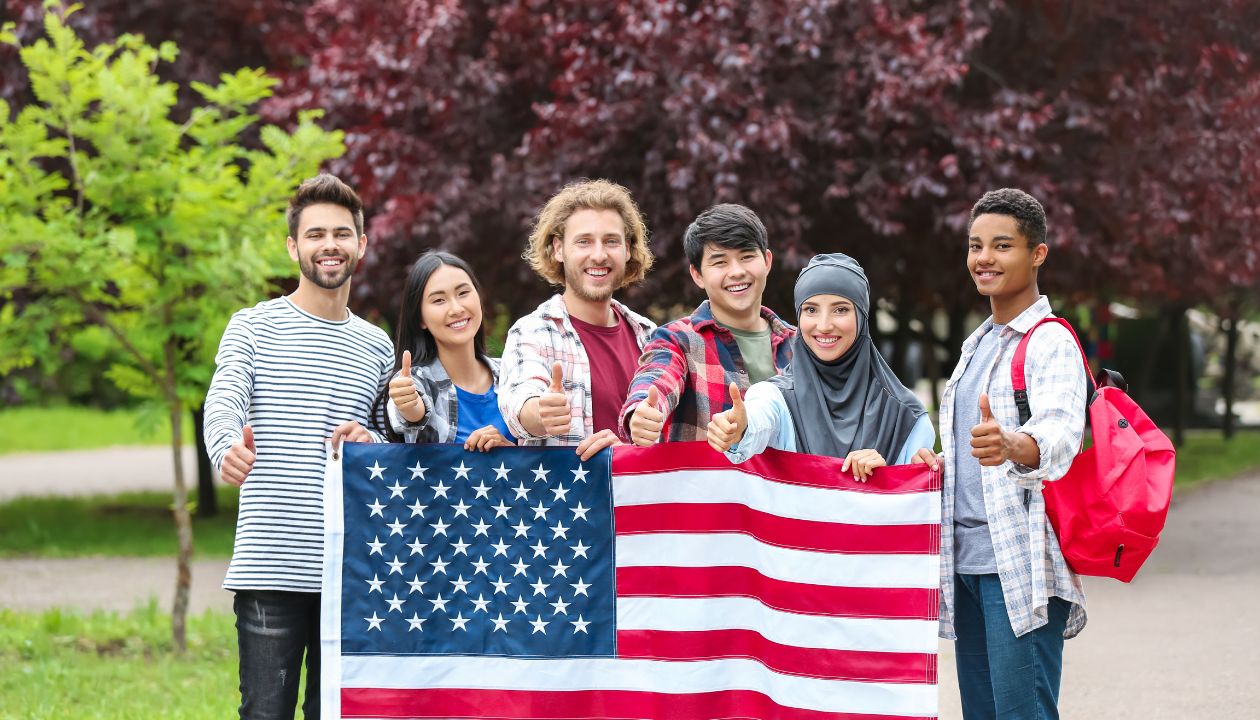 The USA has always been an irresistible magnet for students seeking advanced education in the world.
Made famous as – The Land of Opportunity – millions of students apply and enrol with some of the world's top universities in the USA every year.
As per some studies, the number of Indian UG and PG students heading to US shores has doubled from 2007 to touch a whopping 1,86,000 students last year.
So what is it about universities in the USA that attract the best talent from India and around the world?
For starters, many leading colleges and universities in the USA have been consistently ranked among the best universities in the world.
Universities in the USA are also globally popular for their high quality of education, top-quality infrastructure facilities and excellent faculty.
A professional degree from a leading top university in the USA can also open the doors to a rewarding career in India or abroad – Which makes it a dream come true for lakhs of Indian students who head to the US every year to realize their professional aspirations.
So if you're one of many Indian students who secretly dream of gaining an advanced degree from the Universities of the USA.
Top 10 Universities in the USA in 2023
So, here we have listed below 10 of the top universities in the USA which could help you realize your dreams.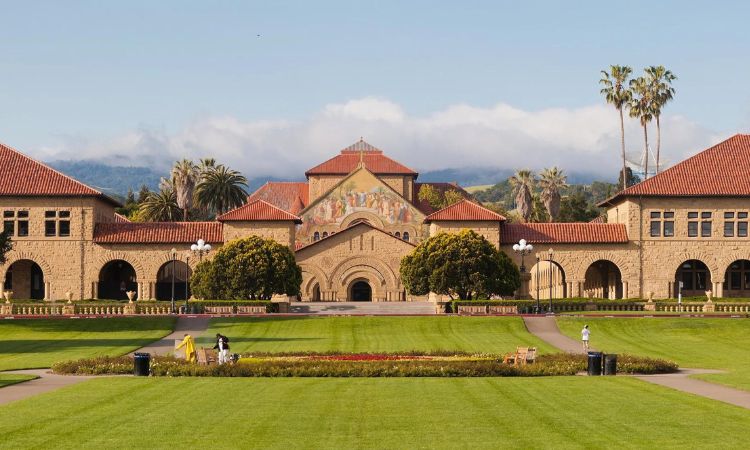 Situated in California's picturesque Bay Area, Stanford University is world-famous for its quality of education.
Offering a mix of Undergraduate (UG), Postgraduate (PG) and doctoral programs, Stanford is renowned for its cutting-edge academic faculties spanning Business Administration, Education, Engineering, Medicine, Humanities and Law.
With about 20-22% of its students hailing from other countries, competition for admission is tough. A Bachelor's degree from a recognized University is the minimum requirement for doing a PG course here. TOEFL (Test of English as a Foreign Language) scores are also needed from non-English speaking applicants.
Doing a course here can cost you anything from INR 40 lakhs to INR 1 cr-plus, depending on the choice of program. Those interested in doing a business administration course here can always apply for The Stanford Reliance Dhirubhai Fellowship (worth INR 64,72,617).
The only hitch. The student has to come back to India, post the completion of the course.
Student accommodation is also not an issue with approx. 97% of undergraduate and 66% of postgraduate students stay in its on-campus residence hall and apartment facilities.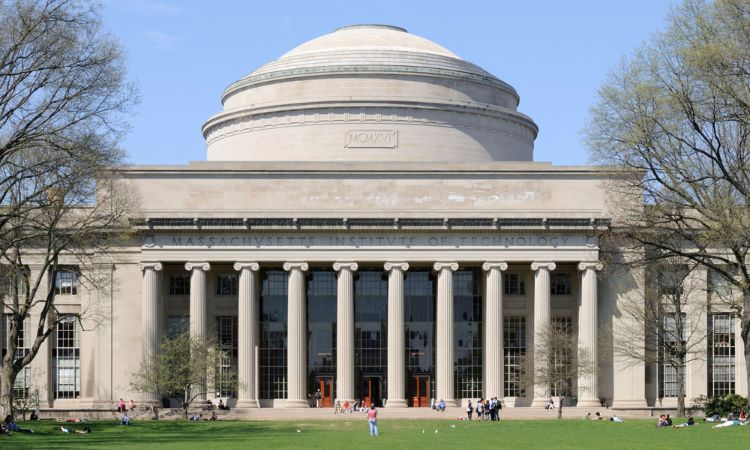 MIT's sprawling 166-acre campus, located just across the sparkling river Charles in Boston, US is always brimming with activity – both creative and academic.
As one of the world's top technology and research institutes, MIT boasts 89 Nobel Prize winners, 29 National Medal of Technology & Innovation winners, and another 58 winners of the National Medal of Science.
No wonder it attracts the best students from over 120 countries to its doors annually. On offer is a range of prestigious UG, PG and doctoral programs across key faculties like Business Management, Architecture, Arts, Engineering, Humanities, Computer Science, and Social Sciences.
The average course fee for full-time students here is approx. INR 52 lakhs, but the institute is fairly generous when it comes to dispersing financial aid, scholarships, and loans to deserving students.
Accommodation is available on-campus for all students across its 17 student residence halls.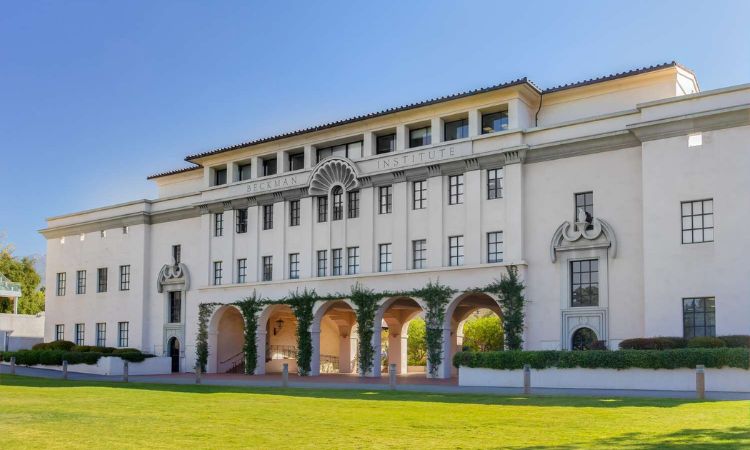 Known among the locals and students as Caltech, this institute attracts the brightest students from all over the world with a common interest in subjects like math, science, technology and engineering. Approx. 45% of its 2017-18 batch featured students from countries like India, Taiwan, South Korea and China.
And they all come here to partake of its many UG and PG courses which offer a choice of 27 majors across faculties like Chemistry and Chemical Engineering, Astronomy, Physics, Geological and Planetary Sciences, Engineering and Applied Sciences and Biology & Biological Engineering.
The competition for securing admission here is quite intense because their admission limit is just about 230 new freshmen annually, plus another 10-15 transfer students. Tuition fees are in the range of INR 40-60 lakhs approx.
While an excellent academic track record and SAT/ACT/IELTS test scores are prerequisites, this institute tends to rely more on the quality of a student's Statement of Purpose, Letters of Recommendation and transcripts to decide on his/her application.
Accommodation is also not an issue with all first-year UG/PG students secure with an on-campus residence and meal plan.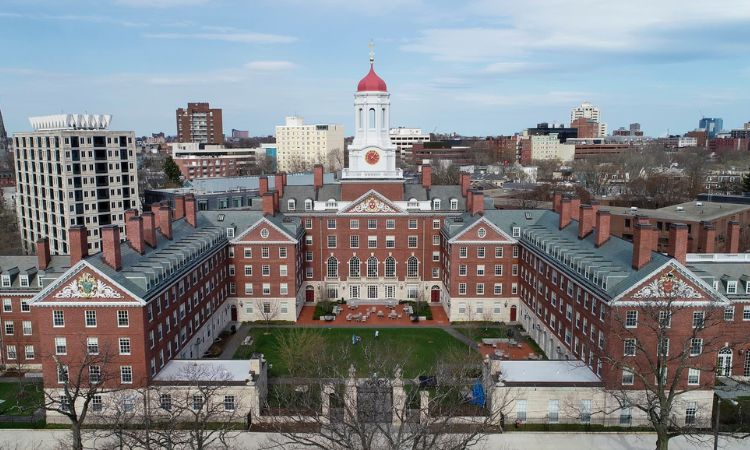 With a history that dates back to 1636, Harvard is by far the oldest institution for advanced education in the US. A look at its profile reveals an astounding 32 Heads of State, 48 Nobel Prize winners and 48 Pulitzer Prize winners – among its 3, 00, 000-plus living alumni in the US and outside.
It includes 11 principal academic units (ten faculties and the Radcliffe Institute for Advanced Study) which supervise their UG and PG courses spanning, Business Administration, Arts & Science, Dental Medicine, Design, Education, Law and Engineering & Applied Sciences to name a few.
But securing admission at Harvard is by no means an easy task. To begin with, applicants need to submit their completed application with the required academic documentation, SAT/ACT scores and two SAT subject tests.
The cost of gaining an education at this prestigious institution is between INR 50-58 lakhs p.a approx. (tuition + plus all estimated accommodation and travel expenses).
It does however offer generous financial aid to deserving students with a demonstrated need for funds. An estimated 55% of Harvard students are said to be studying on financial aid offered by the institution.
In terms of its accommodation facilities, freshman students are usually housed in one of its many dormitories and get to dine at its famed Annenberg hall. Others are placed at any one of the 12 residence halls that dot the Harvard campus.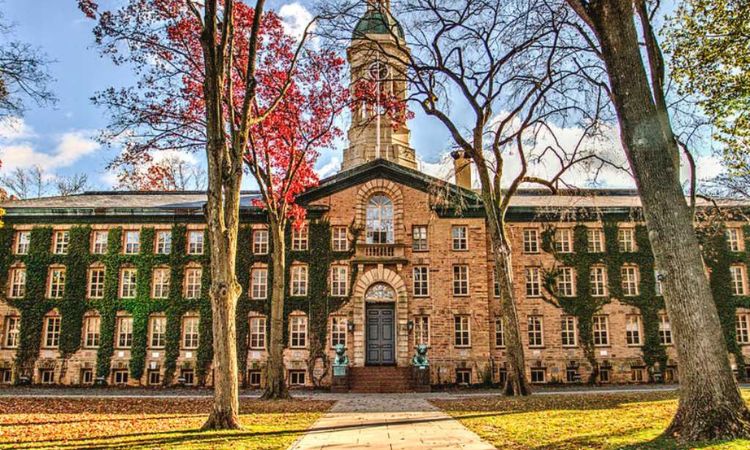 This ivy-league university is come under fourth oldest university in the USA and boasts 40 Nobel Laureates, 5 National Humanities Medal prize winners and 17 winners of the sought-after National Medal of Science.
With about 23% of its student population comprising of international students, Princeton is known globally for the quality of its UG, PG courses and doctoral programs that span subjects like Computer Science, Economics, Arts, Mathematics, Computer Science, Engineering and Public Affairs among others.
Foreign applicants are expected to submit their SAT/ACT scores with their last high school diploma/Bachelor/Master/degree from a recognized board/university. And you only get one shot at applying for admission per year.
The average annual tuition fee here is approx. INR 38 lakhs and includes the compulsory fee of $1800 (INR 1.33 lakhs approx.) for the Student Health Plan. Doctoral and research students are however eligible for a fixed annual stipend to cover their living costs.
All UG and PG students at Princeton are provided with accommodation facilities on campus, with off-campus options available for those who want them.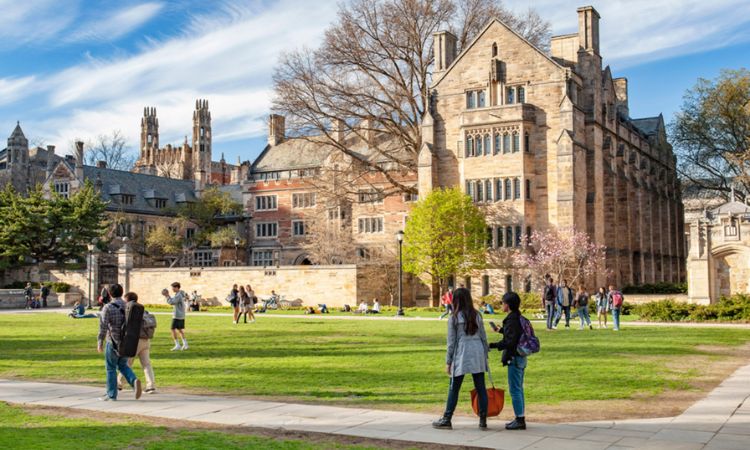 Founded in 1701, Yale University is located on a sprawling 345 acres campus in New Haven, Connecticut. It is best known for its focus on the creative arts, especially its famed drama and music programs. It includes the primary College, the Graduate School of Arts and Sciences and 12 professional schools.
The student-faculty here is made up of 5,453 undergraduate students, 6,859 graduate and professional students and 4,462 international students and scholars. YU offers well-regarded graduate programs across multiple streams which include; Law, Business Management, Medicine, Art, Nursing, Drama, Forestry and Environmental Studies.
In addition to their high school diploma/Bachelor/Master's degree, foreign applicants are also expected to provide SAT/ACT scores, a letter of recommendation and an $80 Application fee (or fee waiver). The average tuition fees at Yale are $53,430 (INR 40 lakhs approx.).
Yale is renowned for admitting students purely on their merit, without regard to their ability to pay and is known to meet 100% of demonstrated financial needs of deserving students, without loans.
14 residential colleges provide accommodation to students seeking on-campus housing. Each college has a dean and a head who live and dine with the students living there.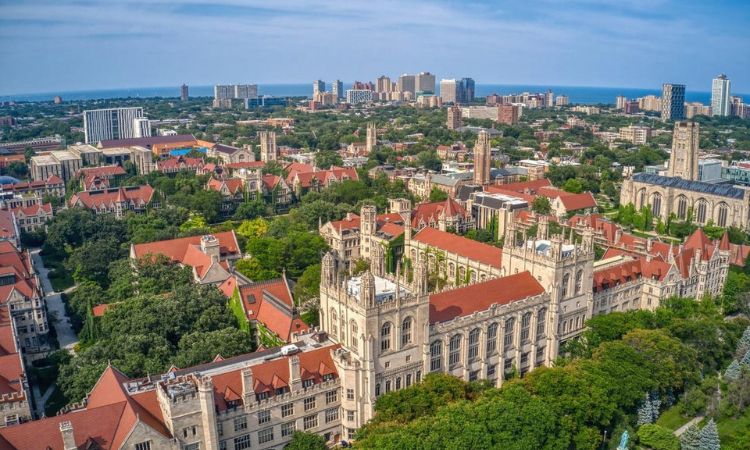 An urban research university, the University of Chicago has driven new ways of thinking since its inception in 1890. Path-breaking research done here has led to breakthroughs such as discovering the link between cancer and genetics and establishing revolutionary theories of economics.
It also offers a choice between over 100 UG, PG and doctoral programs across varied faculties which include, Molecular Engineering, Law, Physical Sciences, Medicine, Liberal Studies, Humanities and Social Sciences among others.
Foreign students here come from over 100 different countries and comprise approx.21% of the total student population. In addition to their last high school diploma/university degree, foreign applicants are required to submit their English proficiency test scores and SAT/ACT results.
Tuition fees amount to about $55,425 (INR 41 lakhs p.a), while the room & board (on campus) costs another $16,350 (INR 12 lakhs) per year. Students are housed in a cluster of individual rooms and common areas within a residence hall and get to enjoy an unlimited dining plan.
First-year international applicants are eligible for both need-based and merit-based aid if they apply for support during the admissions process. Graduate students also get an equal number of funding opportunities, and a team of supportive staff to guide them through the process.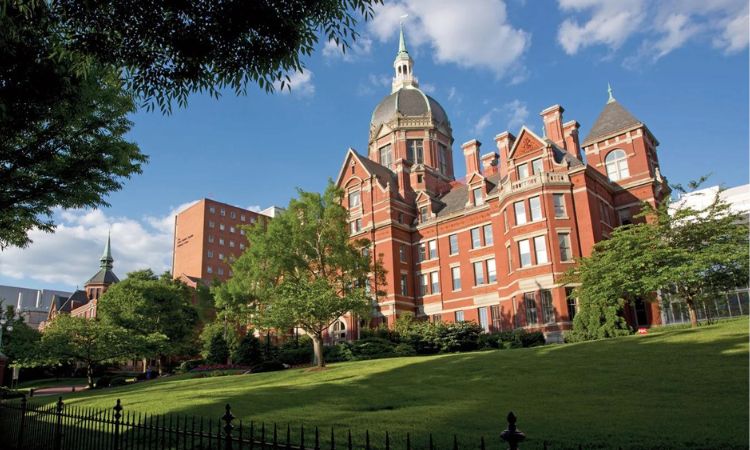 Founded in 1876, this University is located in Baltimore, Maryland and is named after its first benefactor, John Hopkins. America's first research university, John Hopkins continues to be the undisputed leader in federal research and development funding since 1979.
It enrols more than 24,000 students (full-time & part-time) across its nine academic divisions on four campuses in Baltimore; Washington D.C., Montgomery County (Maryland) and facilities throughout the Baltimore-Washington region as well as in China and Italy.
JHU conducts approx.260 Bachelor, Master, certificate and doctoral programs in Arts & Music, Media Studies, Humanities, Social & Natural Sciences, International Studies, Engineering, Business, Education and Health.
The annual tuition fees for UG courses range from $48,645-$54,000 (INR 36-40 lakhs), $53,000-$70,000 (INR 40-52 lakhs) for PG courses and $40,000-$60,000 (INR 30-45 lakhs) for doctoral programs. JHU also offers financial assistance to deserving students, with the average need-based grant for first-year students pegged at more than $38,000.
JHU also provides students with a choice between living in residence halls/apartments ($5,000-$7,000/per term) to suit individual needs and preferences.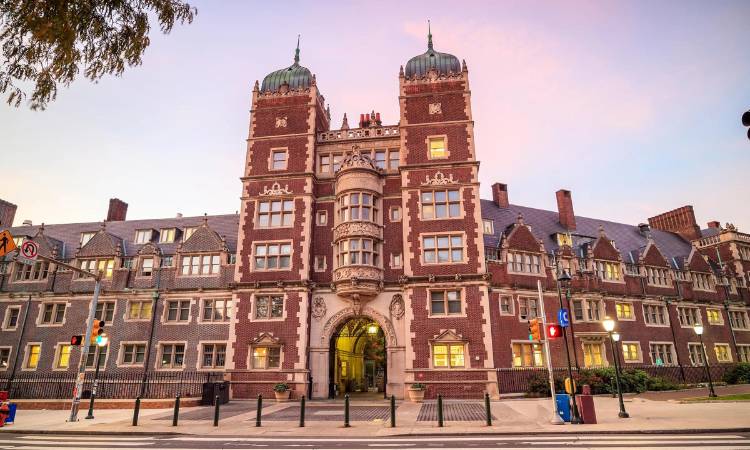 This private Ivy League research university is situated in the University City section of West Philadelphia. It was one of the 14 founding members of the Association of Universities in the USA. Its long list of distinguished alumni includes 25 billionaires, 14 heads of state, 3 US Supreme Court Justices, 33 US Senators, and 42 United States Governors.
Known for its liberal arts and science programs and aided by its integrated resources of four undergraduate and 12 graduate schools, Penn offers students a choice between 116 different graduate and professional programs within 12 schools on one campus.
These include specific faculties for Education, Law, Arts & Sciences, Dental Medicine, Communications, Design, Nursing, Business and Veterinary Medicine.
Its graduate tuition and fees for foreign students vary by school and program. Typically the tuition fee for a UG course is approx. $ 49,220 p.a (INR 37 lakhs), however the all-inclusive cost (fees, housing, dining, transport, books etc) works out to $75,303/INR 56 lakhs (on-campus), $73,314/INR 55 lakhs (off-campus) and $62,157/INR 46 lakhs(living at home with family).
While Penn does award some loans based on the genuine financial needs of its students, some of its schools also award merit-based scholarships or provide students with paid on-campus jobs.
From an accommodation perspective, Penn does have a multitude of housing and dining options both on and off campus.
While finding reasonably priced short-term housing (near campus) can be an issue at times, its Off-Campus Services do provide students with listings of hostels, student residences, bed and breakfasts, and hotels in the area.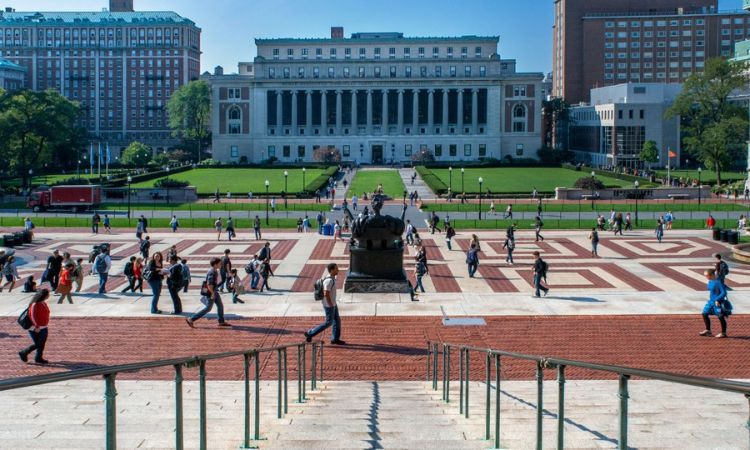 Known for its distinguished and distinctive learning environment, Columbia University is located in the city of New York. It also enjoys a well-earned reputation as one of the foremost institutions in the field of advanced education in the US and globally for the last 250 years.
CU offers a truly outstanding array of academic programs. They include three undergraduate schools, thirteen graduate and professional schools, a world-renowned medical centre, four affiliated colleges and seminaries, twenty-five libraries, and more than one hundred research centres and institutes.
Primary faculties of study offered here include Journalism, Arts, Nursing, Social Work, Architecture, Law, Dental Medicine, Business, Engineering, General Studies and Public Health to name a few.
Tuition fees typically depend on the choice of degree/program. For example, a full-time MFA student will pay $30,392 (INR 22.50 lakhs) plus $2,028 (INR 1.50 lakhs), as semester tuition fees and tuition per credit point respectively, while an undergraduate enrolled for the engineering course will have to pay $ 28,304 (INR 21 lakhs) as his/her tuition fees per semester.
Students enrolled at CU have the option of choosing from an array of housing options which include residences (traditional residence halls, apartment buildings, and brownstones) on its South Lawn, East Campus, West Campus, and the Block.
In Conclusion:
Gaining a degree from any of the above-mentioned leading top universities in the USA is not just a great way to gain a quality education but can also give your career a flying start, vis-à-vis an Indian degree.
Better infrastructure, ample research avenues, the opportunity to learn from some of the world's foremost subject matter experts and the chance to interact with students from all corners of the world are what make the US such a preferred destination for a higher destination.
So if you have what it takes and are set on embarking on a meaningful academic journey to pave the way for a rewarding career, go ahead and make your choice – well it could be the best decision you ever took.
All the very best.
FAQs
What are the top 20 universities in the USA?
·         California Institute of Technology
·         Brown University
·         Stevens Institute of Technology
·         Dartmouth College
·         University of Central Missouri
·         Washington University in St. Louis
·         Tufts University
·         Rice University
·         Carnegie Mellon University
·         Emory University
·         Georgetown University
·         University of Notre Dame
·         University of California, Davis
·         Pomona College
·         Amherst College
·         University of Colorado Boulder
·         Vanderbilt University
·         University of California Irvine
·         Georgia Institute of Technology
·         William & Mary
What are the requirements to get into the top 10 universities in the USA?
• Three to four years of undergraduate study in a pertinent field.
• A GPA of at least 3.5, or 87% for a bachelor's degree.
• A GRE score of 330 or higher.
• Goal clarification.
• Research internships or Research papers that have been published.
• Project or seminar work.
• Two to three letters of support.
• Social and leadership activities.
Why are most of the top universities in the world in the USA?
The ranking is determined by a number of factors. You might want to examine each aspect to comprehend why, in accordance with many rankings, the USA is home to many of the best universities.
Examples of characteristics:-
·         Faculty salary
·         Student satisfaction
·         Research grants
·         Reputation
·         Endowment