Do you wake up early with full excitement for your studies or job? Most of us do not. Most of the students find their studies boring and unwanted.
Most of the people find their job boring and frustrating. This happens when you do not pursue a field in which you have an interest.
Career is one word that goes with us till our lifetime. When most of the students decide on 'which career is right for me' without any career guidance, they focus on two main things, first one is that earning from it should be fixed (at least up to 60 years of age) and secondly, we look for its future security and stability.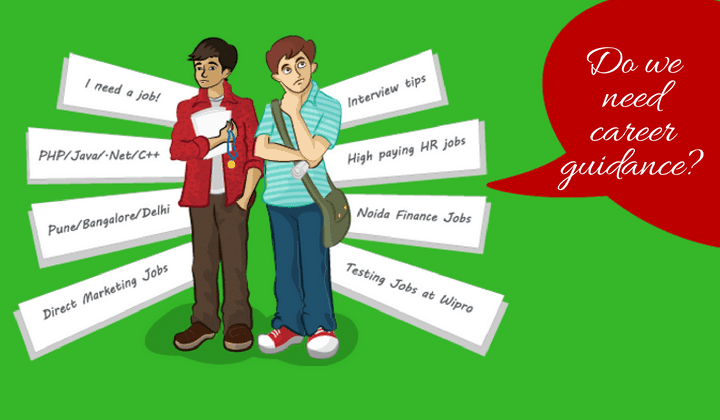 There are many people who are not happy with their career choice they made earlier. They try to find out an escape or an alternative career option which they probably wanted to do earlier in their life.
Fortunate are those who get a chance to change their career path but those who could not, feel suffocated everyday at their workplace.
Choosing a career is the biggest decision of anyone's life. Our life, happiness, way of living, peaceful mind everything depends on just one decision. The earlier we make a right decision regarding our career the more peaceful and stress free life will be.
We all do planning for a tour, for a wedding or for a daily life routine but when it comes to career planning people generally follow what others are doing.
Most of the people never plan their career due to lack of knowledge. They take a decision in hurry and randomly pick any career without considering many important things.
Mostly people choose a career because of these few reasons:
Due to family pressure
Due to market demand
Following the crowd or peers
Fear of not choosing mainstream career options
Lack of in depth knowledge about different streams
Due to these baseless reasons a person forgets considering his/her interest and commits mistake in choosing a career. Without considering the strong area or weak area students follow the crowd.
When you choose a career with this approach there are 99% chances of it being a failure or sometimes it leads to a frustrated life.
A young mind after 10th or 12th class is not mature enough to think which career is right for them. They can understand what they like or dislike but they cannot understand what their future with these options is.
Family or relatives are also sometimes misleading their children in their decision by considering what others are doing. Sometimes it's because they also do not understand the market trend of different career options.
Sometimes we feel lost and unable to take the important decision in our life.
We feel lost due to lots of career options available with us, sometimes many people come to guide us based on their own experience and giving you many suggestions regarding an unwanted career.
Sometimes you will also feel that there is no one who can understand your viewpoint and your interest. At this time comes the importance of career guidance from an expert career counsellor.
What is Career Guidance?
Career guidance is the guidance given to individuals to help them acquire the right knowledge and information necessary to identify a better fit career.
The career guidance process provides you with an expert and qualified guide who can understand you and your interests.
Through self-assessment tests, they will let you know your strengths and weaknesses.
A career guidance expert will tell you about the possible careers you can choose based on your interest and ability and will guide you with the future possibilities associated with that option.
Who can take Career Guidance?
At every stage of life, one can get benefit by taking career guidance. It is better to give it an utmost priority at the early stage of your life. So the best time to take career guidance from an expert career counsellor is when you are in school.
Career guidance helps you not only when you are deciding 'which career is right for me' but you can take guidance even if you want to change your job, you want mid-career advice or you want to change the entire course in the middle.
The intent of career guidance is to provide support to individuals throughout their career at every stage.
Why do we Need Career Guidance?
Many people face failure in their career due to a lack of guidance in their initial stages of life. These days there are plenty of career options available in the market. It's very difficult for a normal person or a student to choose a better fit career.
Whenever we take a career decision generally we do not figure out all possible details of a particular career or other career options available around us and their future security, market analysis and more.
A professional career counsellor will provide you with all these at one point. At every stage of our career life, we can consult an expert career counsellor to get a clear picture of the future and how to proceed for a particular career at every stage.
1. If you have questions in your mind like:
What career should I opt, should I go for engineering, which subjects to take after 10th board, what if I will take dancing as a career, what are the other options available, what is the future scope of a particular career and many more these kinds of questions.
If you are struggling to find the answer to these questions don't move here and thereby asking random people. You should release your tension and should take help of an expert career counsellor immediately.
Career guidance could make things a lot easier for you. If you want to see your career moving in the right direction then career guidance should be the utmost priority.
2. Why it is at the school level?
After school life, students get introduced to a new world that is the professional world, which is full of opportunities and competition.
These cannot be recognized by the students or by their parents because lots of lucrative career options attract them and by considering only a few factors they end up choosing a wrong career path.
For example: Some students think that they are good in Maths and science, without taking other factors in consideration, immediately they decide to go for engineering.
In reality, engineering is not that easy. It has multiple different subjects other than just science and math.
Later students find it difficult to handle and due to dissatisfaction, they tend to change it and also we see a lack in their performance.
A student who is constantly at 60-70% marks in school and expecting from them to become an IIT engineer or AIIMS graduated MBBS doctor, is not a good choice.
It is possible that student is interested in any other field or interested in some other subjects where he can do really well if it is chosen for his career.
This can happen with any student from any field. Decision made at school may break or make a student's career.
So it is better to take an expert career guidance after 10th, because the journey of your career starts when you are in your 10th grade. Whatever stream you choose after school decides your career.
3. How taking career guidance will help you?
The career guidance process provides you with an expert and qualified guide who can understand you and your interest. He will help you to know more about yourself.
The process of career guidance provides you with a secure and safe environment where you can discuss your problems, worries and dilemma in choosing a career.
One cannot choose a career based on the opinion of their parents, cousins, neighbors, friends or teacher because they will guide you based on their own experience regarding a particular career option.
But career guidance programs give you best fit career matches on multiple parameters such as interest, personality, aptitude, emotional quotient etc.
Your parents might be knowledgeable and want best for you, but choosing a career which fits you best and which makes you happy is difficult to choose without the help of an expert.
What an expert career counsellor will do?
They evaluate you by assessing your aptitude, personality and interest and help in picking the right career. They will make you understand your strengths and weaknesses.
They will let you know every detail about a certain career which you choose after assessment such as current market trend, future opportunities associated with it, job security and much more.
They provide insight for the best fit career and help you gain confidence. They provide you knowledge about how to approach and how to proceed with a particular career at each step.
Through proper planning and scheduling, they try to make your life more organized.
Through their career assessment process, there will identify your real potential and then guide you in selecting the right stream after 10the, the right course and career after 12th and graduation.
It also helps a professional in switching to the career of their choice. It will also guide a student if he wants to go abroad for higher studies.
A Real Story:
I will share the real story of my own brother. He chose science stream after 10th by taking advice from our father and one of his uncles and also because he was good in math and science.
Later he realized that studying science is not his cup of tea but still he decided to go for engineering because it was a famous trend back then. During the first year of engineering, he realized that he cannot continue his study in this filed.
In school, he was also good at other subjects but he followed the crowd.
After wasting three years of his life he decided to take help of career counsellor and now he is successfully pursuing third year of graduation in Bachelors of Arts field and now his vision is clear that what kind of career he wants in future or after his bachelor degree.
Do not make such a mistake and do not waste your time and energy somewhere else. Put it in a correct career path where you could be successful.
Utilise your strength in the right direction and that right direction you will get by taking career guidance from an expert.
Benefits of Career Guidance
1. It increases your knowledge base: Taking career guidance from an expert will give you an insight of every possible career options for you. You will get to know your interest and strengths and according to your choice, they will guide you its future prospects.
They will also guide you in skills required for getting better in a particular field and how you can proceed further freely.
2. It will eliminate your confusion: By assessing you they will let you know your true potential and will help you in choosing the best fit career among all possible career options.
3. Gives clarity of future: Sometimes we pick a career with half knowledge about it. It is very important that you know every detail about a career you want to opt.
We must know where this career will take your life and the future scope of it. It will also help you in stream, subject, career, course and college selection.
4. Ends parent-child conflict: Sometimes we make career decision by family pressure or peer influence. In this situation most of the time we ignore our passion.
But a career guidance expert will take in to account everyone's perspective, it will help you in choosing the balanced and best path according to your need and interest.
Online or Offline?
In this modern era, no one is untouched with technologies and the internet. It has the potential to reach even to the remotest place of the world.
Even you live in the farthest area or suburban areas where you are not finding right career guidance or any expert counsellor, don't ask random people around you for career advice.
Get the advantage of technology and the internet because these days one can take career guidance in both ways either offline or online from the comfort of their home. Directly they can chat with them and can remove their any doubt related to career.
There are plenty of online career guidance and counselling websites available these days where you can have a personal interaction with expert career counsellors.
To Conclude I would say we learn anything in two ways either from failure or by the help of right guidance at the right time.
It's your time to decide whether you want to waste your time by taking the wrong decision every time and getting failure every time or you want a successful life without wasting time.
The sooner you approach for career guidance the better you plan for the future.
When the crowd is following the mainstream jobs career guidance enhances your knowledge base and provides you with great ideas about different career options and their future security.
Choosing a career with this approach of career guidance will definitely give you a better career result which you will enjoy doing throughout your life.