Throughout the history, Indian women have come forward and played an important role for the country. Be it our freedom struggle, social justice or woman's equality, they have marched shoulder to shoulder with their men counterpart.
In this article we will explore 10 such courageous women who fought for Indian Freedom from the British colonial rule. 
From Rani Lakshmi Bai to Kasturba Gandhi, these women fought selflessly for our freedoms and helped shaping future of the nation.
Most of the women freedom fighters mentioned in the article are quite famous and everyone has heard their name before.
Let us dig deep into their lives and personality.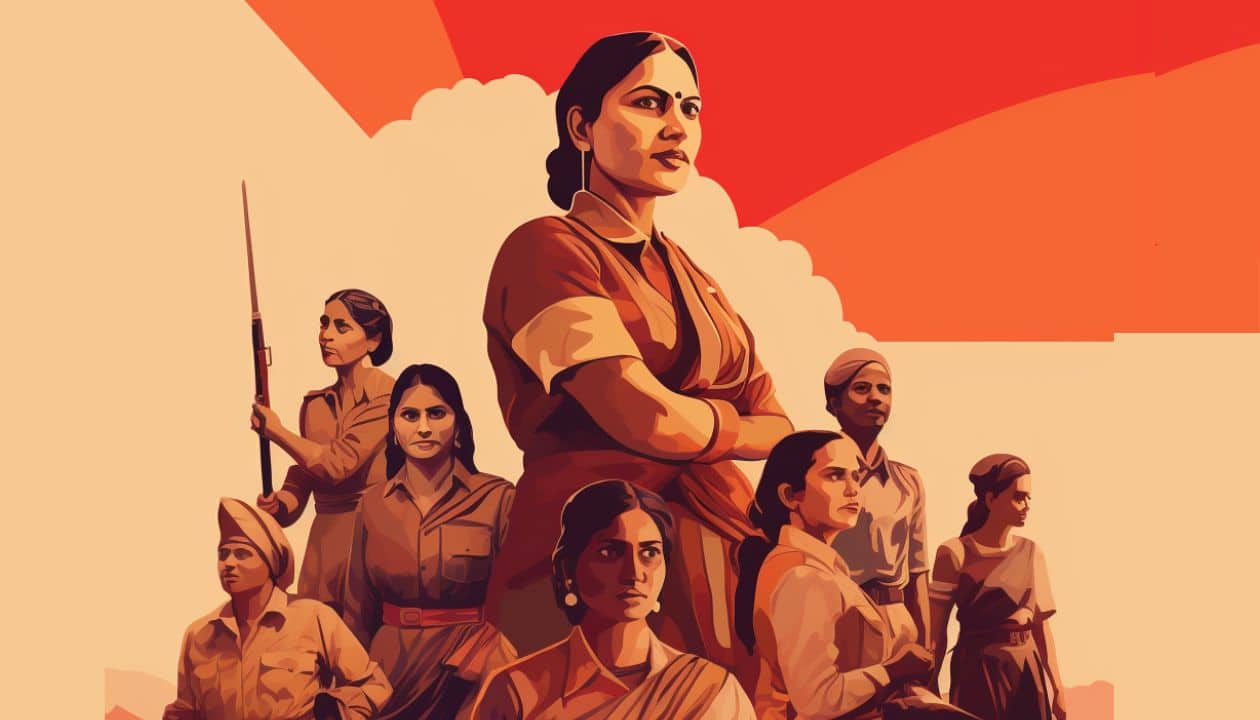 Top 10 Female Freedom Fighters of India
1. Rani Lakshmi Bai 
The most famous Indian women freedom fighter was Rani Lakshmi Bai. She was born on November 19, 1835 in Kashi and died on June 17, 1858.
Also known as Jhansi Ki Rani, she played an important role in the Indian Mutiny of 1857-58. She refused to give up her kingdom to British and defended it till her last breadth.
She fought her last battle in Morar with the East India Company led by Gen. Hugh Rose. Dressed as a man she fought fiercely till the very end but was eventually killed in action.
Later her heroic deeds inspired many other Indian freedom fighters to rise up against the British.
2. Sarojini Naidu
Also known as Nightingale of India was born on 13 February 1879 in Hyderabad to Aghorenath Chattopadhyay a scientist and Baradasundari Devi a Bengali poetess. She was not just a prominent political activist but also an exceptional poet.
After completing her matriculation at age of thirteen she went to Elphinstone College Mumbai and later King's College London.
After her marriage she took up various women related causes. She then joined Indian National Congress and participated in Khilafat and quit India Movement. After getting independence in 1947 she became the governor of Uttar Pradesh becoming first women to hold this office in India.
On March 2, 1949 she died in Lucknow, UP.
3. Kasturba Gandhi
Kasturba Gandhi was born on 11 April 1869 at Porbandar, Gujarat. She was born in a wealthy family and was married to Mahatma Gandhi at the age of 13. 
Kastubra stood by her husband for the fight for India's independence till the very end.
Kasturba Gandhi entered politics in South Africa in 1904 with her husband. In 1922, she participated in Satyagraha movement in Gujarat.
She also took part in other civil disobedience campaigns and marches. As a result she was arrested and jailed numerous times. In 1942 she was arrested for participating in Quit India Movement and sent to detention camp in Pune. She finally died in the Pune Jail on 22 February 1944 at the age 74.
4. Savitri Bai Phule 
Savitri Bai Phule was born on 3 January 1831 in Naigaon, Maharashtra. She was first female teacher in India, a social reformer who fought for the rights of women and lower castes in India.
She opened first girl's school in Pune in 1848. Her work was mainly against fighting caste system in India during the British rule. In 1873, she founded the Satyashodhak Samaj which worked towards abolishing caste system in India.
She died on 10 March 1897 in Pune.
5. Aruna Asaf Ali
Aruna Asaf Ali was an Indian educator, political activist and publisher. She was born on 16 July 1909 in Kalka.
She was born into a wealthy family and graduated from Oxford University London. After completing her education she got married to fellow freedom fighter Asaf Ali and became a member of Indian National Congress.
She was arrested in 1932 for her involvement in Civil Disobedience Movement and sent to jail for 9 months. She was again arrested for participation in the Quit India Movement in 1942 and served 2 years in prison.
Post Independence she became Mayor of Delhi from 1958-1967. She died on 29 July 1996 in New Delhi.
6. Begum Hazrat Mahal
Begum Hazrat Mahal was one of the leading figures in the 1857 War of Independence. She was Begum of Awadh and wife of Nawab Wajid Ali Shah.
Once British took over control of Awadh and send her husband to exile, she joined the resistance movement. She organized the rebel forces and led them to fight against the British. This sparked nationwide rebellion against the British rule.
However after a long battle she was defeated and was forced to flee. We remember Begum Hazrat Mahal for her fight against the British rule.
7. Vijaya Lakshmi Pandit
Vijaya Lakshmi Pandit was an Indian freedom fighter, diplomat and a politician. She was born on 18 August 1900 into a wealthy and influential family in UP.
She was educated in England and Switzerland. After completing her education she returned to India and became involved in the Indian independence movement. Later she joined Indian National Congress and worked closely with Mahatma Gandhi. She went to jail several times during the freedom struggle.
After gaining independence, she served as the first ambassador to the Soviet Union and later became president of United Nations General Assembly.
8. Madam Bhikaji Cama
Bhikaji Rustom Cama or simply known as Madam Cama was one of the prominent figures of Indian freedom struggle.
She was born on 24 September 1861 in an affluent Parsi family.
She started her activism in October 1896 by joining the medical team which was providing care to people afflicted by famine and bubonic plague. However Cama contracted the plague herself and was sent to England for medical care in 1902.
Her returned to India was prevented by the British. She was allowed to return only if she promised not to participate in nationalist activities, but she refused.
Cama was involved in the home-rule movement which demanded self-rule for people in British India. She was also vehement supporter of gender equality.
She continued her struggle in exile. On 22 August 1907 she raised Flag of Indian Independence at the international Socialist Conference in Stuttgart, Germany.
Cama remained in exile until 1935 before returning to India in the same year. She died next year aged 74 at Parsi General Hospital on 13 August 1936.
9. Kamala Nehru
Kamala Nehru an Indian independence activist was wife of first prime minister of India Jawaharlal Nehru. She was born on 1 August 1899. She was married at the young age of 16 and in 1917 gave birth to India Gandhi.
Kamala Nehru participated in Harilal Gandhi National Movement in 1931 and quickly emerged to prominence. She organized groups of women and picketed shops selling foreign cloth and liquor.
Unfortunately she died at a very young on 28 February 1936 in Switzerland due to tuberculosis.
10. Kamala Chattopadhyay
Last but not the least in our list is kamala Chattopadhyay an Indian social reformer and independence activist. She was born on 3 April 1903 in Mangaluru into a wealthy Brahmin family. Kamala was inspired by her father who was close associate of Gandhi and Nehru.
Shortly she moved to London along with her husband. But she returned to India when she came to know Gandhi's Non-Cooperation Movement to join Seva Dal, an organization to promote social upliftment of poor.
She was also part of famous Salt Satyagraha Movement in 1930. When World War II broke out she presented India's case to the world to gain support for independence.
She continued to play her role after gaining independence. She was responsible for the renaissance of Indian handicrafts, handlooms and theatre in independent India.
She died at the age of 85 in Bombay.
Although there are many unnamed women freedom fighters in India who dedicated their lives for Indian independence. However these were 10 most prominent and very popular women freedom fighters of India.
I hope after reading this article you will get an inspiration to do something good for the country.