Artificial Intelligence is a rapidly growing sector in India. Unfortunately, there aren't several highly reputed universities and colleges in the country that offer Certificate, Diploma, Graduate of Post Graduate degrees in Artificial Intelligence
As a result, students desirous of learning AI have to look for admissions at universities of repute in the US, UK or other countries.
Fortunately, some of the leading universities in India understand the growing demand for AI courses and are offering various graduate, post graduate as well as diploma and certificate degrees in Artificial Intelligence.
Top AI Courses in India in 2020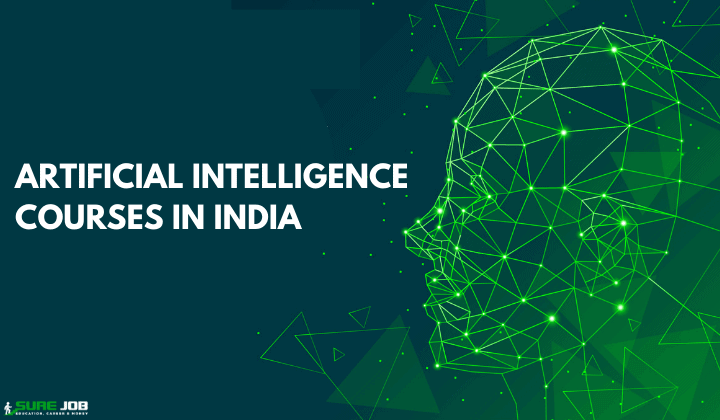 If you're interested in doing an Artificial Intelligence course in India, try any of these topmost universities. This list is purely based upon merit and reputation of these universities.
1. Center of Excellence in Artificial Intelligence (IIT Kharagpur)
Indian Institute of Technology, Kharagpur (IIT-KGP) offers Bachelor of Technology (B-Tech) and Master of Technology (M-Tech) courses in AI from its Center of Excellence in Artificial Intelligence.
This college is ranked the topmost in India for AI courses. That's understandable because IIT Kharagpur has always been at forefront of courses that introduce newer technologies to India.
Just for your information, IIT's around India are also offering AI courses for its B-Tech and M-Tech (Computer Science) students. These AI courses are part of the curriculum.
However, IIT students can specialize in Artificial Intelligence. As usual, IITs in India boast of the best faculty members and have excellent training systems. Hence, their courses in AI rank as the best in India.
2. Indian Institute of Management (Various Locations)
Though Artificial Intelligence isn't closely connected, Indian Institute of Management or IIM offers Artificial Intelligence certificate courses from its various campuses. These are short-term courses conducted for post graduates, especially those at top managerial positions and businesspersons.
The AI course from IIM is very advanced. Hence, it's ideal for candidates that have some knowledge of machine learning or are already working in the field.
These five-day courses carry a hefty price tag of Rs.125,000 with a 10 percent early bird discount. However, the price is more than justifiable considering the IIM certificate and high skills of faculty members.
3. Department of Computer Science (Mumbai)
University of Mumbai's Department of Computer Science offers Bachelor of Technology (B-Tech) and Master of Technology (M-Tech) courses in Artificial Intelligence.
This is a high-demand course and hence, you'll require superb skills to crack entrance exams and get an admission. Seats are also reserved for foreign students that come under the Overseas Citizen of India (OCI) or general category (foreign nationals) as well as Non Resident Indians (NRIs).
St. Xavier Institute of Technology also offers the course from its campus in Mumbai. Since AI is part of Computer Sciences and comes under the engineering category of courses by University of Mumbai, you will need high marks in Higher Secondary School to qualify for the course, along with high scores in the entrance exam.
4. Birla Institute of Technology & Science- Pilani (Online)
If you want to do an online course from one of the most respected engineering colleges of India, go for the 11-month Post Graduate Program in Artificial Intelligence and Machine Learning.
Remember, BITS-Pilani is one of the foremost engineering colleges of India. Though they're offering an online course, you should have adequate resources to practice what you learn.
The course consists of two semesters. The fees are broadly Rs.55,000 per semester, without taxes or other charges. This means, the course will cost you over Rs.110,000. Though this amount sounds stiff, the fees are worth every Paisa.
That's because BITS-Pilani mode of education is renowned worldwide and their degrees have global acceptance.
5. Veermata Jijabai Technology Institute (Mumbai)
Regardless where you stay in India, you'd surely have heard of VJTI. This premier engineering college was earlier known as Victoria Jubilee Technical Institute.
Its identity has since changed to Veermata Jijabai Technical Institute and is located in Mumbai.
And just for your knowledge: VJTI students were involved in creating robots for various missions to the Moon and Mars launched by National Aeronautics and Space Administration (NASA) and Indian Space Research Organization (ISRO).
These were AI based projects. VJTI, Mumbai offers Bachelor and Master courses in Computer Science & Technology with special focus on Artificial Intelligence.
6. Department of Information Technology (Kolkata)
Jadavpur University, Kolkata offers Bachelor of Computer Science & Engineering (BE) and Master of Computer Science & Engineering (ME) courses in Information Technology, Computer Sciences and Artificial Intelligence.
The Jadavpur University ranks among the best and oldest seats of learning in India and its degrees are valued worldwide.
However, entrance for all engineering courses at Jadavpur University follow a stringent process. This involves a very tough entrance exam.
The BE and ME in IT and AI offered by Jadavpur University are full-time. They involve extensive classroom study with live projects. Join this course only if you're very serious about making a career in AI.
7. Department of Computer Technology (Hyderabad)
University of Hyderabad offers a wonderful Master of Engineering course for Artificial Intelligence as part of its offerings from the Department of Computer Technology.
Anyone with an engineering degree Computer Technology, IT, Computer Science and related fields can join this two-year highly specialized course upon meeting the entry criteria set by the university.
This course ranks among the best post graduate degrees in India. Hence you'll have to contest with several other competitors to get a seat for this course.
One of the advantages of this course are the internships and live projects you could do in Hyderabad with the various Indian and foreign IT companies that are in the city.
8. NMIMS (Mumbai)
Master of Technology- Artificial Intelligence is yet one more superb course you can do in AI at the very famous Narsee Monjee Institute of Management Studies in Mumbai.
This two-year course comes from the Mukesh Patel School of Technology Management & Engineering located in suburban Mumbai.
It is suitable for BE and B-Tech engineers in Computer Technology, IT and Computer Sciences that wish to advance a career in AI, since this course exclusively deals with Artificial Intelligence.
NMIMS M-Tech Artificial Intelligence course is said to be unique. It prepares graduates for creating AI solutions, identifying needs for AI in an organization and overall AI and machine learning management.
9. School of Computer & Information Sciences (Distance Education)
Recognizing the importance of Artificial Intelligence for the development of India and to bring AI studies to rural folk, IGNOU, New Delhi offers a Distance Learning course.
Therefore, Indira Gandhi National Open University or IGNOU offers two distinct engineering courses with focus on AI. One of these is the Bachelor of Computer Applications and another, Master of Computer Applications.
While the BCA course covers AI and its various elements as part of the syllabus, the MCA course is more specialized. In fact, students that hold a BE, B-Tech or even a Bachelor of Science in Computer Sciences or related field are welcome to enroll for these courses.
These are home study or Distance Learning courses with some degree of online training. Hence, you'll require resources to work on AI related projects at home or workplace.
10. University of Madras (Chennai)
Chennai-based University of Madras has a selection of four post-graduate courses in Computer Applications that include Artificial Intelligence as one of the main subjects.
These include Master of Computer Application, Master of Science in Computer Science, Doctorate in Computer Science and Master of Philosophy- Computer Science.
As usual, Bachelor degree holders in IT and computer sciences can enroll for the Master's courses.
However, to get a M.Phil or Ph.D qualifications, you'll require an ME, M-Tech, MSc degree in computer sciences and related fields. These are regular classroom courses that also include projects, practical training and workshops.
Other Institutes Offering AI Courses
Countless courses in AI from various private and unknown universities as well as online courses will pop up when you search for Artificial Intelligence studies in India. However, be careful before you join any of these.
The reason is simple. Artificial Intelligence or AI is a very highly specialized topic. Hence, the course requires extremely well trained and highly qualified faculty.
At the same time, the institute should have very advanced labs and other infrastructure to provide on-hands and practical training to AI students.
Unless you're careful, you might merely end up with a degree in Artificial Intelligence but not skills in the field.
Closing Thoughts
The top 10 Artificial Intelligence courses in India that feature above are selected after thorough research. It takes into consideration the reputation of the university and relevance of the degree.
Therefore, select the best one because learning or teaching Artificial Intelligence isn't for everyone. That's because AI faculty members come at a high cost and so does equipment and labs necessary to train you on this complex yet interesting and highly relevant field.
Selecting a course from any of the top 10 institutes ensures you get the proper training and have no issues finding AI jobs in India and abroad.