There is no specific age to realize your dreams. People say this a lot, but in reality, things are quite difficult. At present, it is quite easy to make a career in the early twenties than it is in the forties.
If you are in your forties and want to change your career without any idea, you have come to the right place. In this article, you will find the right motivation and the career choices you can look forward to. 
The world has advanced a lot, and there have been a lot of changes in all sorts of career fields. New career opportunities have arrived and old career choices are fading gradually.
A lot of people in their forties are looking for a chance to transform their lives and live their dreams once again. To be honest, it isn't easy to start over without any idea. But it isn't as hard as you think; all you need is the right kickstart. 
Read this article thoroughly and find out all the skills you can acquire to make money.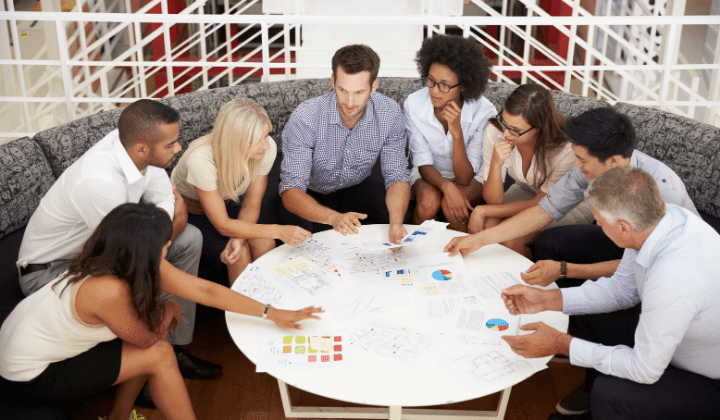 Examples of successful people that switched career in their 40s
You are not the only one if you are in your forties and want to change your career. There is a list of world-renowned people that have started a new life and found unparalleled success. Here are a few examples-
Sam Walton opened his first Wal-Mart at the age of 44.
Momofuku Ando was 48 when he invented Ramen noodles that became a staple food for college students around the world.
Colonel Sanders was 62 when he started KFC.
Arianna Huffington was 55 when she started the very popular digital media publication The Huffington Post.
Reasons to change your career in the 40s
Every person has their own reason for trying a new career. Some want to try new things while others want to become wealthier. Here are some other reasons-
To make life less boring: Most people don't enjoy their job. It is more like a burden for them. Some people don't even realize how much boredom, stress, and negativity a job can induce in their life if they don't enjoy doing the work. Some people keep on doing the same job till the end, while others decide to break the vicious cycle and pursue a new career. 
To be more independent: Financial stability is also one important reason why people change their career in the 40s. Some adults want to 
To pursue hobbies: Many people in their late adulthood want to pursue hobbies that don't match the career they have been pursuing for years. 
To cope up with unexpected situations: As I mentioned before, a lot of people change their job because of unexpected situations like the shut down of a company, the urgency to move to a new location, the downfall of a business, or when someone is fired unexpectedly. These things can happen to anyone. 
6 Step Process of Changing career in your 40s
Every goal requires proper planning. The same goes for changing careers.
1. Research all the opportunities lying ahead of you
Start from scratch. Are you aware of all the choices you want to pursue? If not, list everything on paper and research all the opportunities that originate. This will give you a rough idea of your new journey.
In addition, also seek help from your friends and professional that work in preferred fields. It ould give you an idea of how to start and have the right approach towards it.
2. Choose a field where you want to work
After making up your mind, choose the most relevant career option for yourself. This can be a tough process and can really consume your time if you are stuck between two or more choices. After going through the SWOT analysis, you can choose the final career path you want to pursue. At this stage, don't worry if you have more than one choice. You can do thorough research and compare different choices.
3. Search the internet for qualification requirements
Now it's time to compare and analyze the pros and cons of each prospective career choice. Compare each choice based on opportunities, location, salary, etc., to filter the most profitable profession.
4. Ask industry experts and peers
After doing a personal comparison, it is very likely that you are confused. Therefore, if you want to be sure of something, always consult a professional individual, be it your friend, colleague, or relative. Industry experts know the in-depth things that you won't otherwise know.
5. Improve your skills
After deciding the career of your choice, it is now time to acquire all the skills you need and to learn them. For example, if you want to enter the field of Search Engine Optimization, it is essential to take some online classes and courses on SEO. you can take online SEO courses from websites like Udemy, Coursera, Skillshare, etc.
6. Build a network
Once you have acquired the skills, it is now time to build a network of like-minded people. Building a network is a long term investment that can help you in many ways. You can get a dream job, learn new things, and establish a rapport among people. The best way to build a network is via social media handles like LinkedIn and Facebook. In the 40s, people generally have lots of genuine contacts. If you already have a few contacts of people already in your preferred career field, it is a bonus.
Build a resume and apply for jobs
After acquiring the appropriate set of skills, it is now time to craft a killer resume. This is a very important process as you are walking into a totally new path. Be precise and show an honest professional side.
After this process, now it's time to apply for a job. Search for a job online via a recruitment website or through mutual contacts. Wait for a response and proceed further.
Follow your path and kickstart your career again
Now it is time to take the leap of faith. Take a deep breath and gather some zeal to take the next step. Tell yourself age is just a number and focus on the near future. Picture yourself in a few years and start your journey. With the right approach, you can kickstart your career again.
The career paths you can choose in your 40s
1. Career counselor
Average salary- $30,000 to $40,000 per year, or more.
Responsibilities- The basic responsibility is to help young students in choosing a suitable career path.
Skills required- The topmost skill is probably the right and up to date knowledge of different career paths. Different students have different tastes; therefore, it is important to show the right part to them individually.
The best thing about starting in the 40s is that you have lots of experience in the relevant field. This experience can be used to give career counseling to other people. If you have enough knowledge of different career streams, you can make a career out of it. With proper contacts and the right start, you can become a career counselor. At present, career counselors get a huge income and you can also try it out. With proper experience, it would be a cakewalk for you.
2. SEO expert
Average salary- $40,000- 50,000 per year
Responsibilities- To handle the technical, on-page, or off-page SEO of a website.
Skills required- The right knowledge of SEO and the stay up to date knowledge of recent changes in the Google algorithm.
SEO or Search Engine Optimization is a broad topic that generates organic traffic for businesses online. There are basically three types of SEO- technical SEO, on-page SEO, and off-page SEO. don't worry if you don't know a single thing about SEO. you can learn how to optimize websites and their content to rank on search engines like Google.
Once you get a thorough knowledge of SEO, you can apply for jobs and make good money out of it.
3. Digital Marketer
Average salary- $40,000- 50,000 per year (or more)
Responsibilities- To implement various digital marketing strategies and improve the reach and sales of a brand.
Skills required- The right knowledge of digital marketing tools available in the market.
Digital Marketing is something that you have probably heard of in the past few years. Digital marketing is not new but it certainly has become a personal favorite of millions of youth. Digital Marketing is a vast field and it consists of.
Read: Best jobs in digital marketing
4. Virtual assistant
Average salary- $20-$30 per hour
Responsibilities- The role of a virtual assistant is to manage tasks for people over a distance. It is a well-paid job and has become a great way to make money in the pandemic.
Skills required- The topmost skill of a virtual assistant is management and coordination. The tasks include answering calls, writing emails, planning meetings, arranging online appointments, etc. Apart from communication, a virtual assistant should be available for a designated time. 
5. Translator 
Average salary- $10-20 per hour
Responsibilities- A translator is responsible for translating one language form into another. If you are a polyglot, it is a great opportunity to make money as a freelancer or as an in-house translator.
Skills required- To become a translator, a high proficiency in two or more languages is a must. Apart from that, precision, patience, and the ability to retain the natural meaning of a language while translating are essential in a translator.
Translators convert one language into another. They are crucial for businesses as well as international relations. As a translator, you will translate articles, essays, books, and reports into another language. To become a translator, it is essential to have a degree or a diploma in one or two languages. Bilingual people can also try out this profession.
6. Transcriber
Average salary- $15 to $20 per hour
Responsibilities- The role of a transcriber is to convert audio/video into written text. Transcribers are efficient people who can fastly understand audio recordings and type simultaneously.
Skills required- A transcriber needs to have excellent listening skills, fast typing, and giving error-free text format.
7. Event Planner
Average salary- $30,000 to $50,000 per year or more.
Responsibilities- The role of an event planner is to plan, coordinate, and manage an event. Individuals with great communication and time management skills are suitable for this job.
Skills required- There are so many skills that make up an efficient event planner. It starts with time-management, communication, hospitality, budgeting, coordinating, and so on.
8. Web developer
Average salary- $50,000 to $60,000 per year
Responsibilities- Web developers craft a website and focus on the website design and layout. There are three types of web development- Backend Development, Frontend Development, and Web Development. All of them are concerned with proper website optimization.
Skills required- Web development is a technical role. They have a vast knowledge of web development languages like JavaScript and Java. Individuals with a degree in computer science are preferred as web developers.
9. Human Resource Manager
Average salary- $50,000 to $60,000 per year
Responsibilities- An HR manager is responsible for hiring staff, recruiting interns, and managing them overall in the workplace.
Skills required- Skills like understanding human behavior, communication, etc., are a must in every HR manager. People with a degree in human resources or an MBA are suitable candidates for this role. You can also do a diploma or a certificate course in human resources to find a relevant job in this sector.
HR makes sure to hire the right individuals for a company. Their job is to make sure the proper connection between the boss and the employees.
10. Project Manager 
Average salary- $70,000 to $80,000 per year
Responsibilities- Project managers coordinate and carry out projects skillfully. Here, the experience is more valuable than qualification.
Skills required- Project managers have exceptional communication and time-management skills. If you have an MBA or any other management degree, it is a plus point. The salary of a project manager is quite handsome and you can go to almost any industry you want to.
11. Patient care
Average salary- $10-12 per hour
Responsibilities- patient care personnel play a vital role in patient care and *0
Skills required- The ability to handle patients and fulfill their various needs. Health care workers stand at the forefront of healthcare. It is more of a humanitarian work than a job.
12. Medical Administrative Assistant
Average salary- $10-15 per hour
Responsibilities- Medical administrative assistants are agile, alert, and efficient individuals. They are responsible for planning, booking appointments, billing, making medical charts, and managing medical reports.
Skills required-
Medical administrative assistants must be familiar with the hospital environment. They should be well-aware of all the technical terms that professionals use on a daily basis. To become a medical assistant, one should possess an undergraduate degree in the related field. There are also a lot of vocational courses that can add to the resume.
It is a perfect job for people who want to get the right exposure to the medical field.
Conclusion
At first, the idea of pursuing a career in the 40s might seem daunting and even impossible. With all the information in this article, you can find the best choice and pursue it with the same zeal as before.