A Job Transfer may bring in your life excitement, higher position in job, good pay package, new location and new responsibilities. For a kid a job transfer may bring changes in life like new neighbourhood, new house, new room, new school and new location.
But your job transfer may make the kid traumatic. They don't understand about the relocation. It's anytime better to discuss with your kid about the job transfer in advance.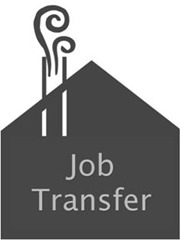 Here are some tips on How to discuss Job Transfer with your kids.
1. Communicate Positively & Clearly
Start discussing with the kid about your job transfer in advance i.e. a month before so that till you shift to the new location you kid may be prepared mentally.
If you are haunting a new place to stay, let the kid also know about the new home. Even while choosing the new school involve the kid in the discussion show the photos of the school, let them know what extra facilities are there in the new school.
Make the conversation with kid positively make understand them how the new place and what all benefits he/ she will be getting after moving. Every time you discuss about job transfer have a positive attitude towards the new decision.
Let them know where you are relocating like tell them the place, city, country name. You can also show the new place on the map.
If your job transfer is every time the part of your job then let them know that every time you will get the job transfer and kid will be getting every time the new friends and the new places to visit. Try to show the advantages which kid will get after relocation.
2. Try to Understand Kids Mindset
Your kid may also want to discuss about the new location with you and may have different queries. Try to solve them. Listen what the kid is saying about the new location or new school. Respect kids feelings as your job transfer may not be a big issue for you but for kid it may be.
Even you can let them know all the household belongings will remain same in the new house as kids are attached to the belongings also. Even they can carry all their toys to new place.
3. Keep the Routine Same
At present you may have particular schedule like morning walk or playtime or having dinner or lunch at a particular timing. Keep the schedule same after the relocation as kids also gets used to daily routine and the change in routine may also distract the kid.
Even the kids furniture like sleeping bed, keep the same as kid may feel more comfortable.
4. New Activities
While discussing the job transfer you can let know your kid about the new activity classes he/ she will be joining. By joining the new activity classes your kid may feel eager and interested for the new location. Also kid may not feel lonely after relocation.
5. Bonding with old Friends
Due to your job transfer kid may think of losing his/her best buddies and will start missing at new place. You can commit them of calling kids old friends at a new place after relocation or on birthdays. Vis-a-Versa you can commit them of taking them to the old place to meet old friends.
6. Introduce to new neighbours
If you are visiting the new places before shifting don't forget to introduce your kids to the new neighbour friends. Also you can let them know how to start the conversation with the new friends.
After shifting to the new location your kid may become more confident of getting new friends. Some kids may take time to make friends so you have to help them.
7. Why Job Transfer?
Clearly explain about the job transfer to the kid. Your pre-school goer kid may not understand about job transfer but definitely your grown up kid may understand.
Explain them why the job transfer and why you have to accept the job transfer and what will happen if you don't accept the job transfer. Let them know it's a part of your job.
This way you can always prepare your child for shifting, anyhow they will get adjusted to the new place but at the last you have to give them time to get adjusted to the new place.