An exceptionally important document, there is now no doubt that a resume is a critical part of active job search. It forms the basis of attaining a lucrative designation at imminent industries and organisations.
Due to the significance of this piece of paper, much advice has been rendered regarding the different ways to draft a crisp and succinct resume.
Numerous formats are floating around in the employment circuit ranging from traditional to modern, effectiveness of which depends on the target institution and available job profile.
Importance of a Resume
A good resume is one which is concise, clear, consistent, and easy to read. It needs be formulated in a professional manner, highlighting your key strengths and competencies in a flash.
Personally crafting a resume can be very tricky and caution needs to be borne when listing work history and allied qualifications in a gist. Without the ability to write this professional document, your career might just go down the drain. Here is what we need to know about the importance of this qualification statement:
Changeover
Effective resume writing reflects your ability to transition between the two phases of education and employment. During the learning phase of our lives, focus is primarily set on the theoretical aspects of our career goals.
It is only when we are out of this protected system that we are expected to demonstrate the practical application of our inherent skill set. This is but true for both school students and university graduates.
Your aptitude in transferring theoretical knowledge into practical use in a work milieu should form an important part of your resume.
First impression
A resume is nothing but a brief description about yourself. It projects your personality and achievements in a nutshell, and is hence quite an important tool towards imparting the 'first impression'.
The mark left behind by a professional resume is permanent, and can work miracles in landing your dream job. It not only depicts your seriousness in applying for the job but also gives a glimpse of your literary skills. It showcases your ability to compose in a logical manner so as to make it feasible for the recruiters to grasp the mentioned capabilities.
Visibility
Quality craftsmanship in this regard also assists in emphasizing your resume amongst many others. Companies are bombarded with countless requests after every job advertisement.
It is imperative, if not crucial, to fabricate and present this document in an official manner in order to stay ahead of others. Instant visibility of your confidence will ensure definitive call-backs, hence, eradicating the agony felt when waiting for an interview request.
Additional information
A complete resume is often accompanied by a cover letter or a statement of purpose. These papers provide additional, detailed information about your competencies and general achievements.
Through these documents an individual can explain his responsibilities and duties, which facilitate his growth from one position to another. They are nothing but proof that you have complete understanding of your tasks and accountabilities and how they fit into the overall goals of the institution, effectively.
Resume Writing Services
Many individuals find it quite daunting to craft a self-made resume. Poor writing skills, lack of confidence, and inconsistent work history are some of the reasons behind this hesitation.
An answer to their prayers, several resume writing services have surfaced which provide specialised help and support in resume formulation. They have the creativity to put a spin on phrases, tweak your qualifications, and brush your employment history.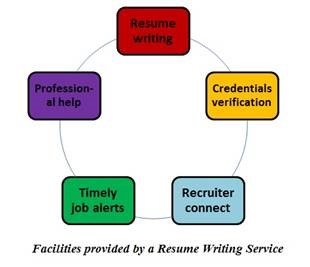 Importance
Resume writing services are employed to help create original, attention-seeking, and professional documents which present our skill-set and employment history in the best possible manner.
A formal, well-written resume is like a shining beacon towards attaining your dream job. It assists in positively connecting with your prospective employers, and makes the huge difference between being hired or not.
Confused about how to begin or what to write in your resume? Contact a resume writing service, talk to their professionals personally, and you shall definitely receive all the assistance that you so need.
Certifications
It is imperative, when making a selection, to choose a certified resume writing service. When collaborating with a writer, make sure to talk to the professional beforehand, check his references, review his uploaded sample resumes, and assess the level of comfort felt when interacting with the same.
Diligent perusal of the first draft of your resume is mandatory, as it will establish the guidelines and trust required to move forward towards the completion of the process. Conduct meticulous research and make an informed decision when hiring a particular service.
Some of the resume writing certifications are:
Certified Expert Resume Writer (CERW)
Nationally Certified Resume Writer (NCRW)
Master Resume Writer (MRW)
Certified Professional Resume Writer (CPRW)
Selection
When making a decision, it is very important to inquire about the professional writing experience of the writer. Generally, master resume writers are supposed to have a minimum paid writing experience of about 5 years.
Apart from their qualification, they need to give a 100% job satisfaction guarantee to attract prospective clients. However, this is a little difficult to attain, hence, the least a writer can agree to do is rework your resume as many times as possible till it becomes acceptable.
You can also check the writers' testimonials on LinkedIn to get a better idea of their quality of work. You can also go for Career guidance and Job Interview questions because that will help you add more skills in resume and will make your selection process much easier.
Conclusion
It is evident that a resume can make or break your career. Its impact is massive, all the more facilitating the need to craft a proficient, attention-seeking qualification document. Employing resume writing services has become an up-coming trend, with many individuals gladly shifting this onerous burden to expert shoulders in order to yield desired results.
Author Bio: Tina Jindal is a professional content writer who works on a variety of topics like employment, real estate, and education. She has been involved with renowned publications and has tried her hand at editing works on Cookery, Gardening, Pregnancy, and Healthcare. She loves to travel and is crazy about dogs.