Out of the 1.2 billion Indian population, which is about 17% of the world's total, a whopping 50% is aged below 30. This makes India the most powerful country in terms of a very important resource pool, essential for almost every form of work: the youth.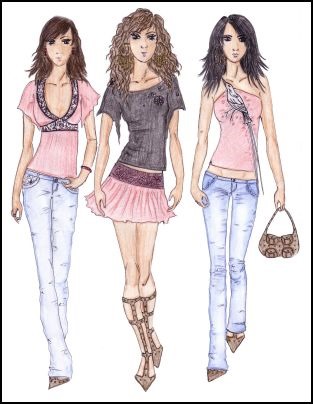 Indeed, we have a population that if given the right direction can put the world upside-down, change the picture of our hold on the global market and grab the front roles in almost any field.
To back the young power and help them achieve professional soundness, there are many good educational institutes that impart quality education.
What lacks is the mentality to think out-of box. There is a bit of consciousness in the minds of the youth when they are choosing their career path.
A herd mentality to follow what others are following, without even thinking if it suits their skills is a regretful reality that is limiting the growth of the Indian youth to only a few popular sectors.
The result is devastating. There are very few jobs left for very popular fields like Engineering and MBA, while not very popular fields like space research or aviation, for instance, are short of specialized man power.
Fashion designing is also one such field that despite of good opportunities to offer, has been largely ignored. India hosts some world class fashion schools providing courses in various niches.
Many options are available for taking fashion designing courses in these schools: part time, full time, diploma courses, degree courses, post graduation courses and even online courses. The youth should start thinking about this field as a prospective career.
Here we present a brief outlook of some of the most popular fashion designing courses available in Indian fashion schools:

Diploma Courses in Fashion Designing
Diploma courses offered at various institutes span differently from around a year to three years in some cases of full-time study of a dedicated subject from the field of fashion designing.
Although the term diploma in fashion designing is briefly used to refer to such diploma courses, there are institutes that offer an array of diploma courses under various niches of fashion designing.
The names of such courses may differ widely with every institute. This, however, does not make any difference as long as the scope of the course is same, as long as the same subjects are covered and the same kind of knowledge is imparted.
Though it is quite difficult to list all the diploma courses available at the thousands of fashion designing schools all over the country, it would also not be possible to give due justice to them if we visit them very briefly.
So, we are just covering an overall perspective of what kind of courses are possible for the time duration you wish to spend in learning and what suits your prior educational qualifications. Here's what we have found:
Graduate Diploma Program in Apparel Design and Textiles
This is the most common diploma program and is available with almost every fashion design school in India.
The program covers professional training for the specific technical skills required for the current trends in apparel designing, garment construction, pattern cutting, forecasting along with hands-on experience in the field of textile design and manufacture.
Eligibility: A 10+2 candidate from any field, a graduate in any field can take this fashion designing course. Institutes hold their entrance exams, the scores of which determine the chances of getting the admission.
Duration: 1 to 3 years depending upon the institutes and course matter covered.

Diploma Program in Leather Processing, Manufacture of Leather Goods and Footwear Design and Manufacture
Diploma programs in leather processing, design and manufacture of leather goods, footwear design and manufacture are generally not available with every other fashion school.
The heavy duty machinery required for this field makes the availability of this course limited to very few institutes in the country. Some of the commonly known institutes that host these courses are the following:
Center for Leather Goods & Accessories Footwear Design and Development Institute (FDDI), Noida
National Institute of Fashion Technology, New Delhi
Anna University, Chennai
Eligibility: A 10+2 candidate from any stream along with the scores in the entrance examination.
Duration: 2 years
Diploma Program in Apparel Merchandising & Logistics Management
Apparel merchandising diploma involves the training about setting up displays and market fashion. Individuals taking the course gain career opportunities as fashion marketing representatives or visual merchandisers.
The subjects covered under this diploma in general are fashion marketing, accounting, retail buying, visual merchandising and some subjects related to marketing.
Eligibility: Any Graduate, 10+2 Pass-out, Good score in entrance exams
Duration: 2 years
Degree Courses in Fashion Designing
Degree courses offered in fashion designing cover a full fledged syllabus of various subjects in fashion designing. Where the diploma courses offer just a brief overlook of some of the basic subjects, degree courses cover specific subjects in detail.
Degree courses offered in Indian fashion design colleges are mostly of a duration of three to four years and are available at most fashion design institutes.
While diploma courses offer their share of jobs and good opportunities, a degree course is considered more reputable and has good prospects when compared to diploma courses.
Following are some of the most popular degree courses offered in various Indian fashion design institutes.
The names might well change with institutes and the course matter covered as well can change, but the general format of the degree course remains the same according to the niche chosen.
B.Sc – Fashion Designing & Apparel Designing
B.Sc – Jewellery Designing & Management (B.SC. JD&M)
B. Sc Degree in Fashion, Interior and Textile Design
B.Des. (Fashion Design)
B.Des. (Leather Design)
B.Des. (Accessory Design)
B.Des. (Textile Design)
B.Des. (Knitwear Design)
Eligibility:
While most institutes allow 10+2 candidates to appear at their entrance exams, some might as well look for good scores in it.
Some institutes entirely take admissions according to the scores that candidates gain at the respective institutes' entrance exams.
Fashion design Degree courses offer a wide variety of career opportunities as designers with many prestigious design brands and manufacturers.
The huge demand for designer apparels and accessories in the local market as well as the global market has helped in widening the scope of the already abundant opportunities.