India is a country known for its diverse culture and history. It's loaded with unique people, destinations, and ideas for one to discover.
So It's almost impossible to know every unique thing about this country. The more you explore G.K questions about India, the more you find.
I researched and listed 20 quirky gk questions about India that can simultaneously amuse, excite, and startle you.
Also Read: 8 Quick & Easy Ways to Improve Your G.K. (General Knowledge)
20 GK Questions and Answers about India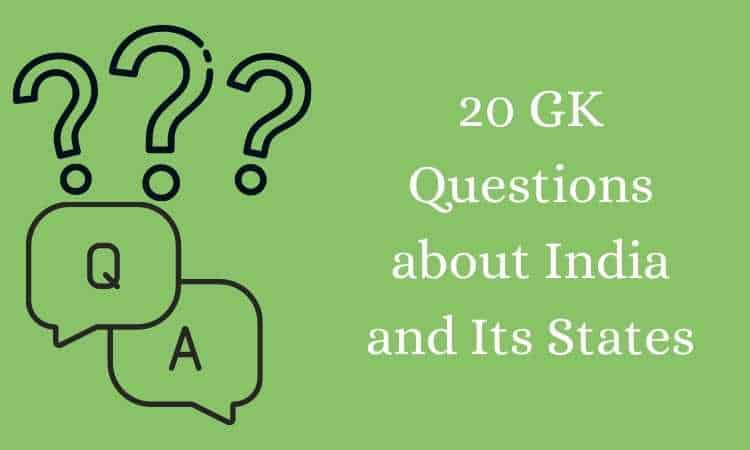 1. There is a hill in India known as an anti-gravity hill. Where is that located?
Rajasthan
Meghalaya
Gujarat
Haryana
Ans: Gujarat
There are signs on the road that ask you to put your car gear on neutral. You will experience a force pulling your car in an upward direction. This mystery is nothing but an optical illusion. In reality, the slope is downwards, but the surroundings mislead you to believe it is upwards.
2. Which day is celebrated as Indian army day?
16 August
20 January
5 October
15 January
Ans: 15 January
15 January is celebrated as Indian Army Day to commemorate Lieutenant General KM Cariappa. He took charge as the first commander-in-chief of the Indian army. This position was taken from Francis Bucher in 1949. Francis was the last Commander-in-Chief of India.
3. Which Indian president received only 50 percent of his salary
APJ Abdul Kalam
K.R Narayanan
Rajendra Prasad
Zakir Hussain
Ans: Rajendra Prasad
The first president of India didn't take his complete salary. Initially, he took only 50 percent of it. He donated 75 percent of his salary in the later years, keeping only 25 percent for himself.
4. Which is the largest animal fair in India?
Nagpur cattle fair
Sonepur cattle fair
Jhalawar cattle fair
Pushkar cattle fair
Ans: Sonepur cattle fair
Asia's largest cattle fair is conducted in Sonepur, Bihar. Many famous personalities like Akbar, Lord Clive, and Babu Kunwar Singh have visited this age-old cattle fair.
5. Bandra – Worli sea link has steel wires equal to
Earth's circumference
Weight of 20,000 African elephants
Earth's radius
Weight of 500 blue whales
Ans: Earth's circumference
Wires of the infamous Bandra-Worli Sealink in Mumbai equal Earth's circumference, and the weight is equivalent to that of 50,000 African elephants.
6. Science Day in Switzerland is dedicated after which Indian personality
C.V Raman
Homi Bhabha
Satyendra Bose
APJ Abdul Kalam
Ans: APJ Abdul Kalam
26 May is announced as science day of Switzerland. It is the visit date of former Indian president Dr. APJ Abdul Kalam in 2005.
7. The Indian name of Yarlung Zangbo river
Narmada
Brahmaputra
Godavari
Ganga
Ans: Brahmaputra
Yarlung Zangbo or Yarlung Tsangpo is the name of the upper stream of Brahmaputra river. It originates in the autonomous region of Tibet, China.
8. Who designed the current national flag of India
Pingali Venkayya
Mahatma Gandhi
Rabindranath Tagore
G. Subramania Iyer
Ans: Pingali Venkayya
The Indian tricolor was adopted by the constituent assembly of India on 22 July 1947.
He proposed the initial design to Mahatma Gandhi in 1922, and it was later modified to the present form.
9. A market place in India is completely run exclusively by women. In which state is the market located
Rajasthan
Manipur
Maharashtra
Nagaland
Ans: Manipur
"Ima Keithel" in Imphal is known as the "Mother's market." Women have run the marketplace for as long as the 16th century.
10. It snows in a village in south India. The unique place is situated in
Kerala
Tamil Nadu
Karnataka
Andhra pradesh
Ans: Andhra Pradesh
Lamabsingi, a village in Andhra Pradesh, often receives snowfall during winter. It is located at a high altitude of 2702 feet. People also call it "Kashmir of Andhra Pradesh."
11. What's the name of the world's largest cricket stadium
Motera cricket stadium
Melbourne cricket ground
Eden Gardens
Sydney cricket ground
Ans: Motera cricket stadium
Motera cricket stadium, also known as Narendra Modi stadium, is the largest in the world. It covers an area of 63 acres and has a capacity of 1,10,000.
12. First Sports person nominated for Rajya Sabha membership
Navjyot Singh Sidhu
Sachin Tendulkar
Milkha Singh
P.T Usha
Ans: Sachin Tendulkar
Sachin Tendulkar's term as a Rajya Sabha member was from 2012 to 2018.
13. India boasts of the highest helipad at the height of almost 22,000 ft. It is located in
Khumbu valley
Kanchenjunga
Siachen Glacier
Nanda Devi
Ans: Siachen Glacier
Siachen Glacier lies in the Karakoram range of Kashmir near the India-Pakistan border. Siachen is a region of conflict and is guarded by the Indian army. The temperature here can go as low as -60 degrees celsius.
14. Which of the following is the world's first ever international university
Nalanda university
Bologna university
Harvard university
Oxford university
Ans: Nalanda University
Nalanda University in Bihar was the world's oldest university. Bakhtiyar Khilji destroyed it in the 12th century. He burned not just books but also Buddhist monks. He did everything to push Buddhism out of India.
15. Who is the first recipient of Rajiv Gandhi Khel Ratna award
Geet Sethi
Homi motiwala
Viswanathan anand
Pushpendra Kumar Garg
Ans: Viswanathan Anand
Vishwanathan Anand is a world-famous chess player. Anand was awarded Khel Ratna in the year 1991.
16. Laccadive, minicoy and amindivi Islands were renamed in 1973 as
Andaman
Lakshadweep
Nicobar
Sri lanka
Ans: Lakshadweep
Lakshadweep in Malayalam and Sanskrit means "a hundred thousand islands." They became a union territory of India in 1956 and were renamed in 1973.
17. Kathakali is a dance form associated with the Indian state of
Karnataka
Odisha
Kerala
Tamil Nadu
Ans: Kerala
Kathakali is an Indian dance form that is rooted in mythology. The elaborate costumes and make-up of Kathakali have become a popular symbol of Kerala.
18. Who is popularly called " the Iron Man Of India"
Bhagat Singh
Subhash Chandra Bose
Rajendra Prasad
Sardar Vallabhbhai Patel
Ans: Sardar Vallabhbhai Patel
Sardar Vallabhbhai Patel was given the task of integrating the princely states of India. After convincing 562 princely states to become part of the Independent India Union, he was given this title.
19. Which one is the longest sea beach in India
Marina
Calangute
Baga
Gokarna
Ans: Marina
Marina beach is India's longest and the world's second-longest beach. It runs the length of 12 km along the Bay of Bengal.
20. What was the summer capital of India during british rule
Mumbai
Banglore
Shimla
Delhi
Ans: Shimla
Shimla was the summer capital of British India by Sir John Lawrence. It was capital from the year 1864 to 1939.
Also Read: More GK questions
Conclusion
I hope you enjoyed answering these. If you are preparing for competitive exams which require G.K., keep reading. These are just 20 questions, but there's a little more for you guys.
Click on this link to get a list of the best G.K. books you can buy for your exams.