Social media is no longer a place people use just for fun. It has become more of a marketplace for businesses and content creators or popularly known as 'influencers'.
Big or small, all brands are leveraging the power of influencer marketing to get recognition and skyrocket their sales overnight. It has become a mandate for all sorts of brands to be on social media platforms like Instagram and Facebook and reach their target audience.
Nowadays, people don't buy things because of a celebrity using them– everyone knows the truth behind such advertisements. Instead, they find it more reliable to buy things recommended by influencers who know everything about the products and give the right advice to their audience.
Over the years, the number of influencers has increased manifolds. The personal touch of an influencer, coupled with the right algorithm, has made it easier than ever to reach potential customers.
However, it is somewhat hard to find the right influencers– this is where influencer marketing agencies come to the rescue. They know the right influencers for you and make the whole process of finding big as well as micro-influencers easier than ever.
No matter the size of your brand, if you want to flourish and thrive in today's world, you have to get your hands on influencer marketing if you haven't already.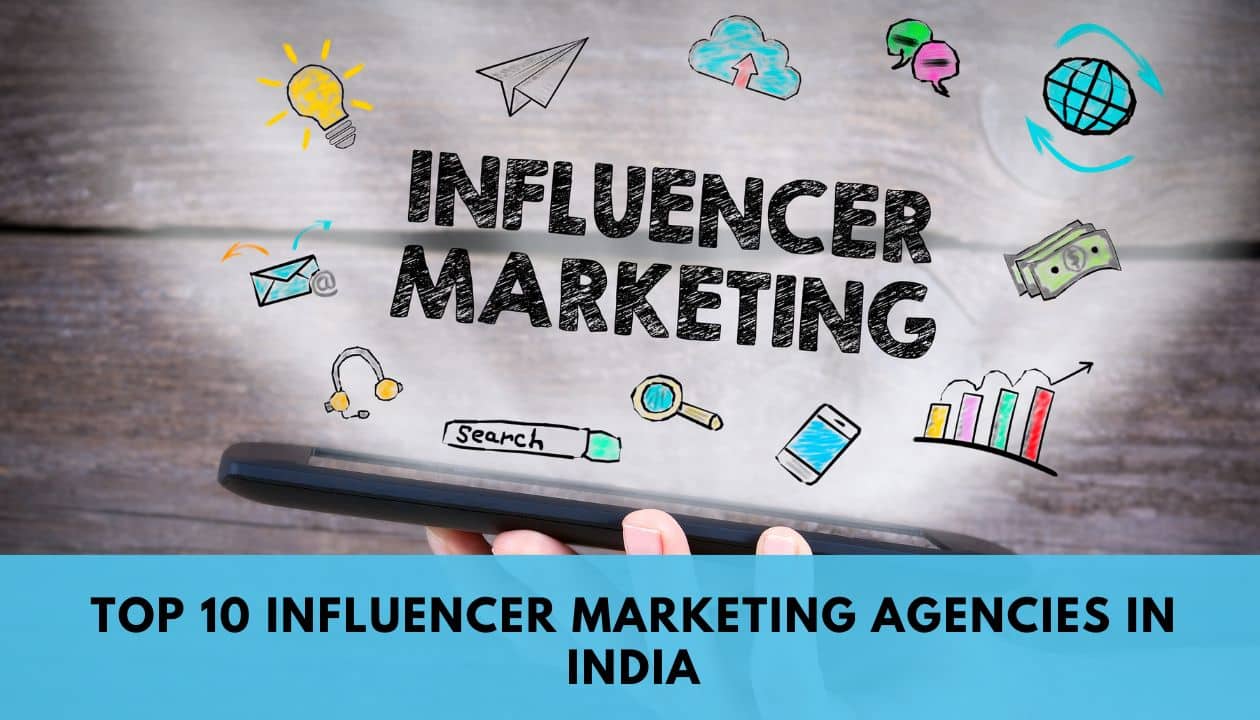 What Is Influencer Marketing?
Before we dive into the whole top influencer marketing agencies in India topic, it is important to understand what an influencer is and What Is Influencer Marketing?
According to the Cambridge dictionary, an influencer is someone who has the ability to influence the behaviour or opinions of others.
According to Collins dictionary, an influencer is someone who is able to persuade a lot of other people.
On the other hand, Influencer marketing gives a dynamic approach to the influencers. Influencer marketing, according to Wikipedia, is a sort of social media marketing in which influencers encourage their audience to try other goods and services by endorsing them.
Why Do You Need An Influencer Marketing Agency?
According to sprout social, the return on investment of influencer marketing gives 11x more results than any other conventional method of marketing. On top of that, it is pocket friendly as well.
Influencer marketing agencies do exceptionally well in connecting brands with the right influencers. There are hundreds of agencies, big and small, that boast a huge list of influencers from different niches.
If you are new to influencer marketing, you should start your journey with these agencies as they will connect you with the right influencers without much hassle.
10 Best Influencer Marketing Agencies in India
Speaking of the Indian audience, there are several Indian influencer marketing agencies
1. Confluencr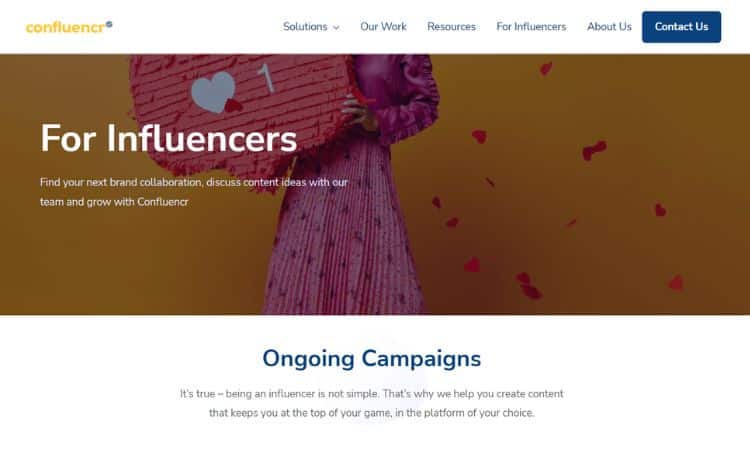 Launched in: 2018
Confluencr is one of the topmost influencer marketing agencies in India, with an influencer base of more than 20,000 micro and macro influencers.
Here, you get optimized reports on individual creators and their past performances. Influencers can visit the website and take part in the ongoing campaigns and free as well as paid endorsements.
The confluencr team does a great job of evaluating new influencers and helping them connect with the right brand. It has a network of influencers in more than 16 countries and is trusted by more than 400 brands.
Top clients: Kotak, Paytm, Vedantu, WOW Skin Science, Flipkart, Groww, Ola Foods, Carmesi, etc.
2. Ainfluencer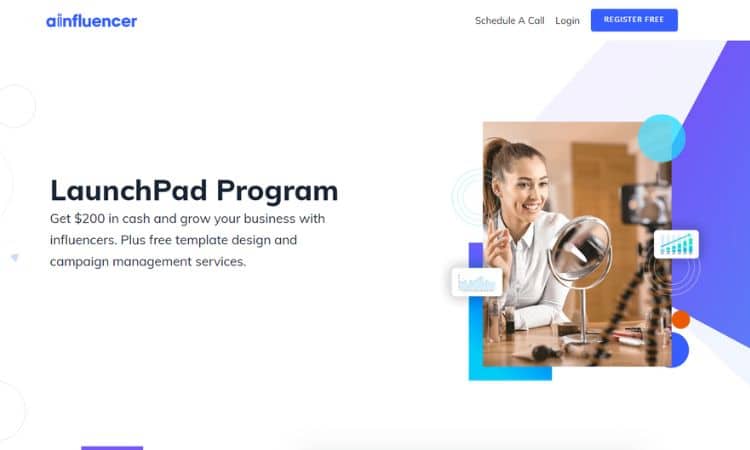 Launched in: 2019
Ainfluencer is on the list of top 10 influencer marketing platforms in India as it offers a free platform for influencers and brands to connect with each other.
Both influencers and brands can sign up and post a free campaign and find each other. While other influencer marketing agencies charge a hefty fee from their clients, Ainfluencer is a do-it-yourself platform that anyone can use.
Top clients: FittPort and other small businesses.
3. Influencer.in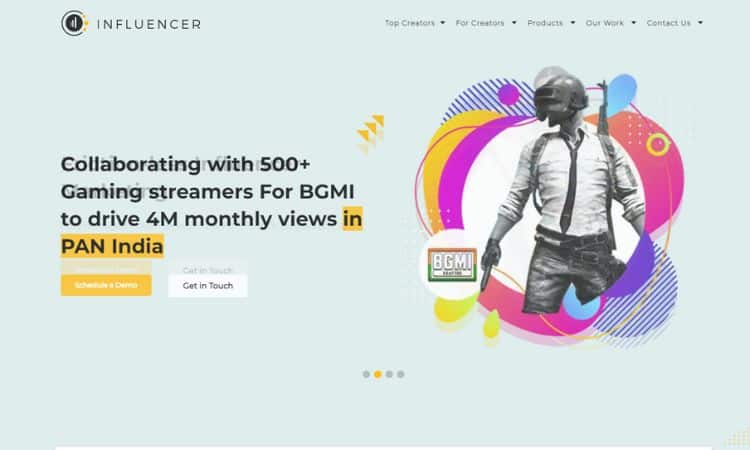 Launched in: 2015
Influencer.in is an influencer marketing agency specifically made for Indian brands and the Indian audience. It has more than 25,000 influencers who create content in various niches. Influencers can take part in live campaigns and get to work with their favourite brands as well.
For brands, it also provides things like real-time performance track, negotiation, matching with the right influencers, and brainstorming ideas.
Top clients: Himalaya, Hike, Nykaa, SHAREit, Axis Bank, TATA Cliq, Flipkart, Dhani, and more.
4. Eleve Media
Launched in: 2012
Eleve Media is more than just another marketing agency that believes in the power of word-of-mouth marketing. This is an amazing platform for influencers who want to work with bigger brands like Amazon and Apple.
It does a great job of identifying the right influencers based on niche, location, and engagement and connecting them.
It also helps brands in measuring the impact of the influencer marketing campaign in real-time.
Top clients: Coca-Cola, Citi Bank, Amazon, BMW, Audi, Canon, Nestle, Pepsi, LG, Chevrolet, Reckitt Benckiser, Apple, Philips, Dabur, etc.
5. Plixxo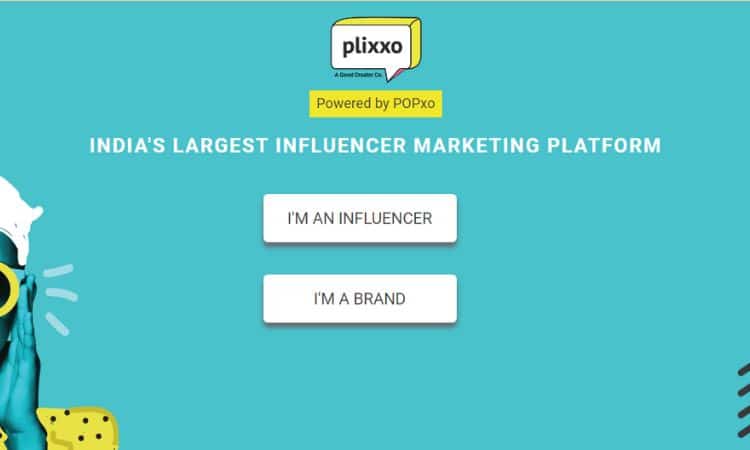 Launched in: 2017
Plixxo is an influencer marketing agency by POPxo founders, and it is a platform where big and small brands meet the right influencers for their brands. Here, you can find the top bloggers and influencers and their past performances.
Plixxo offers a friendly environment for influencers where they can come and choose from numerous campaigns.
If you are a brand and want to find the right influencers for you, you have to create a campaign as well.
Top clients: Maybelline, Cadbury's, Puma, Jabong.com, Nike, Westside, Fastrack, etc.
6. Buzzone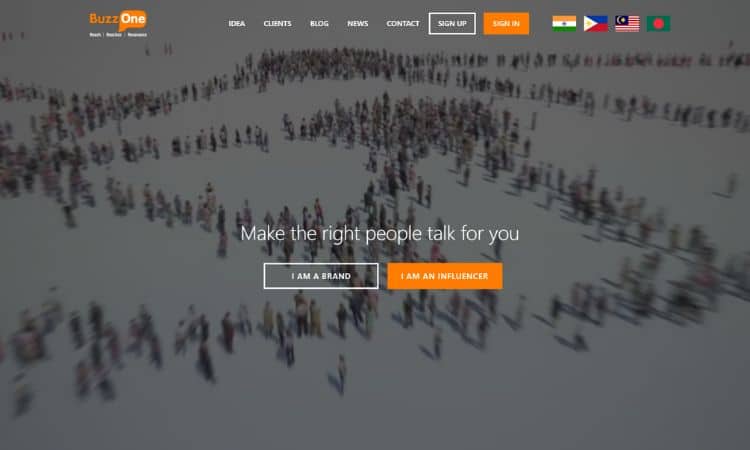 Launched in: 2015
Buzzone is another top influencer marketing agency in India that helps connect brands and influencers in one place. It lets brands run their campaigns and helps influencers monetize their content creation skills.
Buzzone boasts a huge network of influencers that create viral content and participate in campaigns. On top of that, all of the processes are automated and quick; therefore, it saves you a lot of time.
Top clients: Paytm Mall, Spotify, PUMA, VIVO, Whirlpool, Bata, BYJU's, Dettol, Durex, Tanishq, Vodafone, Skoda, ASUS, etc.
7. OPA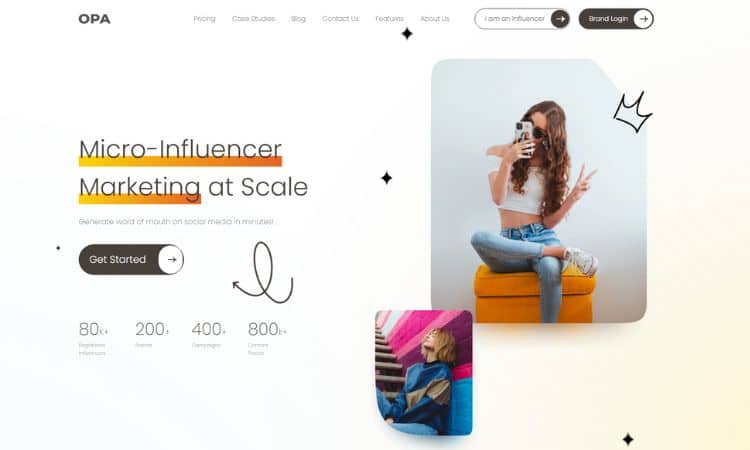 Launched in: 2019
OPA has one of the largest networks of influencers of around 50,000 creators. It has become one of the most sought-after influencer marketing agencies in India because of its vast network and decent pricing.
Via OPA, your brand can connect with multiple micro and macro influencers on a small budget. The best thing about OPA is that it streamlines the whole process by allowing brands to choose their influencers with invite-only collaborations.
Top clients: Lakme, Nykaa, Purplle, Sugar, WOW Skin Science, Marico, Decathlon, HRX, Plum, Vero Moda, Hindustan Unilever, and more.
8. Whisskers Marketing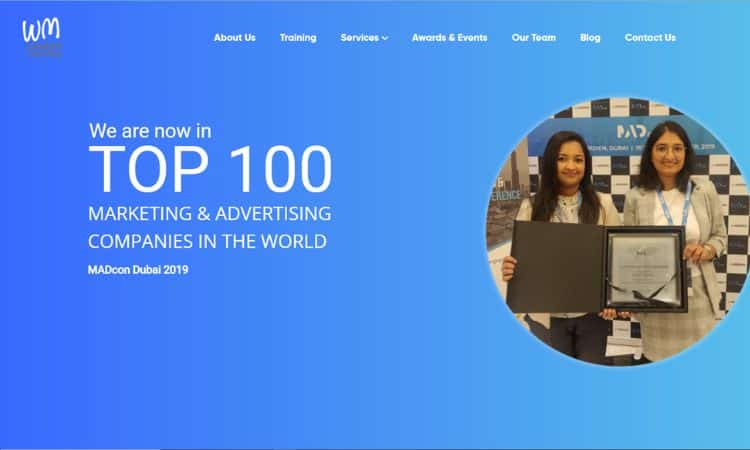 Launched in: 2014
Whisskers is basically a digital marketing agency that also serves as a connecting link between brands and influencers. They not only match brands with the perfect influencers for their niche but also give viral campaigns and increased sales. 
Top clients: McCANN, Opera, FreshGravity, Vakil Search, Meena Bazaar, Organic Harvest, etc.
Also read: Job and Career in Digital Marketing
Also read: Free Online Digital Marketing Courses With Certificate
9. PulpKey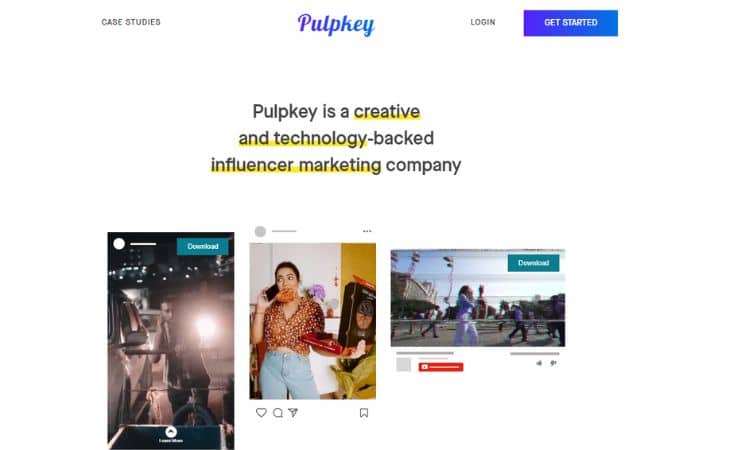 Launched in: 2017
PulpKey has been a one-stop influencer marketing agency for Indian brands and influencers hailing from India. To connect you with the right influencers, PulpKey has set certain criteria. For example, only those influencers with more than 2000 followers can sign up as an influencer.
It also works towards building trust and workmanship between the clients and their respective influencers.
Top clients: Amazon, Zara, PayPal, Hotstar, OPPO, Godrej, Taco Bell, Kent RO, Nestle, Swiggy, Blinkist, etc.
10. StartNgage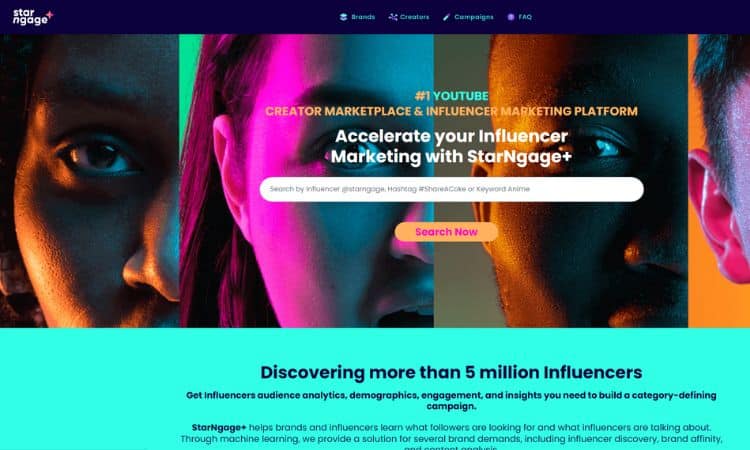 Launched in: 2014
StarNgage was first launched in 2014 and it is a US-based influencer marketing agency that has launched itself in India as well. Being a global brand, it has a wide network of influencers and brands to collaborate with. If you are looking forward to spreading your business overseas, this is a great option to start with.
On top of proving the right influencer to your brand, StarNgage also gives analytics like ROI, reach, progress, and more.
Top clients: Shopee, Zalora, Lazada, eatigo, ZALORA, FOREO, etc.
How to choose the right influencer marketing agency in India for your brand?
Now that you know all the top 10 influencer marketing agencies in India, it is important to know how to choose the right one for your brand. You don't need to jump on the bandwagon and do what everyone else is doing. You just have to take the following things before selecting the right influencer marketing agency for you.
How do they select influencers?
The process of selection of influencers matters the most when it comes to choosing the best influencer marketing agency. There are agencies that have set standards for the number of followers or the percentage of engagement they bring.
How do they evaluate content?
Evaluating content before influencers post them is a crucial step. This ensures only the right content is visible to the audience and prevents from spreading any misinformation.
How well do they fit into your budget?
Selecting a budget-friendly influencer marketing agency is equally important. If they don't fit into your finalized budget, it is best to go for the ones that fit in.
What services do they offer?
Apart from having a database of thousands of influencers, influencer marketing agencies also offer other services, including evaluation and analytics of the campaigns.
Conclusion
There are hundreds of influencer marketing agencies in India, but not all of them have the right influencers for you. Therefore, it is important to go for the most popular ones that have also been mentioned in this article. Once you start your influencer marketing journey, you will see significant progress in your brand identity and sales as well.