Facing an interview is a challenge for most people, especially for freshers. Even a low paying job has two or more interview processes; now you can imagine the complexity of high-paying jobs.
More often than not, talented people face difficulties finding a good job not because they don't have enough skills, it is simply because they are unable to ace the interview.
Why is it so? Well, mostly because people nowadays are more focused on improving their skills and not many of them actually prepare for an interview seriously.
If you think you have failed yourself or your communication skills aren't that finessed, you have come to the right place. This article is your perfect guide to 'nailing' any interview. Are you ready for it? Take notes if you find them useful.
Before diving into the tips and tricks that you should remember while preparing for an interview, it is important to know how to give a professional self introduction.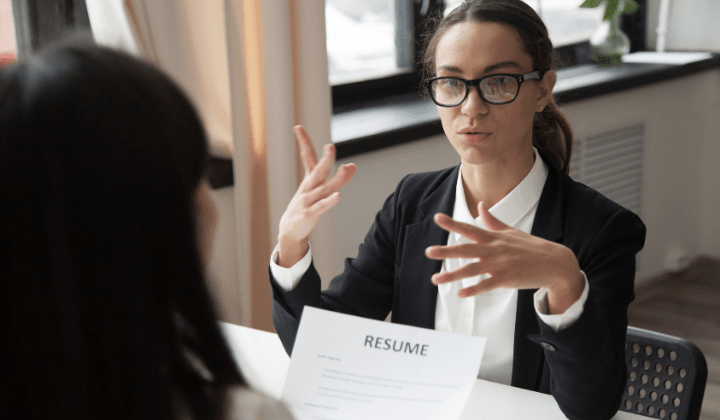 Your introduction is the first impression
There is no denying the fact that self-introduction creates a certain image of you as a candidate. Most interviewers usually start an interview by asking this question to know the overall presentation and get a general idea about you and your past.
Be careful about it as it will set the foundation for the interview. Any slip of tongue and misinformation can cause problems, therefore, it is best to practice a generalized introduction.
Let's break the introduction into different parts.
General introduction on who you are
It is obvious to start the interview with a warm greeting. Be polite all the time and don't let emotions come in between. After greeting, take the desired position (most probably sitting in front of the interviewer/s).
Start with telling your full name and your age (if you feel comfortable). The tone should be humble as well as confident.
For example- Good Morning sir/mam, I am XYZ ABC and I am XX years old.
There is no need to tell personal details irrelevant to the interview of the job profile. Oftentimes, in the introduction part, people get carried away and go into their personal lives without its need.
Where do you hail from?
The place you are from tells a lot about you. This is why it is equally important to mention it while introducing yourself.
Telling the names of places you have lived and studied gives more authenticity to your candidature. Interviewers often ask questions about these places and experiences as well. Therefore, don't forget to mention places.
For example- I was born in a town called XYZ in Rajasthan, but I was raised and completed my schooling in Hyderabad. I started living in Mumbai to find a job in Digital Marketing. It is almost one year now, and the city has become more familiar to me.
What are your educational qualifications and the place where you completed your education?
After the place you are from, it is best to dive into the professional stuff. Yes, we are talking about educational qualifications.
Tell a bit about your schooling, graduation, post-graduation, gap year, and so on. You can also mention some extracurricular activities you have completed. Educational qualifications reveal your personal choices and tell exactly why you opted for a specific course.
There is no need to mention all courses and certifications in your name as you must have already put them up on your resume.
For example- I have completed my schooling at Alpha Memorial school in Indore. After passing out, I prepared for the IIT-JEE exam and opted for BTech in Computer Science at ABC University.
It was a life-changing experience for me and it made me more focused on my goals. Ever since school, I have also been participating in Chess competitions and I also love to practice martial arts when I am free.
Who are you? (professionally)
After all this basic introduction, now it is time to tell your real motive. The more specific you are, the more smooth the process will be. To work for your future goals, it is obvious to have some work experience in it.
Therefore, start giving a more professional introduction revolving around your internship, work experience, volunteering, etc.
Always remember to discuss only those experiences that match the job profile. Keep the experiences in reverse chronology, i.e. Mention the latest experience or job role first, and then proceed to the previous ones.
For example- I have been working as a Digital Marketer for 3 years now. I started learning Digital Marketing back in college and since then it interested me so much that I chose it as my full-time career option.
Right now, I am handling the Digital Marketing for ABC company where I supervise a team of interns and trainees altogether. In two years, I was successfully able to improve the company's output by 20%.
You can also mention your strengths and your achievement in your profession. No need to fear sounding overconfident. You can brag about your achievements and milestones sounding humbly too. All you need is a little preparation and a lot of verbal practice in front of the mirror.
In a nutshell
The introduction is the most commonly asked question in an interview, and it is the most important of all. Coming this far, now you must have learned the exact sequence and the tone you need to maintain while answering the questions.
By now, you know the rough idea for preparing an introduction. You can modify it on your own and mold it according to your individuality. But keep in mind to maintain professionalism and don't dive into the redundant stuff.
In an interview, interviewers not only observe your answers and way of communicating, but they also go below the table and observe your body language too.
Most people feel nervous while giving an answer, some even shake their legs or fidget their hands, and so on. This leaves a wrong impression on the interviewer.
Tips on 'nailing' your interview
Additionally, there are many minute things that should be taken into consideration while preparing for an interview. Here are some of the most important tips-
Take your time to research the job role and knowing the company. In the desperation of finding a job, most people apply for jobs at random companies. This creates havoc in case they don't know anything about the company. To maximize your chances of getting to the next round, it is really important to know the company and go through the job role as well.
Take care of the body language from the beginning to the end. Well, body language communicates for itself but it is brutally honest. Therefore, to have the maximum impact, you need to work on your walk, eye contact, hand gestures, tone, sitting position, etc. Here is a body posture guide for interviews by Mashable that might help you.
Dress to impress- the clothes you wear on an interview day also matter a lot. Outfits should be professional, not too revealing, subtle in color, well-ironed, and everything in between.
Keep your ears wide open- yes, you read it right. Listening is one of the most underrated skills you require for an interview. Most people commit the heinous crime of not listening to the questions properly and answering irrelevant things that aren't even required. This creates a really bad impression on the interviewer. Therefore, to avoid this mistake, open your ears and improve your listening skills.
Be precise and brother interrupt nor speak too much- interrupting the interviewer is the most brutal thing you can do in an interview. It is best to be precise and not elongate an answer just for the sake of it. Use your common sense and speak only what's required. This will help you in the long run.
Don't use sensitive or inappropriate language- to maintain the decorum of the interview, it is best to not use offensive words or slang that offend religion, age, race, politics, humanity, etc. these words will only degrade your reputation and decrease your chances of selection, therefore, it is best to omit them from your speech.
Maintain a professional distance- while answering questions, don't sound too friendly, and try to maintain a professional relationship as much as you can.
Don't show a bad attitude- during the interview, some questions might sound offensive or too much to you. In such cases, don't lose your temper and maintain politeness.
Stay hydrated- while answering questions, you might feel the urge to drink some water. Don't try to suppress this desire as it is only going to bother you later. Therefore, don't hesitate to ask for a glass of water as it will prepare you for further questions.
Ask questions- last but not least, be curious and ask questions from the interviewer. It shows your curiosity and willingness to join the team. Most interviewers ask the candidate if they have any questions in the end, and most of them say 'no'. To maximize your chances of getting in, don't leave the opportunity to ask a question in the end.
Conclusion
Preparing for an interview is a daunting task but just as important. There are so many things to take care of and so many things to improve. It can baffle you sometimes. But with the tips and tricks mentioned in this article, you can easily nail any interview you want and get that dream job.