Recruitment for BSNL JE, Junior Engineer (Earlier known as TTA) is very tough. In order to qualify you need to go through an entrance exam conducted by the BSNL.
The exam is conducted in the month of September each year. However recently because of increase in applicants exams will be conducted more than once a year.
Hence you need to enquire more.
Candidate should have proper study plan to achieve success in competitive  exam.
However in this article we will tell you how you can prepare for BSNL JE in just two months. with proper planning.
The competition is very tough because for just 2700 seats thousands of candidates from reputed colleges  apply for this exam.
You have to prepare beforehand and rank high on the merit list so that you can be selected.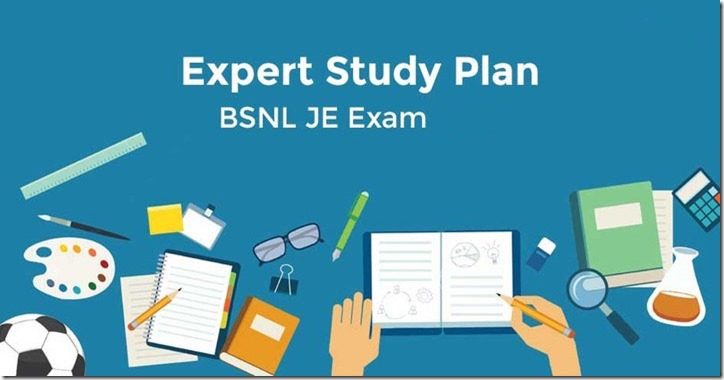 BSNL JE Exam Syllabus and Preparation
BSNL JE exam can be divided into three different parts. The first one is general ability, second is basic engineering and the third one is specialization.
The JE exam is 3 hours long with 200 questions for 200 marks. Here is the exam syllabus.
As I said earlier you can prepare for the whole exam in just 60 days.
So the first 35 days are for preparing these 3 different parts.
General Ability in 5 Days
The first part is general ability and you can prepare it in just 5 days.
As you know general ability section will contain questions related to English and general knowledge.
Out of 200 marks the weightage for General ability is only 20 marks.
So you don't have to devote much time for general ability because it is just 10% of entire question paper.
They will ask questions related to comprehension, synonyms and fill in the blanks testing your basic English.
If you do not know any answer then please leave it because there is a negative marking.
Finish general ability within 5 days.
Basic Engineering in 15 Days
Second part is very important because they will ask you questions for 90 marks. So 45% of the questions will be related to basic engineering.
Here questions are asked related to all the branches of engineering.
These branches can be divided into five categories. Here are the branches one by one.
Applied Mathematics
Basic Electricity
Applied Physics
Digital Techniques
Electronic Device and Circuit
The questions that will be asked are according to diploma syllabus and not hardcore engineering.
The questions are formula and memory based. They will ask about equations, definitions, and other important points.
The questions are not tough like GATE or other competitive exams.
You have to practice questions from the above 5 branches.
You can prepare for Basic engineering in 15 days.
Specialization in 15 Days
Just like Basic Electronics Specialization is also for 90 marks that is 45% of the whole exam.
Here you will be asked question from a particular subject. The questions will be asked from the core subjects of various disciplines.
You have to sort out the required subjects and prepare for the exam accordingly.
Here is the list of subjects from which questions will be asked.
Electrical
Communication
Network, Filters and Transmission Lines
Instruments and Measurements
Control Systems
Microprocessors
Computer
As I said questions that will be asked are more theoretical and not numerical.
Questions are knowledge based and not tough mathematical ones.
So read about all the subjects and don't go into the depth. You can easily prepare in just 15 days.
Study Material for All 3 Parts
Here will be talking about the study material for all the three sections.
For first one which General Ability you can go for any regular general knowledge book that deals with current affairs. For English you can use Aggarwal's Book, these books designed for competitive exams.
I don't think you have to bother much about the first section.
For the basic engineering you have to read mathematics and you can use any competitive book from Arihant, Aggarwal or even regular engineering first semester course book.
You can also buy books from Shakti Publications.
For Specialization I recommend you to read all the books that you have studied during your engineering especially from semester 5 to semester 8.
You can search online for all the books for the 3 sections.
Focusing on Specialization Part Again in 5 Days
Here we would like to talk more about specialization part because it is very important.
You have to prepare smartly so you score more in the exam. Prepare for easier subjects first and read tougher subjects later on.
Here is the order in which you should prepare subjects.
Electrical should be the first one.
Instrumentation and Measurements is second.
Network, Filters and transmission is third.
Control system fourth.
Finally you can prepare for Microprocessor, communication and computers.
You have to give another 5 days for specialization section.
Previous Papers and Mock Test Series in Last 10 Days
Now you have spent almost 40 days reading all the sections.
In next 10 days you have to go through all the previous year's questions papers and test serious conducted by the BSNL.
For previous year question papers you can go to internet and download all the papers with their solutions.
You must try to solve these questions so you will get an idea how questions are asked in the exams.
Practice for at least last 5 to 6 year question papers.
Then you can also go for mock test online which tests you before you take on the real exam.
It helps you to revaluate how well you are prepared.
You can do this in just 10 days.
Entire Revision in Just 10 Days
So you have spent 50 days and now last 10 days are for revision.
Revision is very important.
Start revision with Specialization section. Read the subjects like Electrical, Microprocessors, Communication, Network, Filters, Transmission and more.
For basic engineering read applied mathematics and physics, electronic devices and arithmetic.
Read theory and also try to solve questions. Remember all the formulas and definitions.
That's it you are done for the next BSNL JE exam in 2017.
You have spent all your 60 days wisely.
8 General Tips for BSNL JE Preparation
Here are some general tips to take care while preparing for BSNL JE exam.
The first tip is always stick to the subject. You do not have to go beyond your given course material.
Do not get too deep in a subject because the exam tests your theoretical knowledge and not the understanding.
Go after easier subjects first and try difficult ones later.
You can leave tricky questions because there is negative marking.
Always revise what you have studied.
Do not forget to go through previous year question papers and online mock test series.
Always take your engineering course book seriously.
Finally be confident and take no stress.
So this is how you can easily apply for BSNL JE exam in just 60 days.