"Let us pledge to make India the skill capital of the world," Narendra Modi, Prime Minister of India, said in a historic speech on July 15, 2015.
The PM made these encouraging remarks during the launch ceremony of Skill India program.
Today, Skill India is hailed as the world's single largest national initiative by any country to alleviate poverty, promote gender equality and leap towards industrialization.
It aims at changing traditional Indian mindset from servitude to entrepreneurship.
Some 400 million women and men will be provided free vocational skills by 2022.
These skilled persons are needed to fuel India's burgeoning industry and developing sectors under Skill India.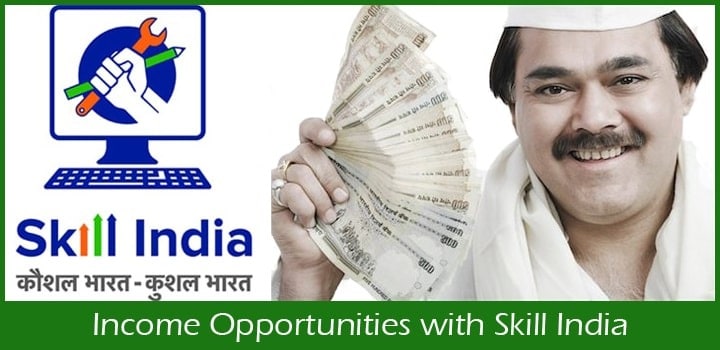 How Skill India works
Obviously, training 400 women and men from diverse cultures, located in 29 states and seven designated Union Territories is not an easy task for anyone, leave alone the Indian government.
Hence, Skill India effectively enlists services of the nation's private and public sector for this venture.
Foreign governments and firms, Multi National Companies (MNCs), Public Sector Undertakings and various ministries of India are engaged in Skill India.
They either provide training or hire persons who are trained under the ongoing program.
Companies that conduct training are invited to partner with Skill India to provide some 160 listed, specialized courses.
Courses are conducted across the length and breadth of this country. Training is provided in almost every language in which study material can be prepared.
Opportunities for skill trainers
The Indian government has identified some 17 core sectors for training women and men. These include:
Agriculture
Automotive
Beauty and Wellness
Banking, Finance, Stocks and Insurance (BFSI)
Capital Goods
Construction
Electronics
Gems and Jewelry
Healthcare
Sanitation and Plumbing
Information Technology and Information Technology Enabled Services (IT & ITES)
Leather
Media and Entertainment
Retailing
Rubber
Security
Telecom
More skills expected
Plans are afoot to add three more courses to Skill India with foreign collaboration.
Oenology: The art of making wine. This course is planned to prevent wastage of fruits produced in India. A large volume of these fruits can be converted into exotic wines.
Travel and Tourism: Keeping in view the country's rapidly increasing popularity as inbound tourism destination. Travel and tourism industry employs about 5.8 percent of India's total manpower. This is expected to surge to 8.5 percent by 2026.
Logistics: To promote entrepreneurship in India for developing the desperately needed logistics chain- from transport to warehousing.
Partnering with Skill India
Training institutes who conform to standards specified by the National Skill Development Agency (NSDA) can partner with relevant ministries/ departments of Central and state governments to offer courses.
The government aims at providing a robust and healthy training ecosystem to support Skill India.
Guidelines about how to partner to provide training under Skill India is available on website of Ministry of Ministry of Skill Development and Entrepreneurship.
That Skill India is a successful program can be seen from various news articles that feature on the ministry's website.
If your company is offering or can provide training in the 160 categories listed by the Ministry of Skill Development and Entrepreneurship and meets the standards they require, enroll as a partner for lucrative returns.
Your organization will then be listed as Pradhan Mantri Kaushal Kendra (Prime Minister's Skill Centre).
Qualifications and certification
Training providers that partner with Skill India are not permitted to issue any certifications to students.
This is the work of some 17 assorted certification agencies licensed by the government for each skill sector.
Whether you are a skills trainer or student, only certification obtained from these agencies will be considered as valid, to avail Skill India benefits.
More money, more skills
Here is one more reason why partnering as training provider with Skill India is lucrative.
Finance Minister Arun Jaitley announced allocation of Rs. 40 billion in India's national budget for fiscal year 2017-18.
The money is earmarked for skills development under Central government's Skill Awareness for Knowledge Awareness and Livelihood Promotion ' Sankalp' scheme.
The huge budgetary allocation will see skill training centers in India increase ten times- to 600- from nearly 60 in operation now.
This budget is aimed at financing skill learning courses for 35 million youth.
Skill India for the world

Work to open some 100 India International Skill Centers across the country will begin during financial year 2017-18. Over 15 IISCs have already been opened in various states of the country.
These IISCs will provide training in various foreign languages to Indian citizens. The move is aimed at enhancing overall quality of skilled Indians by providing them an edge to compete in foreign markets.
IISCs will help India provide young, skilled manpower to countries with ageing populations.
World census reports indicates that average age of population of US will be about 40 years, Europe around 47 years and Japan at 48 years.
In sharp contrast, the average age of population of India is pegged at 29 years.
Benefits for students
The National Skill Certification and Monetary Reward Scheme launched as part of Skill India provides cash incentive of Rs.10,000 per student. The scheme is intended to cover all jobs in all sectors.
Initially, it will cover only high-demand hobs in specific industries in Non Vocational Education Qualification Framework (engineering) and National Skills Qualification Framework (NSQF). Its scope is currently under expansion.
The amount paid will be paid directly into the bank accounts of students who train under Skill India. It can be offset against any fees paid by the student or used as cash reward.
Students have to enroll at any of the Pradhan Mantri Kaushal Kendras in the country. The cash reward is given only to students who successfully pass the exams held after completing the course.
Reasons for cash incentives
The Central government has offered students this incentive to encourage more people to join Skill India and bolster the country's workforce.
It specifically targets economically weaker sections of the Indian society. Skill India aims to eradicate poverty and gender inequality in income.
It plans to bring into mainstream, hitherto economically and educationally challenged citizens by providing skills and funds. Ways to enroll for courses and avail benefits are listed in detail on the scheme's website.
Mudra Bank and other facilities
Trainers and candidates who successfully complete their courses qualify for loans from Mudra Bank.
Value of loans that can be taken varies according to each industry and entrepreneurial project.
Those who wish to avail of the facility can contact any PSU or cooperative/ private bank enrolled in the Mudra scheme.
These loans are primarily given to individuals desirous of starting a new, feasible business or expanding existing ones.
Further, new entrepreneurs can join the vast start-up pool of India.
The Ministry of Commerce and Industry offers a dedicated website for skilled individuals who wish to enter business.
Foreign collaboration and training
Several foreign companies and governments are teaming with Skill India to offer specialized training.
Companies from the US, UK, Japan, France, Germany and Israel are said to be collaborating at various levels in the project.
Indian diplomatic missions are promoting Skill India in various foreign countries in the hope of attracting investment and training opportunities to India.
Why avail of Skill India benefits
The world is growing increasingly competitive by the day. Various problems like visa restrictions are preventing Indians from taking jobs abroad.
Finding jobs in India can be arduous because all major employers are based in large metro cities.
Skill India aims at developing talents that make best use of locally available material and resources to open business.
The Indian government is planning an overall development of the country. Skill India makes it possible. Hundreds of cities and towns in India are now branded as 'Smart Cities'.
Skill India is one of the drivers for this project. Qualified students from Skilled India will also help take the 'Swacch Bharat' mission and financial literacy projects further.