Do you want to become a flight attendant? If your answer is yes, then do read this article. Let me start with giving you some solid reasons why you should become a flight attendant.
Having a Flight Attendant Job
In current scenario having a job itself is a great thing. Especially a job like flight attendant. Many of us do not consider flight attendant job as a lucrative career opportunity. However, in reality, flight attendant gets a pretty decent salary and other allowances. So being employed by an airline company as a flight attendant is an achievement in itself.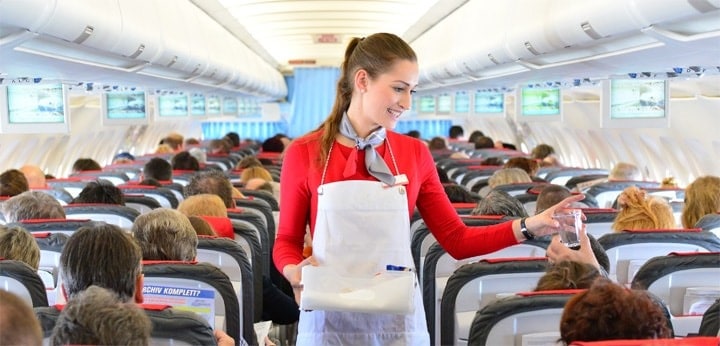 Travel Around the World for Free!
Summer in Caribbean, Fall in Paris and Winter in Greece. You can travel all around the world for free! You can travel in first class and stay in a five-star hotel without paying a penny. Moreover, you also get to meet new people and learn more about other cultures.
Flight Attendant Salary and Allowances
Although we will talk about salaries later in this article. However, here I would only like to say that the package is really attractive compared to others similar jobs in hospitality sector. There is equal pay for equal work. Moreover, you also get allowances for extra hours you have worked, free accommodation and cheap flight tickets for your family.
Less Work Load
Air Attendant job can be very fun. You just have to be polite to passengers and serve food/beverages once or twice. After completing your flight hours, you can take leave and join again next day. Flight schedules are very flexible. You also get to chat with passengers travelling in first class. You can always make new friends.
Future Prospects
But the most positive thing about this job is its future prospects. Airline companies in the country are looking for expansion. They are adding new planes to their fleet. Hence in coming years these companies are expected to recruit more flight attendants.
How to Become a Flight Attendant
Here are complete details like qualification & requirements, skills, age limit, physical fitness etc. to become a flight attendant.
Flight Attendant Requirements / Qualification
Unfortunately, not everyone of you can become a flight attendant. The job demands certain kind of skill sets that not every one of you possess.
Here are four categories of requirement criteria for a flight attendant.
Educational Qualification
Minimum educational qualification needed is a high school degree. This is the only career where higher education like a college degree is of no consequence. It is not going to make any difference if you are highly educated.
At best they may ask you a degree in hotel management and communication. That's it.
Why is it so?
Well after reading following paragraphs you will realize that the other attributes like physique and communication skills matters more.
However, if you have a certificate or associate degree in flight attendant training along with high school degree then you might have an edge over others.
Age Limit and Marital Status
Age matters for two reasons. Number one is you will be serving alcohol to passengers and second is nature of this job demands certain level of maturity like helping passengers in case of an emergency.
Although age limit depends upon company to company. However, by industry standards minimum age of a candidate must be 18 years and maximum of 21 years.
Like at United Airlines Minimum age is 19 and at frontier it is 21. Usually unmarried women are preferred.
Physical Requirements and Appearance
As I said earlier, educational qualification is secondary. What matters is physical requirements/appearance and behavioral skills (in next section).
Height: Your height must be between 4 feet 11 inches and 6 feet 3 inches (or 150 cm and 190 cm).
Weight: There is no specific requirement for the weight criterion however your weight must be proportional to your height. You shouldn't be too fat.
Vision: Normal vision is 20/20 and airlines are willing to accept candidates with vision 20/30. 20/30 vision is less than 20/20 vision.
Hair: Hairstyle must be conservative and professional, hair color must be natural hence no pink or purple, and hair length should be just normal.
Make Up: Natural tones are preferred with minimal eyeliner, blushes and other highlighting.
Piercing and Tattoos: Piercing and tattoos are not allowed. Tattoos must be covered under the cloth you are wearing.
Physical Fitness
Flight Attendant demands extra fitness as compared to other jobs in hospitality sector. You have to
Lift heavy luggage to overhead locker.
Push 200 lbs. cart up and down the aisle.
Work in a pressurized cabin for long hours.
Walk miles to reach the airplane standing at the tarmac.
Keep balance serving food and beverages while plane is flying.
No record of any disease or ailment.
Licenses and Certifications
Apart from high school degree you must have 2 years of experience in service industry. If you are hired by an airline company, then you undergo 6 months training conducted by the company itself.
After training you need to get a certificate from FAA to satisfy that your 6 months training has met FAA standards. And then you are licensed to be flight attendant.
Before training you also need to possess medical certificate declaring that you are fit to serve.
Behavioral Skills Required
Behavioral Skills is as important as physical attributes, if not more.
Pleasing Personality:
Your overall personality must be pleasing. You must be able to put yourself in passenger's shoes. You have to be caring and conscientious. Passengers must feel free to approach you.
Positive attitude helps you to do your job much easily.
Communications Skills:
Pleasing personality is not complete without having a great communication skill. You must have excellent verbal and literacy skills both.
Listening and comprehending comprises the verbal skills. Reading and writing constitutes literacy skills.
Extra Work Load:
As a flight attendant it is quite normal that you have to work for extra hours. Suppose, there is a flight delay then you have to work 3 to 4 hours extra. Hence you must be able to take extra burden.
Presence of Mind:
In case of an emergency landing, Flight Attendant has to use her brain and give all the required instructions to the passengers on board. You have to show presence of mind in any such eventualities.
Multitasking and Team Work:
You work with a cabin crew of 10 to 12 members. You have to work in tandem supporting each other. Multitasking is even more important behavioral skill than any of others mentioned above.
Flight Attendant Selection Process
Selection procedure is very simple. First you have to apply online by submitting your resume.
The next round is on demand video or one-way interview. In on demand video interviews you record a video containing answers to questions asked by the company and send it back to the them.
If you are shortlisted, then you will be called for a face to face interview. You may also have to appear for a test which is done on paper and the time period is 30 minutes.
Later you take part in group discussion to test your team work skills. Face to face interview is the most important part. Here they will test you for all the attributes needed to become an Air Hostess.
If you are through with the interview and selected, then you will be checked for drug test and background check.
Flight Attendant Courses
Certificate Courses:
There can be various kinds of certificate courses depending upon the training school you choose. A certificate course can be 30 – 70 hours long in duration.
Upon completion it will be easier for you to get recruited by an airline company. There can be various types of certificate courses.
Flight Attendant Training will teach you
Cabin Training
Food and Beverage Service
Emergency Procedure
Flight Attendant Duties etc.
Supplemental Courses:
These courses are for candidates who want to expand their learning to specific areas of aviation industry. Each course can be 3 – 7 hours long.
Flight Attendant Training School and Fees
If you want to join a Flight Attendant training school for a course, then check out schools in your city. There are a number of Flight Attendant training schools spread across the country.
The fees for a course can vary from $1500 – $5000 depending upon the course and the school you choose to get training. However, certificate courses can cost anything between $300 to $500.
Job Prospects & Flight Attendant Salary
Right now there are well over 100,000 flight attendants working in different airline industry across the country. However, in coming years the numbers are expected to rise because of growth in the aviation industry.
Airliners are going to add new planes to their fleets and expand their operations. So they will need more flight attendants for servicing passengers.
As far as salary is concerned then median salary for a flight attendant is $45,000. But more experienced flight attendants are making well over $75,000 per month.
However, in the first year you will be paid around $25 – $30 per hour. As you gain experience then your salary can rise up to $70 per hour. ou also get $3 – $4 per hour for extra working hours.
Companies
Here are some of the top airliners that you can look forward to for getting hired after becoming flight attendant.
Virgin America
Jet Blue
Air Tran
Delta Air Lines
Frontier Airlines
Southwest Airlines
US Airways
American Airlines etc.