In increasingly competitive environment, getting employment is indeed a commendable achievement. It is common knowledge that bagging job means sending a job application.
Most applicants wrongly believe application letters are redundant in an era of Internet-based job portals and mobile apps that allow registered users to bid for jobs at click of a button.
Understanding a Job Application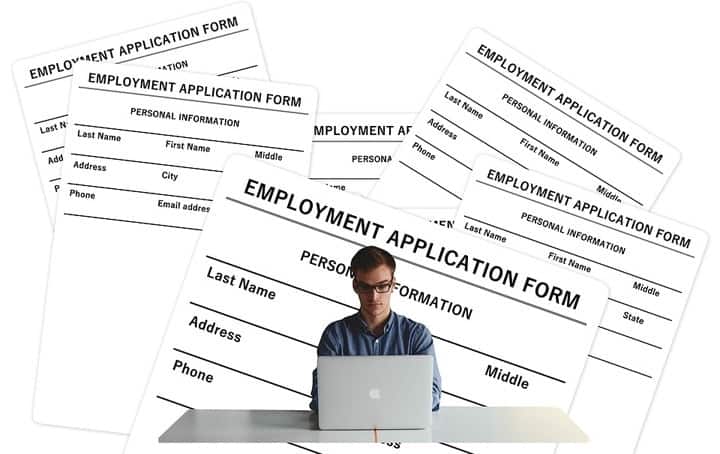 Job applications, on paper or online, consists of two separate documents. One is the application letter. Another is the Curriculum Vitae (CV), resume or biodata. A job application letter is extremely important regardless of whether you apply by mail, email or through online portals.
Almost every reputed employer requires candidates to submit an application letter along with personal details. This practice is prevalent online too. Often, job seekers applying online are asked to send a covering letter too, before clicking the 'Apply' button. A covering letter is important because it specifies the post or vacancy applied.
It gives employers, explicit permission to receive and retain personal data about the applicant. In some cases, it authorizes companies to seek more details about the applicant, if needed. Covering letter is also a self-attested statement that academic and professional qualifications mentioned are true and verifiable.
Writing a covering letter
In many countries, a covering letter is called 'Application Letter'. Employers are flooded with job applications and have no time to read every covering letter. A great covering letter should contain minimal details including:
Name, contact number, email ID and address of the applicant.
Date on which the covering letter and personal details are sent. Postal and e-mail footprints clearly indicate mailing date and time.
Specific mention of the post/ vacancy applied for.
State very clearly how you learnt about the vacancy: newspaper, advertisement, word-of-mouth, website or any other source.
Write a single, concise sentence about your educational qualifications.
Mention your work experience in a couple of brief sentences.
Express your interest in working for the company.
Highlight in a single sentence, reasons why you should be considered for the job.
Invite the company to seek more details about yourself.
End with a request to consider you for the post.
Bootlicking phrases including 'Respected Sir', 'Esteemed Organization', 'Anticipating your response' and the likes are best shunned at all costs. Such terms are archaic and betray poor education, lack of etiquettes, poor vocabulary and are frivolous.
Curriculum Vitae, Resume or Biodata: The difference
CV, Resume and Biodata are three different documents. They are to be written in three distinct styles. Several employers and most job seekers are unable to discern between the three due to lack of awareness.
Curriculum Vitae (CV): The phrase traces its roots to Roman Empire. Job seekers were required to disclose all personal and professional details during their 'span of life'. The practice continues till date. A CV is unabridged, exhaustive summary of your academic qualifications.
It is written in reverse chronological order- beginning with details about the last degree/ qualification acquired, marks scored. It also mentions the educational institute such as university, which conferred the degree with specific date and place. It should contain details of all schools attended preferably with specific dates.
Every landmark or important exam you successfully completed along with marks earned is mentioned. Work experience is also mentioned in reverse chronology, beginning with current employer, position held, promotions if any, year of starting work and a brief description of duties.
Previous work experiences are written in a similar manner. Details including linguistic abilities and hobbies are mentioned in a CV. The CV indicates myriad talents of the applicant, academic and professional progress. A CV is asked by employers looking to hire at top positions.
Resume: This commonly used term finds origin from French language. It means a summary. A resume solely emphasizes on educational qualifications and work related skills. Some significance is accorded to extracurricular activities, hobbies, community participation and other features essential for work, including membership of skill related clubs and guilds.
A resume is also written in reverse chronology. It should begin with mention of your current or latest employer, designation held, work responsibilities, date of joining, promotions/ accolades if any. Mention of previous jobs is essential but brief and limited to details essential for employers to know.
The same style is used for writing educational qualifications, with emphasis only on information required by the prospective employer. Linguistic skills, additional job related talents and brief information about major achievements can be highlighted in a resume.
A resume allows employers to get a brief about the candidate. Resumes are used by employers looking for specific qualifications and skills.
Biodata: Most employers nowadays seek a biodata. The word implies Biographical Data. A typical biodata consists of brief description of current job, previous jobs, educational qualifications, linguistic abilities and skills.
A biodata can be written in simple manner, though in reverse chronological order. Companies hiring fresh graduates and those with lesser work experience call for biodatas. A biodata offers fast and easy means to shortlist candidates for any job. Companies looking for several staff for a single function usually seek biodatas.
Online Job applications
Job seekers applying through websites are required to furnish personal, educational and work qualifications. Most job websites ask applicants to complete online forms for personal details, education and work experience.
This serves as resume and is forwarded to employers when you click the 'Apply' button. Despite this facility, several job websites ask applicants to upload a copy of CV or biodata. Remember, CV and Biodata in Microsoft Word and PDF format can only be uploaded.
It is best to upload a complete CV since it permits employers to know exactly what skills you come loaded with. This tilts the balance in your favour and can help bag the dream job.
Flipside of online job searches
Everyone wants a dream job with lucrative pay and perks. Online job portals have made this possible. But applying for jobs online has major flipsides. Recruitment agents, CV writing service providers and telemarketers target job seekers by accessing databases of job portals using unfair means.
Frequent calls by recruitment agents: A large number of recruitment agents buy databases of job seekers from major portals or gain access by masquerading as large employers. Sales staff from such agencies often pester job seekers for paid membership while promising great jobs.
CV writing agencies: These are mushrooming across the world and also find access to databases. Such paid service providers spam email IDs of applicants and sometimes send annoying SMS text messages or make phone calls.
Telemarketers: Every telemarketing company under the Sun knows that job seeker databases are goldmine of personal information. They target job seekers with spam and marketing phone calls/ SMS messages to a point of annoyance.
Complacence of job seekers: A majority of job seekers fail to upgrade their online CVs and personal details upon finding employment. This leads to missing out great future jobs.
Coincidence: If you are unlucky, your present boss may encounter your online CV causing undue embarrassment at current workplace. Since your intentions to work elsewhere are established beyond doubt, you may stand deprived of salary raise and promotions. At worse, you can lose the job. Not mentioning your current employer specifically while applying online is one way to circumvent the problem but there are no guarantees.
The debate about pictures
A major debate whether applications should come with a picture of the job seeker is raging worldwide. One school of thought believes, attaching a print or digital picture renders a person inadvertently prone to crude form of bio-selection.
Meaning, job seekers who look good stand better chances of getting a job, regardless of their skills. Others believe a picture accompanying an application gives better indication about the personality of a job seeker.
Concerns over possible sexual harassment at workplace, is also cited as reason for not sending pictures along with an application.
Copies of educational certificates
This is another debatable issue. Some job sites encourage applicants to upload copies of their educational certificates, passports, national ID cards and other documents.
While major job portals take every care to ensure these remain confidential, unauthorized access can be gained by fraudsters and hackers. With identity thefts growing across the world, most websites have discontinued the practice of getting job seekers to upload their documents online.
Never fudge your details
Leading employee background check companies report, over 40 percent job seekers falsify or embellish their CV, Resume and Biodatas worldwide. An applicant may simply tweak some details about educational and work experience, achievements and a few details. This is an unhealthy practice and is to be shunned at any cost.
Doctored documents are easily detected during an employee background check. It can cost you an existing job or deprive the chance of finding that dream employment with grand pay and perks. It is not desirable to voluntarily disclose unpleasant facts such as long periods of unemployment.
Yet, such a gap can be easily explained during an interview instead of concealing in a job application.