Clothing is a huge industry, especially in India. Here, the youth wants to stay stylish and wear fancy clothes to flaunt them on their social media.
Due to the era of online shopping, multiple clothing brands have emerged and have given the latest fashion to people at their doorsteps.
When it comes to clothing eCommerce brands, there are thousands of them- some big and some small. In this article, we are going to talk about the 10 most popular clothing websites in India. 
These websites hold a huge proportion of online clothing sales, and men and women of all ages buy the latest outfits from them online. You might have purchased clothes from some of these websites.
If you don't know about the rest of them, you should, at least, check them out in case you want to revamp your wardrobe. 
10 Best Online Shopping Sites in India for Clothes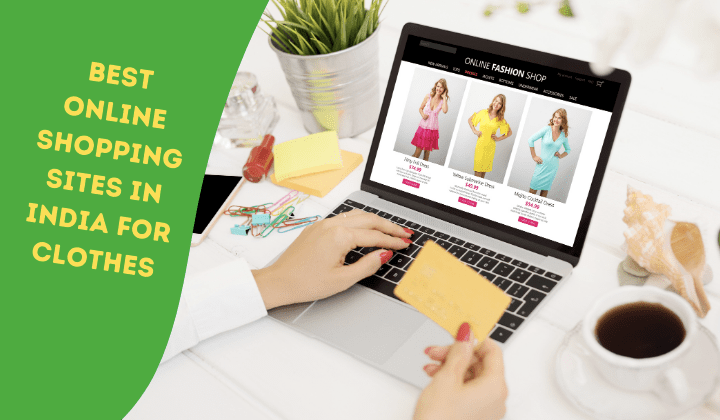 Also check: Top 100 online shopping sites in India
1. Myntra
Country of origin- India
Established- 2007
Myntra is a subsidiary of Flipkart, and it is the most popular clothing brand in India. It is a homegrown brand, established in 2007. Every year, millions of women and men buy clothes and other accessories from Myntra. Myntra took over the apparel eCommerce in India because of three things-
Affordability- The price range Myntra offers covers both cheap clothes and branded ones. During the sale time, you can get as much as 80% off.
Variety- Myntra is the home to 500 homegrown and international apparel brands, including H&M, Mango, etc.
Customer service- Even if you don't like the product, you can exchange it and get cashback without any problem.
2. H&M
Country of origin- Sweden
Established- 1947
H&M is a Swedish apparel brand that recently became one of the most valued apparel brands in the world. It quickly rose to fame among the Indian youth because of the quality products and trendy fashion.
H&M knows exactly how to lure the youth by offering chic and movie-inspired attires. The brand arrived in India in 2015 and has retail stores and an online store as well. 
However, H&M clothes are expensive, and not everyone can afford them. But if you really want to buy trendy clothes, wait for the festive sales where you can get a higher discount.
3. Ajio
Country of origin- India
Established- 2016
Ajio is a clothing brand of Reliance Industries and it is one of the most popular destinations for fashion buffs. Established in 2016, it is best known for its affordable and fashionable clothes from the AJIO brand itself.
At Ajio, you can find inexpensive as well as branded clothes from international brands too.
4. LimeRoad
Country of origin- India
Established- 2012
Limeroad is an Indian origin brand that is fully women-operated. Ever since it was established in 2012, it became popular for its modern as well as ethnic clothing. You can find clothing for women, men, and kids as well.
Here, you can create a virtual look by using different outfits. You can also find handlooms and handicrafts produced locally by people on LimeRoad.
5. Tatacliq
Country of origin- India
Established- 2016
Tata Cliq is the online eCommerce store of TATA industries. It was founded in 2016 and serves as a popular platform that offers clothing from international as well as national brands.
Apart from clothing, you can also find things like electronics, footwear, and other things as well. Tata Cliq has its own luxury brand too called Tata Cliq Luxury that offers chic clothes and fashion.
6. Koovs
Country of origin- India
Established- 2012
Koovs is also a homegrown Indian clothing brand that offers a wide range of fashion trends and a variety of brands like Nike, Flying Machine, Adidas, and so on.
You can check social media and even download the Koovs app to find more fashion brands and the latest trends. The website offers clothing predominantly for women but you can also find some trendy clothes for men as well.  
7. Nykaa Fashion
Country of origin- India
Established- 2012
Nykaa Fashion is the extension of Nykaa that offers makeup products and other accessories for women. With time, the brand extended its reach, and now it also deals with fashion, especially women's fashion.
Here you can find the latest trends in women's fashion. From ethnic wear to western hot dresses, you can find almost all kinds of clothing for each occasion. 
Like any other clothing website, you can take advantage of categories and festive sales to get the most benefit. Apart from that, men's fashion and kids' fashion is also available in abundance.
8. Max Fashion
Country of origin- UAE
Established- 2004; 2006 in India
Max fashion is an old name when it comes to fashion retail stores in India. There are thousands of stores where you can go to buy clothing and accessories as well.
After the huge retail success in many countries including India and Middle-Eastern Countries, Max Fashion finally launched its online shopping in 2016. It is a mono-brand that sells its own clothing and accessories. 
9. Fabindia
Country of origin- India
Established- 1960
Fabindia is an old brand based in India that deals with traditional and locally made products. It is the best place for individuals who want to buy traditional clothing.
Here, you can find all sorts of clothes that are based on the 'Make in India' principle. Fabindia has its presence all over India in the form of retail stores and online stores.
Apart from clothes, you can also find traditional fabrics and locally-produced handicrafts like bedsheets and curtains as well. If you are an ethnic lover, you should try out their products. 
10. Shoppers stop
Country of origin- India
Established- 1991
Shoppers stop was established as a retail store in Mumbai, India. It experienced huge success and has over 80 stores scattered all around India.
The brand also opened its online apparel store that offers clothing for women, men, and kids, as well. Apart from that, you can also find footwear, accessories, jewelry, skincare, cosmetics, etc.
Shoppers Stop has various brands available on its website like Homestop, Clinique, Bobby Brown, MAC, and many more.
Conclusion
Clothing brands hold a special place in every fashion lover's life. Ever since clothing brands started selling things online, fashion became quite easier for everyone. Now, most young people use these websites to buy clothes for every occasion.
During the pandemic, when no one was able to go shopping, online stores provided the ultimate platform for fashion buffs and many brands doubled their revenue during the pandemic as well.
Therefore, when you are running out of time and want quality fashion at your doorsteps, use the websites mentioned above to calm your fashion-sensitive nerves.