The question, which are the highest paying jobs in India, often arise in our minds. We sometimes wonder whether we're in the wrong profession or career, especially when our income isn't sufficient to keep pace with skyrocketing prices of everything.
Understandably, there are lots of the highest paying jobs in India.
While most people believe that the highest paying jobs are usually for highly qualified persons, I beg to differ. Personally, I believe it's our skills that help us get higher salaries rather than mere academic qualifications.
Therefore, I'm presenting this list of the top 10 highest paying jobs in India. Some of these would either amuse or even surprise you.
Top 10 Highest Paying Jobs in India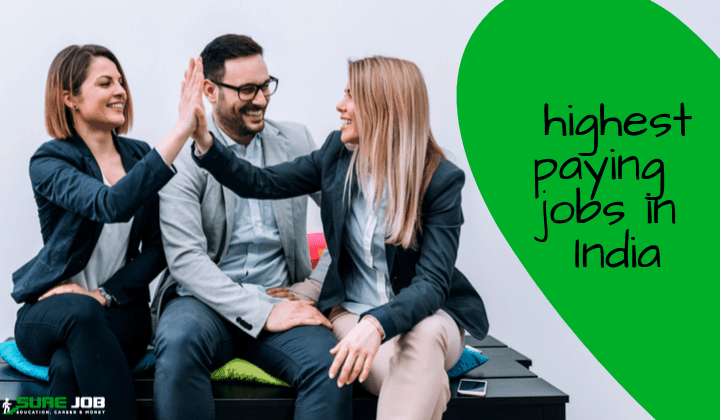 This list of highest paying jobs in India is based upon various parameters. They include net worth, monthly or annual income and nature of work. So be ready to be pleasantly surprised or amused at these highest paying jobs in India.
1. Spiritual Leader
Working or becoming a spiritual leader is the highest paying jobs in India. Whether you're a spiritual leader on own merit or work for some spiritual organization, there's no other profession that can send your net worth skyrocketing.
Acharya Balakrishna, an associate of Yoga guru Baba Ramdev is the richest spiritual leader in India. He's also the editor of Yog Sandesh Magazine and CEO of Patanjali Ayurved, the fastest growing FMCG firm. He's also an Ayurveda practitioner.
With an estimated net worth of US$.1.5 billion, Acharya Balakrishna is the richest spiritual leader in India. In fact, most spiritual leaders of India feature in Forbes and Fortune lists as richest persons in this country and the world.
Educational Qualifications: No specific qualifications.
2. Cricket Player
Cricket player is the second highest paying jobs in India. No, I'm not talking about all the extra money that top Indian cricket stars rake in from brand endorsements and advertising. Instead, we're discussing salaries here.
Just in case you're unaware, Board for Control of Cricket in India (BCCI), the Indian government regulator for this sport pays players to represent India at various cricket fixtures.
BCCI divided cricket players into four categories: Grade A+, Grade A, Grade B, and Grade-C. Their annual pay is decided on basis on these grades. Currently, three Indian cricketers, Virat Kohli, Rohit Sharma, and Jaspreet Bumrah come under Grade A+.
This means, they get an annual salary or retainer of Rs.70 million per year. Grade A cricketers get Rs.50 million, Grade B gets Rs.30 million while Grade C players get Rs.20 million per year.
Educational Qualifications: No specific qualifications.
3. Ambassador/ High Commissioner of the Republic of India
An Ambassador or High Commission of The Republic of India is the highest diplomatic position of our country and this is also one of the highest paid jobs in India. They are selected for the post by the Minister of External Affairs after considering various criteria.
Usually, an Indian citizen becomes an Ambassador or High Commissioner only after several years of service in the Indian Foreign Service.
An Ambassador or High Commissioner of India is appointed directly by the President of India. And they represent interests of India in a foreign country.
Actually, there's no difference between an Ambassador and High Commissioner. Both are the same.
Only, an Indian ambassador posted to a Commonwealth country is known as the High Commissioner. Those appointed to the United Nations are known as Permanent Representative.
The Indian government pays US$8,000 per month as basic salary to an Ambassador or High Commissioner of India posted in Class-A countries.
The pay can be slightly lower for other countries, where the cost of living or diplomatic duties are lower. Their salary is decided by the prevailing Pay Commission and other criteria.
In addition to the basic highest salary in India, an Indian Ambassador or High Commissioner also gets several attractive perks.
These can total up to US$12,000 or more, depending on where they're posted. To become an Ambassador, an Indian Foreign Service officer starts at a lower diplomatic rank and rises through the echelons.
Educational Qualifications: Graduate/ Post Graduate in any stream. Graduate of Indian Administrative Services (IAS) with specialization in Indian Foreign Services (IFS).
4. Management Specialists
Not everyone enjoys the privilege of becoming a Management Specialist.
It requires qualifications in management from top business schools such as the Indian Institute of Management, Jamnalal Bajaj Institute of Management Studies or a foreign degree from Harvard Business School among others.
IIM, JBIM, and Harvard graduates in India are in high demand. They don't need to find jobs. Instead, the top brass of largest Indian corporations attend their convocation ceremonies and usually make spot offers.
A fresh IIM or JBIM graduate can expect a median monthly salary of Rs.2.3 million. However, to graduate from IIM isn't a cakewalk.
It requires rigorous studies, practical training, and intense personal discipline. In fact, IIM graduates are also in high demand around the world for their excellent managerial skills.
Educational Qualifications: Graduate from any stream. Post Graduate Program from IIM (any campus) such as Master of Business Administration.
5. Commercial Pilot
India is one of the fastest-growing airline passenger markets in the world that is why this is also one of the highest paid jobs in India. Despite the closure of one private airline in early 2019, the Indian civil aviation industry shows a growth of 7.4 percent between April 2019 and June 2019.
While flag carrier Air India leads in international markets, there are several other airlines that cater to foreign and domestic markets. These include Vistara, Air Asia, IndiGo, SpiceJet and Go Air.
As a result, there's a huge demand for commercial pilots in India to fly on domestic and international routes. It's a very prestigious job too.
Commercial pilots in India earn a median salary of Rs.250,000 per month plus perks. Pilots that fly on international routes usually get a median monthly salary of Rs.500,000 per month and perks.
Earlier, most airlines would recruit retired pilots from the Indian Air Force and train them to fly commercial airliners.
Nowadays, any woman or man that graduates with a Student Pilot License can apply for Private Pilot License and start working with an airline.
The airline trains candidates with Student Pilot License and qualifies them to fly as First Officer on commercial flights. During this period, they assist the Flight Commander or Captain with various flight processes.
Upon accumulating a certain number of flying hours and passing tests conducted by the Directorate General of Civil Aviation, they get the Commercial Pilot license.
Educational Qualifications: (Minimum) Higher Secondary Certificate with Commercial Pilot License from DGCA.
6. Chartered Accountant
Between 100,000 and 150,000 students appear for entrance exams for the Chartered Accountant course every year.
Of these, only about 22 percent make it to the finals and qualify as Chartered Accountant. However, only about two percent of students pass the final exams at the very first attempt.
Studying to work as CA isn't easy by any means. It involves studying voluminous books that consist of various accounting theories and practices, understanding various kinds of taxes and their rules as well as actual auditing and accounting to become CA.
All CA students have to study and work at the same time, which makes the course even tougher. During the daytime, they work as 'articles' with a Chartered Accountancy firm.
And at nights, they spend lots of time studying various subjects required to crack these tough competitive exams. Exams are conducted by the Institute of Chartered Accountants of India (ICAI).
The median income of a CA varies between Rs.500,000 to Rs.750,000 per month. Usually, CA's are in demand around the year.
However, there's a peak in demand for their services between March and July every year, since individuals and companies need to file tax returns with the government.
Educational Qualifications: (Minimum) Higher Secondary Certificate with Chartered Accountancy certificate from Institute of Chartered Accountants of India (ICAI).
7. Drilling Engineer
It's quite likely you haven't heard about this job known as Drilling Engineer before. Quite understandable. Drilling engineer is a very specialized profession that requires equally specialized qualifications.
To explain a bit. Drilling engineers work on oil rigs and create oil wells for mining crude oil. Since most oil rigs are offshore, either on high seas or rivers as well as in remote areas, the job can be pretty taxing.
The Indian government and its various companies such as Oil India Ltd are among the topmost recruiters of drilling engineers. Private oil and natural gas exploration companies that are flourishing nowadays also hire drilling engineers.
Median monthly pay of a drilling engineer is about Rs.2,50,000. The amount can vary depending upon the employer and location of posting.
To work as a drilling engineer, you'll require a Bachelor of Technology or Master of Technology degree in Petroleum Engineering.
This in itself is a very specialized field. Only Indian Institute of Technology and few other state-owned universities offer Petroleum Engineering courses in India.
Educational Qualifications: B-Tech or M-Tech in Petroleum Engineering from IIT or any reputed university.
8. Artificial Intelligence Professionals
Artificial Intelligence or AI is a developing field in India and most parts of the world this is the reason that it comes under highest paying jobs in India. In simple terms, AI refers to human processes that a machine or robot can replicate.
This involves programming computers and devices to process information like the human brain and respond like a real human to various situations.
India is facing an acute shortage of AI professionals. These include everyone from AI creators to AI programmers and AI engineers.
That's because Artificial Intelligence courses are very rare in India. Usually, most AI techies are graduates of American universities.
As AI professional, you can expect monthly pay of at least Rs.600,000. And employers are some of the topmost IT firms of the world such as IBM, Cisco, and Accenture, among others.
In coming years too, AI professionals will remain in high demand. That's because AI has various uses, from simple customer service to complex defense and aerospace applications.
Educational Qualifications: Software Engineering with Specialized AI courses.
9. Executive Chef
If churning up mouthwatering dishes is your forte, it's possible to get this coveted and highest paying job in India as executive chef.
By any standards, an executive chef is one of the most prestigious jobs too. Usually, executive chefs work for topmost hotels and resorts or niche restaurants.
Monthly pay for the executive chef in India varies between Rs.500,000 to Rs.2 million. It depends on your skills, experience and hotel chain or restaurant where you'll work.
Other than creating delectable dishes from various cuisines of the world, an executive chef is also expected to function as a nutritionist. They have to know the nutritional value of the food or dishes they're cooking for guests.
Often, executive chefs become celebrity chefs such as Sanjeev Kapoor and host TV shows. In such cases, your income is unlimited. However, executive chefs start as dishwashers and move on to kitchen porters.
Later, they work as a commis chef, chef-de-partie and sous chef before graduating as executive chef. That's because they're required to know every function at a hotel or resort kitchen.
Educational Qualifications: Bachelor of Culinary Arts from any very reputable college such as government-run Institute of Hotel Management or foreign institutes.
10. Editor-in-Chief
An editor-in-chief of any newspaper, TV channel, radio stations or news portal is a very powerful position. It is also one of the most highly respected professions in India.
Usually, chief editors have top political connections and also speak directly with diplomats, industry captains, and other VIPs. O
n the flip side, they can face stiff penalties under the Indian Penal Code if their media organization carries some news that violates any law. And sadly, such laws are ambiguous.
At the same time, the job of an editor-in-chief is also risky. They can be targeted and killed by criminals or terrorists. They can face court charges from anyone who's opposed to any news carried by their media outlet.
That's the reason editor-in-chief gets the median monthly salary of Rs.500,000 plus perks. The amount can be slightly lower or higher depending upon the employer and location.
Usually, an editor-in-chief also has to move up the echelons. They start as cub reporters or trainee sub-editors or even proofreaders. Over the years they get promotions and gather excellent contacts to qualify as editor-in-chief.
Educational Qualifications: No Specific Qualifications. Nowadays, some media houses prefer candidates with a Bachelor's degree in journalism and mass communications.
Closing Thoughts
The above list of highest jobs is for professionals only. As you can see, some of them require special skills or qualifications.
It's worth remembering that mere qualifications won't get you any highest paying job in India: you'll require superb skills and excellent experience that comes over the years.
Anyone can get qualifications. But it requires intense efforts to become the best and stand out among the crowd. If you're interested in getting one of the highest paying jobs in India, start working towards this goal right now. It takes time to get there.