UPSC civil service examination is one of the most prestigious and the toughest examination in the country. Each year, around 11 lac people do preparation for UPSC and register for the exam in the hope of finding a prestigious job in the government sector.
Being the toughest exam in the country, the preparation for UPSC also needs the same amount of dedication and attention. In 2021 the UPSC prelims will take place on 27th June. If you haven't started preparing for UPSC yet, please start now and give it your best shot.
If you are new to the civil services field, don't worry, this UPSC civil service preparation guide will help you with the strategy on how to prepare for UPSC exam without coaching and give you some amazing tips.
What do you need to crack the UPSC examination?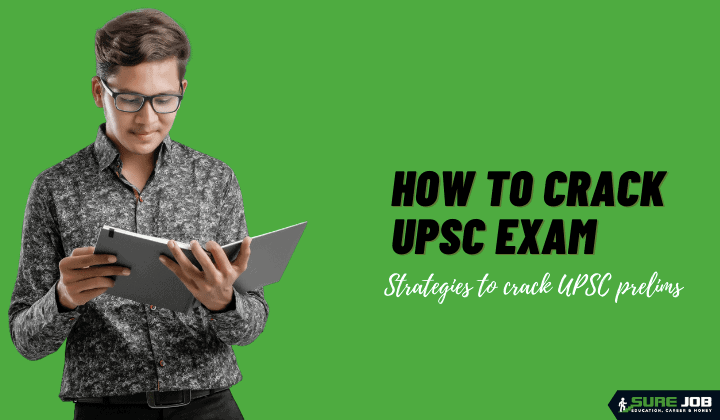 Well, to be honest, the person who has cracked the exam can only tell what it takes to prepare for an exam. Therefore, we asked people in reputed positions about their experiences while UPSC exam preparation.
Most of them said that being a bookworm wasn't much help. To crack the exam, you don't only need the audacity to study continuously but also the courage to be your best and follow a strict timetable.
The ultimate guide on how to prepare for UPSC 2021
There is no magic or a secret formula that can help you crack the exam. That being said, let's move forward with some of the tips & strategies that align well with your study pattern and the resources available to you.
1. Prepare your mind
Before you even start preparing and looking out for the syllabus, wait for a while and perform the subtle task of mentally preparing yourself for the task. It required a huge commitment of time and sacrifices. Are you ready to give around 10 hours per day to study? Are you a morning person?
Before taking the first step of the journey, gather all the motivation and find the right motive behind doing what you're doing.
It is the right time to organize yourself and set goals that leads to your ultimate aim.
Go thoroughly and understand the whole syllabus and make a layout of the things you need to give special attention to,
UPSC exam has three stages-s
No matter you are a student still in college or a person with a job, with time management, you can handle it properly and study as long as you want.
You can also learn how to make the best use of technology to utilize your time and get instant knowledge and resources.
2. Make a valid time-table
Gone are the days when you used to make a time-table you barely followed for a week? To get good results. You need a time-table. Some of the greatest personalities in the past and present have timetables they follow every day to become the person they are. Therefore, make a practical timetable that you can follow.
It is mandatory for you to stick to the time table. To achieve something, you must sacrifice leisure activities and fun from your life. Make the timetable flexible but try to be as rigid as you can when it comes to following the timetable.
3. Go into the depths of the syllabus
Generally speaking, the syllabus for the UPSC exam is quite broad and you can expect some unexpected questions to pop up in the examination. Therefore, it is best to have a thorough knowledge of the syllabus to be sure about the examination.
Without going through the syllabus, it is hard to just dive in and study what you 'think' might come in the examination.
You can find the full UPSC syllabus online on the official website. For convenience, you can print it and have it handy whenever you want.
After going through the syllabus, you can choose the study material, the topics you need to cover, the areas you need to focus on, etc.
UPSC prelims syllabus
UPSC mains syllabus
4. Make a habit of reading newspapers and magazines
Current affairs account for a significant amount of questions, therefore, don't miss out on current affairs. The best ways to know about current affairs are newspapers and magazines. Grab any newspaper of your choice like The Hindu, The Economic Times; and magazines like Reader's Digest, Competition Success Review, Pratiyogita Darpan, and so on.
It is best advised to read the newspaper and magazines daily and make important notes. It is because writing down a thing makes it more memorable than just reading it once or twice.
Additionally, you can also watch some Youtube channels that upload daily current affairs for UPSC aspirants. The best example of this is the Study IQ channel that uploads daily current affairs for free.
5. Selecting the optional subject
Choosing the optional subject for the examination is a crucial task as it accounts for 500 marks. Therefore, you should choose the option wisely. List out tall the pros and cons and evaluate your individual strengths in the subjects.
6. The basic NCERT syllabus
In order to prepare for the UPSC exam, you need to go through all the NCERT books individually starting from the 6th standard till the 12th standard. It is more like a 'must-have' thing, therefore, you should cover it first thing in the beginning. Once you have cleared the whole syllabus, you can go ahead with the more complicated things and topics.
NCERT books are not very lengthy. They are precise and cover all the basics you need to ace the examination.
You can also get some ready-made UPSC notes on various subjects. There are a hundred books that claim to help you with UPSC exam preparation and NCERT books are, hands down, the best books to start with.
Later on, you can buy some extra books that cover all other topics.
7. Your hand made notes are the best backups
Yes, there's nothing that can beat handmade notes. In fact, studies show that making notes while studying is equivalent to reading the same topic seven times. Therefore, always remember to make notes and highlight the important parts.
Use different notebooks to make different notes and write in clear and crisp handwriting. By doing so, you will be able to manage your learning and revise them later quickly.
If you aren't used to taking notes, start doing it now and see the difference for yourself.
8. Practice writing descriptive answers in record time
One of the unique things about the UPSC exam is that you have to write descriptive answers.
More often than not, the answers are about the analytical, critical, and communicative abilities. With constant practice and using the right words, you can smoothly ace the art of writing the best descriptive answers.
9. Solve mock test papers and previous years' papers
Solving previous years' question papers and mock papers every two or three days will help you get a rough idea of the real question paper. The questions will change but the overall essence of the paper remains the same. These papers will help you in-
Self-assessment of your abilities.
Pointing out your mistakes and how you can work on them.
Figuring out your strengths and weaknesses.
How to prepare for UPSC at home.
10. Online resources
In order to succeed, various organizations and government websites offer valuable resources that you can go through in order to get extra study material apart from the books that you will buy.
11. Revise your heart out
Follow the timetable you have made for yourself and keep studying. Once you have completed the syllabus, you can start revising things and make good notes.
The UPSC syllabus is really vast and that's why revision becomes so crucial to make sure you have retained everything you have learned so far.
Keep a sharp eye on the latest news and start reading magazines like Yojana, Kurukshetra, etc.
Conclusion
While preparing for the UPSC exam, don't forget to keep yourself motivated and keep your hopes high. It is very likely for you to lose confidence in the middle while scaling the whole syllabus. Don't let negativity creep inside you. Do the best that you can and buckle up for strong UPSC exam preparation.