B.com is one of the best courses after 12th commerce. And if you have any problem to choose the right professional courses after B.Com and you are confused which is the best career in commerce then do read this following article.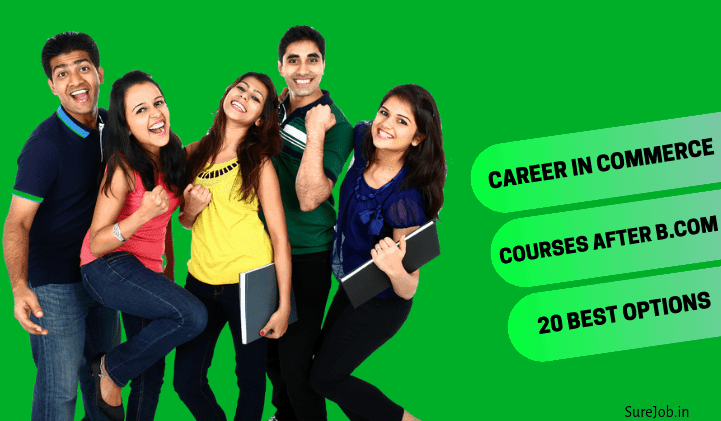 Here we give you all kinds of b.com jobs that you can apply for after your graduation.
In fact, there is really no dearth of good jobs after b.com irrespective of the course he/she is opting for.
Go through the list, choose the best courses after B.Com and find the most appropriate jobs after graduation and PG that suits you the most.
Let us get started.
Course Name: Chartered Accountant (CA)
One of the most popular and aspirational courses after B.Com for commerce students is CA. CA exams are conducted by Institute of Chartered Accountants of India (ICAI) and you have to clear three rounds, CPT, IPCC and Final CA.
After completing IPCC and articleship you appear for Final CA. After clearing the two rounds of Final CA you can call yourself a CA.
Although you all know after becoming CA there is no dearth of opportunity but the following are few best options for you.
A certified Chartered accountant can kickstart his career immediately in financial institutions like banks, MNCs, government departments etc at a very top position.
A CA does not have to wait for finding the right kind of job.
On an average, a certified CA can earn anything between Rs 6 lacs to Rs 30 lacs per annum depending upon his/her experience.
The big 4 firms that hire CA are KPMG, PWC, EY and Deloitte.
2. Administrative Jobs in Public Sector
PSU companies like BPCL, GAIL, ONGC, BSNL etc hire freshers as CA from the college campuses directly.
The annual salary that they offer is between Rs 7 lacs to Rs 16 lacs per annum. However, the growth opportunity is very limited.
CA with more experience can join as a financial advisor, Legal Advisor, Technical Consultant with central and state government.
3. Economist
Once you've gained experience working as a CA/CS for different firms you can become an Economist. Government, many financial institutions and rating companies around the world need Economist to forecast and analyze economic issues.
Economist has to conduct surveys, collect and analyze data, prepare reports and forecast market trends.
They also design economic policies that help the government to solve economic problems.
An economist can earn Rs 5 lacs to Rs 10 lacs per month depending upon the firm he/she works with.
4. Investment Consultant
You can work with a big international financial firm like Goldman Sachs or Merlyn Lynch as an Investment consultant.
Your job will be advising clients on investment strategies depending upon their needs and long term goals. Investment consultants also have to create quarterly and annual performance reports to monitor client's investment.
On an average investment consultant in India can earn between Rs 24 lacs to Rs 48 lacs per month. If you want to go abroad and work then the average salary there is $80,000 per annum.
Course Name: M.Com
To be honest not every commerce graduate is not going to be a CA. Most of them don't even give a try and others quit after attempting 2 to 3 times.
So most of the B.Com graduates will look out for jobs they can get once they have completed M.Com.
M.Com is one of the most common and obvious courses after B.Com.
5. Accountant – Senior & Junior
One of the most common career after M.Com is an becoming an Accountant. You can join an accountancy firm as
Junior Accountant – Maintain financial records for subsidiary companies by analyzing balance sheets and ledger accounts. Reconciling bank accounts and preparing special reports, projects to give financial status information of a company.
Senior Accountant – Senior accountants prepare financial statements and documents by performing balance sheet, revenue, expense and payroll account reconciliations. They also mentor junior accountants under them.
The average salary of a senior accountant can be Rs 200,000 – Rs 300,000 per annum. Junior accountant earn Rs 100,000 to Rs 150,000 per annum.
6. Auditor
An Auditor is much more qualified than an accountant. Some of the major responsibilities as an auditor would be the following
Planning Financial Audits
Verifying assets and liabilities
Assess compliance with financial regulations and controls
Assess risks and internal control
In India, all the major banks like HDFC, ICICI, Axis, Kotak and IT companies like Wipro, IBM, TCS hire internal auditors for auditing.
As a fresher, you can earn easily Rs 25,000 to Rs 30,000 per month. More experienced auditors can earn up to Rs 50,000/- to Rs 100,000 per month.
7. Loan/Credit Officer
If you are looking for less hectic career after graduation in commerce then Loan officer is the way to go. Loan officer's job is evaluating loan applications and documentation by confirming their credit worthiness.
Loan officers are responsible for assessing the client's financial status so they can accept or reject their loan application. If a loan is accepted then they issue cheques to the customers.
Credit officer is just another name for the Loan officer.
Almost every Bank and NBFC need loan officers for approving loans to customers. Hence there is no dearth of this job in the country.
The average salary of a loan officer can be Rs 15,000 to Rs 20,000 per month.
8. Sales Officer
Sales officer job sounds very easy as your main responsibility is to get more and more customers to open a bank account (current and savings) with the bank you are working for.
However, the pressure is great because you have to generate leads and find prospects on your own. There is no one else to help you. You are given a target for each day and you have to achieve those targets.
In this job, you can be laid off anytime if you don't meet the target. To survive here you need good People's skill and contacts with people in your area.
A sales officer salary working for a bank like HDFC or ICICI could be between Rs 200,000/- to Rs 400,000/- yearly.
9. Government Jobs
You don't have to always go for a private job. There are many government jobs that you can look out for after you have completed M.Com.
Both central and state governments have myriads of banking jobs. One of the most popular one is Bank Probation Officer or Bank PO. In order to become a bank PO you have to clear entrance exam consisting of 3 rounds.
After been hired you can join PSU banks like SBI, PNB, Bank of Baroda, BOI etc. The salary of a SBI Bank PO is around Rs 40,000 per month including all allowances.
You can also apply for lower jobs likes clerks, Accounts Assistant, Divisional officers etc.
There are other government departments like Revenue, Railway, Defense, and Forest that have openings for M.Com graduates.
Course Name: Digital Marketing
Times have changed and young B.Com graduates are ready to explore more unconventional best career options like Digital Marketing.
10. Digital Marketer
Now a day commerce graduates are looking for certain offbeat courses after B.Com that are not CA, M.Com or MBA.
They would like to pursue their career in a different field altogether. Right now the most lucrative and trending career is digital marketing.
Many B.Com and even M.Com graduates are choosing to become a digital marketer. They are interested in learning digital marketing courses that include SEO, SEM (Search Engine Marketing), PPC, Social Media, Blogging, Google Adwords etc.
A digital marketer can easily find a job that pays them Rs 12,500 to Rs 15,000 per month after they have completed their B.Com. After some experience, you can even earn up to Rs 50,000 per month.
Course Name: MBA
If you want to be something more than an accountant or an auditor then you can go for MBA. Students who are ambitious and want to work at administrative level then MBA in finance is best suited for them.
After the MBA course, you will find high profile jobs mainly in private sectors.
11. Asset Manager/Fund Manager
Asset or Fund Manager's prime responsibility is managing clients' asset according to their investment needs. An asset manager will create, organize and maintain client's portfolio.
He has to maximize returns and minimize risks associated with current assets which are under management. 5 to 10 years of experience in Finance is required before you qualify for an asset manager.
The asset manager has a salary of Rs 15 lacs to Rs 25 lacs per annum depending upon the bank he/she is working with. However, their main income comes from the commission they earn for managing a particular fund.
12. Hedge Fund Manager
Hedge Fund Managers are also just like Asset/Fund manager but here the risk involved is much greater. You manage clients' money by hedging it in the market.
Managing Hedge Fund is a dream job of every commerce graduate. The job is very risky but can make you a millionaire in a short time if you are good at it.
You handle long term and short term investments, reconcile account balances each day and review expenses. You need expertise in various financial software programs to generate and analyze data.
Although there is a fixed salary for a hedge fund manager but they make millions in commission.
13. Customer Relationship Executive
In reality, everyone can't become a hedge fund manager or even a fund manager after completing MBA. Hence there are other options available too.
One of them is Customer Relationship Executive in a nationalized bank like SBI or PNB. Your responsibility is providing personalized financing to the top few HNI customers of the bank.
You always remain in touch with customers to give financial advice and other investment suggestions anytime they need.
Their salary is around Rs 20,000/- to Rs 30,000/- per month.
14. Sales Manager
Another job is Sales Manager in a bank where you sell various bank products to retail customers. You and your team are responsible for selling basic products like CASA (Current Account, Saving Account), credit cards, loans, mortgage, insurance plans provided by the bank.
You have to generate leads and pitch products to them. Sales manager salary is at power with a Customer Relationship Executive.
Course Name: Chartered Financial Analyst (CFA)
Two and a half year long Chartered Financial Analyst or CFA program is offered internationally by the American based CFA institute to investment and financial professionals.
CFA is the highest standard of excellence in the investment and finance industry.
15. Financial Analyst
A Financial analyst is responsible for consolidating and analyzing data to provide exact information on a company's profitability, solvency and stability.
You will do research, write papers and help the company to make well-informed decisions.
In India, Financial Analyst can earn Rs 50,000 to Rs 500,000 in a month. However, on an average they earn Rs 400,000 per annum.
16. Statistician
A statistician working in a financial firm is responsible for collation, evaluation, interpretation and presentation of data to a client or a company.
A statistician must have good knowledge of mathematical and statistical modeling with years of experience in collecting data.
In India, a statistician salary is between Rs 600,000 and Rs 24 lacs depending upon his/her experience.
17. Market Research Analyst
Market research analyst job involves both quantitative techniques like customer surveys, collecting data and information, as well as qualitative techniques like an in-depth interview, focus groups etc.
You must have a strong analytical mind for analyzing data and patterns.
The average salary of Market Research Analyst is around Rs 3 lacs to Rs 5 lacs per annum.
Course Name: Business Accounting & Taxation (BAT)
B.Com graduates who are freshers can enroll for a yearlong BAT program instead of working in a BPO. The future prospects of jobs for B.Com graduates after completing BAT is really great.
18. Tax Advisory Services/Tax Consultant
A tax consultant or Tax advisor is an expert in tax law and compliance. Tax advisor offers their services to businesses and individuals alike on short and long term tax optimization.
You help clients to minimize their tax liability by preparing their tax returns and explaining tax issues to them.
There is no dearth of job openings for Tax consultants because they are wanted by companies and HNIs.
There is no limit on how much you can earn but on an average, a beginner earns Rs 3 lacs to Rs 6 lacs a month.
19. Company Law Assistant/Corporate Legal Assistant
Corporate Legal Assistant has to
Prepare Legal Documents that includes briefs, correspondence, affidavits, contracts, memos etc.
Scheduling travelling dates, conference calls and meetings.
Transcribe documents and performing other office tasks.
Average salary is Rs 3 lacs to Rs 8 lacs per month.
Course Name: Certified Financial Planner
The course can be 6 months to a yearlong with specialization in financial planning, investment planning, insurance and risk management.
20. Financial & Insurance Consultant
Financial consultants offer their services to companies and individuals. They consultant on
Investments Plans
Insurance Decisions
Tax Issues
Personalized Financial Advice
Salary is Rs 6 lacs to Rs 12 Lacs per annum on an average.
Course Name: Certificate in Investment Banking (CIB)
CIB is a very short course of just 6 months duration. After this course you can kick start your career in banking and finance.
21. Investment Banker
After this course, you can become an Investment banker whose main responsibility is to help clients raise capital by selling equities or issuing debts in the company. In simpler words, they help their business to grow by funding various activities.
The job is challenging as you need great analytical skills, people's skills, networking skills etc.
An average base salary can be between Rs 16 lacs and Rs 50 lacs per annum.
Course Name: B.Ed
Last but not the least is choosing teaching is one of the professional courses after B.Com. If you imagine yourself as a teacher then you can go for a B.Ed in Commerce course. The course duration is only 2 years.
22. Lecturer
After completing the B.Ed in commerce you can easily find jobs in government as well as private schools and colleges. Prospects are really great because new schools and colleges are mushrooming all over the country.
A school teacher can easily earn Rs 15,000 – Rs 20,000 per month and a college professor can earn up to Rs 50,000 a month.
So these were some of the courses after graduation that you can choose.
According to your educational qualification and skill sets, you can easily opt for a career from the list.
The list is comprehensive and you won't have any problem with choosing a job that suits you the most.